Brussel Sprout Breakfast Hash is a breakfast dream come true.  Silky smooth poached eggs over a bed of Crispy Hash browns and shredded Brussel Sprouts, seasoned to perfection.  Check out Pulled Pork Hash, another must-try breakfast hash recipe!
Brussel Sprout Breakfast Hash
The other day my family was starving and I had no plan.  No plan.  I opened the refrigerator and studied the contents inside of it.  I did the same in the pantry.  It was a little over 20 minutes before I started making a pile on the counter of things that I thought might be used to make an actual meal.  Potatoes, Brussel Sprouts, Onions, Eggs, and Bacon.   I wasn't quite sure what to do with it all so I started chopping and shredding.  I put the bacon in the pan and the rest just kind of fell into place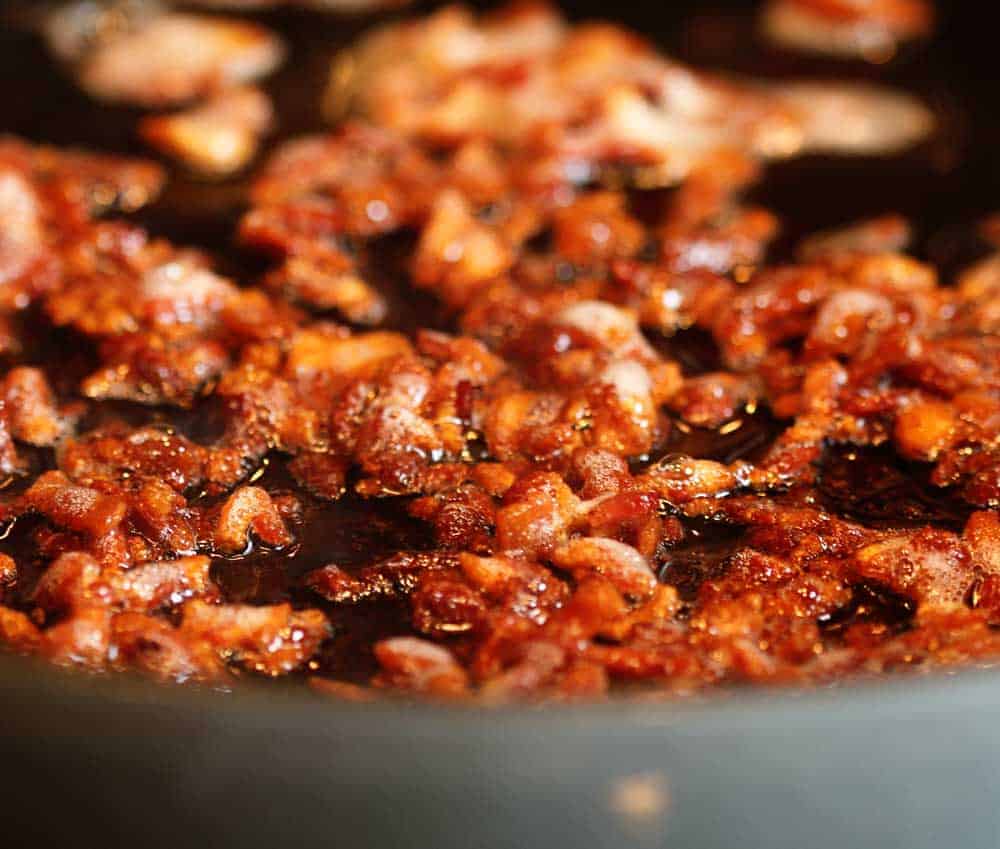 How to make Brussel Sprout Breakfast Hash
This breakfast hash recipe is relatively simple to make.  You will need two pans, preferably a cast iron skillet and a dutch oven or a small saucepan.
Chop up the bacon and toss it into the skillet over medium-high heat.  I like to get thick cut bacon whenever I can.  For this recipe, you just need to cook the bacon enough to render the fat, about 4 minutes.  I like mine a little crispier though, so I keep it in there until it is good and dark.
Once that is ready, toss in some chopped onions, and seasonings, and cook until they get golden brown as well.
Throw in the potatoes.  You could probably use the store bought frozen potatoes in this step if you prefer, but I had a pile of potatoes that were ready to be eaten so I just shredded them myself.  To make sure the potatoes get crispy, spread them out into an even layer.  Let them sit, undisturbed for a few minutes.  This allows them to get crispy on the bottom.  Carefully flip them only one time in small sections.  Allow the opposite side to cook.
Once they reach your desired level of "crispy" add in the shredded Brussel Spouts and mix them in.  You cook these basically the same way, believe it or not, Brussel sprouts will also crisp up pretty well.
The next step is to poach the eggs, don't worry, you can do it, it is not as hard as it might sound.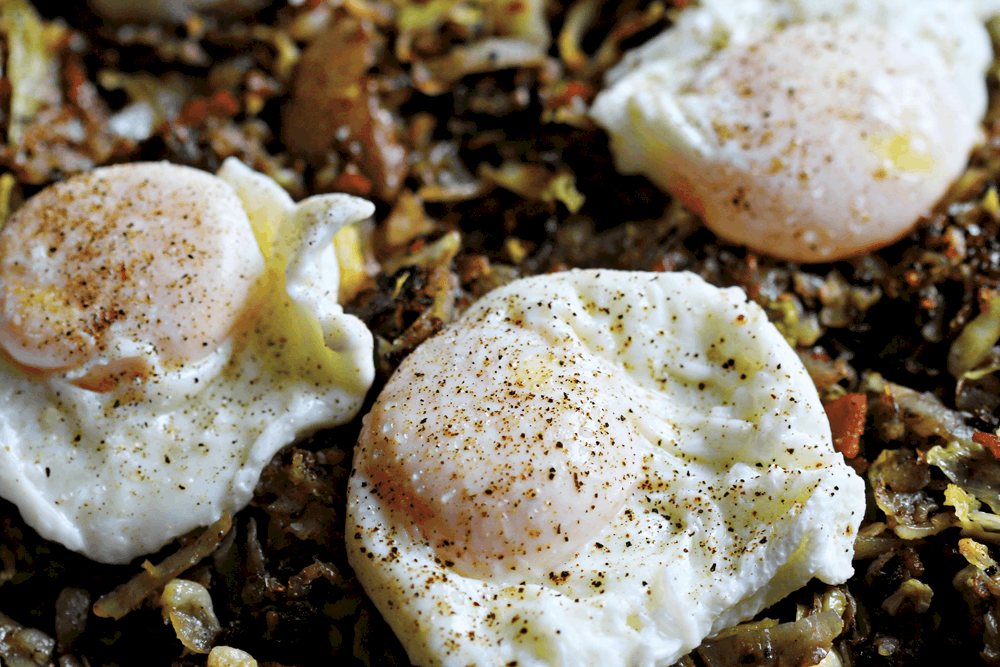 How to get the perfect Poached Eggs
The next step in this breakfast skillet recipe is to poach the eggs.  It took me years to actually attempt a poached egg.  I just thought that the technique was probably going to be too difficult. It was something you saw in fancy restaurants and would probably not turn out so well in my kitchen. I was wrong.  It is really very easy.  The goal is to create a smooth ball of tender egg white enveloping a soft yolk that gently spills out when broken into.  To get there, you will follow 5 simple steps.
Fill a saucepan filled with about 2 inches of water.
Bring the water to a simmer and using a slotted spoon, gently swirl the water to create a circular movement.  This helps the egg white envelop the yolk.
Crack an egg in a small dish and lower the lip of the dish into the pan and slowly let the egg slip out.
Cook the egg for 3-4 minutes.
Using your slotted spoon, gently lift the egg out of the pan and set on a paper towel to soak up any liquid.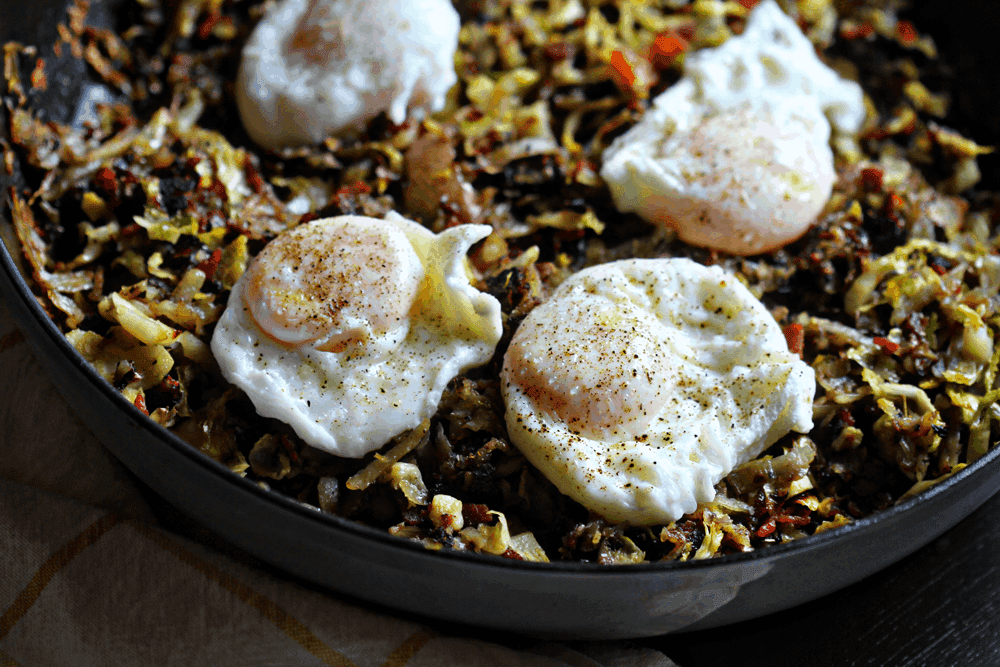 Can you make Sweet Potato Breakfast Hash?
Yes, sweet potatoes have a bit of a different makeup than a regular potato.  If I was going to make this same recipe with sweet potatoes, I would probably cook them up in a different pan.  Just to make sure they cooked through and didn't get too soggy.
Do I have to poach the eggs in this Breakfast Hash Recipe?
No, another option would be to bake them right in the skillet.  Once you complete the potato and brussel sprout mixture, you could simply crack the eggs on top and put the skillet in the oven (at 400 degrees Fahrenheit) for 10-15 minutes or until the eggs are cooked to your liking.
Looking for other breakfast ideas?
We raise our own chickens so, we ALWAYS have plenty of eggs on hand.  Breakfast recipes are not hard to come by in my house, here are a few of my favorites.
Breakfast Skillet Spinach and Eggs
Ham Egg and Cheese Breakfast Sandwich
Country Buttermilk Scrambled Eggs
Cream Cheese and Strawberry Stuffed French Toast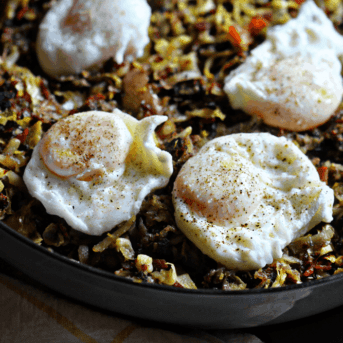 Brussel Sprout Breakfast Hash
Brussel Sprout Breakfast Hash is a breakfast dream come true. Silky smooth poached eggs over a bed of Crispy Hash browns and shredded Brussel Sprouts, seasoned to perfection.
Ingredients
5

slices

bacon

chopped

1/4

cup

onion

chopped

2

cloves

garlic

minced

1/2

teaspoon

dried rosemary

5

cups

potatoes

shredded

1/2

teaspoon

salt

1/2

teaspoon

pepper

2

cups

Brussel sprouts

thinly sliced

4

large eggs
Instructions
Add chopped bacon to large, cast iron skillet, or non-stick skillet over medium-high heat.

Cook bacon until crispy and remove from pan.

Add onion, garlic, and rosemary to pan, cook until they begin to brown (stir occasionally).

Add shredded potatoes, salt, and pepper. Spread into an even layer and cook undisturbed for 4 minutes.

Reduce heat to medium and mix in Brussel Sprouts, stir occasionally and cook until the mixture begins to turn golden brown.

Meanwhile, bring 2 inches of water to a boil in a medium saucepan.

Reduce to a gentle simmer and stir the water (the circular motion helps to bring the egg and yolk together).

Break an egg into a small bowl, submerge the bowl's lip in the water and slide the egg in.

Transfer the egg to a paper towel to drain excess water.

Repeat with the three remaining eggs.

Serve the eggs over the hash.
Did you make this recipe?
You can tag me at @iamhomesteader.
Tools Used in Making Breakfast Hash
Every kitchen simply must have a good skillet!  I love my Staub Skillet.  They come with a lifetime warranty so they are worth the price tag in my opinion.  Also, they are so easy to clean and care for.
Did you make this recipe?
I want to hear about it!  Take a picture and tag me on Instagram or on Facebook.  I would love to see your finished product!  Make sure to tag me @iamhomesteader or hashtag #iamhomesteader, or both!