Simple, yet satisfying, this Bacon, Egg, and Cheese Croissant is the best way to start every morning. With fluffy eggs, melted cheese, and crispy bacon, this croissant breakfast sandwich will give any fast food breakfast sandwich a run for its money. If you love breakfast sandwiches, try my Ham, Egg, and Cheese Breakfast Sandwiches.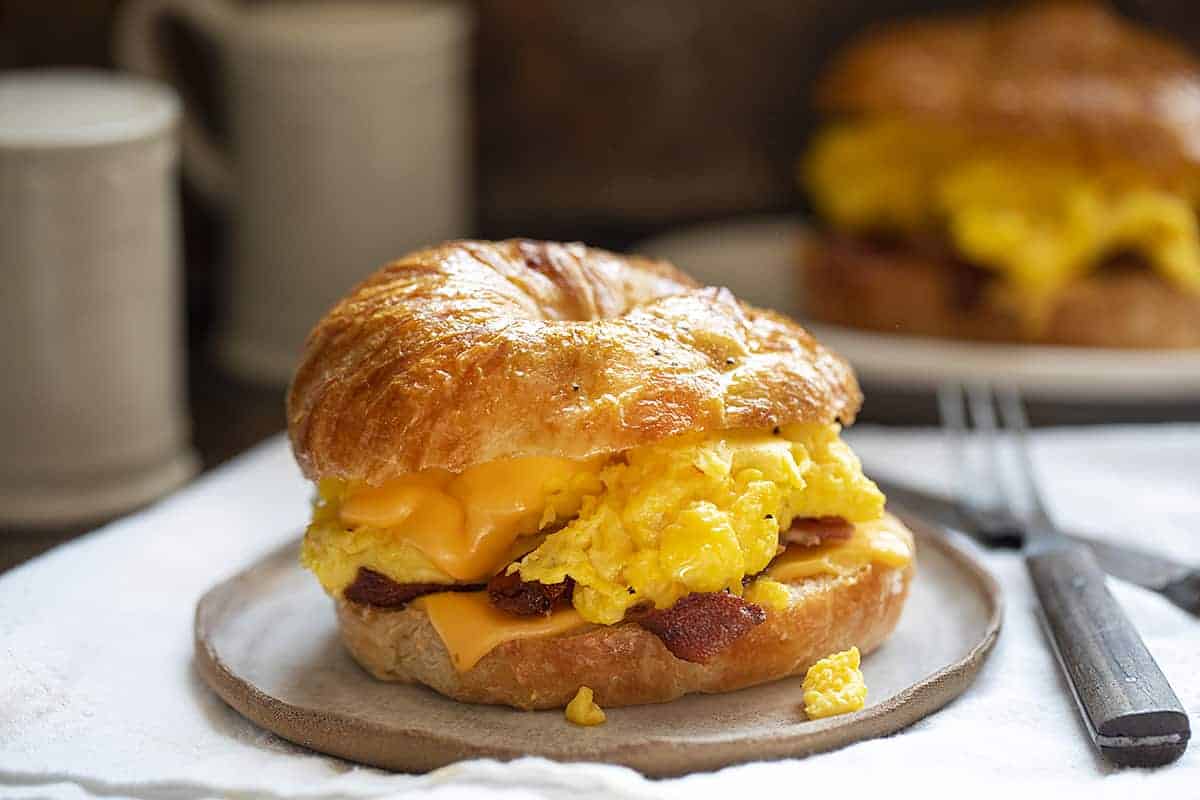 Bacon, Egg, and Cheese Croissant
It is no surprise that breakfast is an important meal to start the day. But, some days it can be hard to fit it in, especially a hot breakfast. I really encourage you to give this breakfast sandwich a shot! It is so delicious and loaded with homemade scrambled eggs to keep your hunger at bay.
If you buy the croissants and make your bacon ahead of time, it really will not take too long to put this sandwich together or eat it!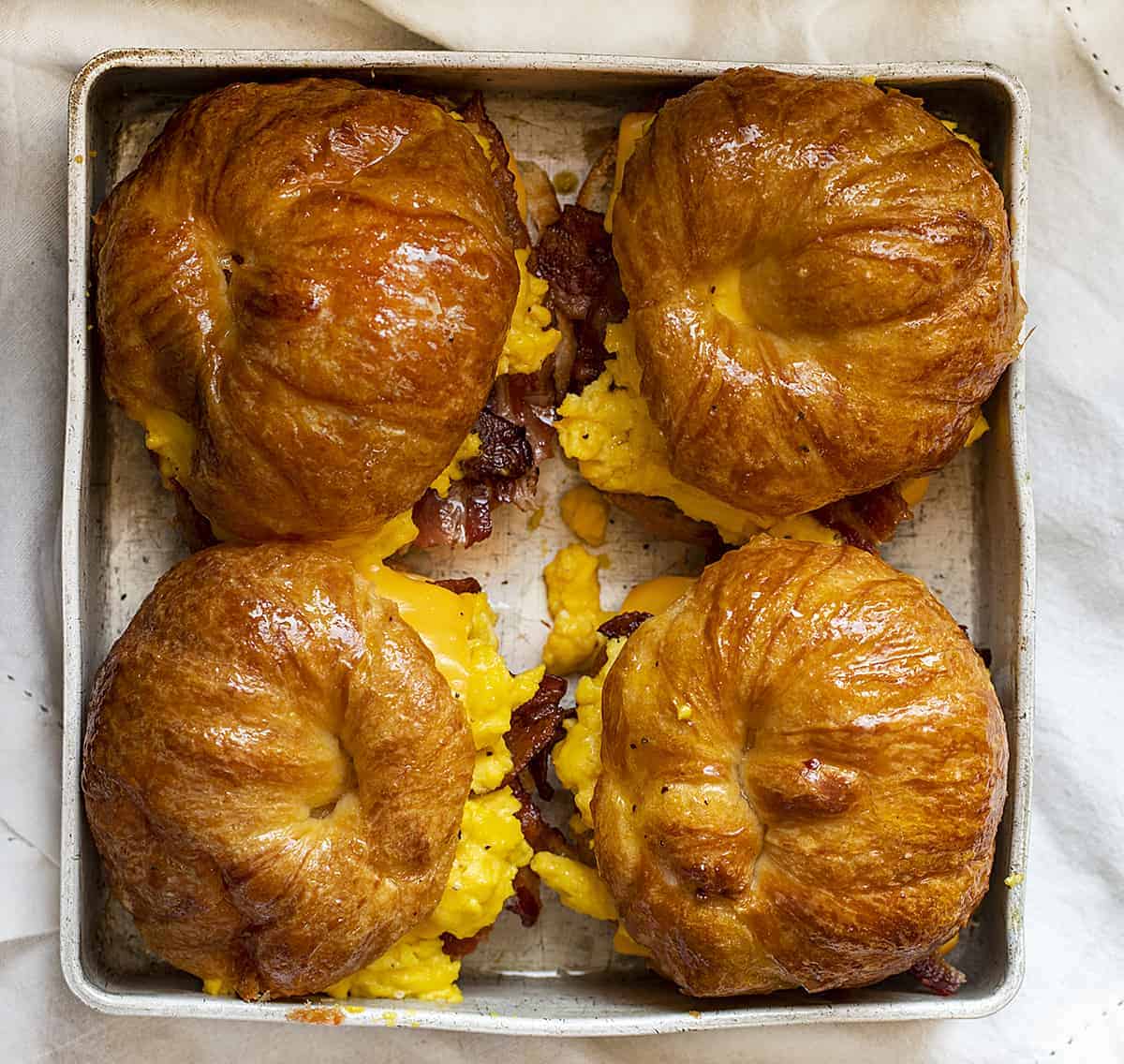 How to Make a Breakfast Croissant
As I mentioned, if you make the bacon ahead of time and buy the croissants, you can put this breakfast sandwich together in a matter of minutes. The only thing you need to make is the scrambled eggs, and I have a perfect recipe for those here. In case you don't click on the recipe, you will need 6 eggs, 4 tablespoons of buttermilk, 1 1/2 teaspoons of corn starch, and 1 tablespoon of real butter. Of course, add salt and pepper to taste. This will be enough for all four sandwiches. I also UNDERCOOK the eggs slightly. They bake for an additional 5 minutes in the oven, so they will be cooked through.
Once you have your eggs made, layer the bottom of each croissant with a slice of cheese, 3 slices of bacon, and 1/4 of the scrambled eggs. Top with another slice of cheese and the other half of the croissant. Beat an egg for an egg wash to brush on top of the croissants and bake them for about 5 minutes, or until the cheese is melting, at 400°F. Be adventurous with your cheese choices if you want to…I love cheddar and swiss on my breakfast sandwich.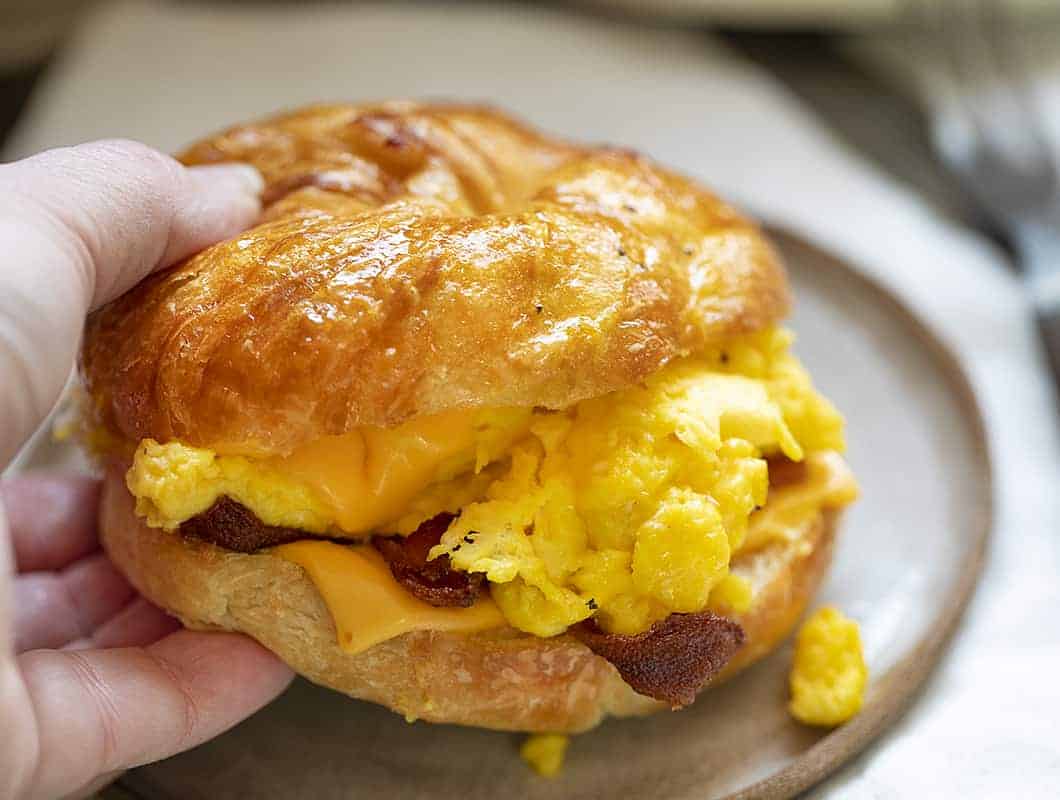 How to Bake Bacon
When I cook bacon, I do it in the oven. This allows me to make bacon ahead of time for some recipes. I set the temperature to 415°F and while it is preheating, I lay out the individual slices of bacon on a foil-lined rimmed baking sheet. (Yes, right on the pan! No rack needed.) They are perfectly crispy in 18-20 minutes. To save them, just let them cool and wrap the bacon in paper towel then place inside a sealable plastic bag in the refrigerator until you are ready to use it.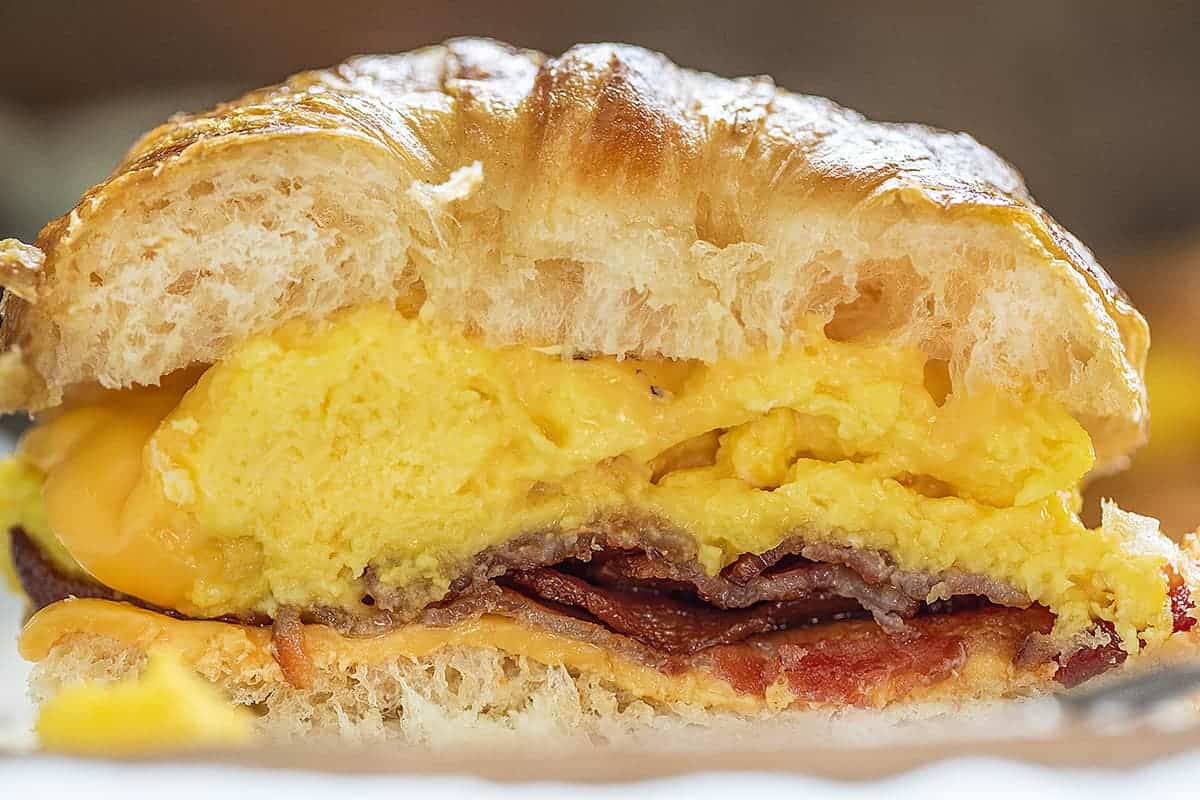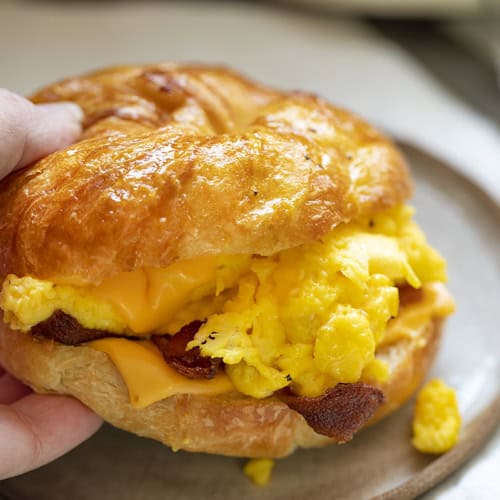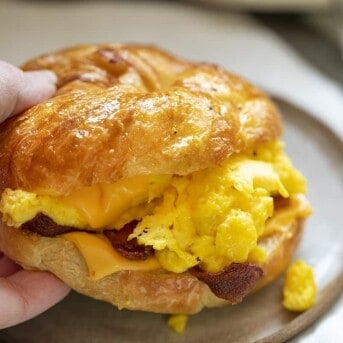 Bacon, Egg, and Cheese Croissant
Skip the fast-food lane and make your own Bacon, Egg, and Cheese Croissant to get your morning off to a good start!
Ingredients
4

large

fresh croissants

6

large

eggs,

scrambled*

8

slices

cheddar cheese

(or your favorite cheese)

12

slices

cooked bacon

1

large

egg,

beaten (for egg wash)
Instructions
Cut the croissants in half, lengthwise, splitting the top and bottom half. Place the bottom halves on a baking sheet.

To the bottom half of each croissant, add a slice of cheese, 3 slices of bacon, and 1/4 of the Country Buttermilk Scrambled Eggs.* Top each with another slice of cheese. Cover with the top half.

Brush the tops of the croissants with the egg wash and bake for five minutes, or until the cheese melts.
Notes
*https://iamhomesteader.com/country-buttermilk-scrambled-eggs/
Did you make this recipe?
You can tag me at @iamhomesteader.