Baked Eggs are eggs that are baked to your likeness on top of pan-fried potatoes, deli ham, and scallions, all in individual-sized portions. If this sounds good to you, be sure to try my Roasted Potato Breakfast Casserole.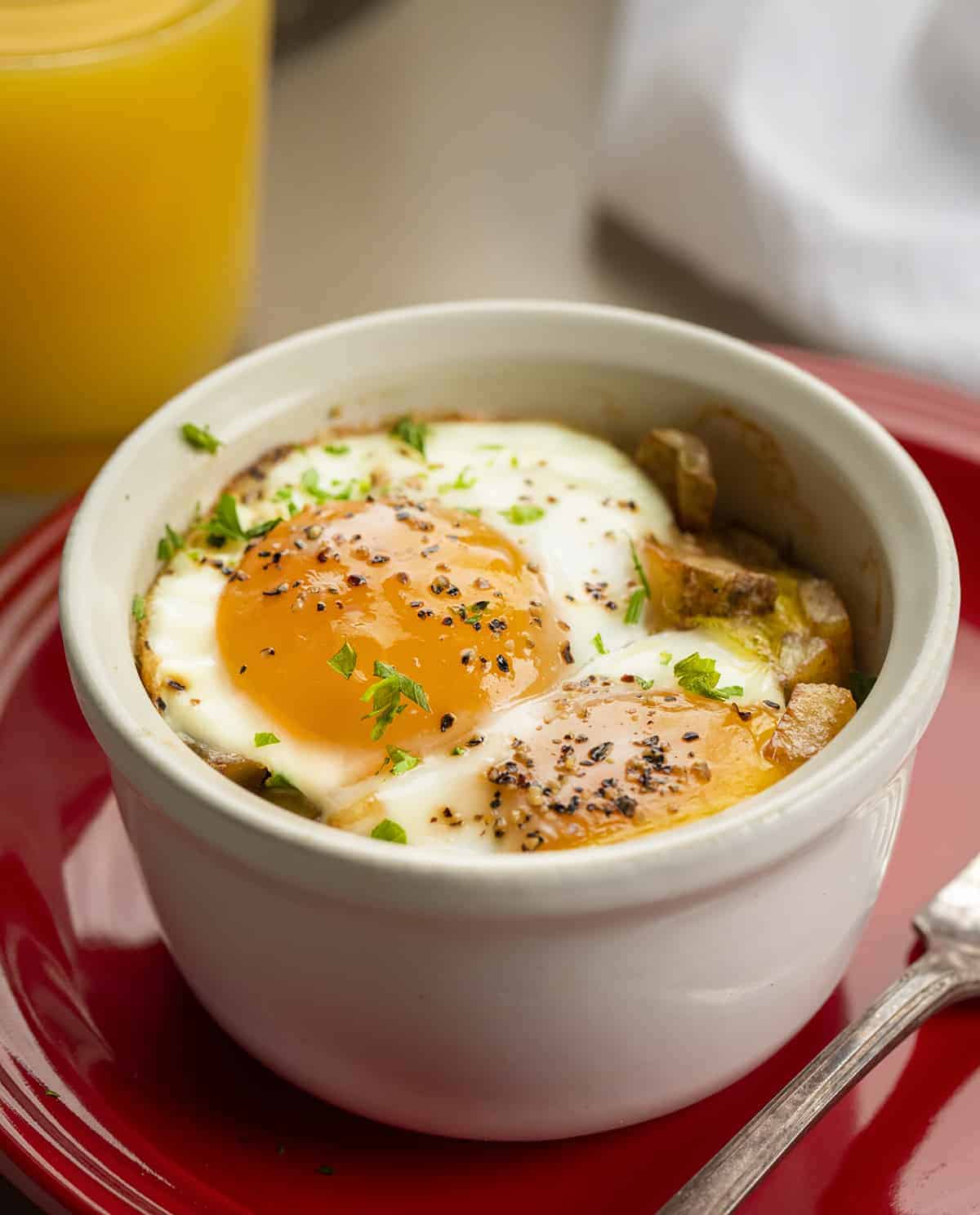 Baked Eggs
With eggs being a superfood full of nutritiousness, I like to have lots of ways to enjoy them! In fact, I have deviled eggs, scrambled eggs, egg salad, and a quiche lorraine recipe, just to name a few. This baked eggs recipe, also known as shirred eggs, is a great one to add to your list of egg recipes. It is made in individual servings, which means you can cook the eggs to your or your guests' (perfect around Thanksgiving and Christmas) preferred doneness. And, the eggs top fried potatoes and ham. Yum!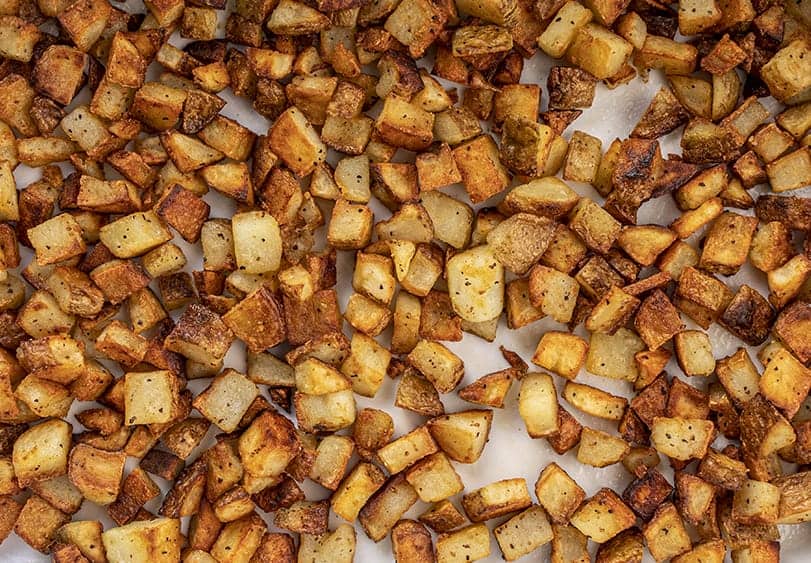 Eggs Ingredients
Eggs: I topped each dish off with 2 eggs. Since this makes four individual servings, I used 8 eggs. You could just top with one egg if that is your preference.
Potato: Wash the potato well before dicing; there is no need to peel it. I used a russet potato in this recipe because of its high starch content. Waxy potatoes do not fry as well.
Ham: For thick-cut slices of deli ham, simply ask the deli clerk for a thicker cut (about 1/2-inch). Then, cut the ham into cubes. This recipe is also perfect for using leftover ham from the holidays or blocks of ham.
Scallions: Scallions are also labeled as green onions (the same thing). They have a sharp onion flavor that is similar to white or yellow onions (which you could substitute).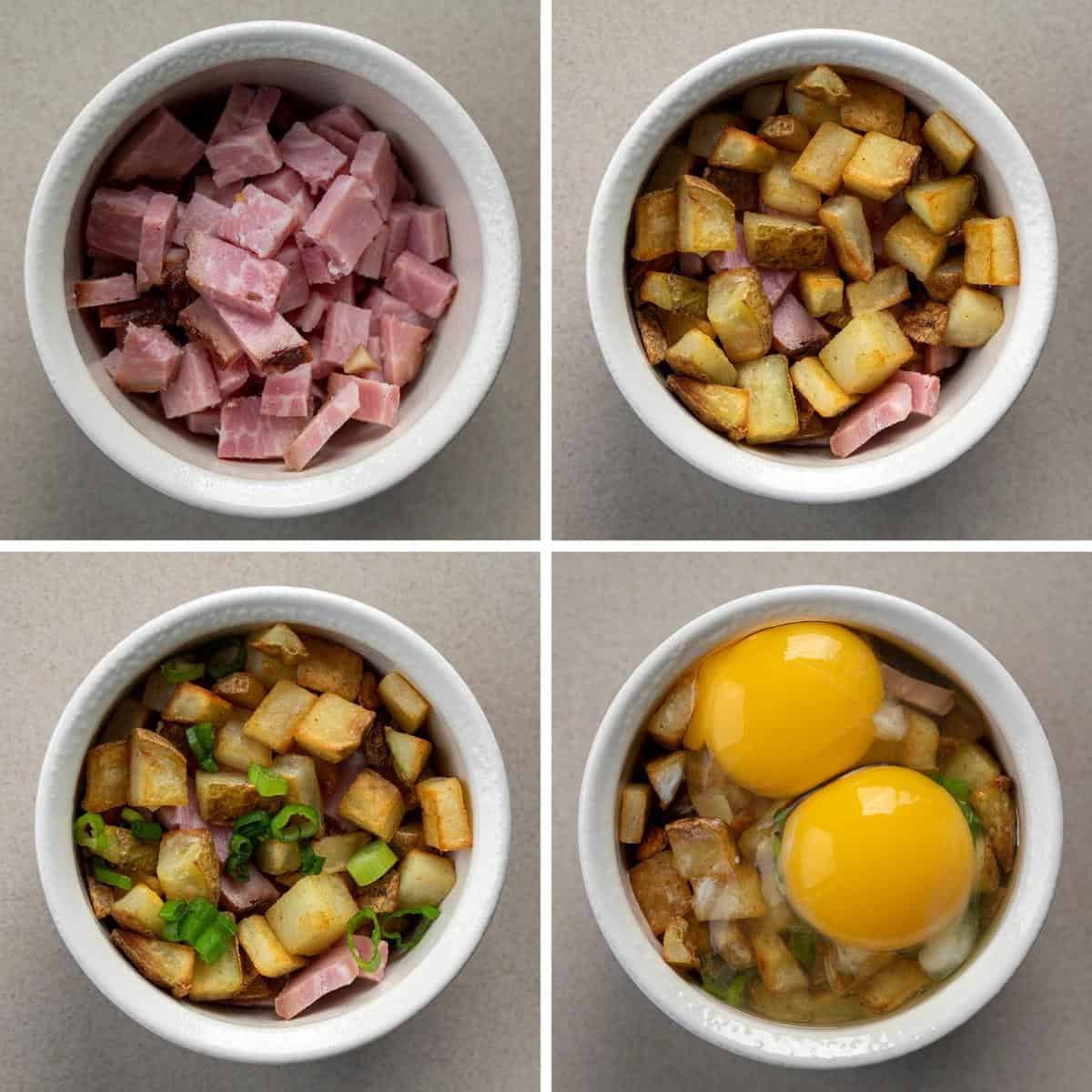 Preparing the Potatoes
The first thing to do in this recipe is to get the potato ready to be fried. First, wash the potato well. Next, cut it into 1/2-inch cubes. Then, melt butter in a skillet over medium heat. Once the butter has melted, add the potato cubes to the skillet and pan-fry them for 8-10 minutes, or until they are golden brown.
Divide the potatoes evenly between 4 small ramekins that have been sprayed with nonstick cooking spray. This ends up being about 1/4 cup of diced, cooked potatoes in each ramekin. Now, it's time to get the remaining ingredients added and everything baked!
How to Make Baked Eggs
After the potatoes have been fried and added to the ramekins, it's easy to get everything else added to the ramekins and baked. Top the potatoes with an equal amount of diced ham, which is about 1/4 cup per dish. Then, add scallions and a teaspoon or two of heavy cream to each.
Finally, crack two eggs into each ramekin, on top of the other ingredients. Season with salt and pepper and bake for 15-20 minutes, or until the egg whites are set and your desired consistency of the egg yolks is reached.
Remember, the eggs will continue to cook a bit after being removed from the oven. When ready to enjoy, you may have to run a butter knife around the edge to release the eggs a bit. Serve with a side of buttermilk biscuits.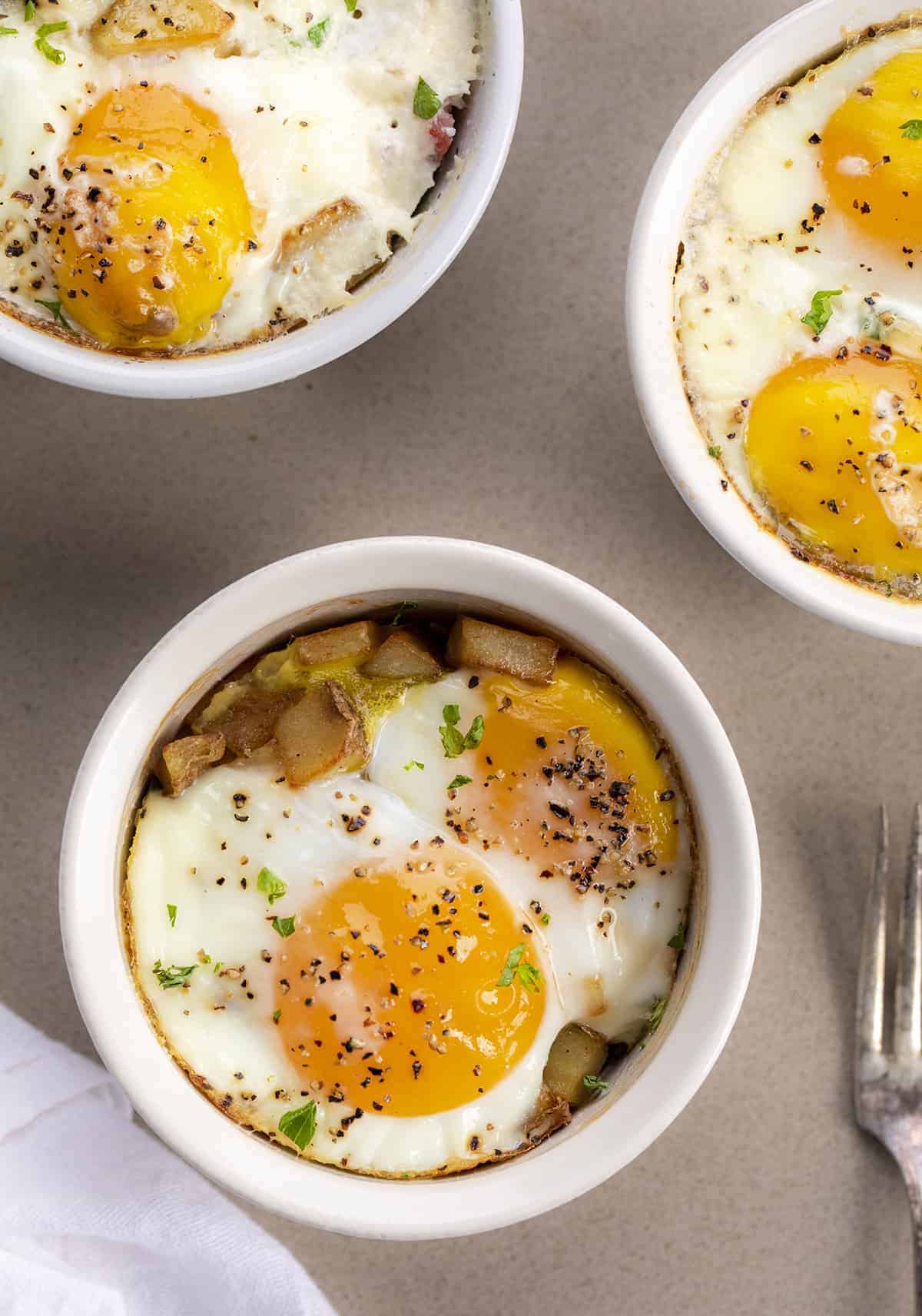 When are Baked Eggs Done?
This is a question that has a few answers (definitely a loaded question). Depending on how runny or firm you want the egg yolks will depend on cook time. In addition, the size of the eggs could also be a factor. If you want a runnier yolk, bake for less time. On the other hand, if the yolks are too runny for you, simply bake the eggs a little longer.
Oven temperature also varies from one oven to the next. So, depending on hot spots in your oven or temperature accuracy, that could affect the cooking time. If those were not enough discrepancies, the thickness of your ramekin or dish you are using and placement of the oven rack could also be factors! Whew! That is a lot to take in, but once you have the process down, you will love baked eggs!
Why are Baked Eggs also called Shirred Eggs?
You may or may not have seen these eggs referred to as shirred eggs. Baked eggs are also known as shirred eggs because of the vessel in which the eggs are baked. A 'shirrer' is another name for a ramekin, which is what we used to make these eggs. The ramekins stay nice and warm, keeping the eggs and ingredients inside them also warm.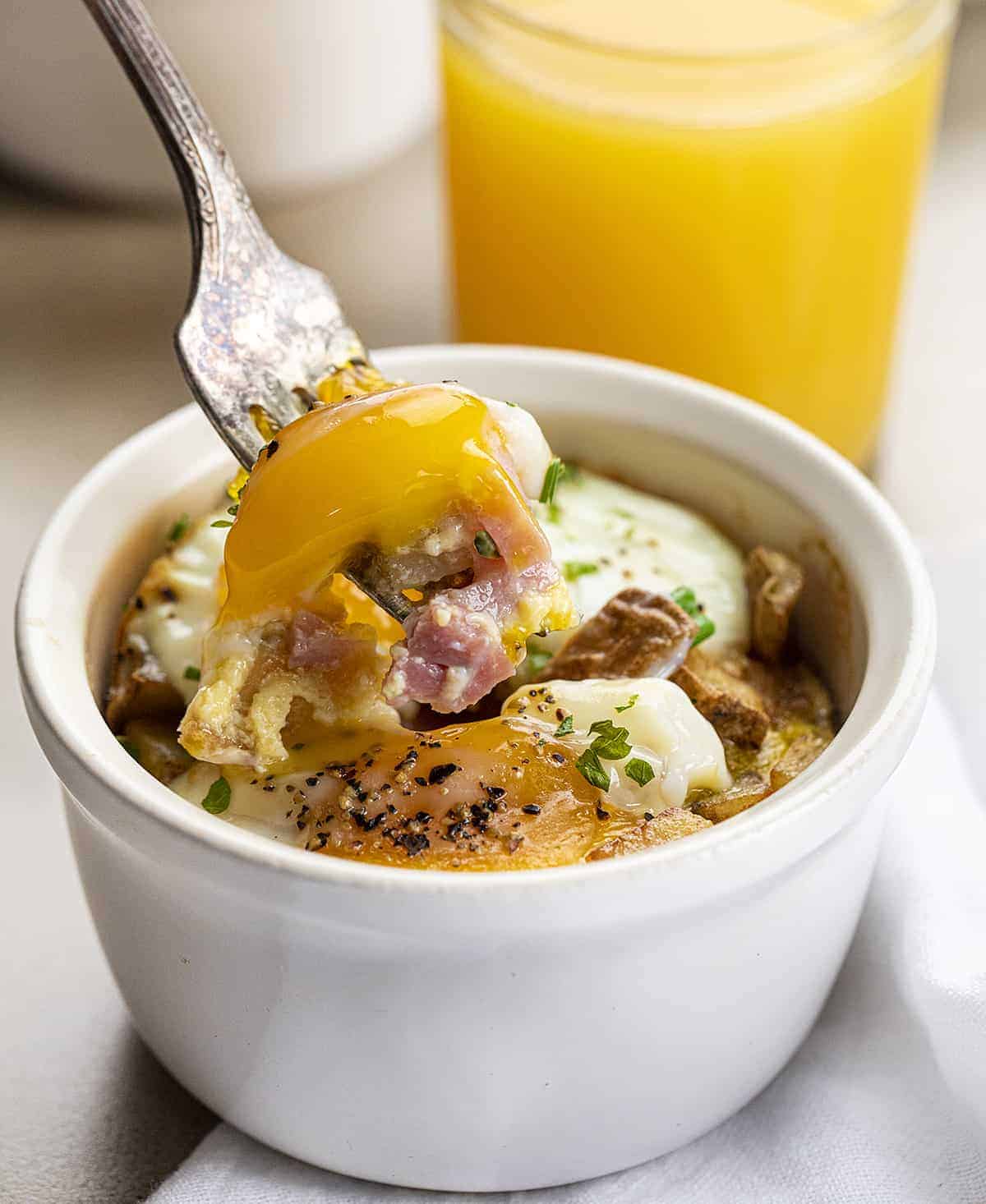 Can I Make this Without Ramekins?
Yes! But, be careful when choosing an alternate dish. Ramekins are generally ceramic, so first, look for a dish that is also ceramic. If you can't find any ceramic cookware, look for steel, aluminum, or cast-iron dishes. The most important thing to look for is to make sure the dishes are oven-safe! In addition, cooking this recipe in a different kind of dish could yield different results; cooking time and temperature may have to be adjusted.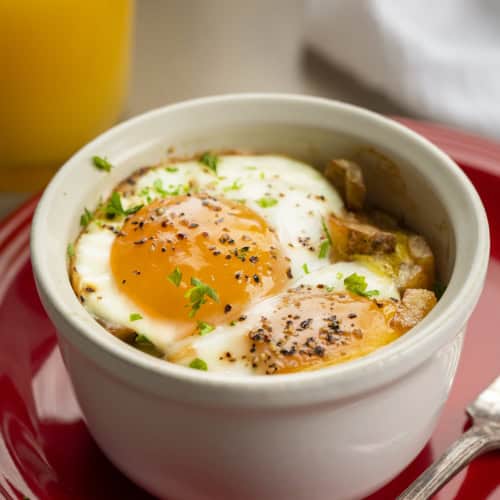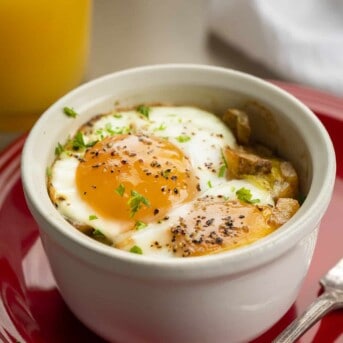 Baked Eggs
Baked Eggs are eggs that are baked to your likeness on top of pan-fried potatoes, deli ham, and scallions, all in individual-sized portions.
Ingredients
1

tablespoon

butter

1

large

russet potato,

diced into ½-inch cubes (approximately 2 cups)

4

slices

thick-cut deli ham,

diced into ½-inch cubes (approximately 2 cups)

1

stem

scallion,

thinly sliced

2

tablespoons

heavy cream,

divided

8

large

eggs,

room temperature

½

teaspoon

kosher salt

¼

teaspoon

pepper
Instructions
Arrange the oven rack to the center position and preheat the oven to 400°F. Spray 4 small ramekins with nonstick cooking spray and set aside.

In a large skillet over medium heat, melt the butter.

Once the butter has melted, add the diced potatoes and cook, stirring occasionally, until golden brown (about 8-10 minutes).

To each of the prepared ramekins, add ½ cup cooked potatoes, ½ cup diced ham, and a quarter of the sliced scallion.

Top each with 1-2 teaspoons of heavy cream.

Crack 2 eggs into each ramekin and season with salt and pepper.

Bake 15-18 minutes, or until the egg whites are set and the yolks reach your desired doneness.
Did you make this recipe?
You can tag me at @iamhomesteader.