Slow Cooker Shredded Beef Tacos are made with tortillas filled with shredded roast beef stewed in enchilada sauce, onions, queso fresco, and cilantro. Simply amazing! If you love meaty tacos, be sure to try my steak tacos, too!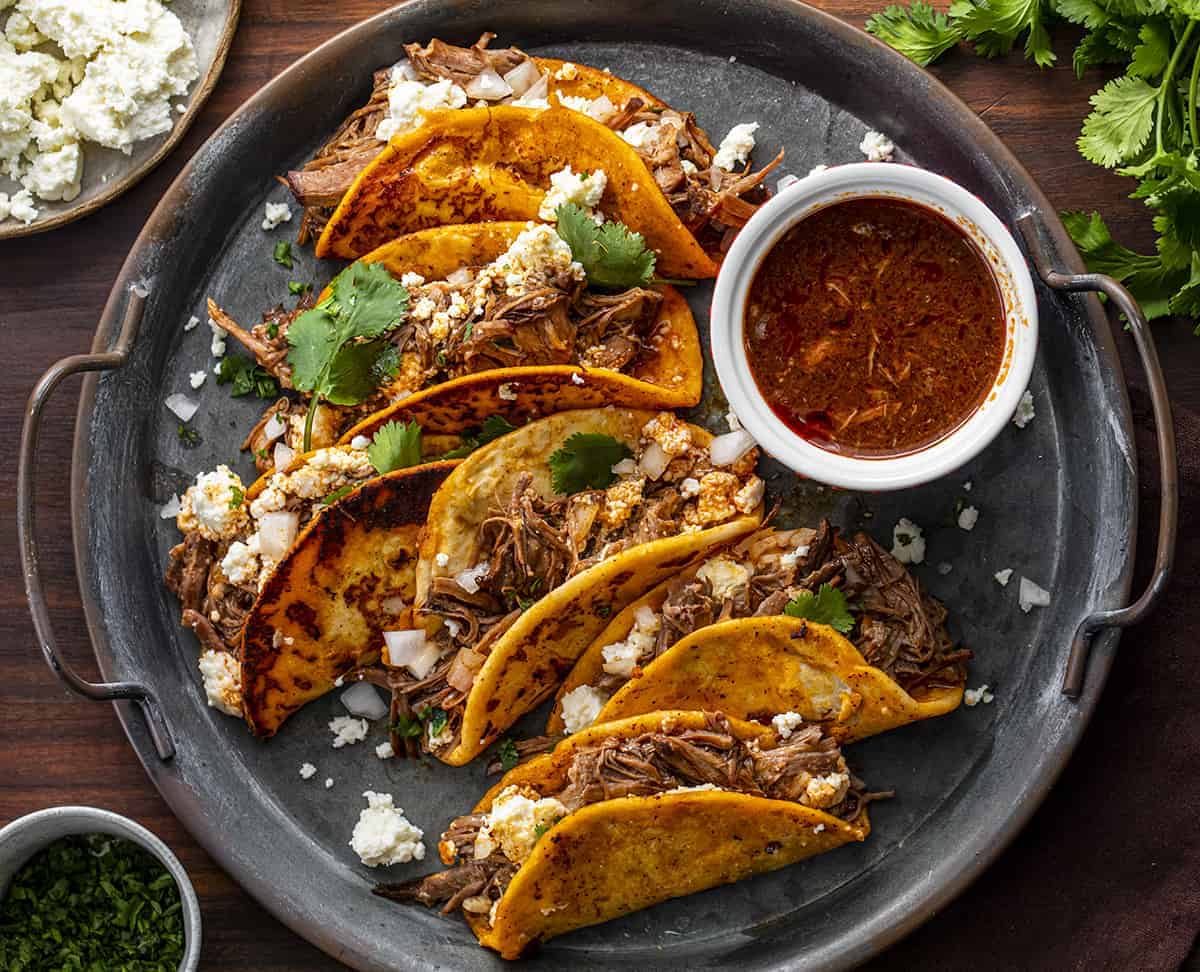 Slow Cooker Shredded Beef Tacos
This recipe is based on Birria Tacos. Or, Lazy Birria Tacos to be exact. 😉 What are birria tacos exactly? At its most basic, birria is a meat stew bathed in a melange of chiles and spices, giving it a deep, red hue. Traditionally birria is made with goat meat and is served on corn tortillas. It is a Mexican dish (stew) from the state of Jalisco. These are a simplified version in that they have great flavor, but I didn't use the traditional ingredients and I served them on flour tortillas (just a personal preference). I also used the beef on my Shredded Beef Sliders, which you will want to try!
I am going to warn you right away that these tacos are messy! But, they are messy in the best and most flavorful way (just like my Buffalo Chicken Tacos). The tacos start with a chuck roast that has been smothered in enchilada sauce and slow-cooked to tender shredded beef. Then flour tortillas are dipped into the juices from the beef, fried in a skillet, and filled with the beef, onion, queso fresco, and cilantro.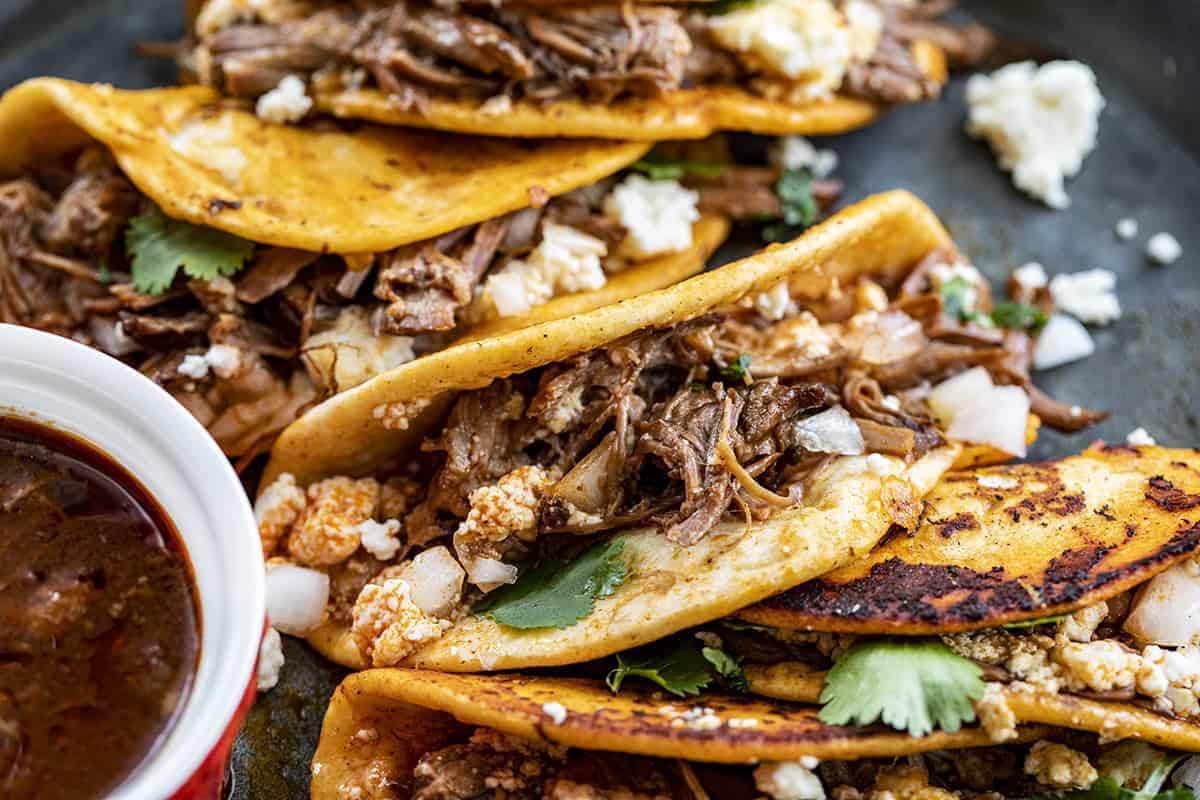 Shredded Beef Tacos Ingredients
Beef: Choose a cut of beef like a chuck roast for this recipe. While it slowly stews in the sauce, it will become nice and tender.
Enchilada Sauce: Buy a can of sauce or make your own enchilada sauce.
Tortillas: I used the smallest-sized taco flour tortillas, but corn tortillas would also be delicious. As this type of taco is traditionally served on corn tortillas, you can use corn instead.
Queso Fresco: Queso fresco or 'fresh cheese' is a white, milky cheese that is commonly associated with Mexican cuisine. You could also use mild feta cheese or cotija cheese (or any of your favorite kinds of cheese).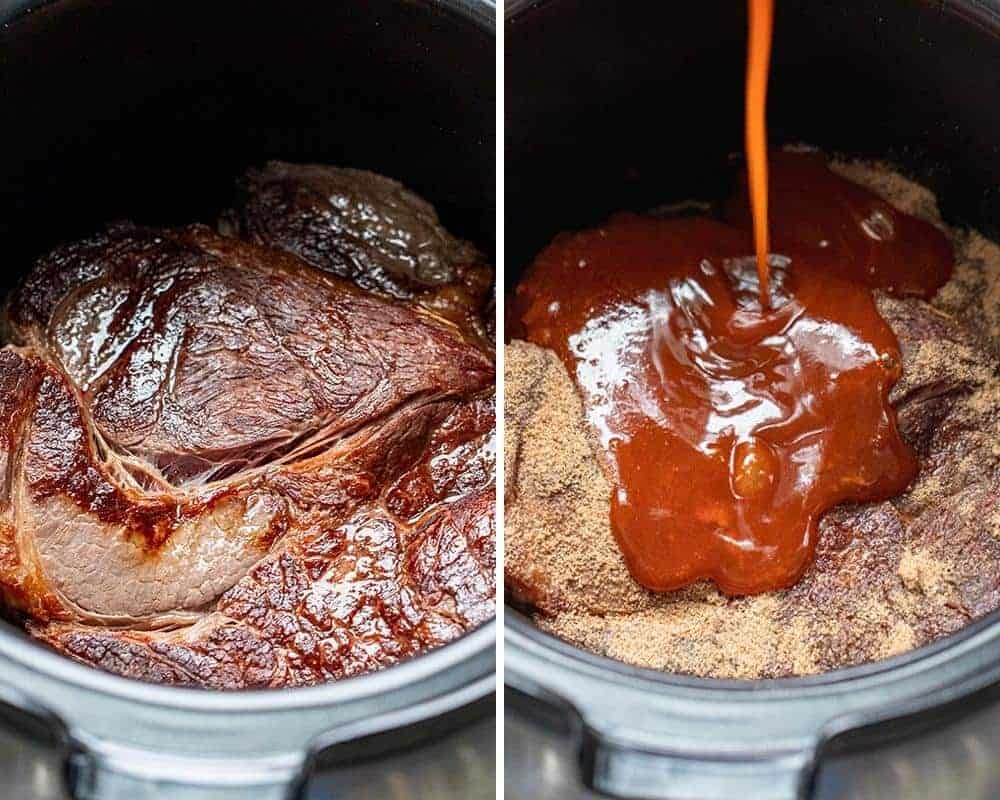 Slow Cooking the Beef
The first thing you will need to do for this recipe is to slow-cook the chuck roast for about 10 hours. This means you could make it early in the morning and let it cook throughout the day. Or, you could even prepare it the night before and let it cook overnight; then, you could keep it set on warm until ready to eat.
Before adding the roast to the crockpot, sear each side for a few minutes. Yes, it is important to sear the meat to bring out the most flavor from the roast. Place the seared meat into the slow cooker and top it with bouillon powder and enchilada sauce. Cover and cook on low for 10 hours. Once the meat has been slowly cooked, it's time to shred it and get the yummy and messy tacos made and devoured! Remove the beef from the crockpot and use two forks to shred it.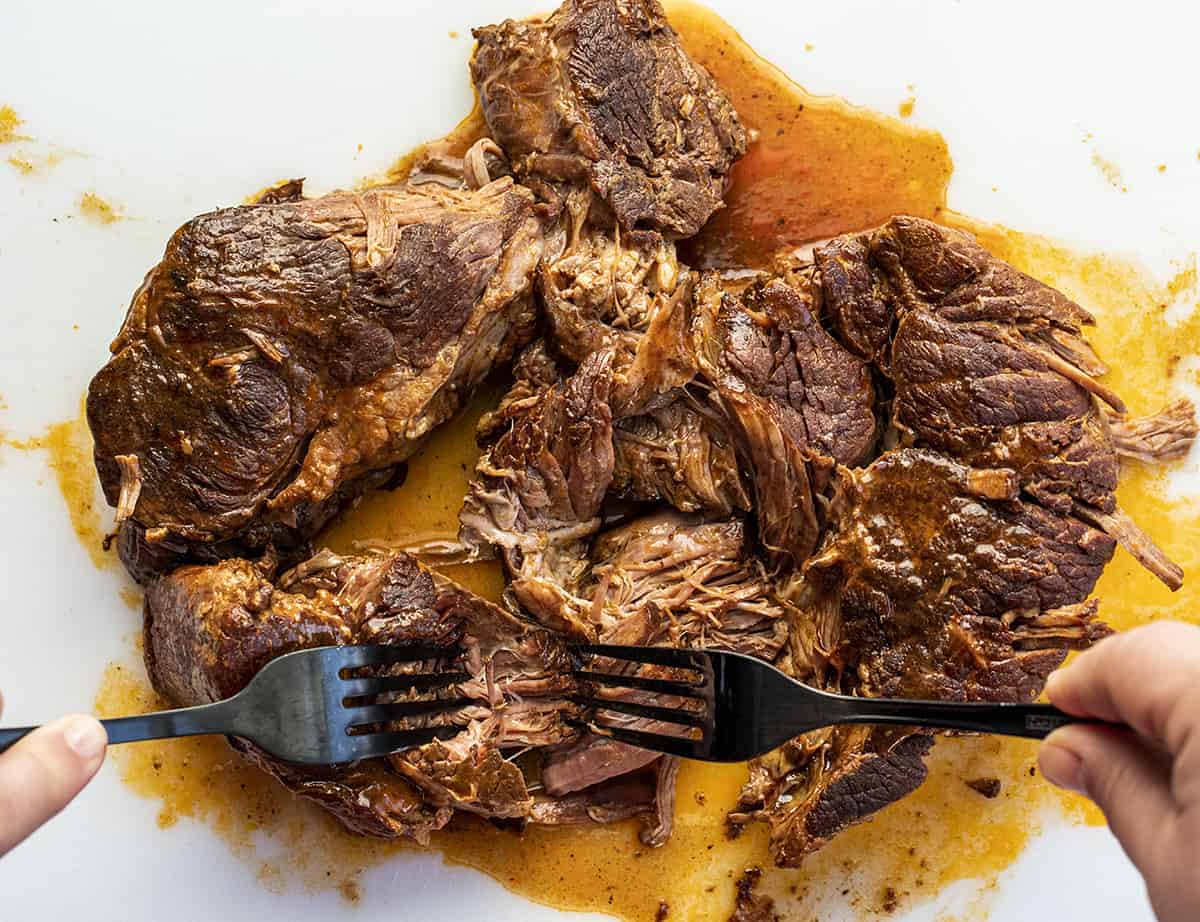 Can I Cook the Meat In An Instant Pot?
Sure! To save time, you can cook the roast in an instant pot. First, add a tablespoon of oil to the pressure cooker and set it on the highest sauté setting. Let it heat for about 5 minutes. After heating, add the roast and sear for 3-5 minutes on each side.
After searing the beef, lock the lid, making sure the valve is set to seal. Cook on high pressure for about 40 minutes. After 40 minutes, give the pressure cooker 15-20 minutes to release the pressure naturally. This is when it is safe to remove the lid.
Pro Tip: If you forgot to take the roast out of the freezer, you can still get the shredded beef made in an instant pot. Follow the above instructions, but cook the frozen roast for 90 minutes and give it about 30 minutes for the pressure to release.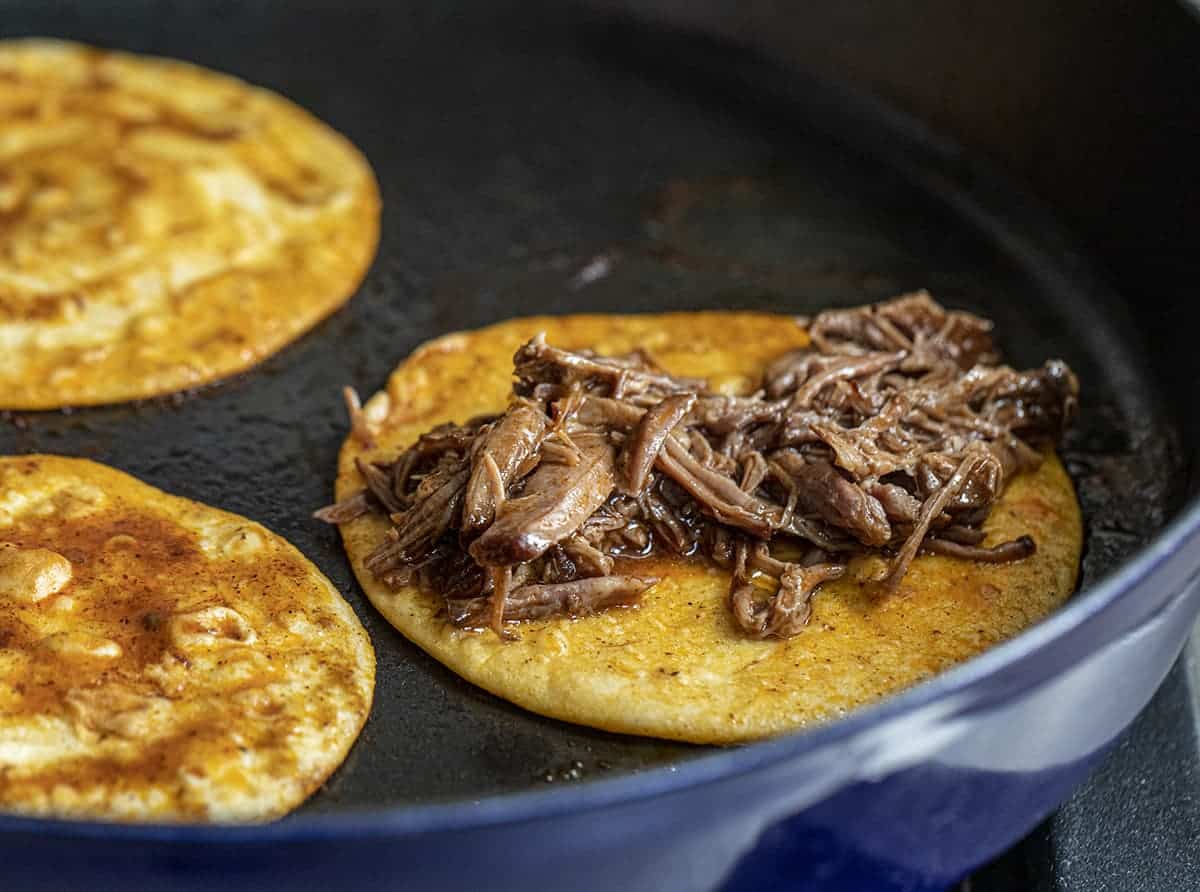 Can I Make Enchiladas with the Shredded Beef?
Yes, the shredded beef would be perfect for enchiladas. In addition, you could use the beef for nachos, burritos, grilled cheese, shredded beef macaroni and cheese, and quesadillas, just to give you a few more options.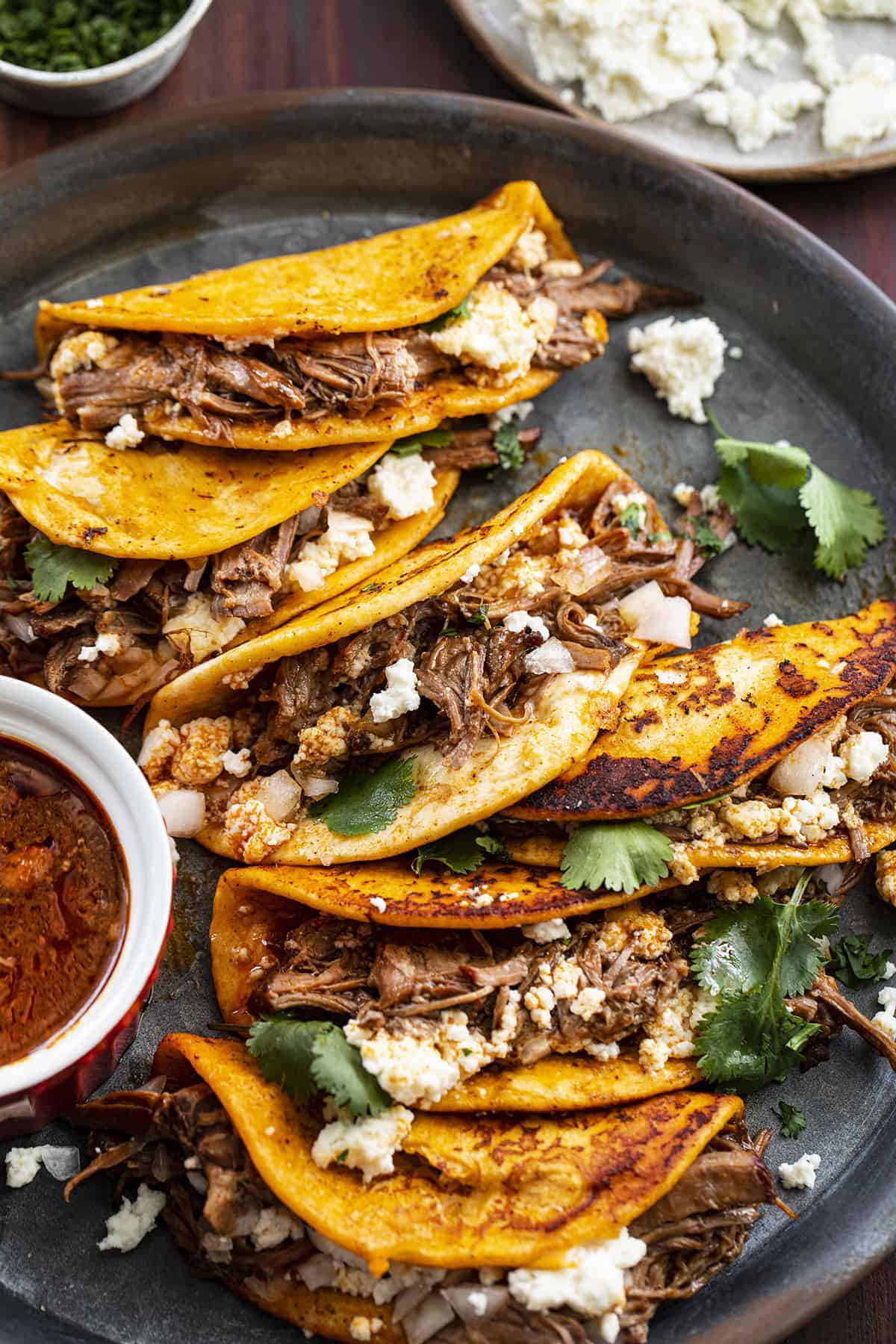 Can I Make the Tacos Spicy?
Yes! If you want more of a kick to the tacos, simply add cayenne pepper or chipotle peppers to the slow cooker as you are cooking the chuck roast.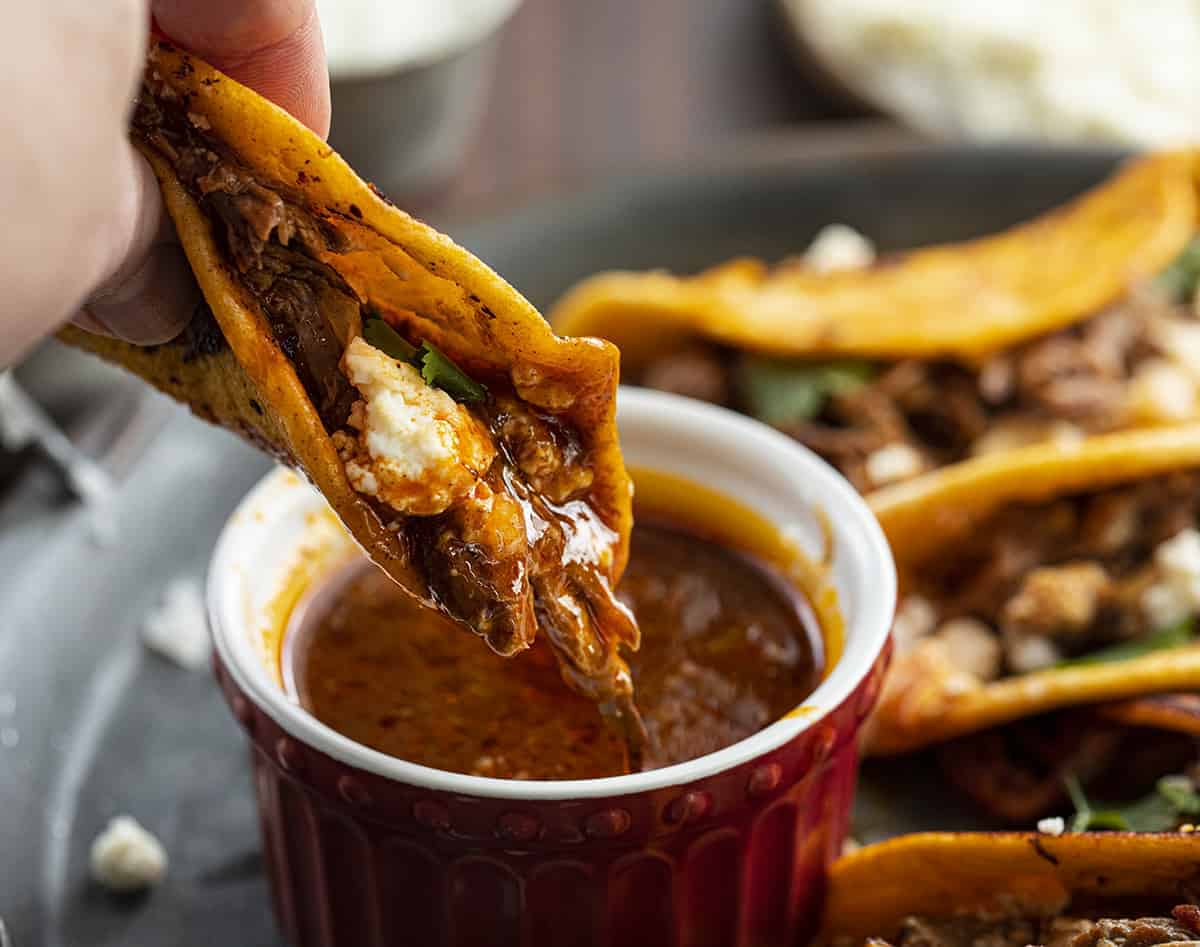 How to Store Shredded Beef
I don't recommend storing the assembled taco. However, you can absolutely store extra meat! Place meat in an airtight container or plastic bag for 4-5 days. To freeze, place meat in a freezer-safe container or plastic storage bag and remove as much air as possible. Be sure to label and date. It will last 3 months in the freezer.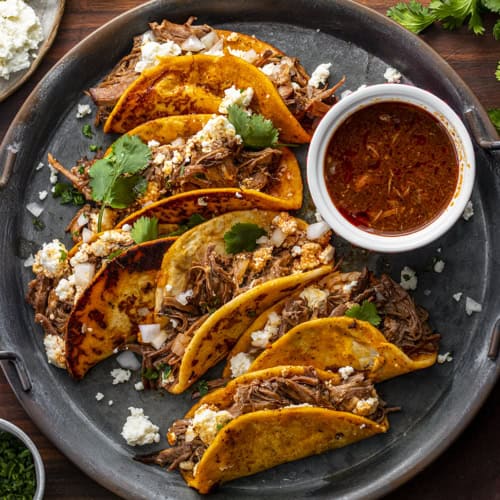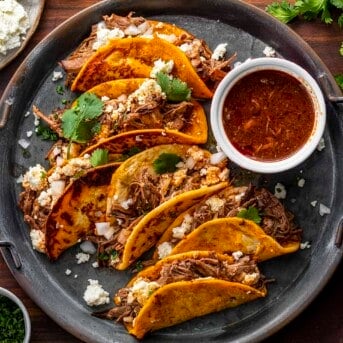 Slow Cooker Shredded Beef Tacos
Slow Cooker Shredded Beef Tacos are made with tortillas filled with shredded roast beef stewed in enchilada sauce, onions, queso fresco, and cilantro.
Ingredients
1

tablespoon

olive oil

3

pounds

chuck roast

1

tablespoon

beef bouillon powder,

or 1 bouillon cube

1

can

(28 ounces) enchilada sauce

25-30

small

(4 ½ inches each) taco tortillas,

flour or corn

1

white

onion,

finely diced (about 1 cup)

1

cup

queso fresco

2

tablespoons

cilantro,

minced

lime,

for garnish
Instructions
To a large cast-iron skillet over medium-high heat, add oil.

Once the oil is hot, add the chuck roast to the skillet and sear on each side, just enough to brown (3-5 minutes per side).

Add the seared beef to a crockpot. Top with bouillon powder and the enchilada sauce.

Cover and slow cook on low for 10 hours.

When ready, remove the chuck roast from the slow cooker and use two forks to shred. Add the shredded roast back to the juices in the slow cooker.

Preheat a skillet to medium-high heat.

Once hot, working one at a time, dip a tortilla into the juices in the crockpot. Add the tortilla to the hot skillet. While it is cooking, top with shredded roast, onion, queso fresco, and cilantro. Cook for 1-2 minutes. Use a spatula to remove from the skillet.

Fold the tortilla in half. Serve with leftover juices from the slow cooker for dipping.
Did you make this recipe?
You can tag me at @iamhomesteader.
What to Serve with Slow Cooker Shredded Beef Tacos
The tacos are delicious on their own, but adding some sides to the tacos really makes them a meal. Here are some options for sides:
This recipe was inspired by @cookerofdeliciousness on TikTok.