Sweet potatoes are one of my favorite side dishes. They are packed with nutrients and can be made sweet or savory. Breakfast Sweet Potatoes are sweet potatoes filled with all your favorite breakfast foods, like bacon, egg, and cheese! Not much can go wrong with a hot and filling breakfast like this one! If you love sweet potatoes, be sure to try my Mashed Sweet Potatoes.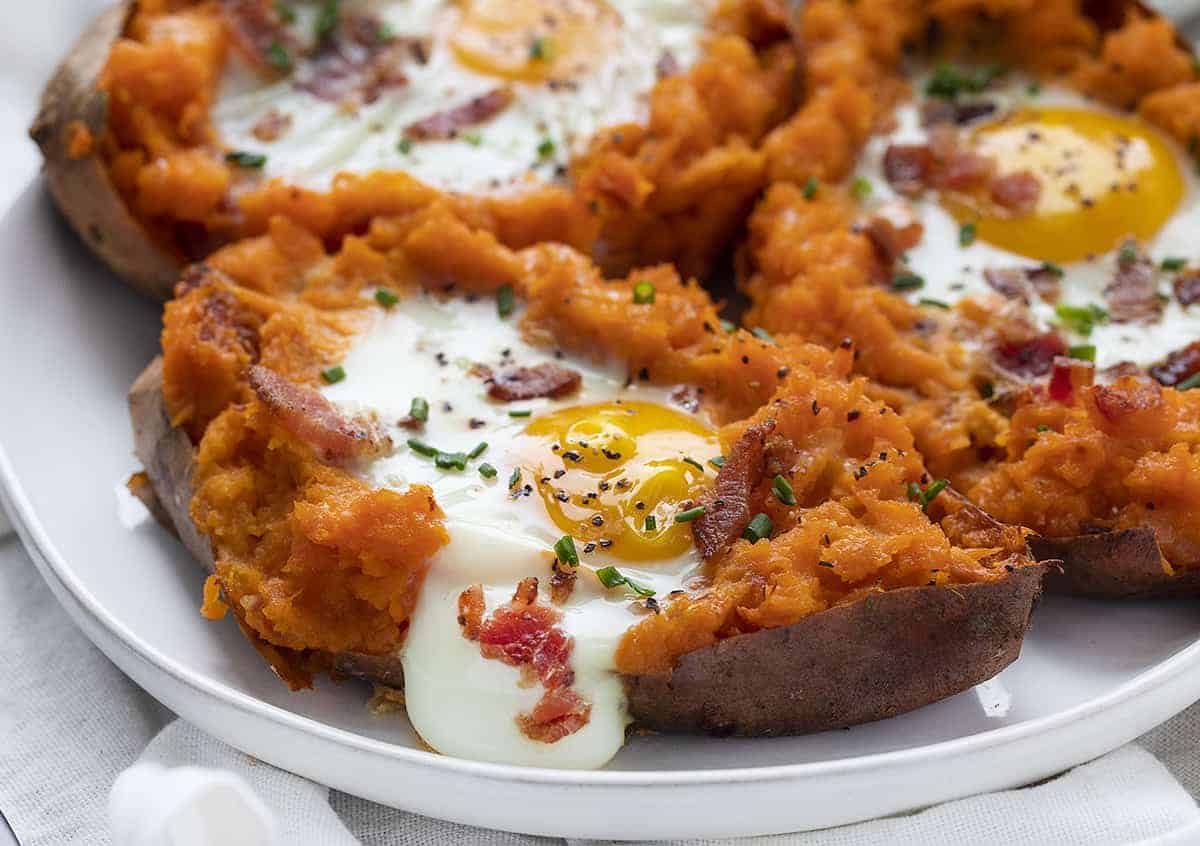 Breakfast Sweet Potato
Looking for something new and exciting to add to your breakfast menu? Maybe it's time to give a Breakfast Sweet Potato a try. Outside of being packed with bacon, egg, and cheese, these vegetables are packed with all sorts of nutritional benefits. They have loads of fiber, iron, and calcium, as well as vitamins B and C. In addition, they are a great source of beta-carotene, which is a powerful antioxidant. There are multiple ways to cook up sweet potatoes, so make sure to check out my sweet potato casserole, too!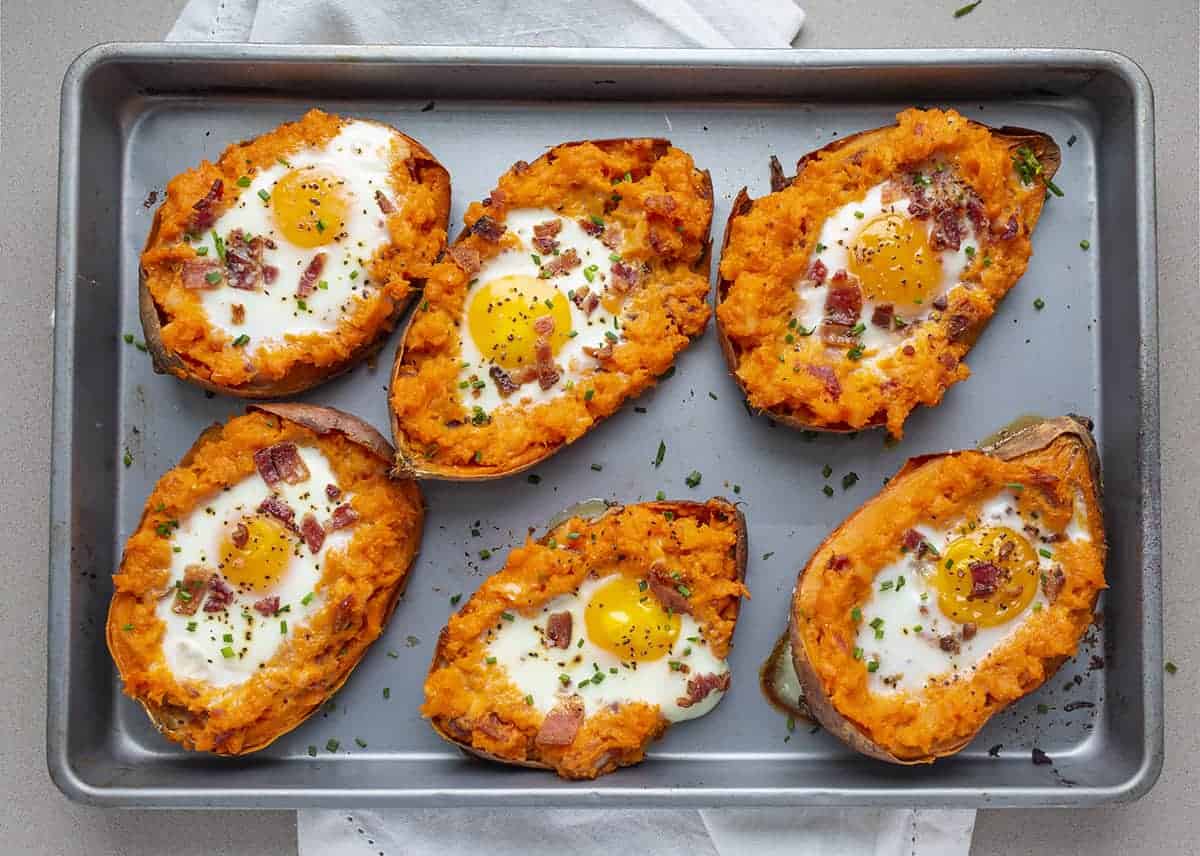 Breakfast Sweet Potato Recipe
It all starts with a tender sweet potato for this hearty breakfast. I will give you tips on baking the perfect sweet potato next. Then, it's all the favorite breakfast staples like bacon, egg, and cheese.
How to Bake a Perfectly Baked Sweet Potato
The potato is such an important part of this recipe, so you want it done right!
Clean the potatoes well before baking them.
Preheat the oven to 350°F.
Prick holes all around the potato (carefully), using a knife or fork. This allows the steam to escape from inside the potato. If you do not prick holes in the potato, it may actually burst inside your oven.
Rub the potatoes with oil and season them with Kosher salt. Be generous with the salt.
Place the potatoes on a foil-lined baking sheet and let them cook at 350°F for about an hour to an hour and a half, or until they are fork-tender. A fork will easily pierce the baked potato when it's done. If it is hard, bake it for a little longer. Be careful to not overbake, though!
Remove them from the oven and let them cool before you begin to handle them.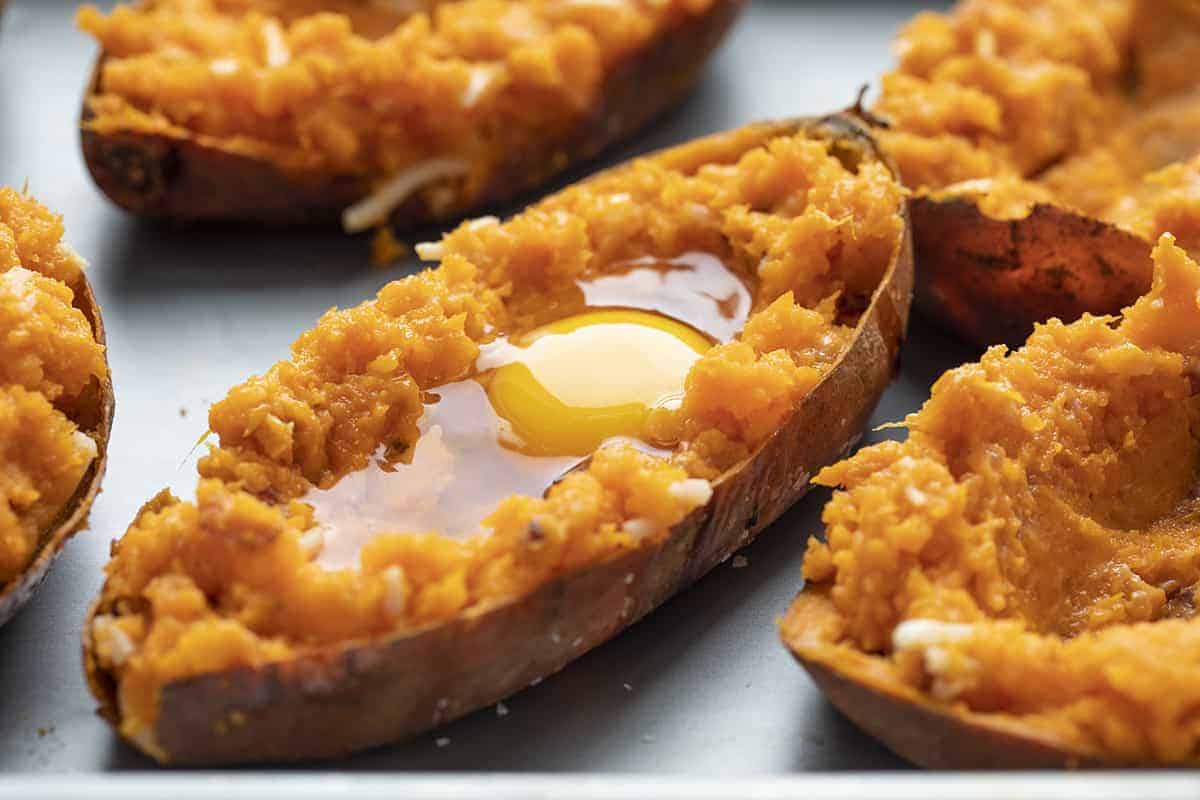 How to Make Breakfast Sweet Potatoes
After the potatoes have cooled down, it's time to fill them with the breakfast mixture that gives the potatoes their name. Using a sharp knife, cut the potatoes in half. Carefully spoon out the center of each potato and put the scooped out potato into a large mixing bowl. Lay the hollowed-out potato shells on a baking sheet while you mix the bacon, butter, and cheese to the spooned out sweet potatoes. Fill 'each potato bowl' with this mixture. Then, make a well in each potato. Crack a raw egg into each potato well and top them each off with the salt and pepper. Bake for 15-20 minutes, or until the egg is set and the potatoes are warmed through. Garnish them with minced scallion, if you wish.
Can I Make Breakfast Sweet Potatoes Ahead of Time?
There are some shortcuts to this recipe. I understand that not everyone has an hour and a half to cook breakfast! A couple of things you can do to have things ready to go in the morning is to bake the sweet potatoes in the microwave the first time and bake the bacon ahead of time.
Most of the prepping of the potatoes are the same as baking them in the oven. First, scrub and wash the potatoes. Then, poke holes in the potatoes using a fork or knife. Rub the canola oil over each potato and sprinkle on the salt. Finally, wrap the potatoes in a paper towel that has been moistened with a little more canola oil. Cook two potatoes at a time in the microwave, checking if they are fork-tender after 8 minutes. If not, cook one minute more at a time until they are ready. Then, hollow them out, fill them, and bake them for the 15-20 minutes the second time. I actually have baked the potatoes the night before, refrigerated them, and used them the next morning. I didn't notice a difference in the final taste.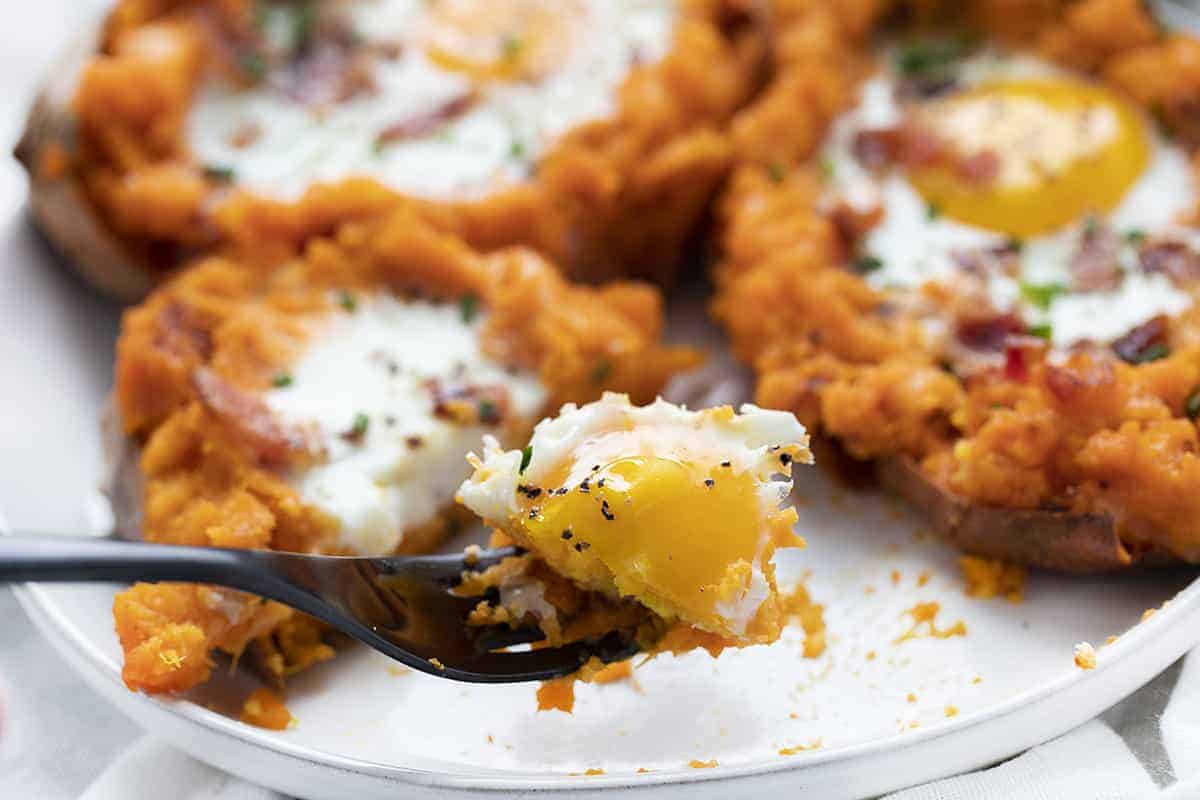 How to Bake Bacon
When I cook bacon, I do it in the oven.  I set the temperature to 415°F and while it is preheating, I lay out the individual slices of bacon on a foil-lined rimmed baking sheet.  (Yes, right on the pan! No rack needed.) They are perfectly crispy in 18-20 minutes.  No flipping and easy cleanup! Then, crumble the strips of bacon into little pieces. Use this trick for other recipes calling for bacon like my Cheesy Bacon Chicken Pinwheels.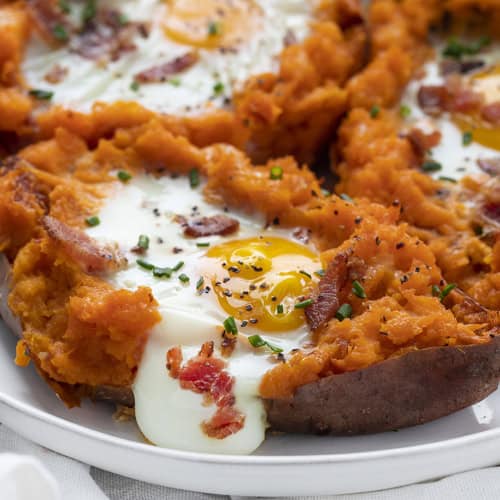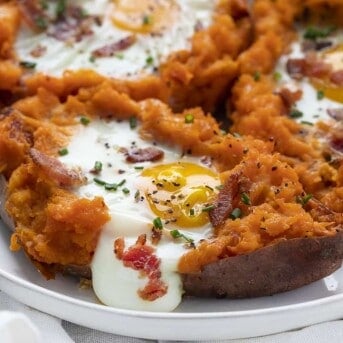 Breakfast Sweet Potato
These Breakfast Sweet Potatoes are loaded with the nutrients of the sweet potato and filled with your favorite breakfast staples of bacon, egg, and cheese!
Ingredients
3 

large

sweet potatoes,

for baking

½

cup

bacon,

cooked and crumbled

2

tablespoons 

unsalted butter

¼

cup 

shredded white cheddar cheese

6 

large

eggs

¼

teaspoon

black pepper

½

teaspoon

salt

scallion,

minced (for topping)
Instructions
Preheat the oven to 350°F.

Using a fork, prick the sweet potato a few times on each side to create heat vents.

Coat each potato with canola oil and salt and bake for 60-90 minutes. Potatoes should be fork-tender when done.

Using a sharp knife, slice each sweet potato in half lengthwise.

Using a spoon, remove the center of the potato and place into a large mixing bowl. Be very careful not to tear the potato skin.

Lay the hollowed-out shells on a baking sheet.

To the bowl of potatoes, add cooked bacon, butter, and shredded cheese. Mix together.

Fill the hollowed-out potato skins with the filling.

Create a well.

Top each potato with raw egg, salt, and pepper and bake for 15 to 20 minutes or until the egg is set and the potato is warmed through. Top with minced scallion (optional).
Did you make this recipe?
You can tag me at @iamhomesteader.