Ham and Cheese Breakfast Pastry are squares of puff pastry topped with ham, two kinds of cheese, and scrambled eggs. It's the perfect way to use up leftover ham and serve any overnight holiday guests. Try my Breakfast Puff Pastry, too!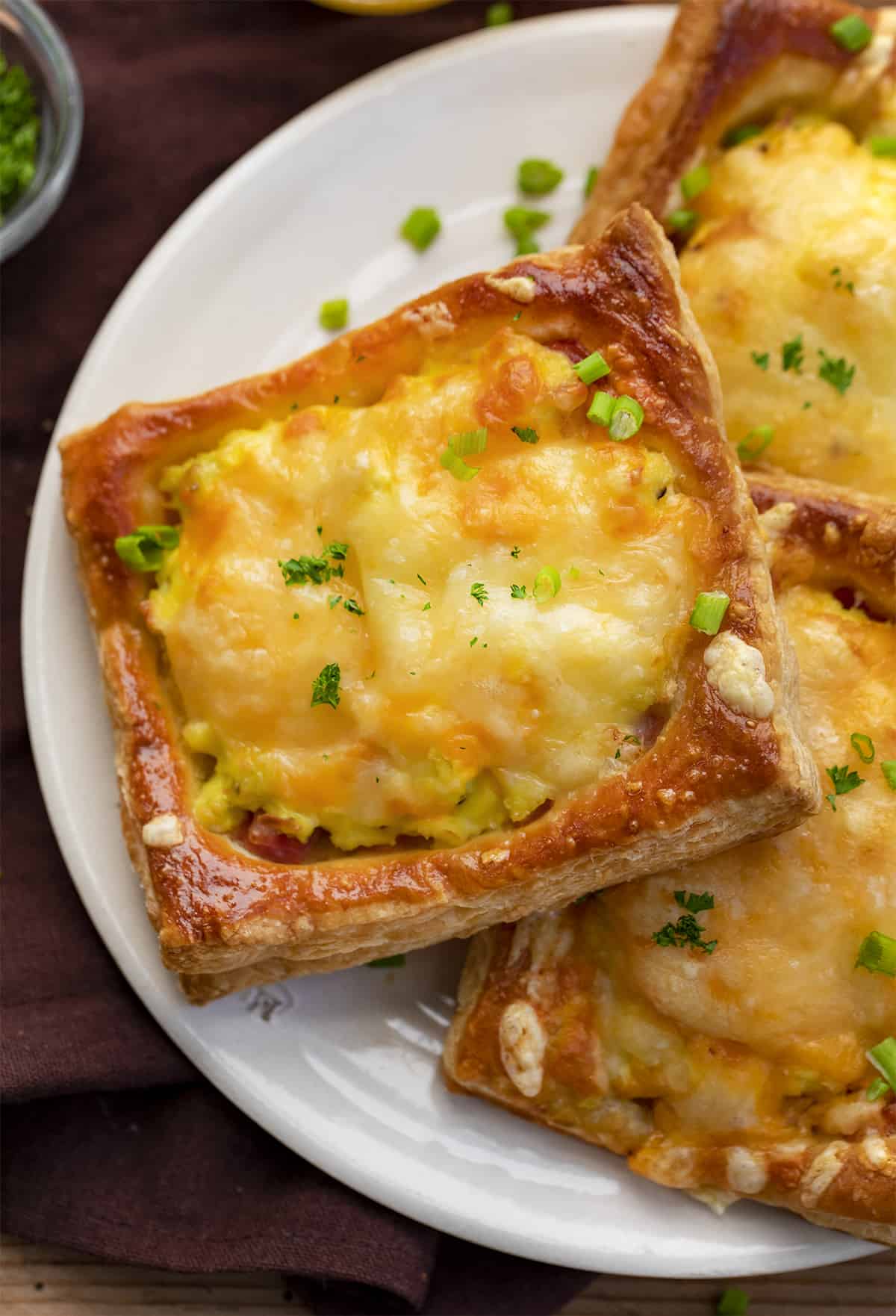 Ham and Cheese Breakfast Pastry
There is something comforting about a hot breakfast. And, when it is easy to put together, even better! We are now in the holiday season, so this breakfast pastry is perfect to serve to overnight guests, using leftover ham you may have. But don't just wait for the holidays to make the breakfast pastry; it's easy enough to make any time you are craving it! And, you can make these in an air fryer, too.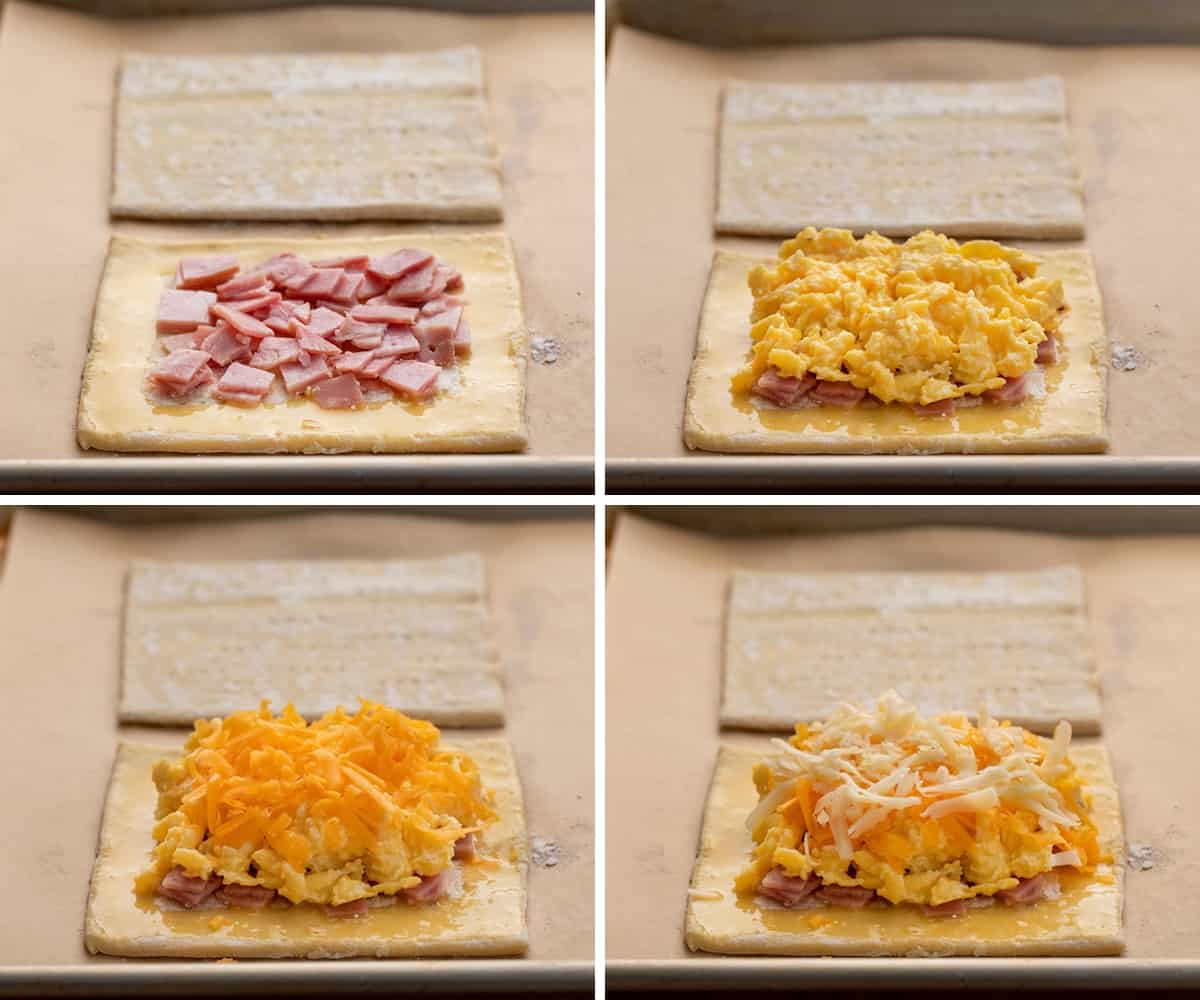 Ingredients
Puff pastry: You will need one sheet of store-bought puff pastry, thawed according to package instructions. Or, make your own puff pastry from my Apple Turnover recipe.
Ham: If you don't have any leftover ham, use some diced deli ham (folded slices would also work). Or, substitute with cooked, crumbled bacon or cooked breakfast sausage.
Cheese: I love cheese, so the more, the merrier! Both Swiss cheese and sharp cheddar cheese were added to the breakfast pastries. You could use just one kind of cheese or your favorites.
Eggs: I used 4-5 eggs to scramble. You can use your favorite method to scramble eggs or follow my buttermilk scrambled eggs recipe. Grab an extra egg to use as an egg wash.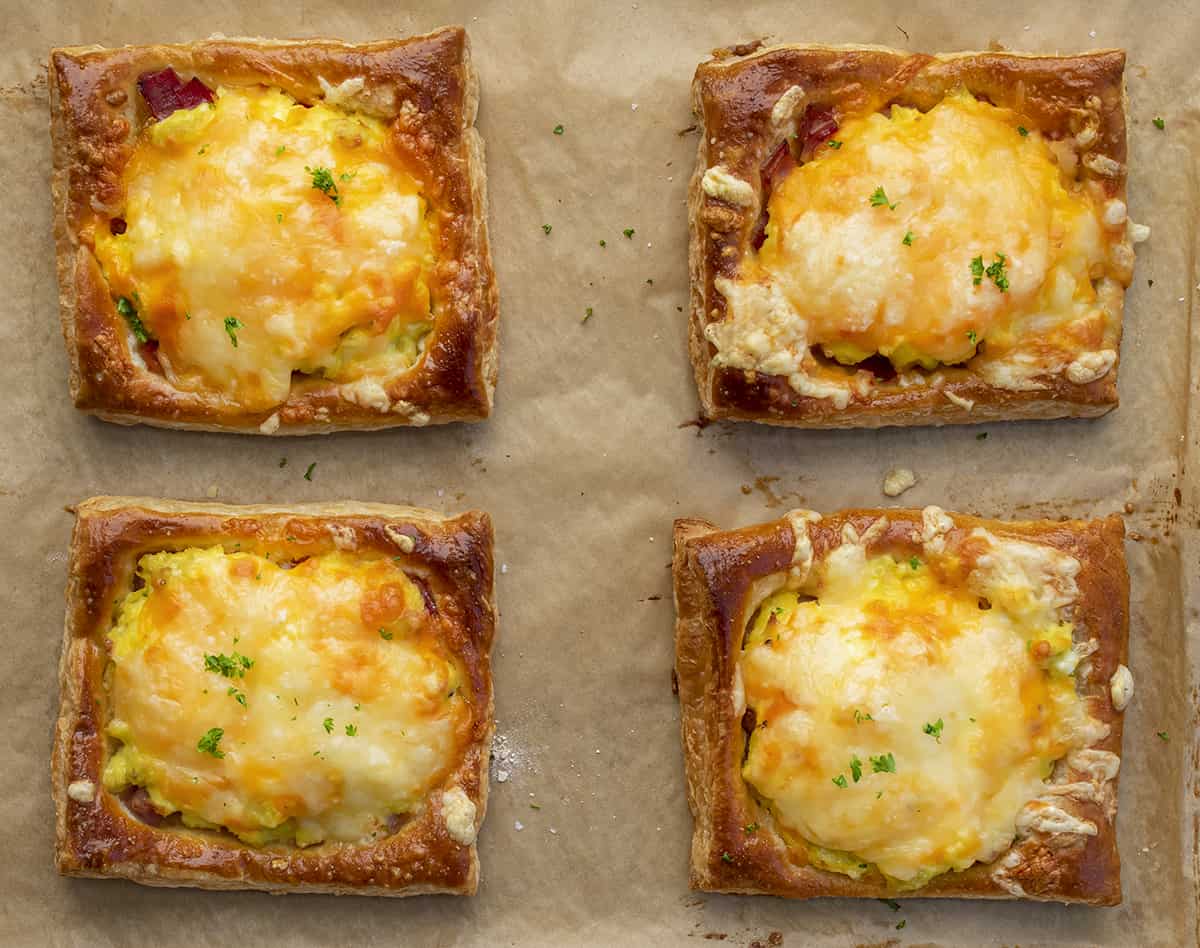 What to Serve with Ham and Cheese Breakfast Pastry
Yes, this is delicious as-is, but it's nice to add some color and more variety to the table when serving. Serve the ham and cheese breakfast pastry with a fresh fruit platter and dip. And add some hash brown patties to the table, too!
Can I Make This Ahead of Time?
Sure! You can get everything assembled the night before. Then, place the breakfast pastries onto a baking sheet, cover them with plastic, and store them in the refrigerator overnight. Now, they are ready to be baked the next morning.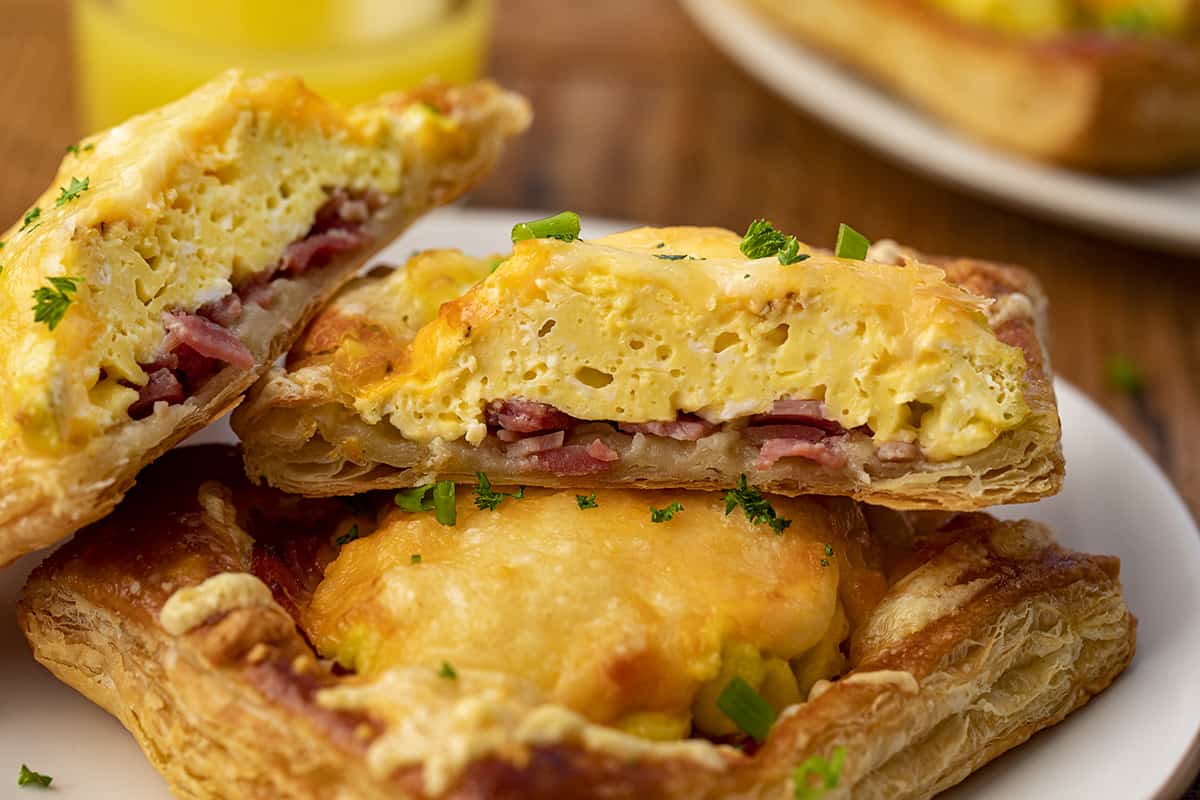 Air Fryer Ham and Cheese Breakfast Pastry
If you prefer using an air fryer, follow the instructions up to baking in the oven. Instead, place the breakfast pastries into the basket of your air fryer. Depending on the size of your air fryer, you may need to work in batches. Cook for about 11 minutes at 350°F.
How to Store & Freeze
Leftover pastries can be stored in the refrigerator, in an airtight container, for up to 3 days. You could reheat them in the oven or in the microwave.
To freeze, let them cool completely. Next, place the cooled pastries in the freezer for about an hour, or until frozen. Once frozen, it's easy to store them in a freezer-safe container for up to 3 months. Reheat them in the microwave or back in the oven for a crispier pastry.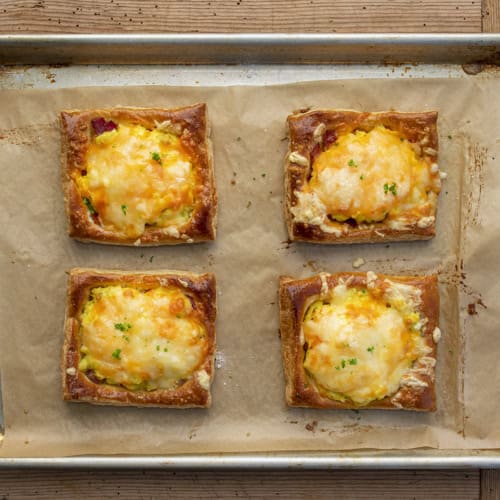 Ham and Cheese Breakfast Pastry
Ham and Cheese Breakfast Pastry is made with squares of puff pastry topped with ham, two kinds of cheese, and scrambled eggs.
Ingredients
1

sheet

puff pastry,

thawed according to package directions

1

large

egg,

room temperature, beaten

4

slices

(4 ounces) deli ham,

diced (about 1 cup), divided

¾

cup

(85 g) Swiss cheese,

shredded, divided

¾

cup

(85 g) sharp cheddar cheese,

shredded, divided

1

cup

scrambled eggs,

(4-5 large eggs) prepared to your liking, divided

salt and pepper,

to taste

chives or parsley,

for garnish
Instructions
Preheat the oven to 400°F. Line a baking sheet with parchment paper.

Roll out the puff pastry sheet to a 10-inch square on a lightly floured surface. Cut the sheet into 4 equal-sized squares, about 5×5 inches in size.

Arrange the puff pastries evenly onto the lined baking sheet, leaving about 1 inch between each pastry.

Use a fork to poke a few holes into the middle of each pastry sheet. Be sure to leave about a ½-inch perimeter around the edge. This will allow the outside border to puff up while the center stays low.

Beat the egg in a small dish. Brush the edges of each pastry with the beaten egg.

Distribute the ham equally between the four pastries.

Top each pastry with ¼ cup scrambled eggs. Then, evenly divide both kinds of cheese on top of the eggs.

Bake for 18-20 minutes, or until the cheese is melted and the pastry is golden brown.
Did you make this recipe?
You can tag me at @iamhomesteader.