Hash Brown Patties are shredded russet potatoes that are formed into patties and deep-fried to a crispy golden brown. Just like you get from stores and restaurants, but only four easy ingredients and the perfect way to start the day. These patties are delicious on their own, but especially when transformed into an Egg & Avocado Hash Brown Breakfast!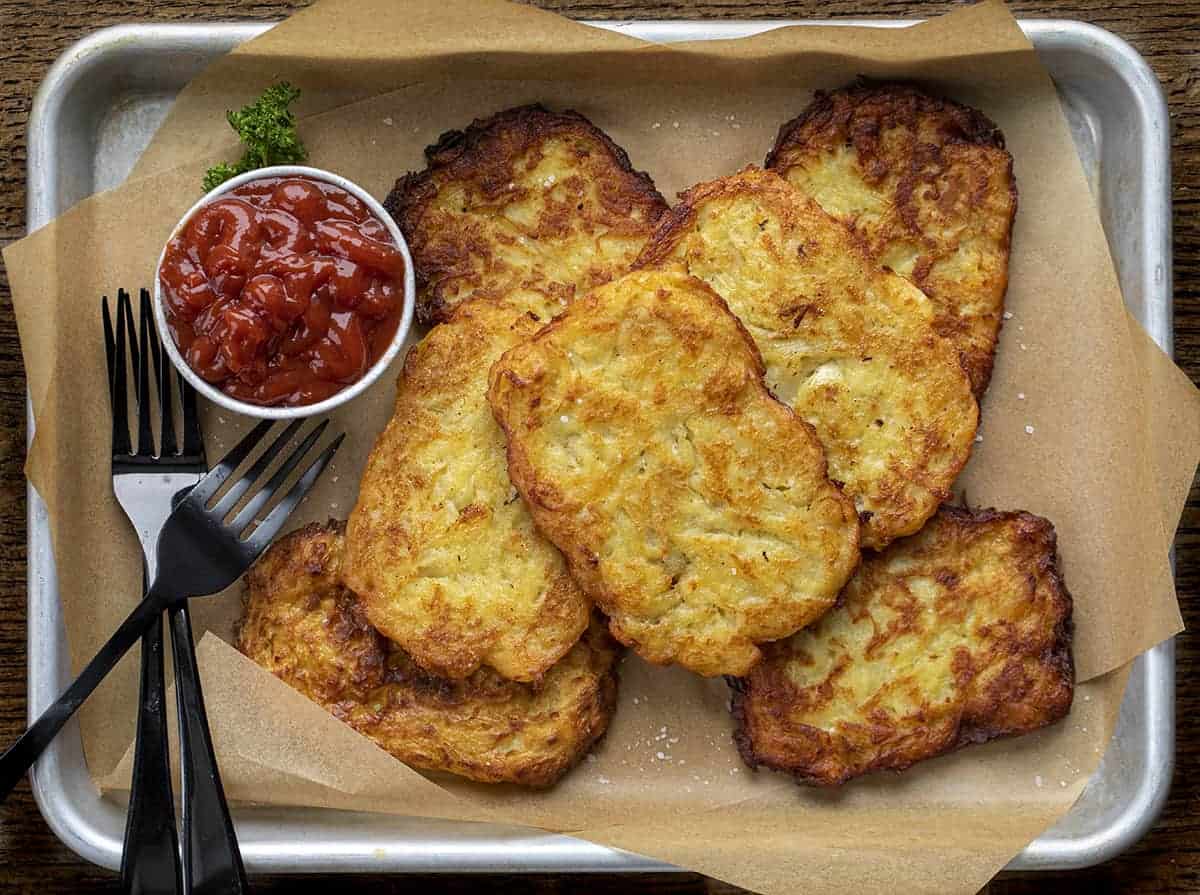 Crispy Hash Brown Patties
Yes, you could go to the store and buy frozen hash brown patties, or even get some in a fast-food drive-thru. However, why not make your own hash brown patties next time? You know exactly what ingredients are in the fried potatoes and they are fresh and delicious! They start with russet potatoes that are shredded and mixed with eggs, flour, and salt. Then, they are shaped and fried to a golden brown. I will also let you know how to bake and air fry the patties.
Hash Brown Patties Ingredients
Potatoes: I used russet potatoes for their starchiness. The starch in the potatoes makes these the best choice if you want crispy hash brown patties (which is what this recipe is named, after all…). You could also get away with using a more waxy potato, like Yukon Gold potatoes, if you are not too particular about the texture.
Oil: Use vegetable oil or canola oil for frying the hash browns. But, don't throw out the used oil; first, check out How to Clarify Used Cooking Oil so it doesn't go to waste!
Preparing the Potatoes
After you have picked out your potatoes, it's time to get them ready to be fried, baked, or air fried. First, be sure to wash and peel the potatoes. Yes, you are peeling them, but washing them first is still a good idea to get off any bacteria on them.
Once rinsed and peeled, parboil the potato halves for about 6 minutes. This means to cook them a little bit, but not all the way through. Let the potatoes cool slightly before grating them.
Mix the grated potatoes with eggs, flour, and salt. Then, shape them however you want them shaped! I made them into rounded rectangles, but it would be fun to try making them into other shapes. Freeze the hash browns for 45 minutes to an hour before frying.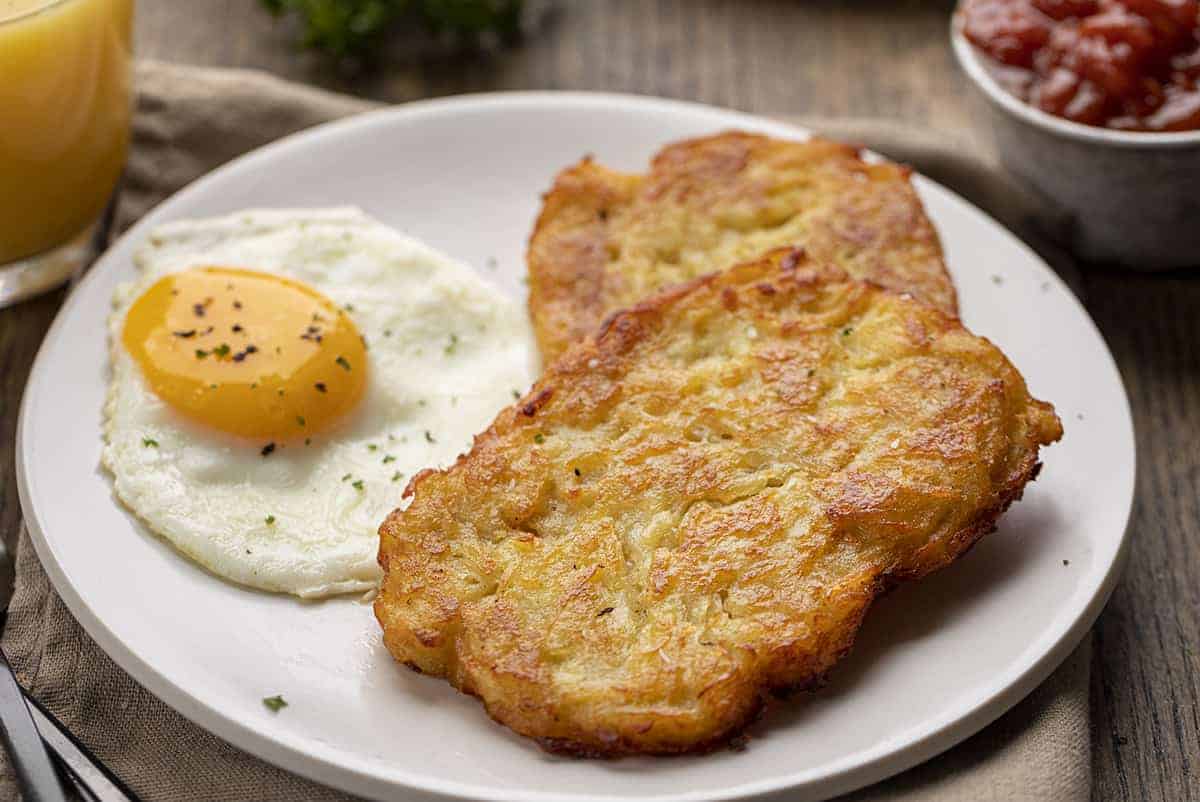 Tips and Tricks for Frying Hash Brown Patties
For the crispiest hash brown patties, fry them in oil. When ready, heat up the oil to 350°F. A candy thermometer is perfect for checking the temperature. However, if you don't have a candy thermometer, there are a couple of tricks you can use to see if the oil is hot enough to fry:
Put the handle of a wooden spoon into the hot oil. The oil will start to bubble steadily when it's good to go. If you are seeing the oil bubbling like crazy, it's too hot and needs to cool down a bit. If there are only a few to no bubbles, it's not hot enough.
Another method is using a 1-inch square of bread. Carefully put the bread into the oil and if it browns in 60 seconds, the oil is ready.
My favorite method is the popcorn test. Put a kernel of popcorn into the pan of oil as soon as you begin heating up the oil. As soon as that kernel pops, the oil is ready!
After the oil has heated up, work in batches of 1-3 patties. Cook them in the oil for 3-5 minutes per side. Remove them with a slotted spoon and place them on a plate lined with a paper towel to dry. I like to sprinkle a little salt on the fried hash browns. Before cooking the next batch, be sure the oil is hot enough; it will cool down a bit after each batch.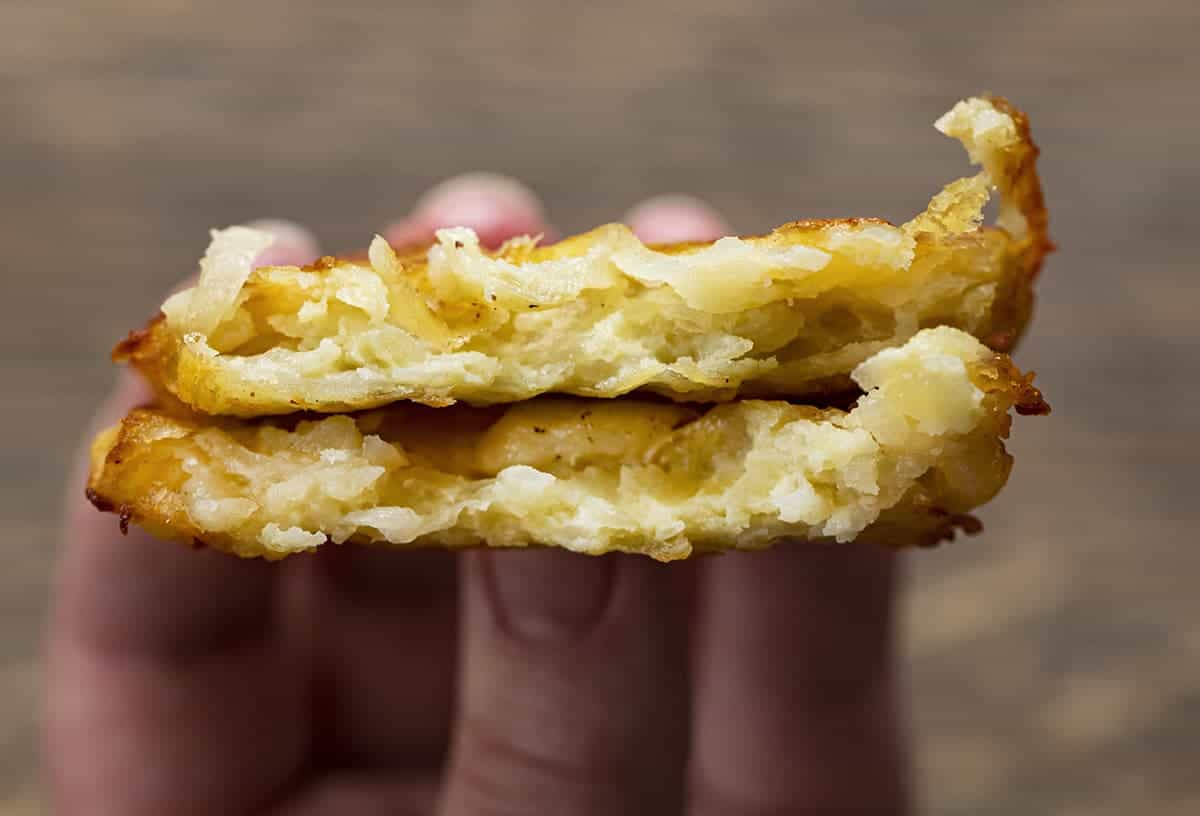 How to Bake Hash Brown Patties in the Oven
If you prefer to bake the hash browns, first, preheat the oven to 450°F. (You will still need to freeze the hash browns for 45-60 minutes.) Once the oven is preheated, drizzle some peanut oil onto a baking sheet. Place the oiled sheet into the hot oven for 5 minutes.
Carefully place the frozen hash browns on the oiled preheated baking sheet. Bake the hash browns for 10-15 minutes. Then, flip over the hash browns and bake another 5-10 minutes, or until golden brown.
How to Air Fry Hash Brown Patties
Again, like the other methods of making the hash browns, be sure to follow the instructions including placing the patties in the freezer before cooking. To air fry the patties, simply place them in the basket of your air fryer and cook for 10-15 minutes at 380°F.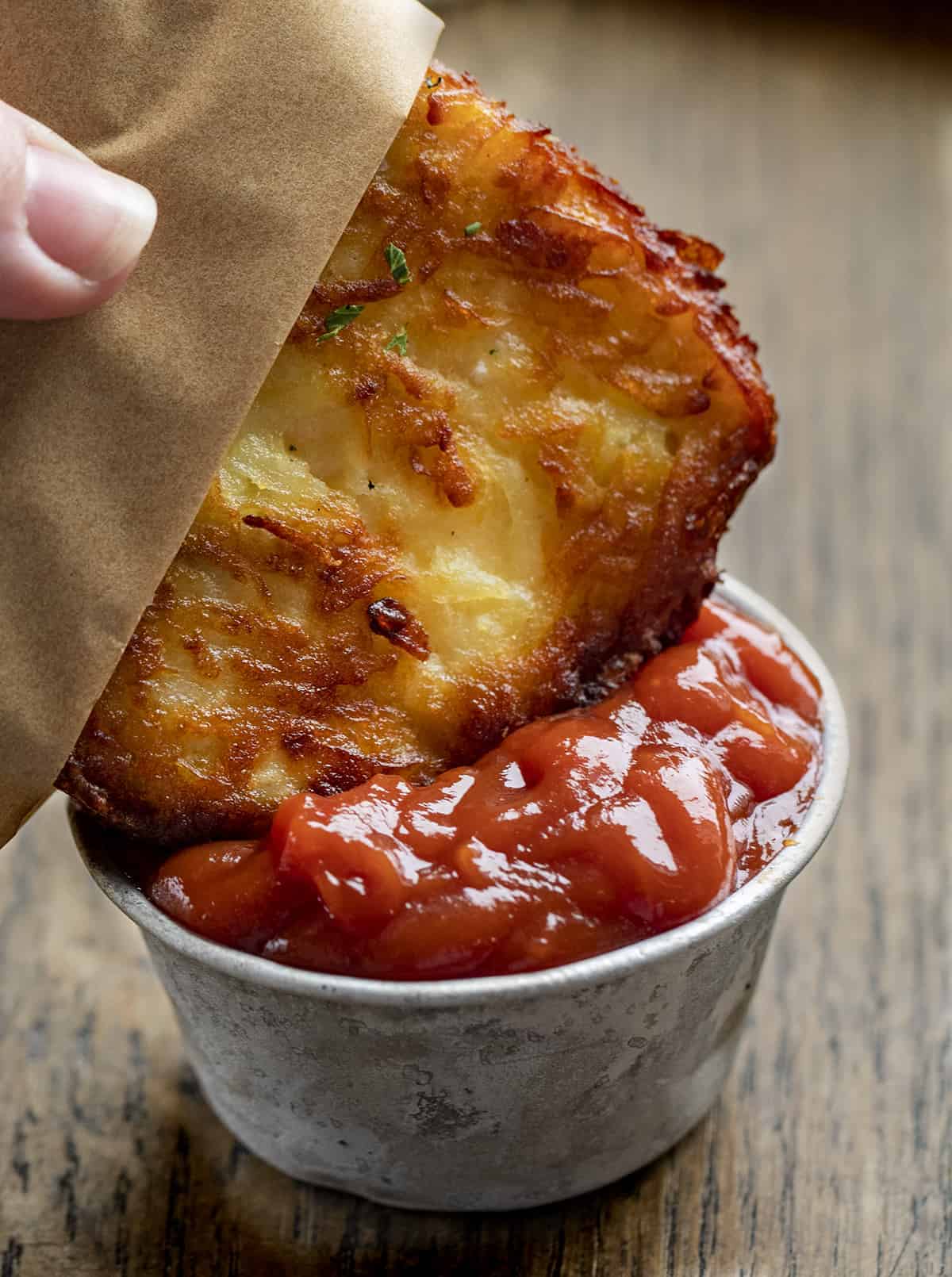 Can I Make These Ahead of Time?
Yes! If you are not going to make the patties after they have been in the freezer for the initial 45-60 minutes, place them in a freezer-safe bag or container. Label and date the container; the patties will last up to 3 months.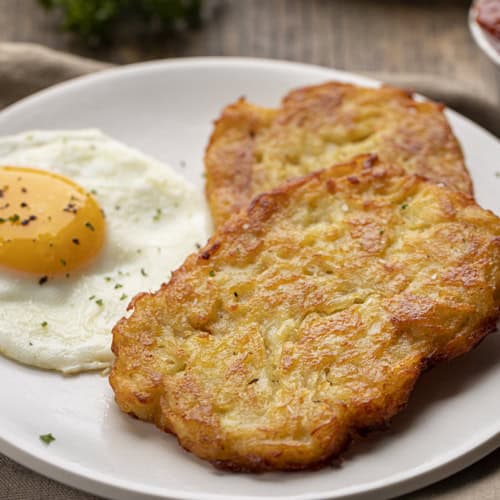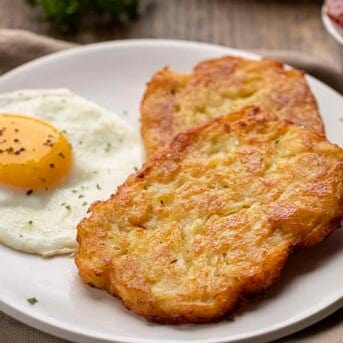 Crispy Hash Brown Patties
Crispy Hash Brown Patties are shredded russet potatoes that are formed into patties and deep-fried to a crispy golden brown.
Ingredients
4

large

russet potatoes,

peeled, washed, and cut in half horizontally

2

large

eggs,

room temperature

¼

cup

(31g) all-purpose flour

1

teaspoon

kosher salt

1

cup

(218g) oil,

for frying
Instructions
Line a baking sheet with parchment paper. Set aside.

Bring a medium pot of salted water to a boil.

Add potatoes and parboil (partially cook) for 6 minutes. (The potatoes won't be cooked through.)

Allow potatoes to cool slightly, or enough to comfortably hold. Then, grate the potatoes using a box grater.

In a large bowl, add grated potatoes, eggs, flour, and salt. Mix well.

Form into 8 equal patties (about 3-4 ounces each). We made our patties into rounded rectangle shapes; you could make them the shape of your choice.

Place the patties on the lined baking sheet and freeze for 45 minutes to an hour. (Don't skip this step!)

When ready, heat oil to 350°F in a large skillet over medium-high heat.

Add 1-3 patties at a time and cook 3-5 minutes, or until browned. Flip the patties and cook another 3-5 minutes. Baste with oil on both sides while frying. Place hash brown patties on a paper towel-lined baking sheet to soak up excess oil.

Repeat with the remaining patties, making sure the oil is at 350°F for each batch.
Did you make this recipe?
You can tag me at @iamhomesteader.