Pork is the most consumed meat worldwide and with all the cuts of pork and ways to prepare this popular meat, it makes sense. It is easy to store pork in the freezer until you are ready to use it in a recipe. I am going to give you some recipes to use for a variety of cuts of pork. Click on the recipe title to go to the full recipe.
Pork Loin and Tenderloin Recipes
The following recipes call for either a pork loin or pork tenderloin. Although the names are very similar, the cuts of meat are actually quite different. Both cuts of meat are very lean and healthy, but the size and cooking times are quite a bit different. The center-cut pork loin is quite a bit larger than pork tenderloin, so just double-check the recipe to make sure you have the correct cut of pork.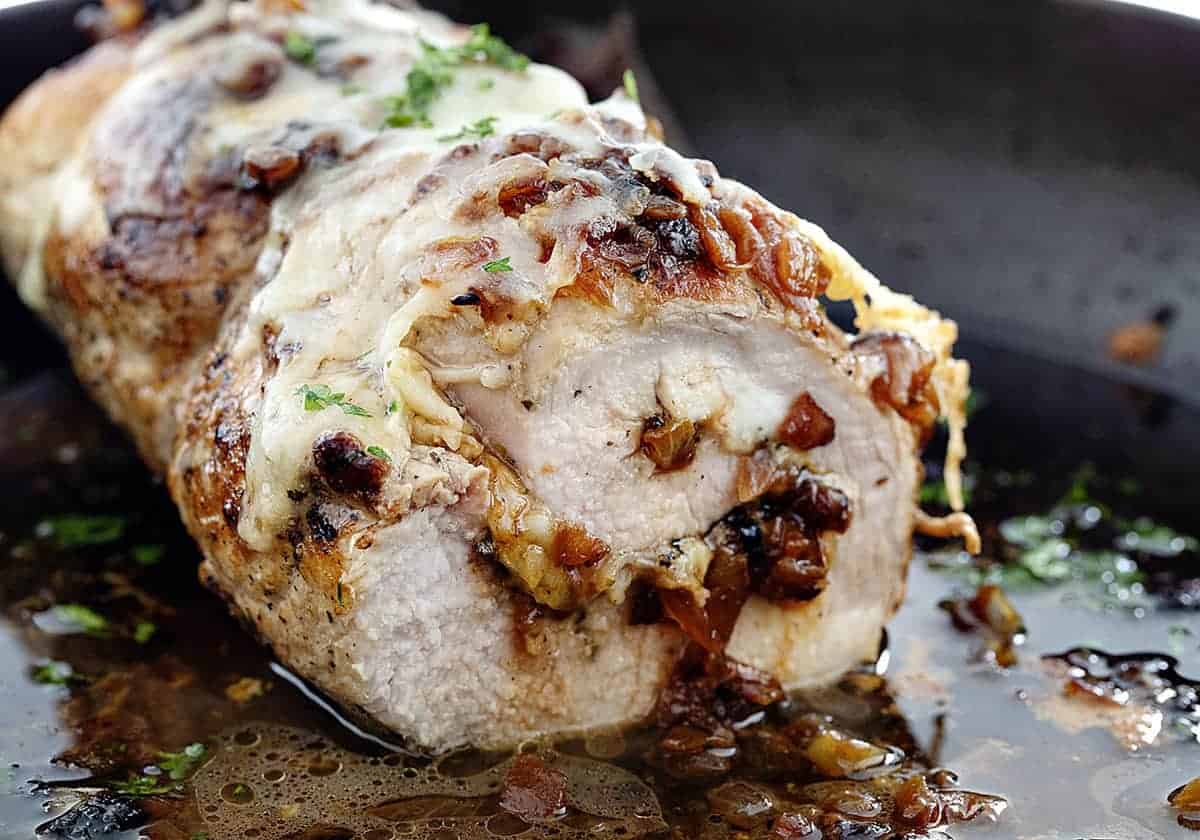 If you love French Onion soup or any sort of French onion flavor, you will LOVE this French Onion Stuffed Pork Loin! It is one of my favorite pork dishes I have made in a while!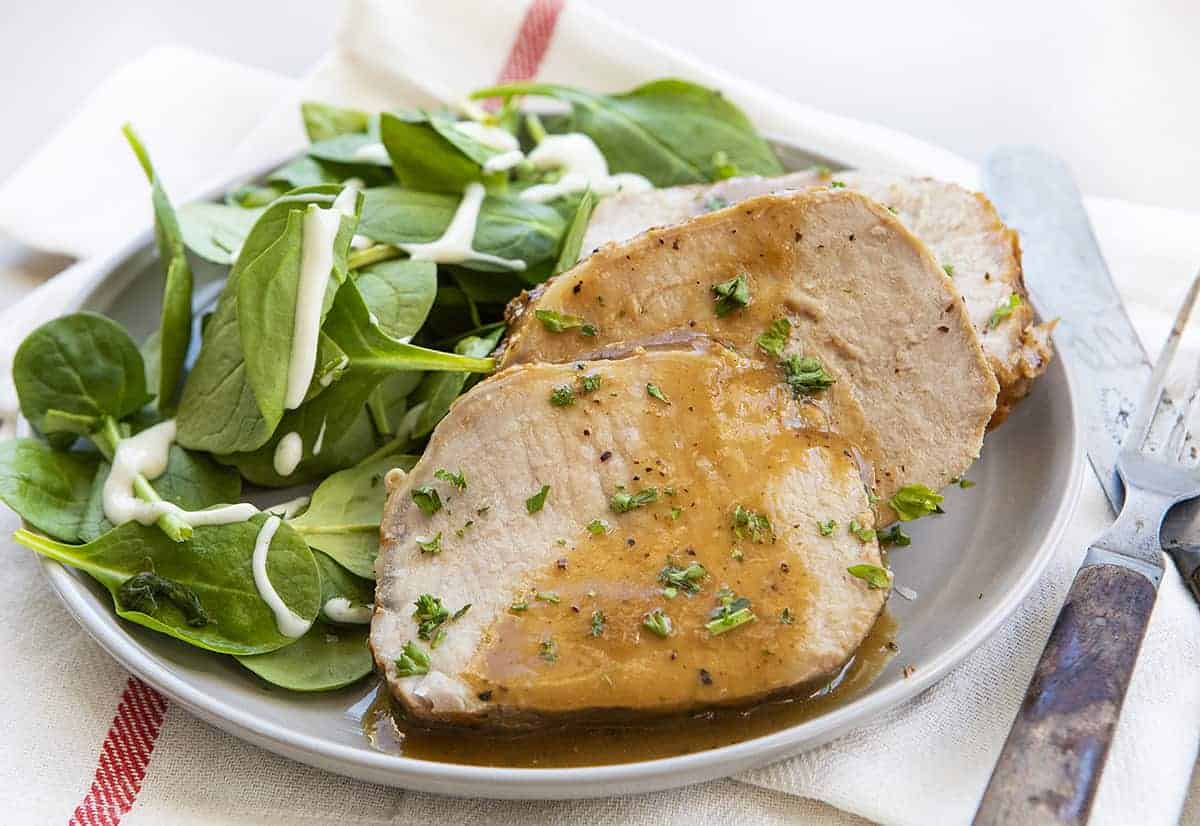 Roasted Pork Loin is a tender and lean pork loin that is pan-seared, baked, and covered with a homemade gravy for a delicious dinner.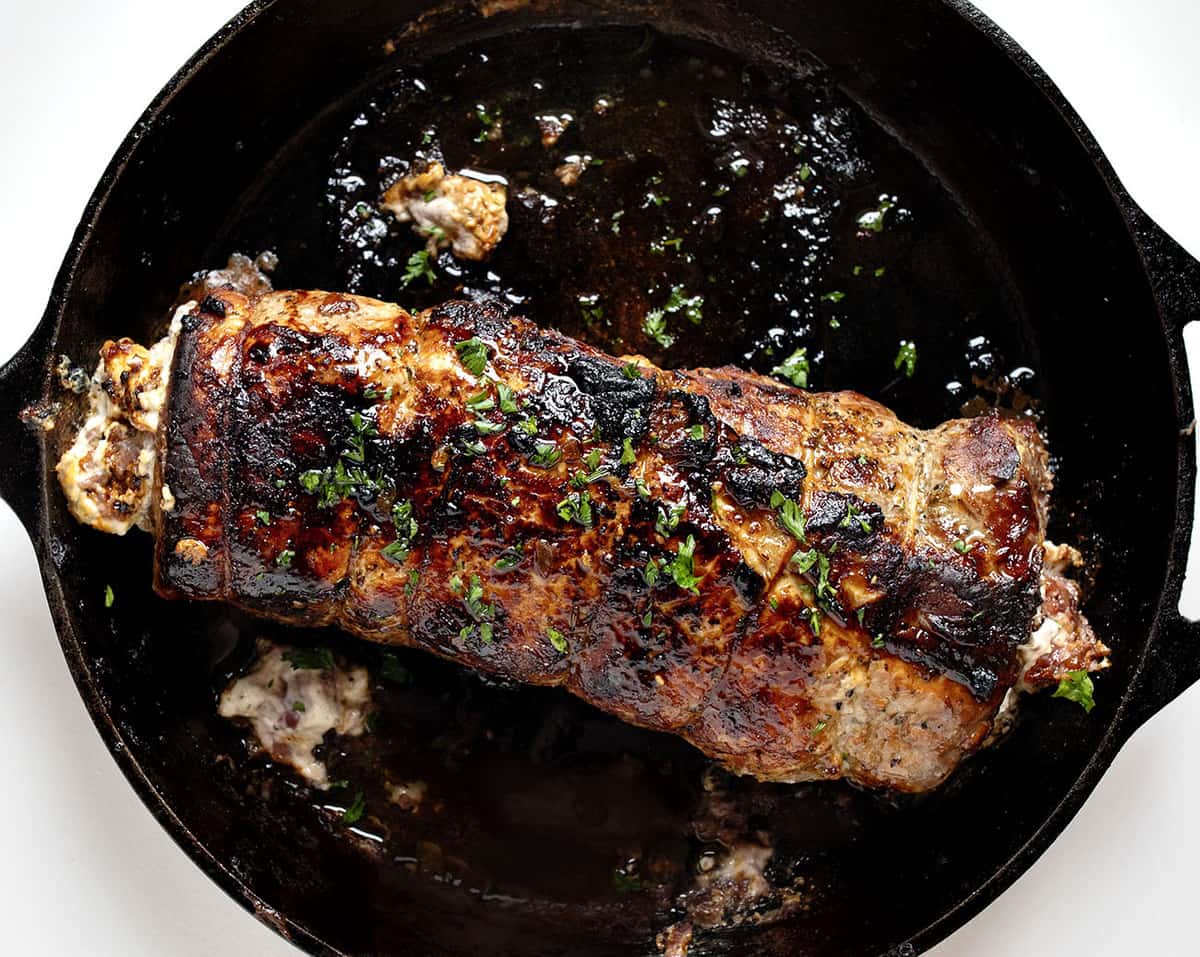 How often have you seen apples paired with pork? Well, I am here to tell you that apples are not the only fruit that tastes great with pork. Welcome cherries to the mix! With a hint of cherry and lots of cream cheese flavor, you are going to want to add this Creamy Cherry Stuffed Pork Loin to your dinner menu!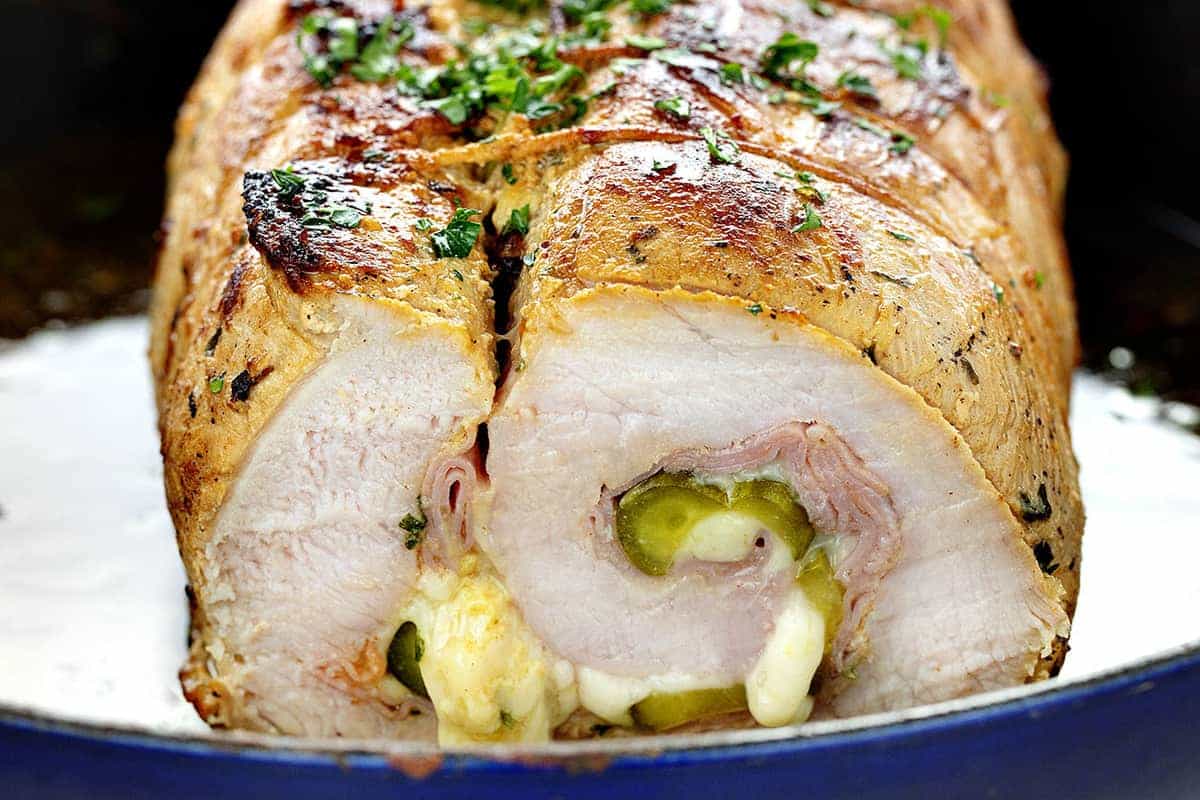 Enjoy all the flavors of a Cuban sandwich wrapped up in this Cuban Pork Loin! This tender and juicy pork loin is loaded with the classic taste of the popular sandwich, making it a meal!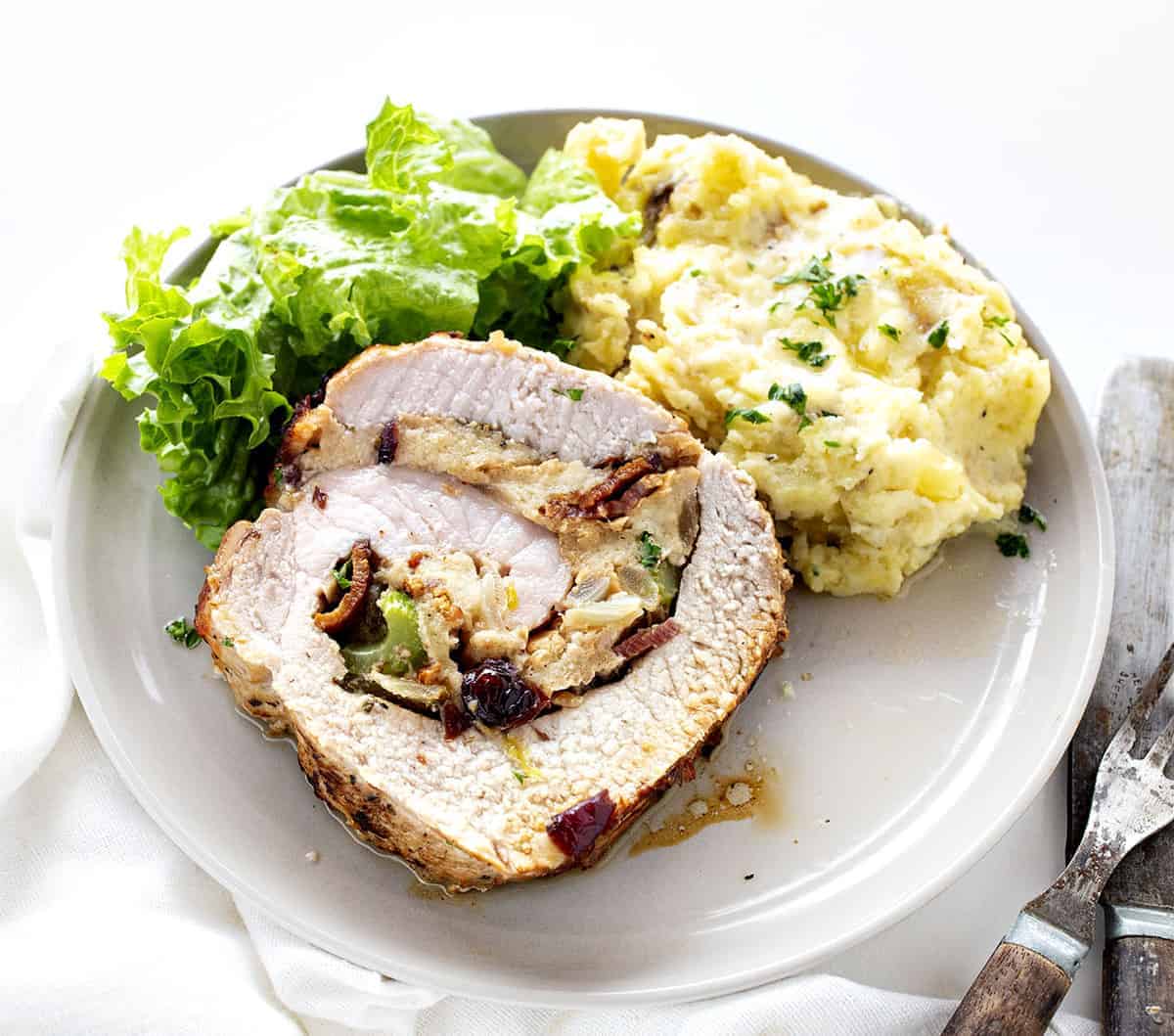 Stuffed Pork Loin is stuffed with all the traditional stuffing ingredients that you think you would get to enjoy only on Thanksgiving. Rolled up in a tender pork loin, you can make this meal year-round!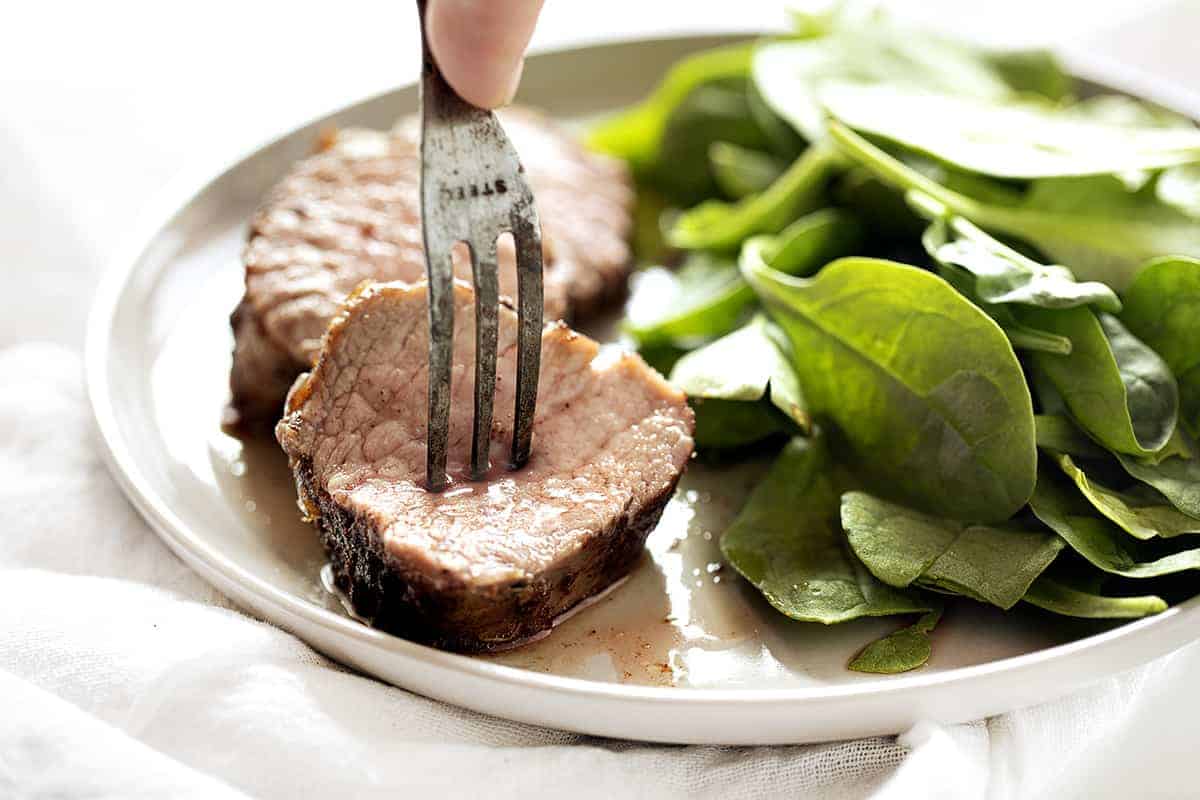 Pumpkin Spice Pork Tenderloin is a pork tenderloin that is covered in a dry rub that includes my homemade pumpkin pie spice! It was only a matter of time before pumpkin spice invaded the protein world! And I have to admit, I loved it!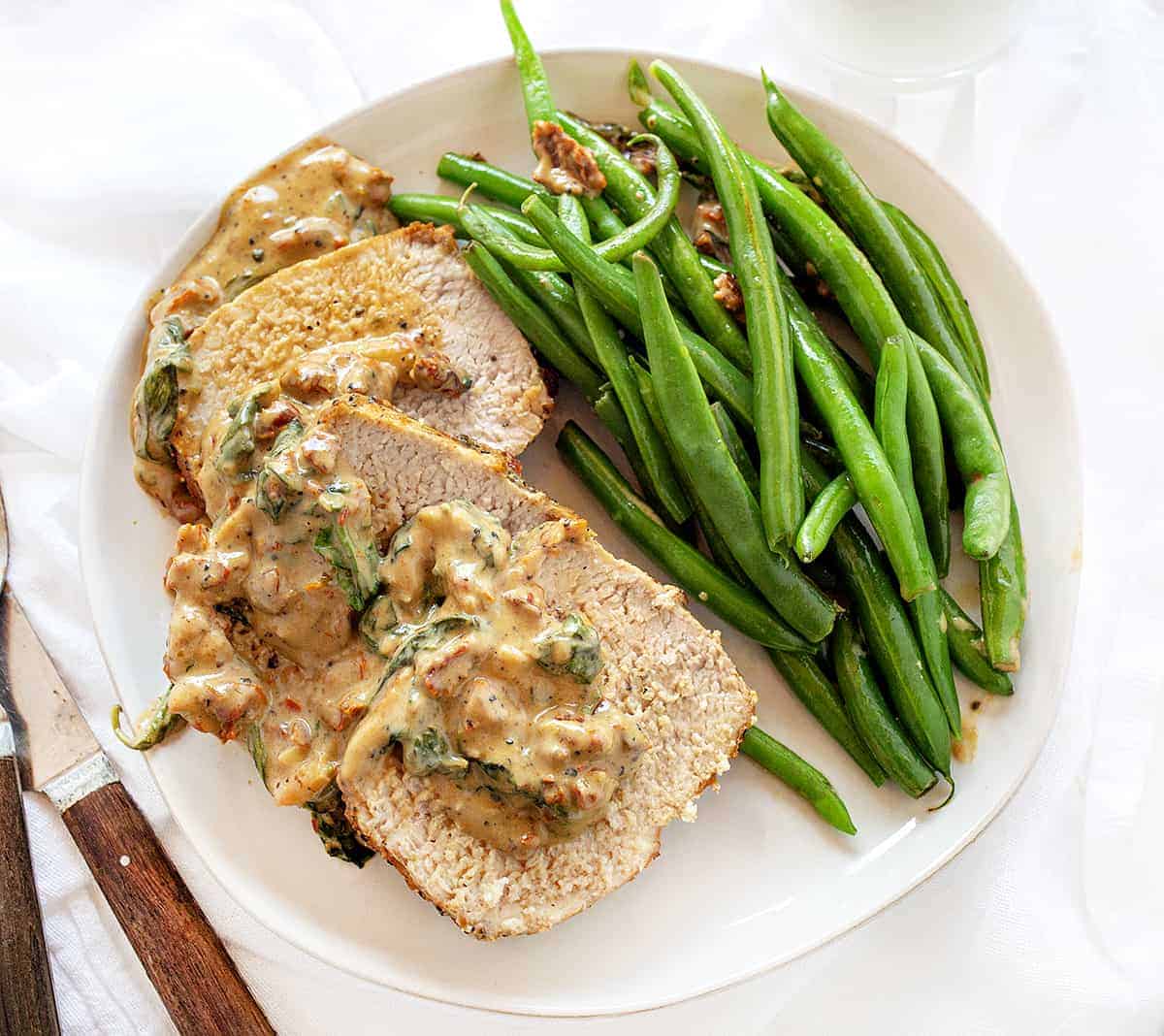 Tender, juicy, and topped with a delicious cream sauce, Pork Loin with Parmesan and Roasted Garlic Cream Sauce must be added to your dinner menu! There are three main parts to the Pork Tenderloin with Parmesan and Roasted Garlic Sauce recipe–the roasted garlic, the pork loin, and the cream sauce.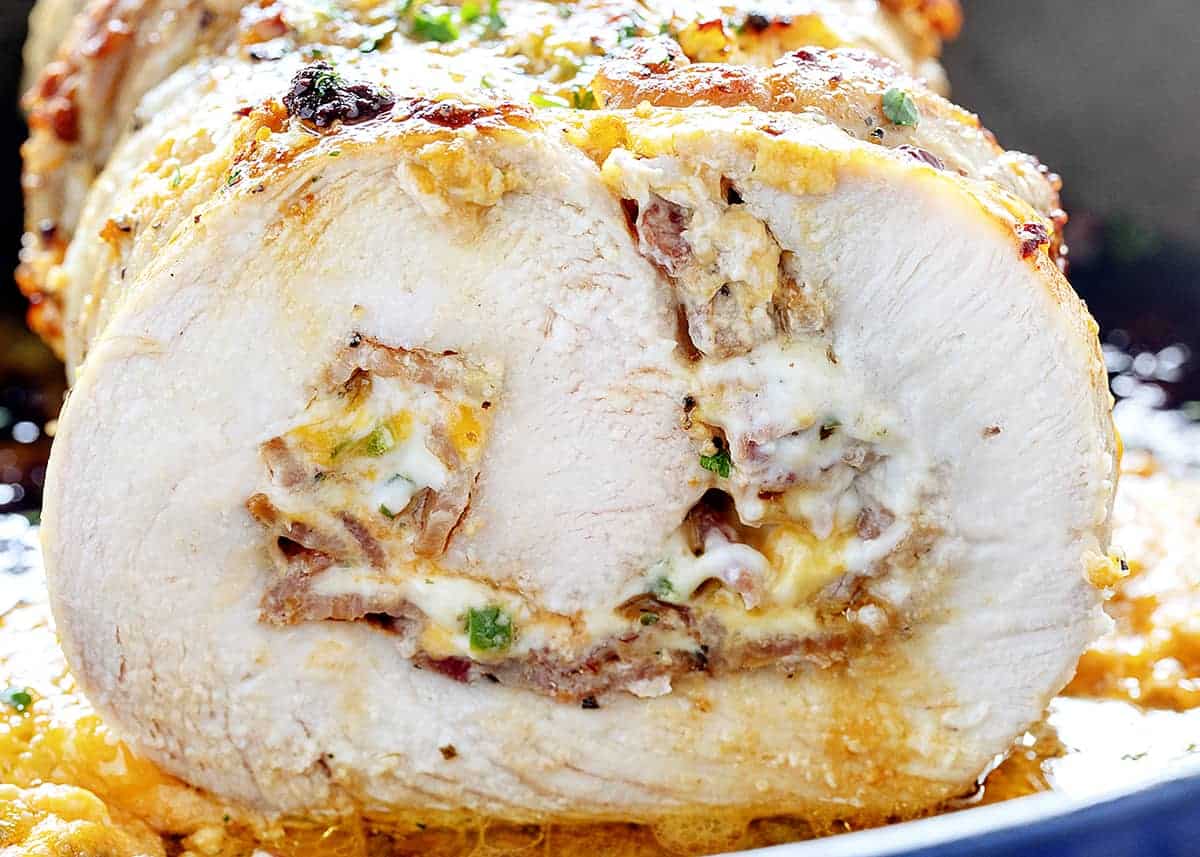 This stuffed pork loin has the spicy kick of a jalapeno popper with all the goodness you want for dinner! Stuffed with bacon, jalapeno peppers, and cheese, this recipe will have you stuffed and satisfied!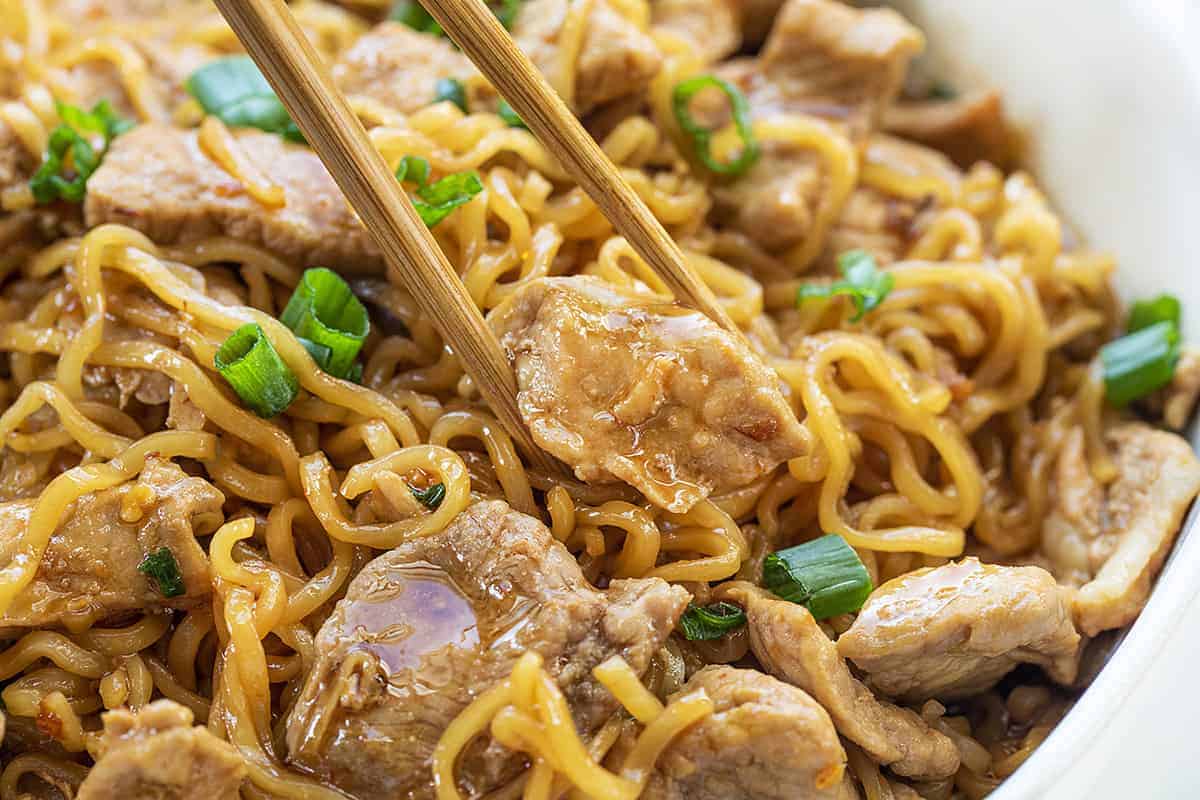 Easy Spicy Pork Noodles are as easy to make as they are to eat! Don't let the easy part fool you. This delicious dish is packed with protein and flavor, all mixed together with ramen noodles.
Pork Chops Recipes
Not only are there many cuts of pork, but there are also a variety of cuts of pork chops. But, no matter how you 'cut it', pork chops are a tasty and delicious way to enjoy pork.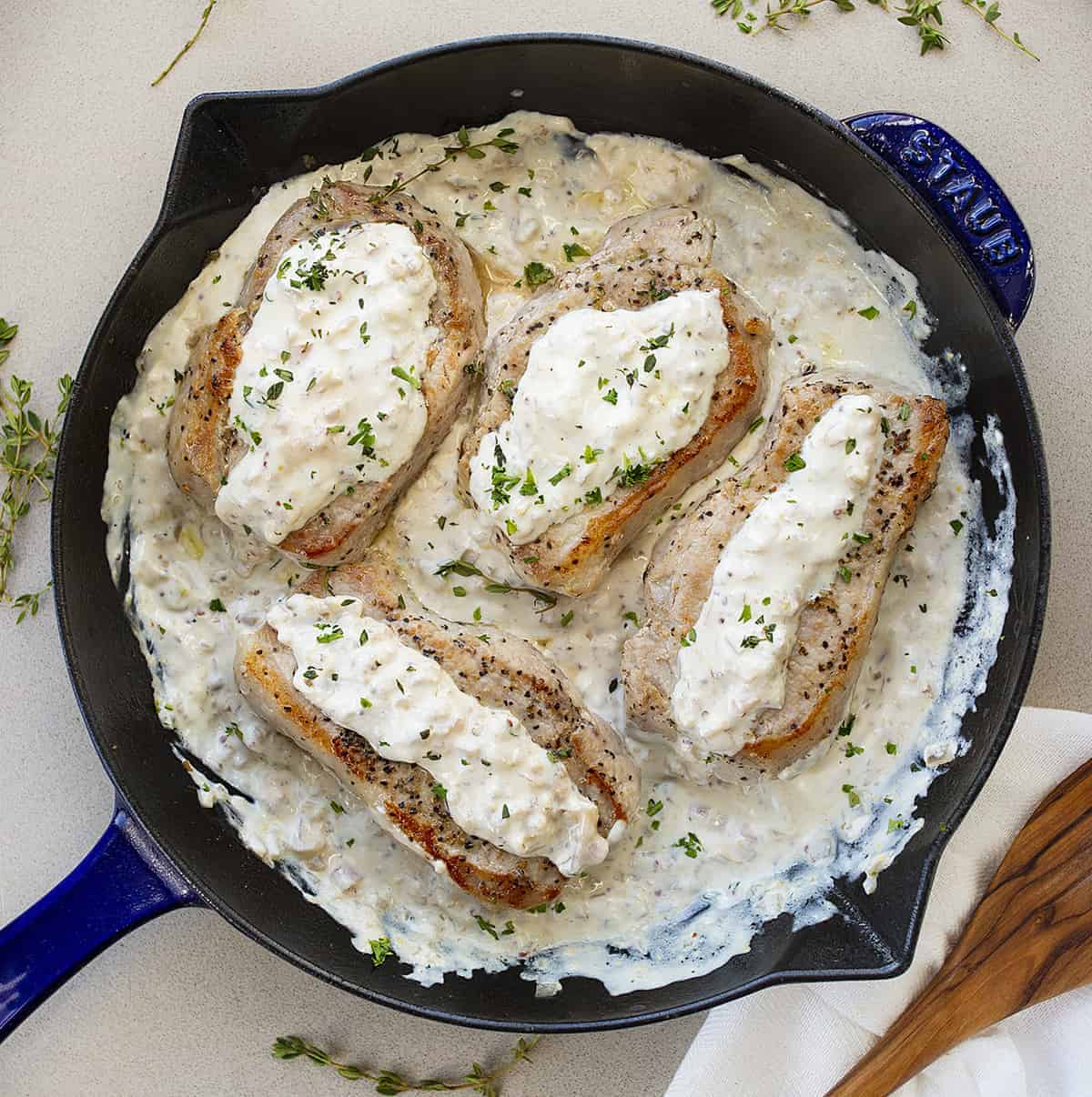 Cream cheese is not just for desserts, so keep some handy for recipes like this one. In less than half an hour, you can have these Cream Cheese Pork Chops on the table, ready to eat! Coated in a cream cheese mixture, these are as easy to eat as they are to make!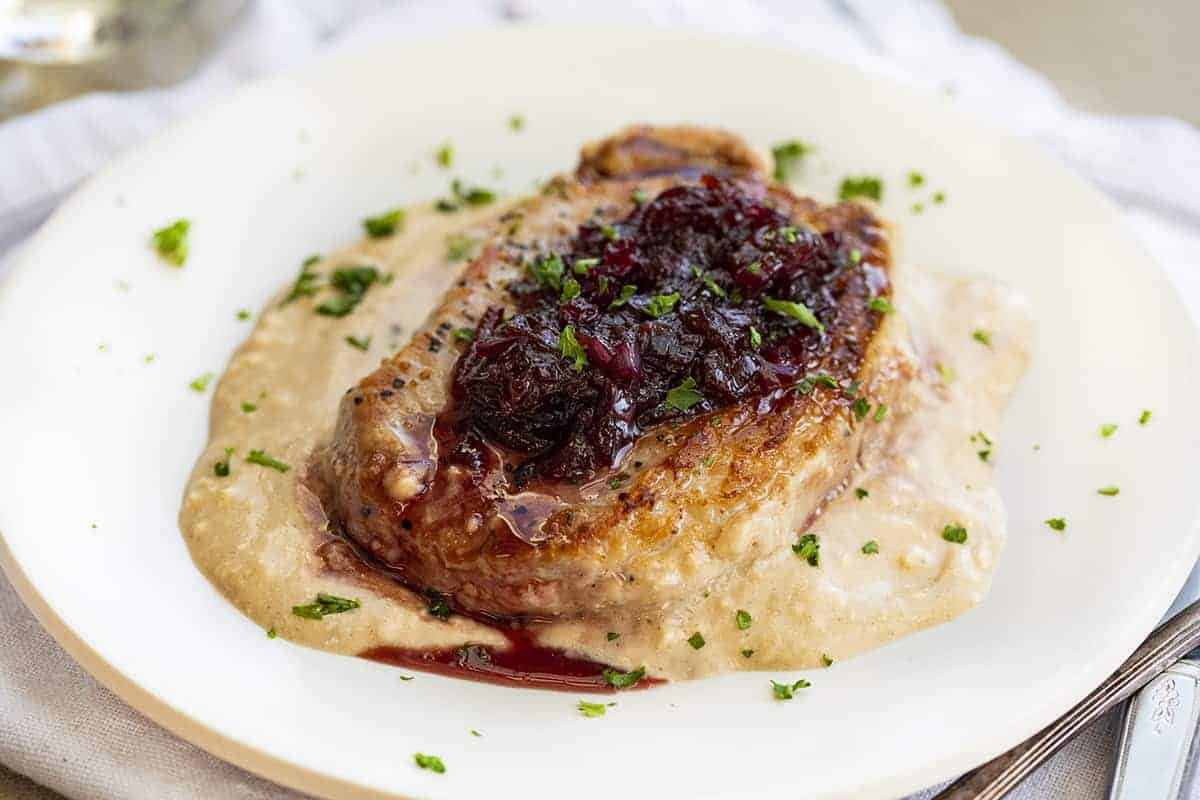 Cherry Pork Chops are perfectly pan-seared pork chops coated with a cream cheese mixture and topped with a cherry sauce. I knew this was going to be amazingly tasty because I had gone for this combination in my Creamy Cherry Stuffed Pork Loin.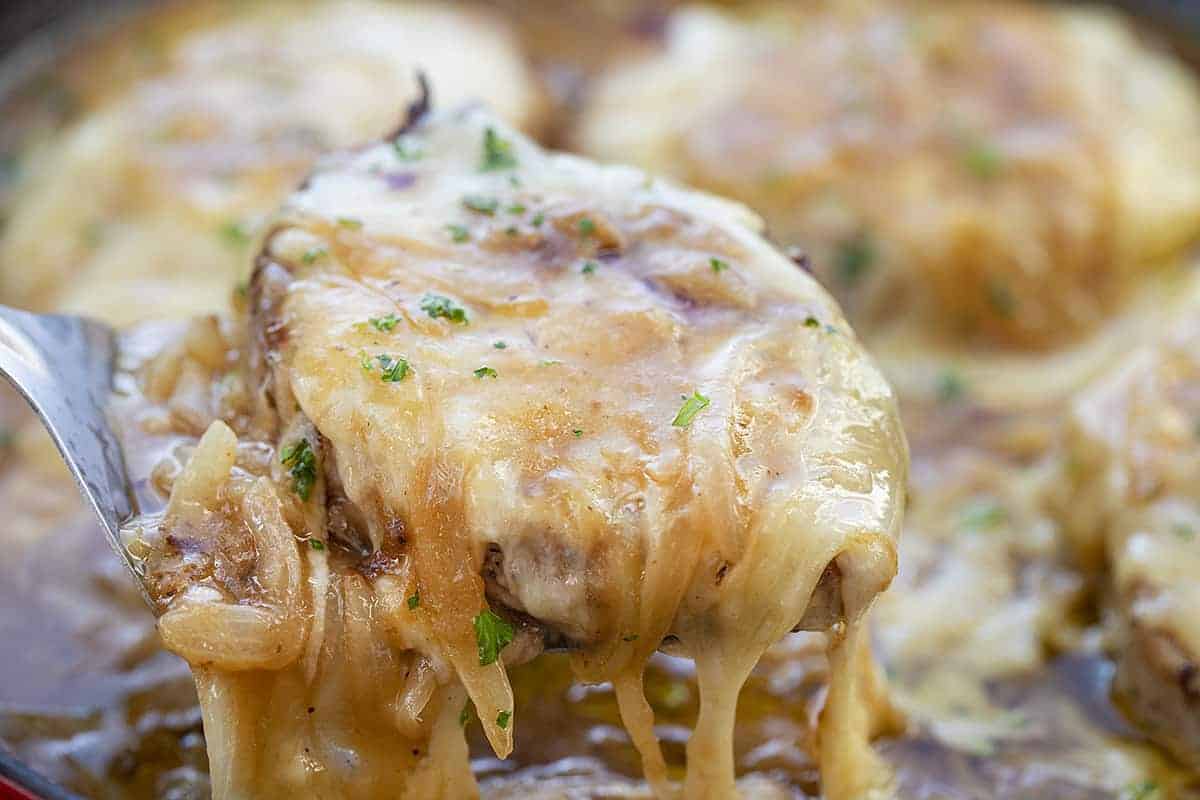 French Onion Pork Chops are perfectly seasoned and seared pork chops baked with caramelized onions and Gruyere cheese. Pair these juicy and flavorful chops with some mashed potatoes for a delicious and hearty meal!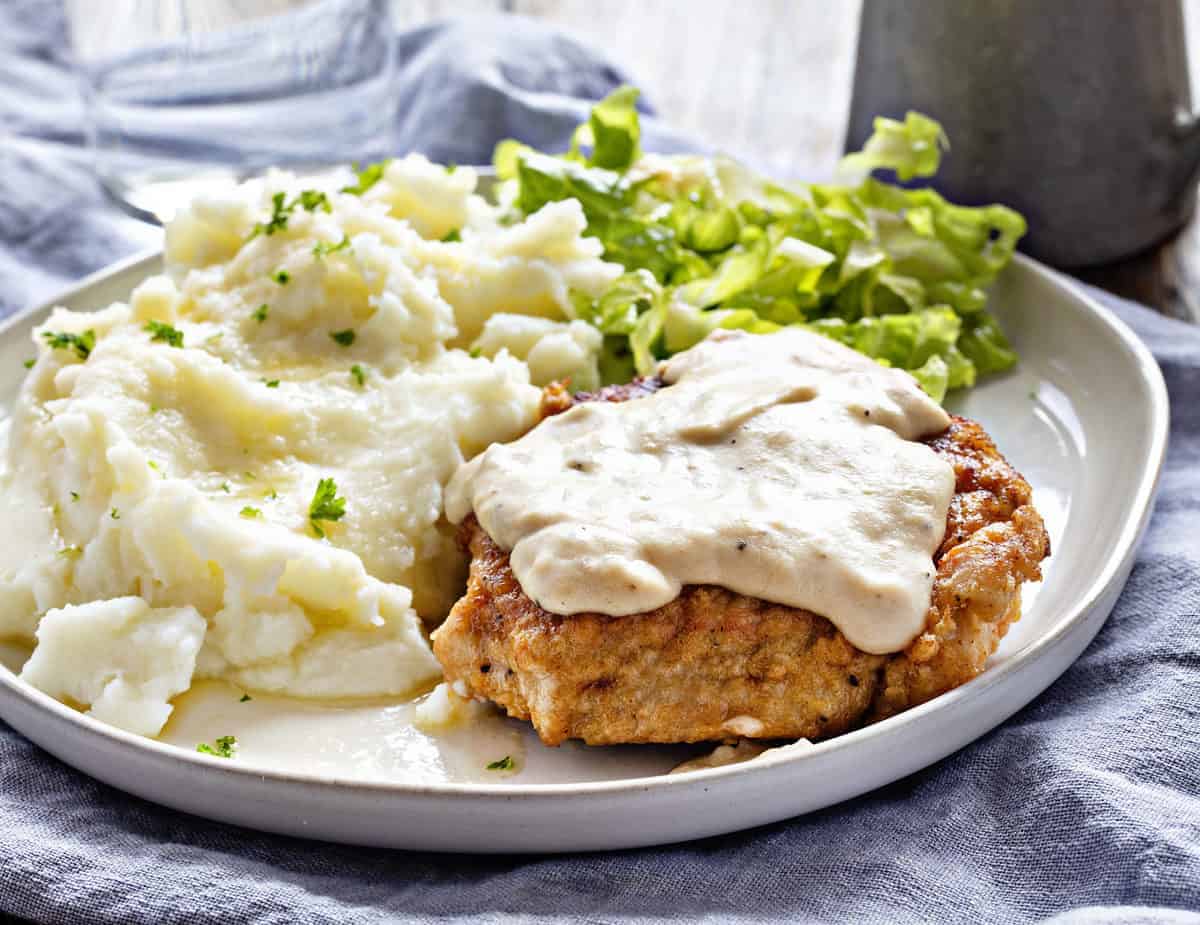 This Country Fried Pork is a hearty way to enjoy pork chops! Crispy fried pork chops smothered in a smooth homemade gravy means there won't be much conversation at the dinner table.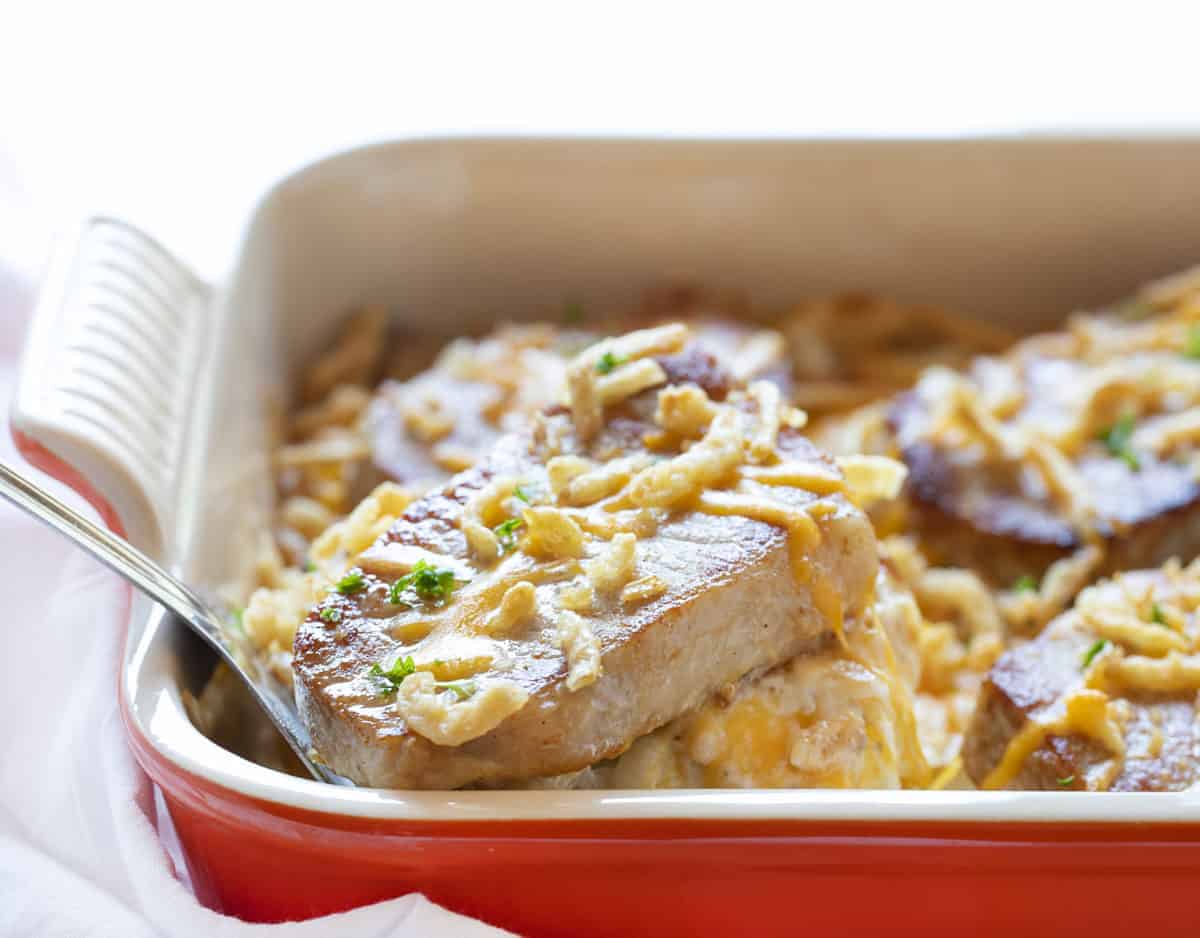 The name for this dish should be Crispy Cheesy Pork Chop Potato Casserole because it has glorious amounts of all of those ingredients and some serious texture! Cheese throughout and on top, fried onions, pork chops, hashbrowns, and the perfect amount of seasoning! But I decided to keep the name short and sweet and let the recipe speak for itself.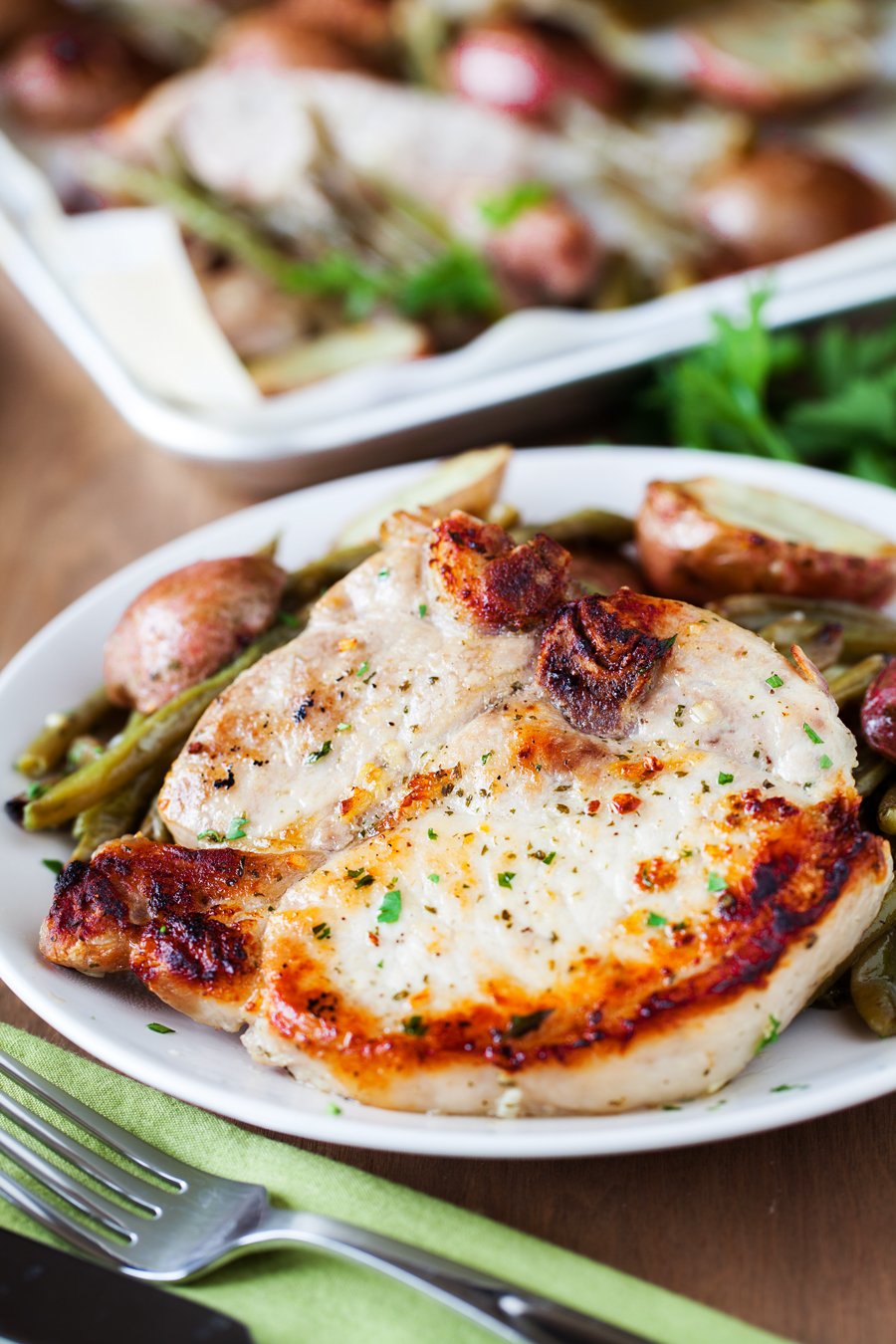 This is a quick, easy, and delicious way to get dinner on the table fast! The pork chops and vegetables cook together in one pan so that everything is ready at the same time and stays hot when ready to serve. By using the ranch seasoning, an ordinary meal transforms from bland to completely scrumptious.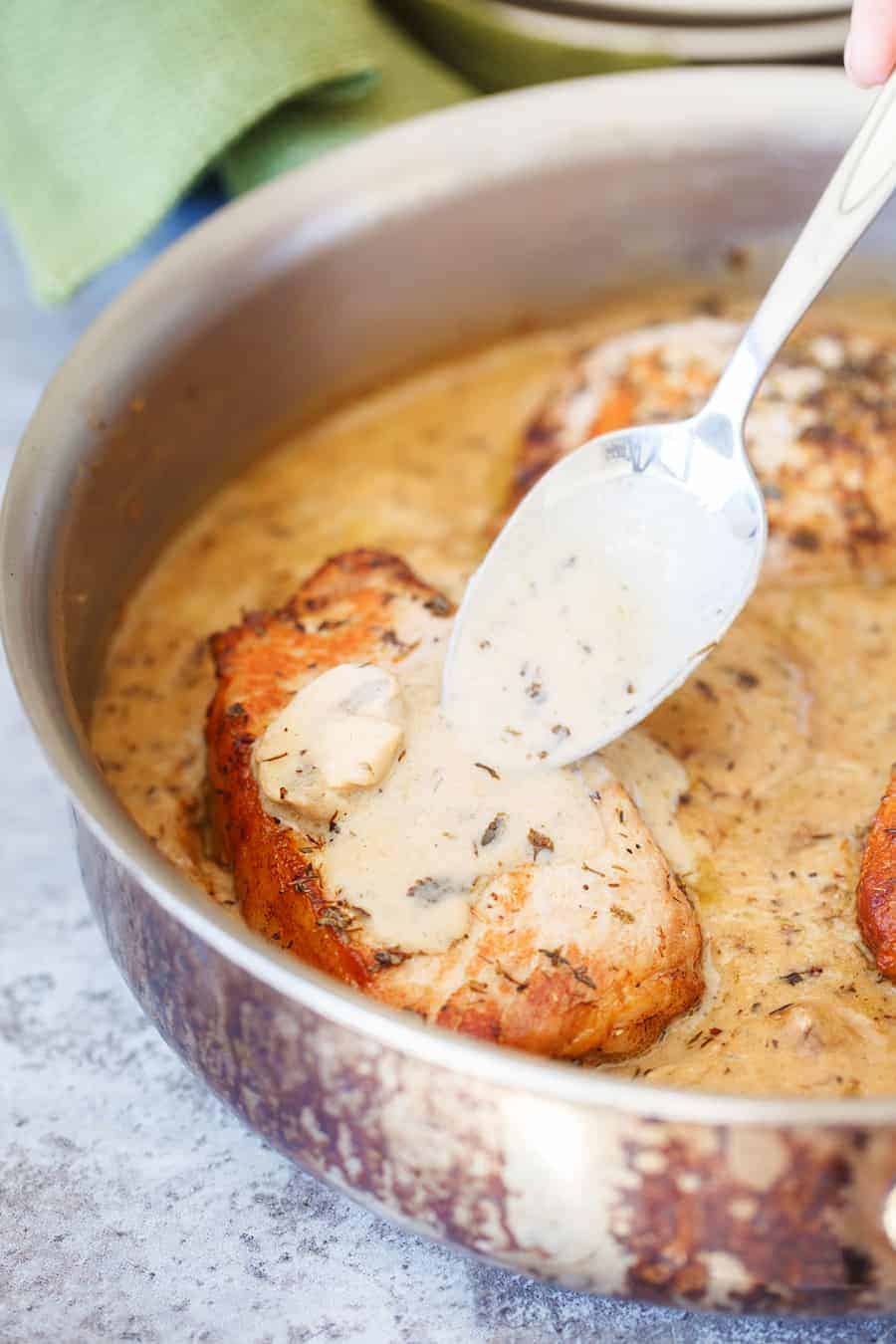 Dress up your boring pork chops with creamy and delicious browned butter sauce and fresh, earthy mushrooms. This combination of flavors is perfectly paired and will be a new favorite on your recipe resume.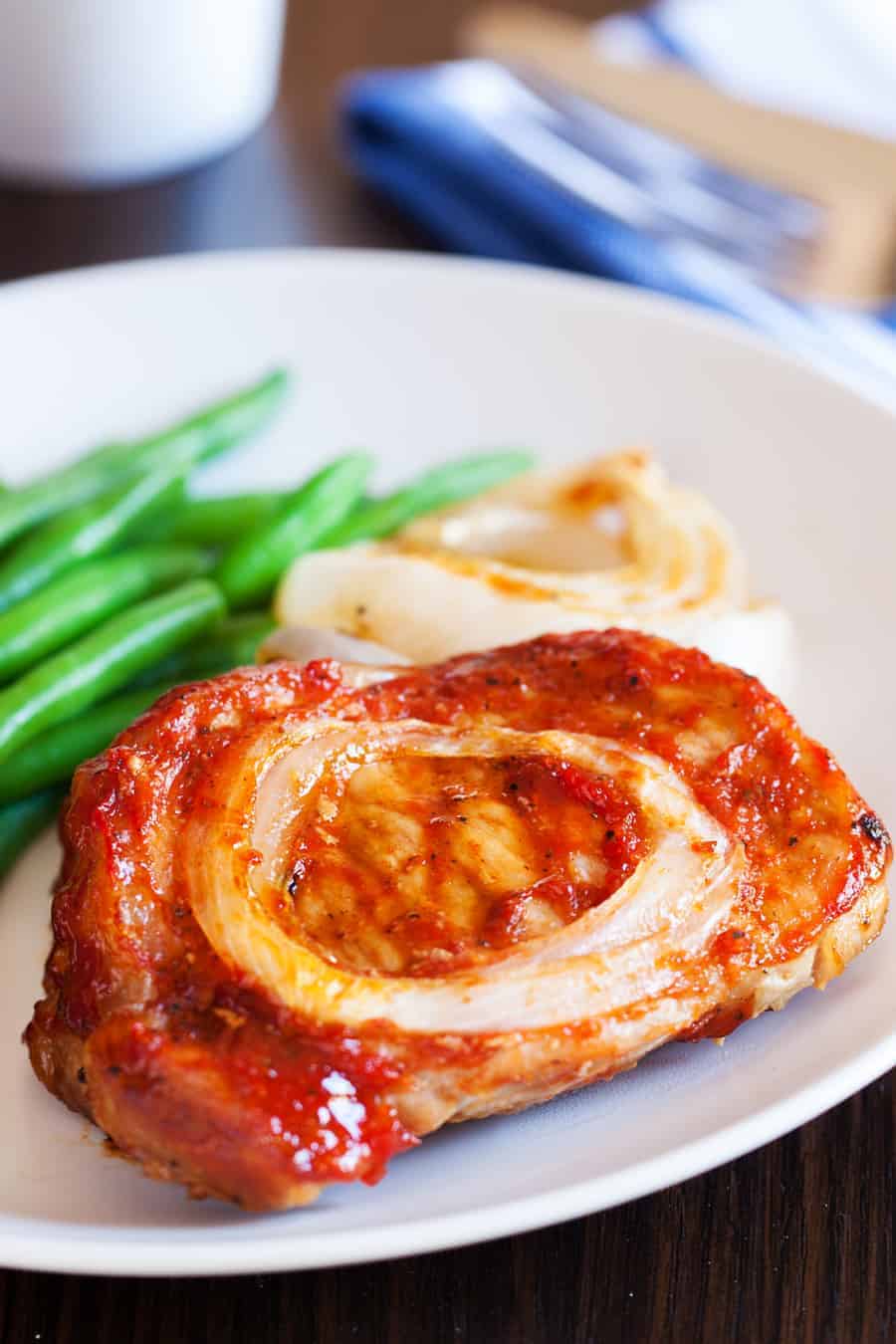 These Baked Pork Chops are the perfect combination of sweet and savory. The simple but delicious ingredients in the marinade carmelize and seep right into the meat and the onion making every bite tender and juicy. The best part? The entire meal is ready and on your plate in just over 30 minutes.
Ground Pork Recipes
Pork doesn't just come in loins, tenderloins, and chops. Don't forget about using ground pork for some recipes! It can actually be used for any recipe that calls for ground beef, but here are a few recipes that were made with ground pork.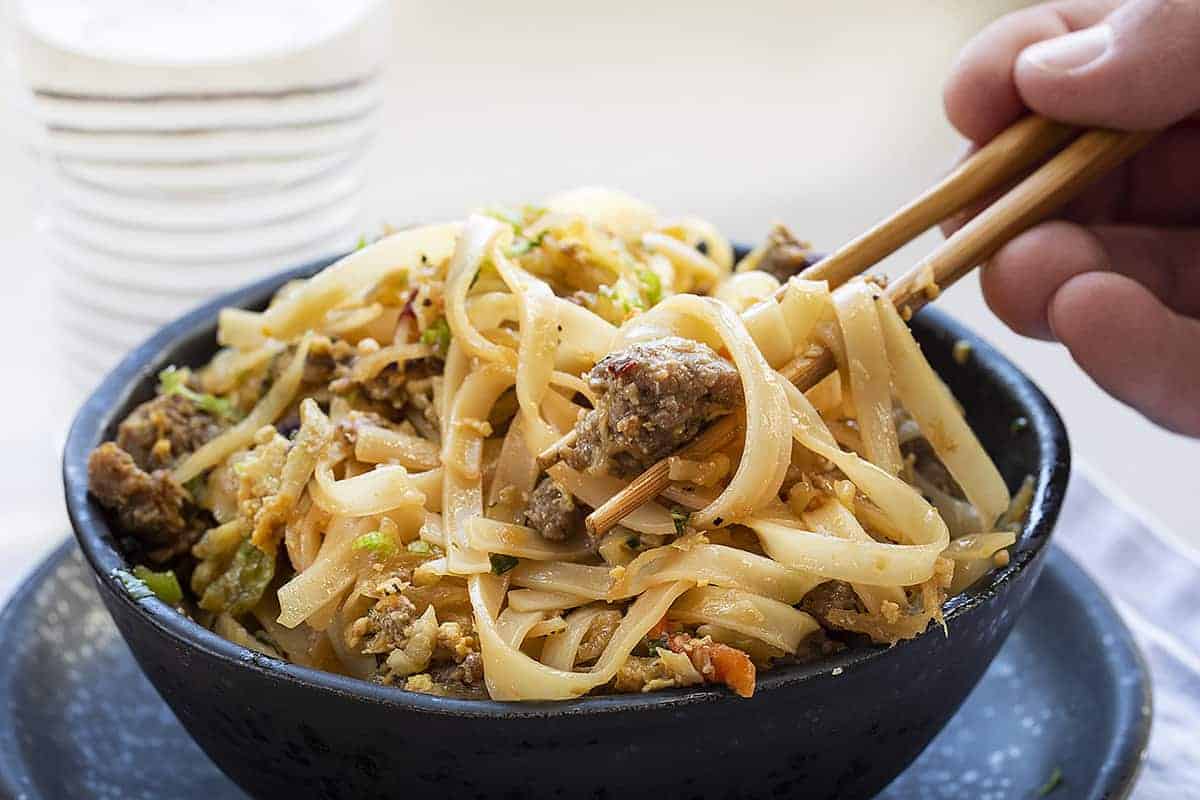 Potsticker Noodle Bowls take the favorite potsticker appetizer and turns all that delicious flavor into a meal! The dish is loaded with rice noodles and mixed with ground pork, cabbage, and topped off with a homemade rice vinegar sauce with a kick.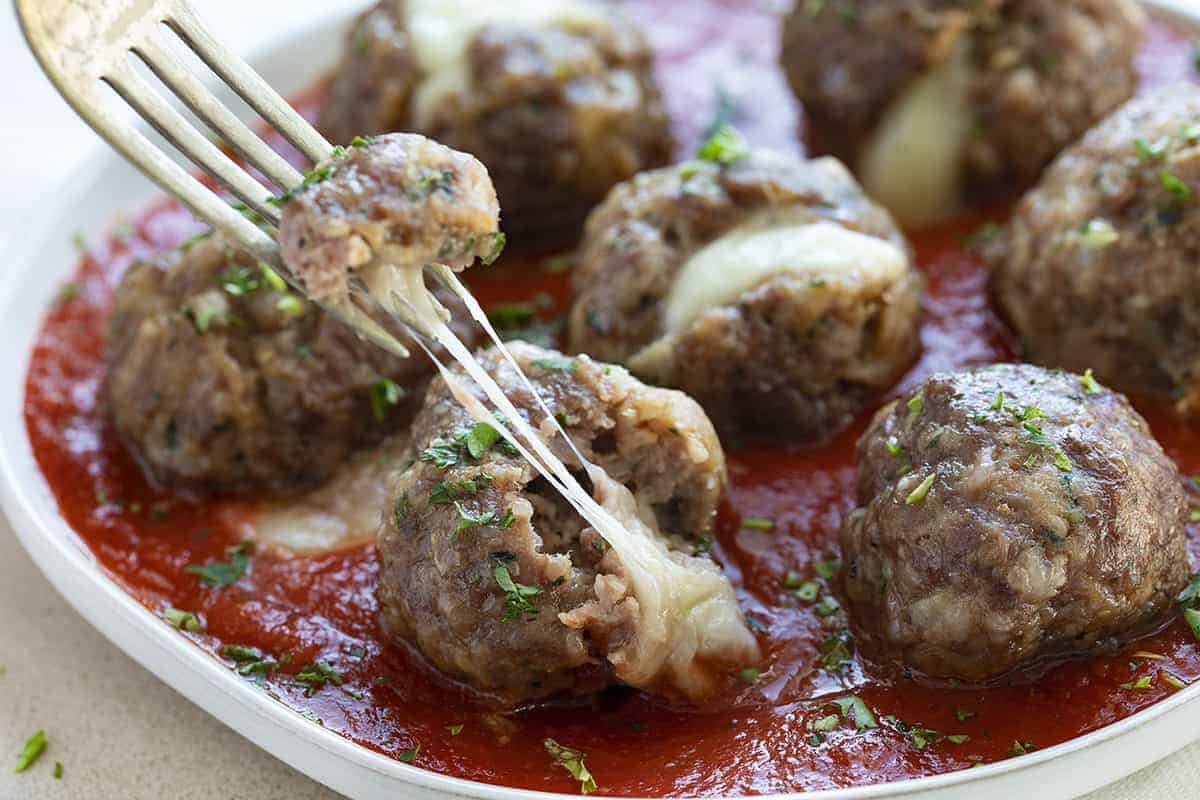 Cheese Stuffed Meatballs are perfectly baked meatballs with a cheesy surprise center! Topped with marinara sauce, you will be satisfied and stuffed yourself after devouring a few of these! If you are really hungry, go ahead and top your spaghetti with a couple of these hearty meatballs!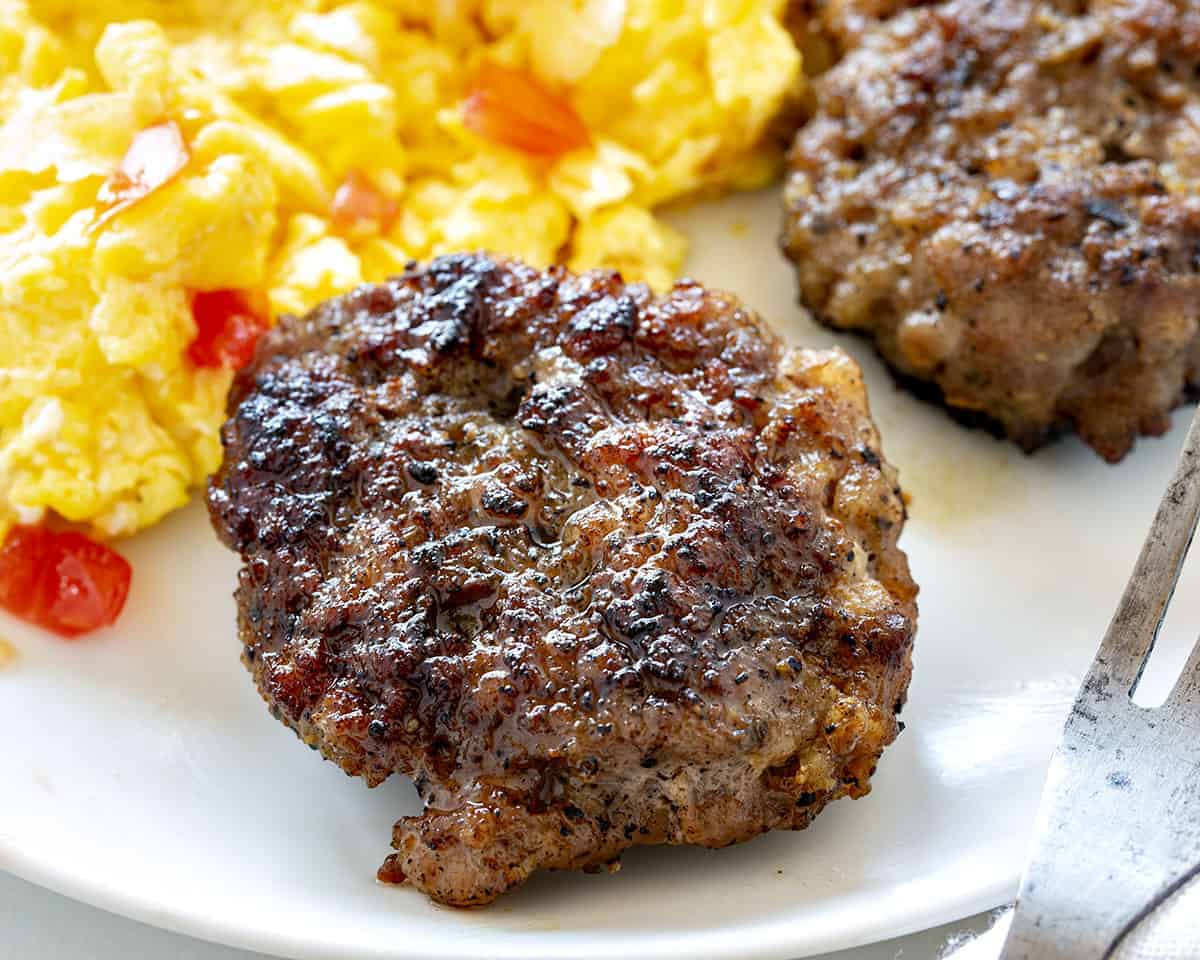 Breakfast Sausage Patties are so easy to make on your own, you will never want to buy the frozen patties again! These are so good your family will think you are a professional chef on the side. Protein is a huge part of getting the nutrients you need to hold off hunger and keep you satisfied. These Breakfast Sausage Patties have you covered in both taste and protein.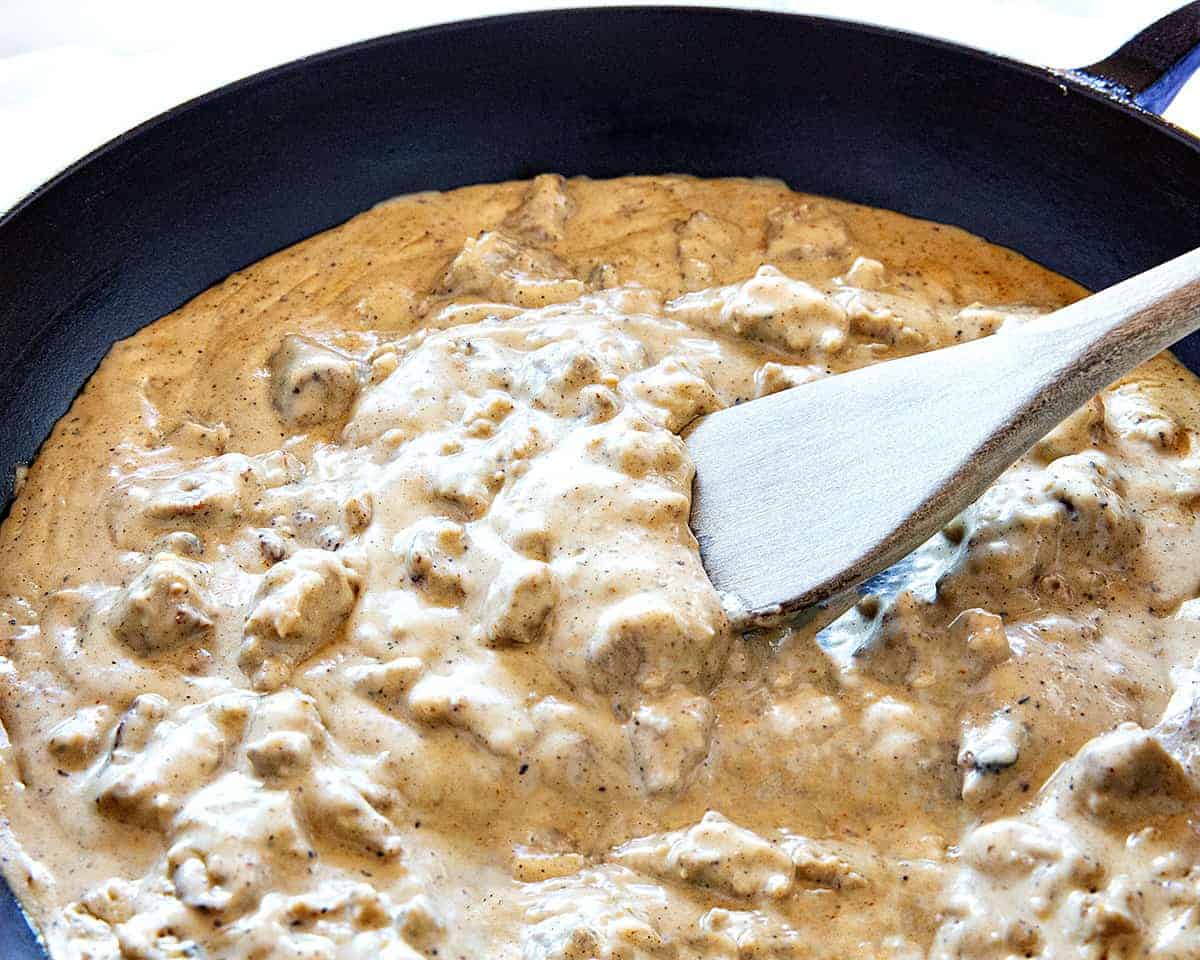 This is, quite possibly, the ultimate comfort food for breakfast! With a creamy and flavorful sausage gravy poured over Buttermilk Biscuits, this hearty meal will stick with you all morning! If you have time, I recommend making my Homemade Buttermilk Biscuits to go with the gravy. YUM!!!!
Pulled Pork Recipes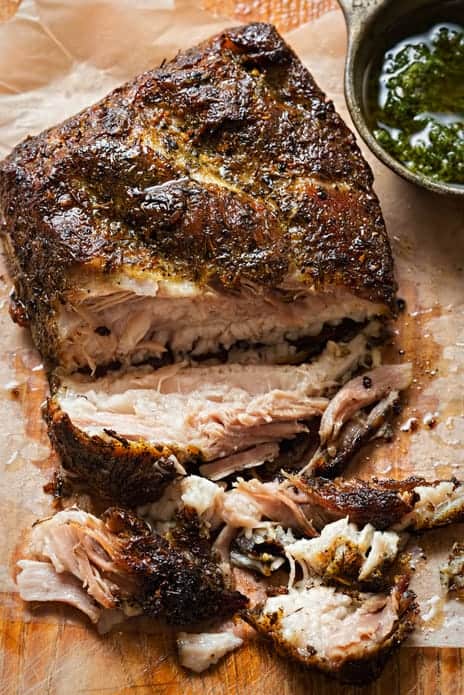 We love everything about pulled pork. The versatility of the process (dry rub or wet) and the way you can cook it. Our favorite is smoking, but this easy oven method for making Pulled Pork works in a pinch!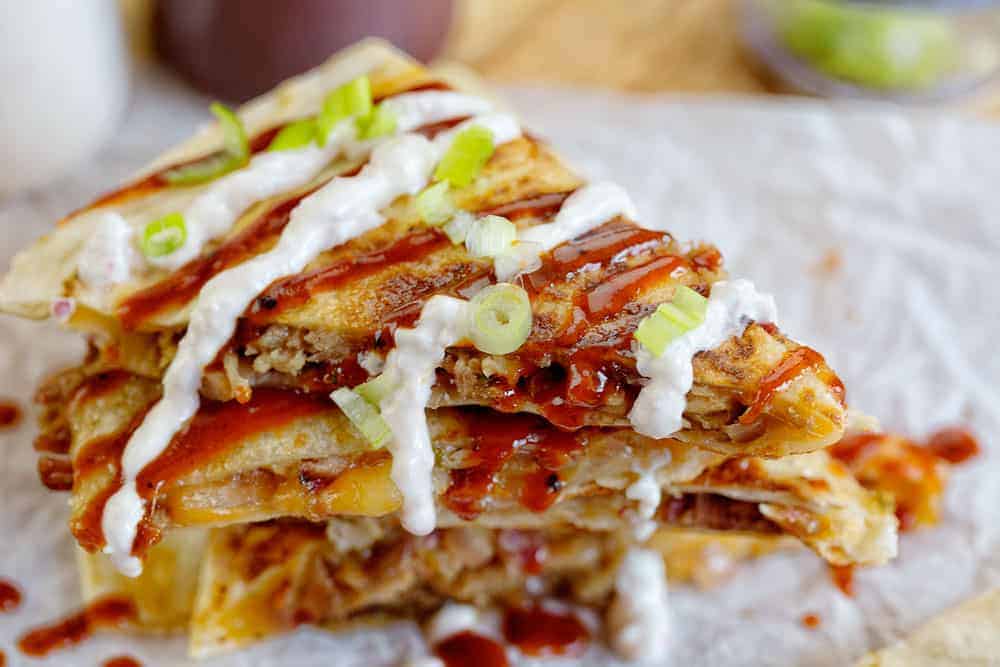 This Pulled Pork Quesadilla recipe is the perfect sweet and savory appetizer. Filled to the brim with juicy and flavorful pulled pork, sweet caramelized onions and topped with tangy BBQ sauce.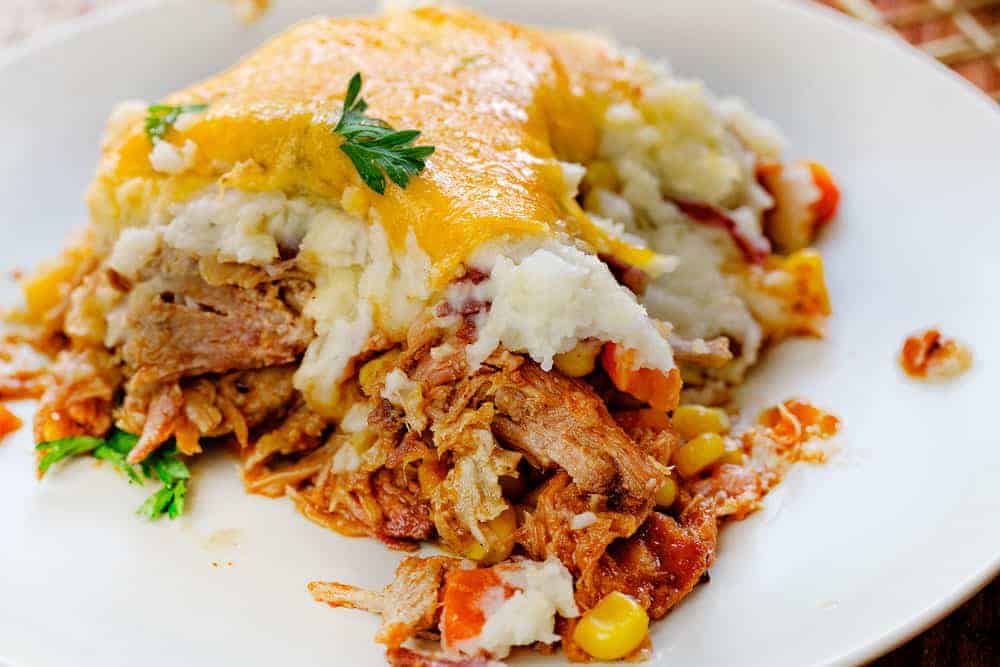 A classic dish gets a fun twist by adding pulled pork to this Pulled Pork Shepherd's Pie! It's the perfect way to use up any extra pulled pork you have. I had no idea how versatile pulled pork was and am thrilled to be able to use it up in such mouth-watering ways.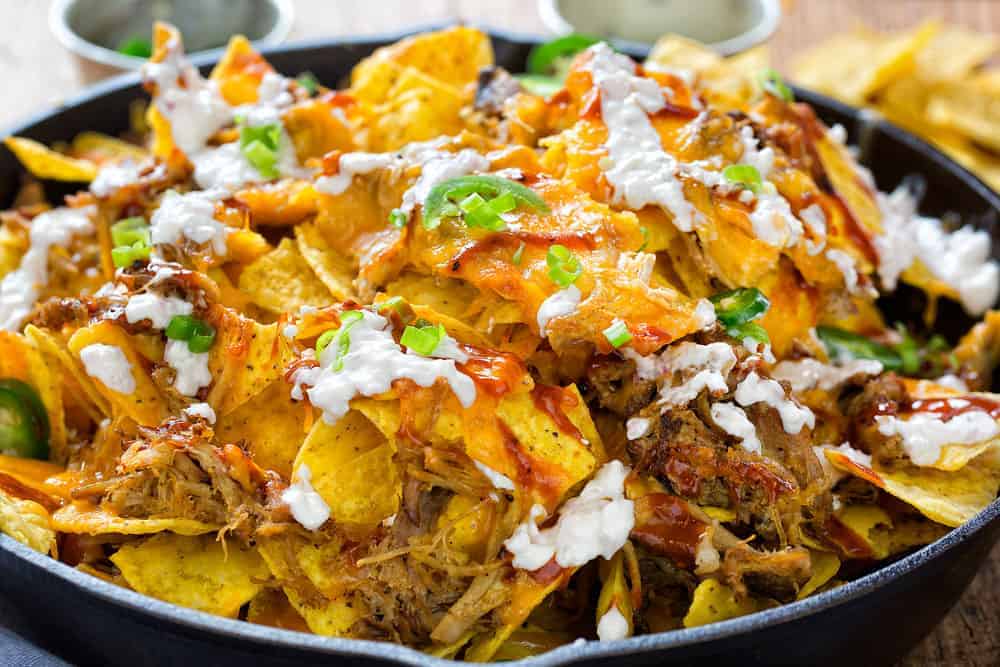 These Pulled Pork Nachos are an appetizer favorite around here, besides that they are packed with flavor and pull together in minutes! This is one of those recipes that has evolved after having a heaping pile of leftover pulled pork.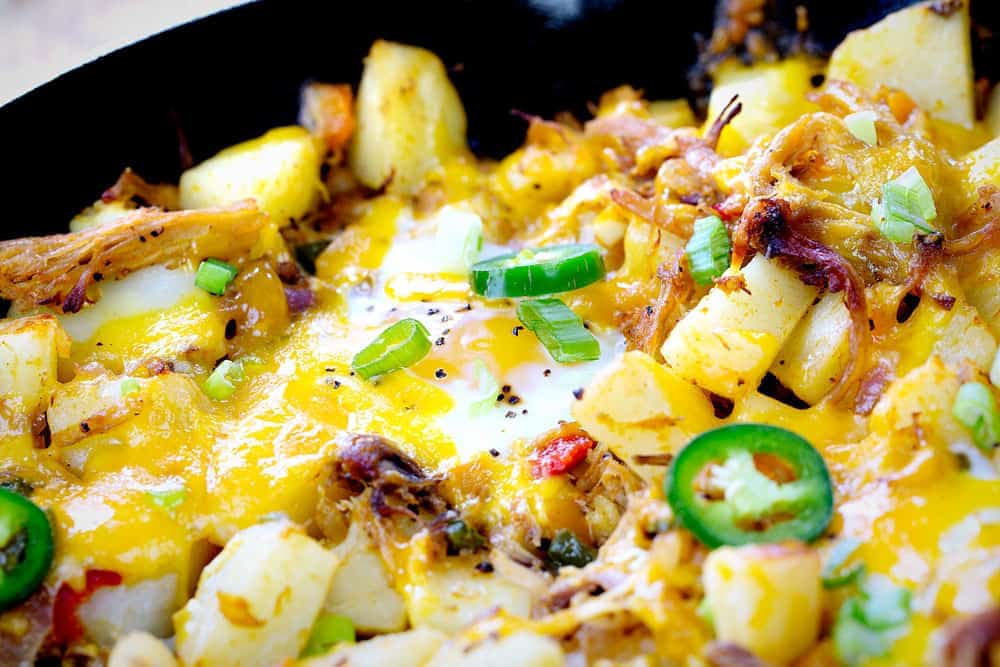 This Pulled Pork Hash is our new favorite breakfast! Packed with flavor, it's easy to pull together and is something everyone will enjoy!
Cuts of Pork
With all the choices you have to use pork in recipes, what is the difference in all the cuts of pork that are available? The cut of pork actually has to do with where on the pig it has been taken from. Be aware that there are multiple names for some of the cuts of meat. But, hopefully, this will help you when you are looking at all the varieties in the meat department!
Pork Loin
The pork loin, or loin roast, is taken from the area between the pig's shoulder and the beginning of its leg. A pork loin can be bone-in or boneless and between two and five pounds. You can usually tell it is a pork loin because they are generally tied up in a roll. This cut of meat is great for stuffed recipes and grilling, but don't mistake this for a tenderloin. Cooking times are a lot different between a loin and tenderloin.
Pork Tenderloin
Pork Tenderloin is the most tender cut of pork and comes from the area right below the backbone of the pig. You need to make sure you are reading a recipe carefully since you cannot easily substitute a pork loin for a pork tenderloin. They cook very differently and are different in size. Tenderloins are boneless and are generally around 1 to 1 1/2 pounds (a lot smaller than a loin). Since it is so lean, it is important to not overcook it. You can grill, sear, roast, cut them up for stir-fries, etc.
Pork Chops
Pork chops are another cut of pork that comes from the loin of the pig (the area between the pig's shoulder and the beginning of its leg). Pork chops are one of the most popular cuts of pork because they are so easy to prepare. I always prefer a bone-in, thick-cut pork chop, but you can also find boneless chops. You can bake, pan-fry, grill, oven-roast, and even cook them in a slow cooker.
Ground Pork
Ground pork, just like ground beef, is pork that has been ground or finely chopped. It generally comes from the shoulder of the pig (the pork butt or Boston butt) and is the most versatile cuts of pork. You can use it anytime a recipe calls for ground beef without really noticing a huge change in the flavor. Ground pork sold in the grocery store is about 15%-20% fat. Ground pork will stay fresh in the refrigerator for up to 5 days, but I would go for the safer 3-day limit. If you are not going to use it right away, just freeze it until you are ready to cook with it. With any ground meat, it should never be slimy or have a foul odor to it.
Pork Sausage
Pork Sausage is seasoned ground pork that has been stuffed into a casing. It is usually a little spicy and can be used for a variety of things. You can get pork sausage fresh, smoked, or cured. Many times they are sold already pre-seasoned and ready to cook.
Bacon
Bacon is a popular cut of pork that is from the side belly of the pig. It is very fatty and cured and smoked before you bring it home to cook it. You can cook it on the stovetop, bake it in the oven, or even cook a few pieces in the microwave if you need some right away. Here is how I bake bacon for a lot of my recipes. It saves on the cleanup and the bacon does turn out crispy and ready to eat!
How to Bake Bacon
When I cook bacon, I do it in the oven. I set the temperature to 415°F and while it is preheating, I lay out the individual slices of bacon on a foil-lined rimmed baking sheet. (Yes, right on the pan! No rack needed.) They are perfectly crispy in 18-20 minutes. No flipping and easy cleanup!
Ham
Ham comes from the hind legs of the pig and is a popular cut of meat to feed a lot of people, especially around the holidays, since each pound of ham can feed two people. Ham can be bone-in or boneless, and it is delicious served hot or cold. You will have to check if the ham you purchased is fully cooked, partially cooked, or uncooked. Fully cooked hams are convenient since you only have to heat them up to eat them. Partially and uncooked hams need to be cooked to 145°F to be fully cooked.
Pork Shoulder vs. Pork Butt
Pork Shoulder and Pork Butt are actually confused quite a bit. From the sound of the names, you wouldn't think so, but both are from the pig's shoulder! Pork Shoulder is found lower than the Pork Butt on the pig. Both cuts are high in marbling and fat and best for slow cooking. I prefer Pork Butt for pulled pork recipes. When you are given a choice between the two in any recipe, go for the Pork Butt. Pork Shoulder is more triangular shaped with the skin on, so this cut would be better for recipes that need to have that crispy skin.
Pork Ribs
Pork Ribs come from different sections of the rib cage. Here are a couple of the most popular ribs.
Babyback Ribs–No, these ribs do not come from a baby pig, they are simply shorter than other types of ribs. Babyback Ribs come from the loin of the pig (along the spine). They have lots of lean meat on them, and since they are smaller, their cook time is shorter. But they are usually a bit more expensive.
Spareribs–Spareribs come from the underside (or belly) of the pig. They are usually more flavorful because they contain more fat on them. They are also easier to cook since they are more rectangular and flat compared to babyback ribs. Spareribs are also the ribs that become St. Louis-style Ribs.
Ribs are great with rubs and sauces, and they need to be cooked and/or smoked slowly for the best results.
Pork Rib Roasts
Pork Rib Roasts are much fattier than ribs and they come from the rib area of the pig, not the rib cage like the leaner ribs above. They are also known as a rack of pork and are very flavorful. It can sometimes be hard to find Pork Rib Roasts at your grocery store, but you can order it in advance. They can really dress up a dinner table, so they are nice to have for a special occasion. Once you have your pork rib roast, there is some prep work that needs to be done. The Pork Rib Roast needs to be 'frenched'. To 'french' the roast, you need to cut away or pull back the meat so the bones are exposed.
Hopefully, knowing a little about some cuts of pork will help you with your next pork recipe. Now, you will know what to look for the next time you go to your local meat market or grocery store.