Whether you are looking for food ideas for the upcoming Fourth of July weekend, or just for summer barbecues, I have you covered! From main dishes to grilling to side dishes, salads, and dips, you are sure to find a few delicious recipes that will work for you this summer!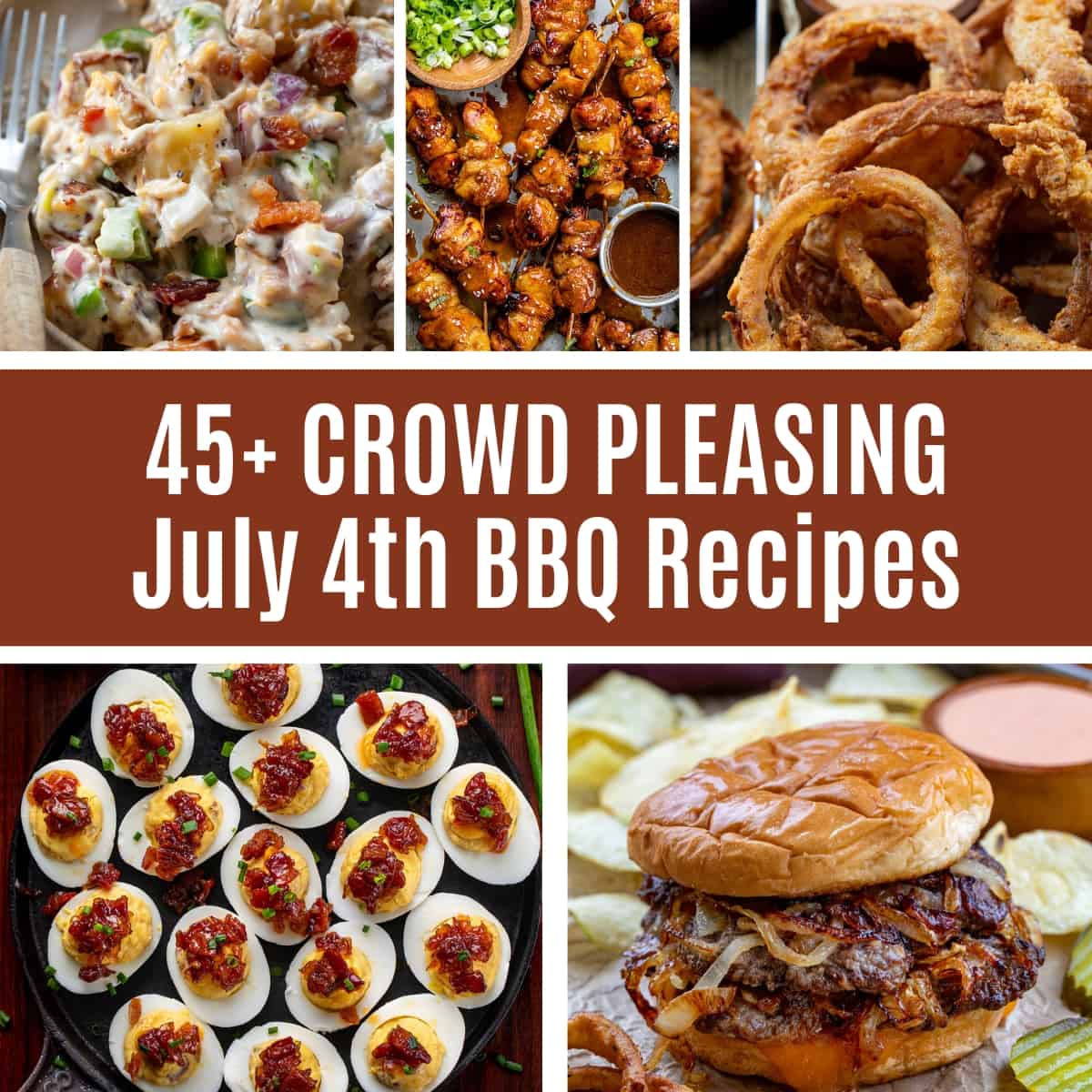 Jalapeno Popper Roasted Potato Salad gives you all of the flavors of a jalapeno popper appetizer in a creamy, tangy, and slightly spicy salad. It all starts with the seasoned roasted potatoes (not boiled) that really take this salad to a whole new level of deliciousness! After you taste how Roasted Potato Salad is a step up from traditional potato salad, you will be hooked!
Dill Pickle Roasted Potato Salad is dill-seasoned roasted potatoes mixed in with tangy dill pickles, crispy bacon, eggs, red onions, and a creamy dressing. It's a delicious and unique variation of my Favorite Roasted Potato Salad. And when I say delicious, I am not kidding! Once you taste the difference roasting potatoes make in a potato salad, you will never boil the potatoes again!
Classic Country Potato Salad uses fresh herbs like dill, scallions, and parsley all paired with hints of lemon making this dish a summer favorite! Potato Salad There is something so refreshing about a perfectly prepared potato salad. There are so many different methods to make potato salad, but for this recipe, I kept the skin…
Strawberry Chicken Salad is a mouthwatering concoction of chicken, freshly picked strawberries, creamy goat cheese, spinach, crisp red onions, and cucumbers covered in a light and refreshing balsamic vinaigrette dressing. You should also try my Blackberry Balsamic Chicken Salad! Strawberry Chicken Salad This strawberry chicken salad just screams summer to me. I don't know if…
Tomato Bacon Jam is a sweet and savory spread made with fresh tomatoes, bacon, onions, sugar, spices, and red pepper flakes for a slight kick. Perfect for crackers, biscuits, hamburgers, grilled cheese, or even pizza!
Whiskey Bacon Jam is a unique, easy-to-make homemade condiment that is delicious on burgers, sandwiches, and grilled meats, as well as a topping for appetizers like crackers or cheese platters. It's both savory and a little bit sweet, bursting with flavors from bacon, whiskey, and maple syrup. Use on crackers, burgers, eggs, you name it!
Quite possibly my new favorite appetizer! This Spicy Tomato Jam is loaded with flavor and goes perfectly with crackers, burgers, biscuits, and so much more! (Also would be perfect as an appetizer during football season!)
Buffalo Chicken Wings will satisfy your cravings for a spicy kick and are the perfect game-day or any-day appetizer. These wings were first cooked in a hot sauce for a late-night snack in 1964 at a bar in Buffalo, New York, and since then they have become a staple on bar menus. But you don't…
Looking for drink and dessert recipes, too? Be sure to check out my Summer Drink Recipes and No-Bake Desserts to make all of your summer barbecues complete!