With chicken being so popular (Americans eat over 85 pounds of it per year) and knowing that you can freeze chicken pieces for up to 9 months, I have compiled a list of 60 different recipes you can make with chicken. From salads to sandwiches to stuffed chicken recipes, you will find the chicken recipe you are craving in this 60 Chicken Recipes list.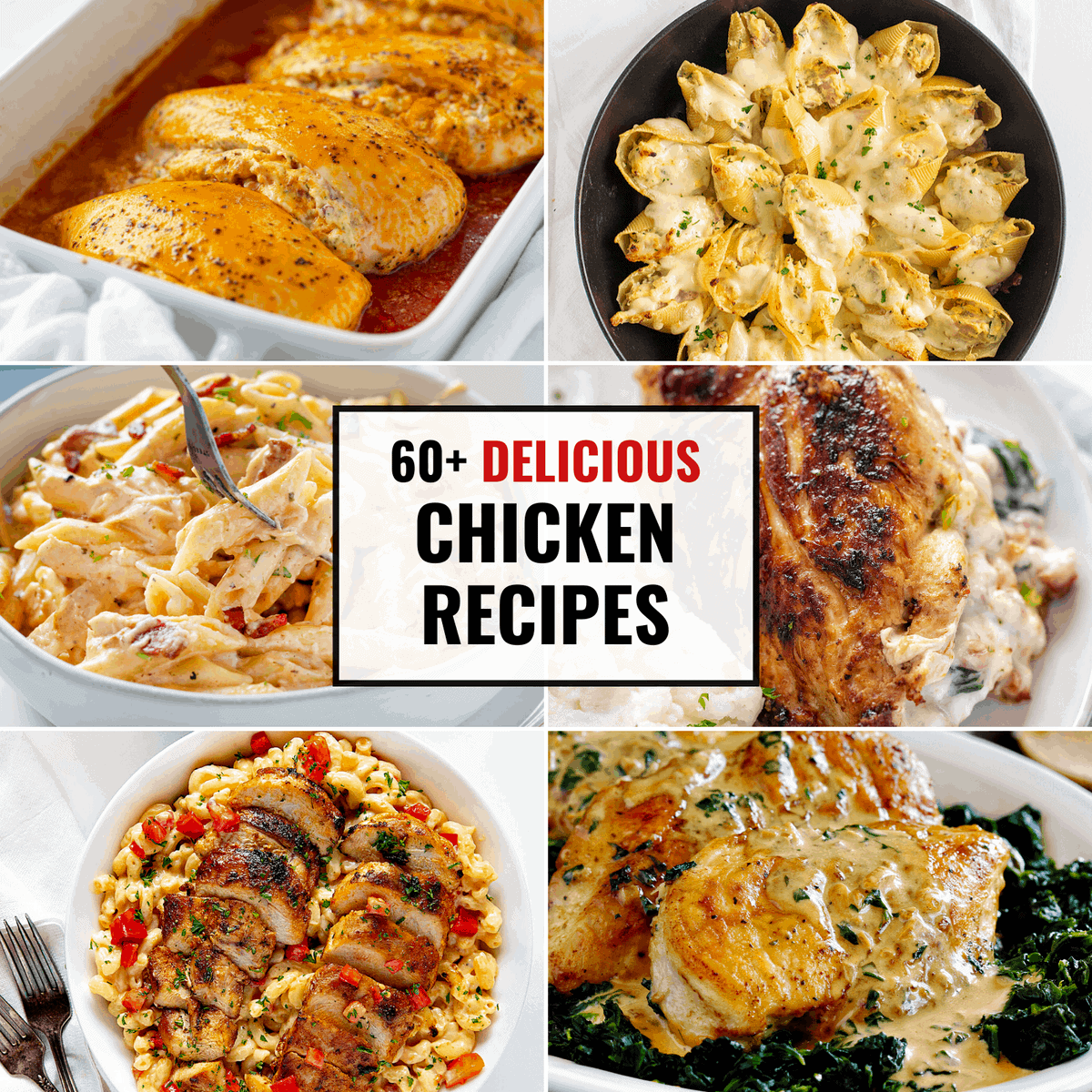 Whole Chicken Recipes
A whole chicken is a great way to feed your entire family, and maybe even have some leftovers. Here are a few of my favorite recipes using a whole chicken.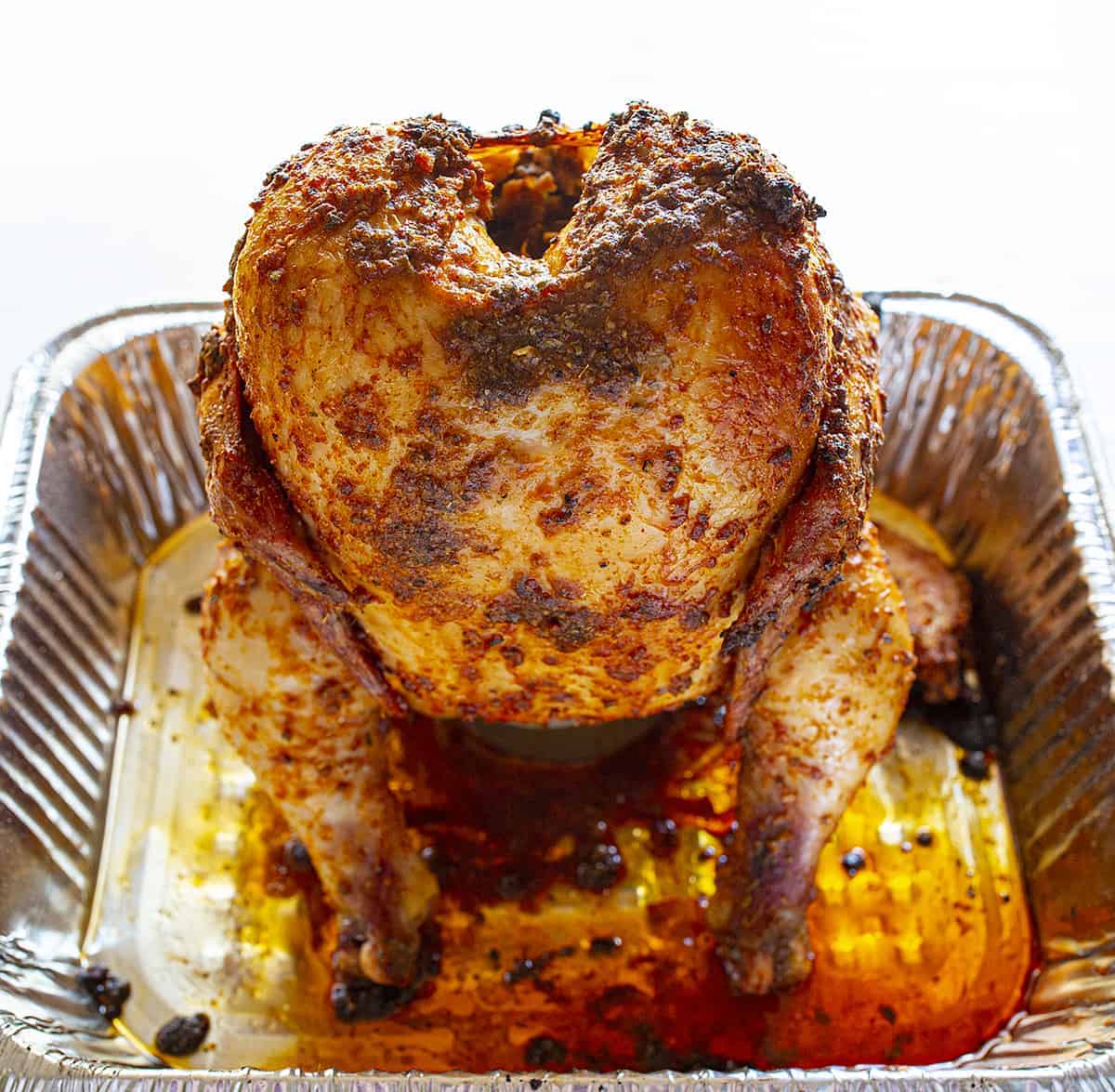 Grilling season simply cannot be complete without the flavor and aroma of beer can chicken. If you have never tried this amazing grilled recipe, today is the day for this perfectly seasoned and juicy chicken! This recipe seems a little complicated, but I swear it isn't. The ingredients are pretty basic. You will need a whole 5-pound chicken, some beer in a tall can, a little oil, and a slew of various spices.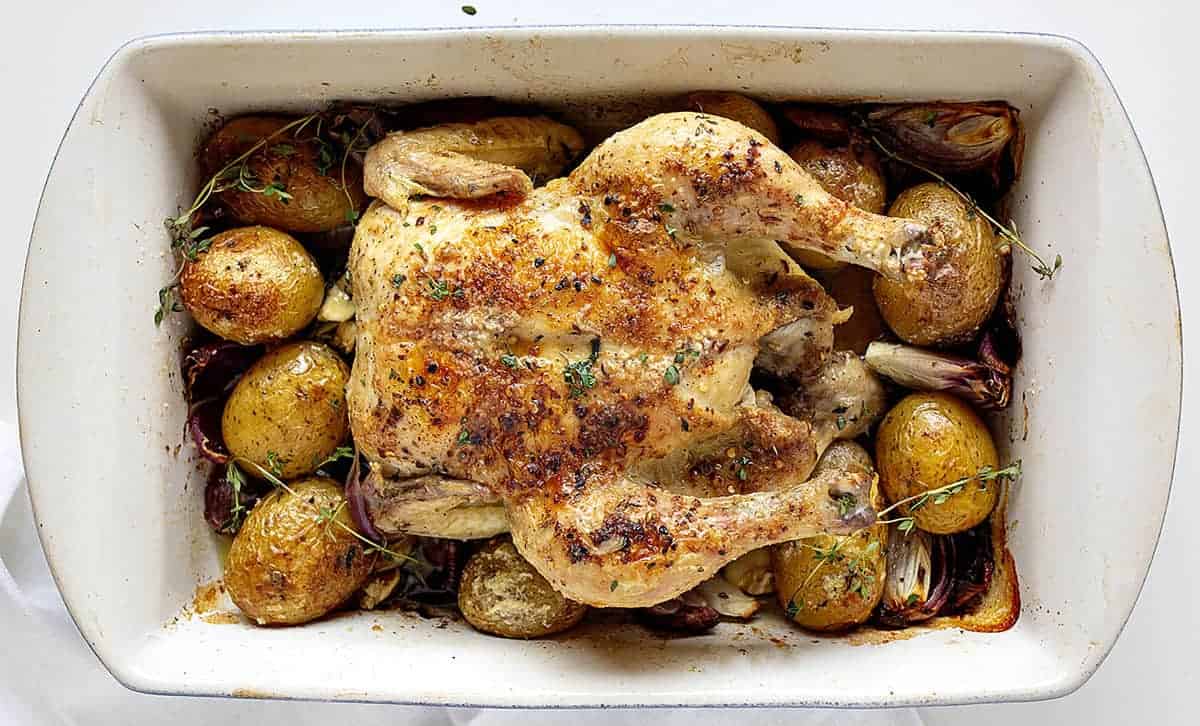 Roasted Chicken, surrounded by baby potatoes and vegetables, is the perfect meal that is packed with flavor and substance! It is SO tender, flavorful, and delicious! There have been so many times that I have cooked chicken and it turns out rubbery or having no flavor. This proved to be a no-fail way to cook the chicken and it was SO juicy! Plus, it was simple to prepare!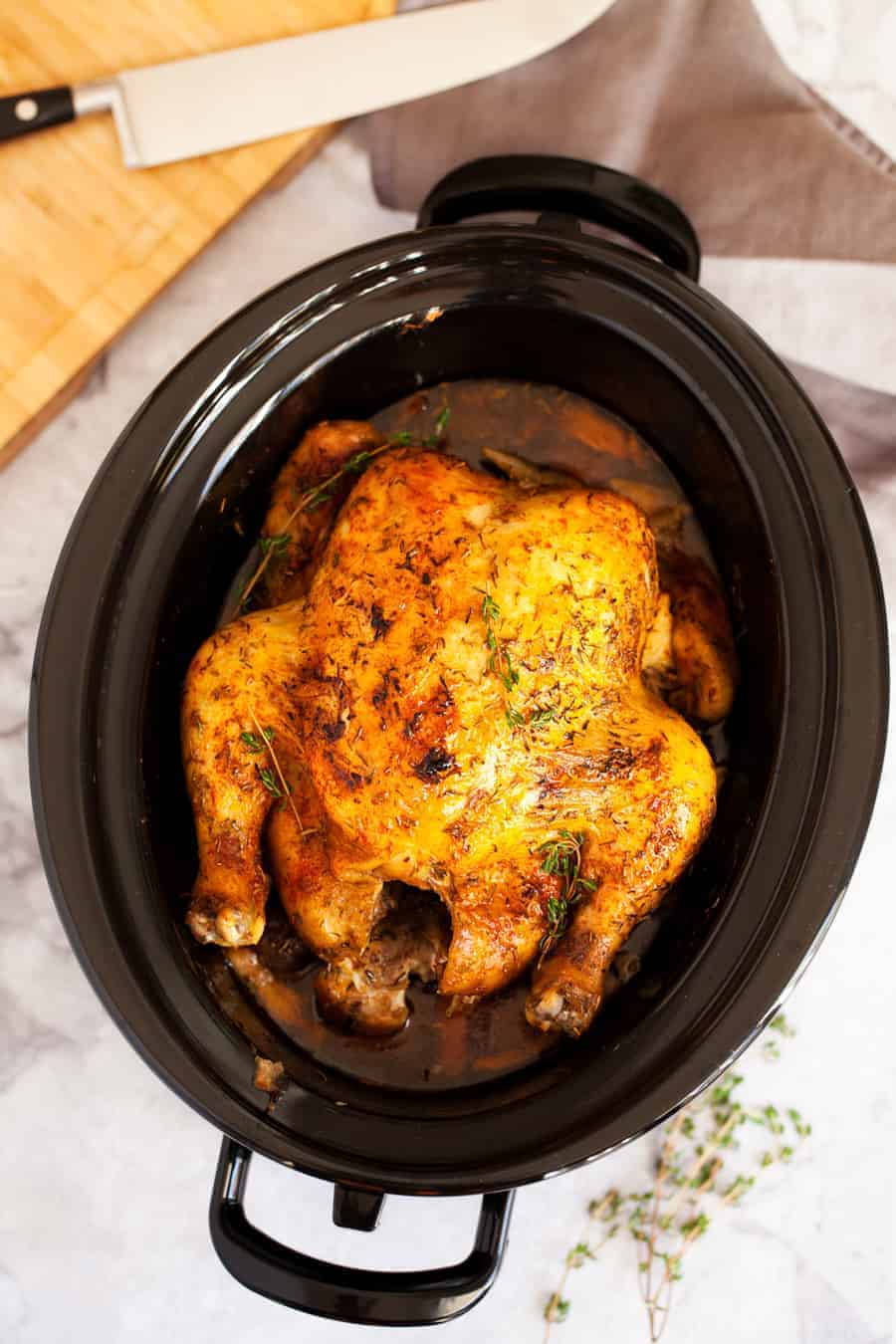 Next time you're at the grocery store, pass up the rotisserie chicken sitting under a heat lamp all day. Instead, make this slow cooker rotisserie chicken for the most succulent and juicy chicken you have ever had!
Chicken Salad Recipes
Adding chicken to salads makes them more of a meal than a starter. These salad recipes show how easy it is to keep your chicken recipes interesting and tasty!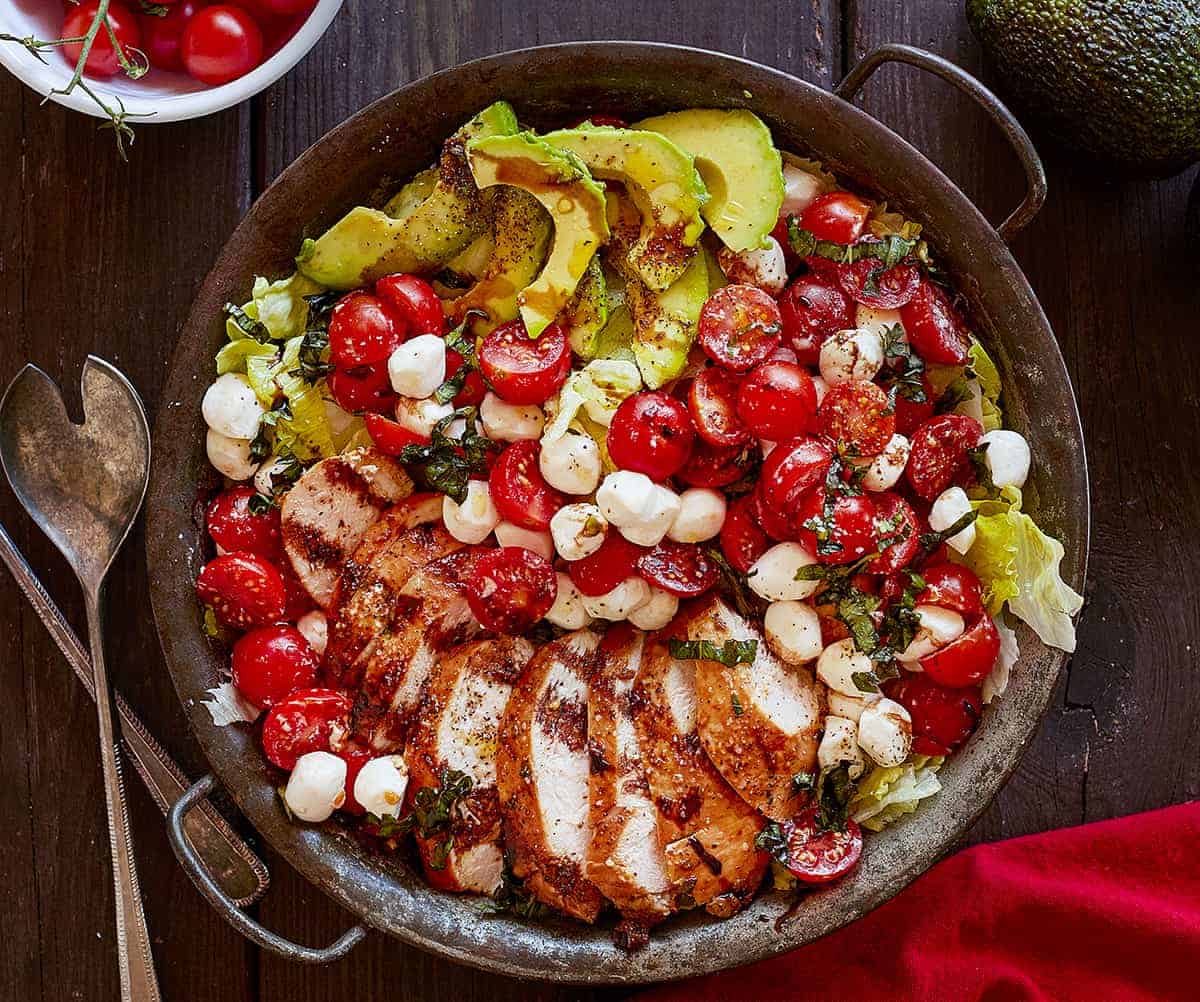 Your life simply cannot be complete without this Chicken Caprese Salad. This salad is bursting with flavor! Tender and juicy balsamic chicken, over a bed of lettuce, tomato, avocado, mozzarella, fresh basil and finished with a balsamic reduction.
This crave-worthy Avocado Chicken Salad is topped with succulent honey mustard chicken, crispy bacon, and nutritious veggies like tomatoes, avocado, and corn. The sweet and sour mustard sauce marinates the chicken AND is used as the dressing.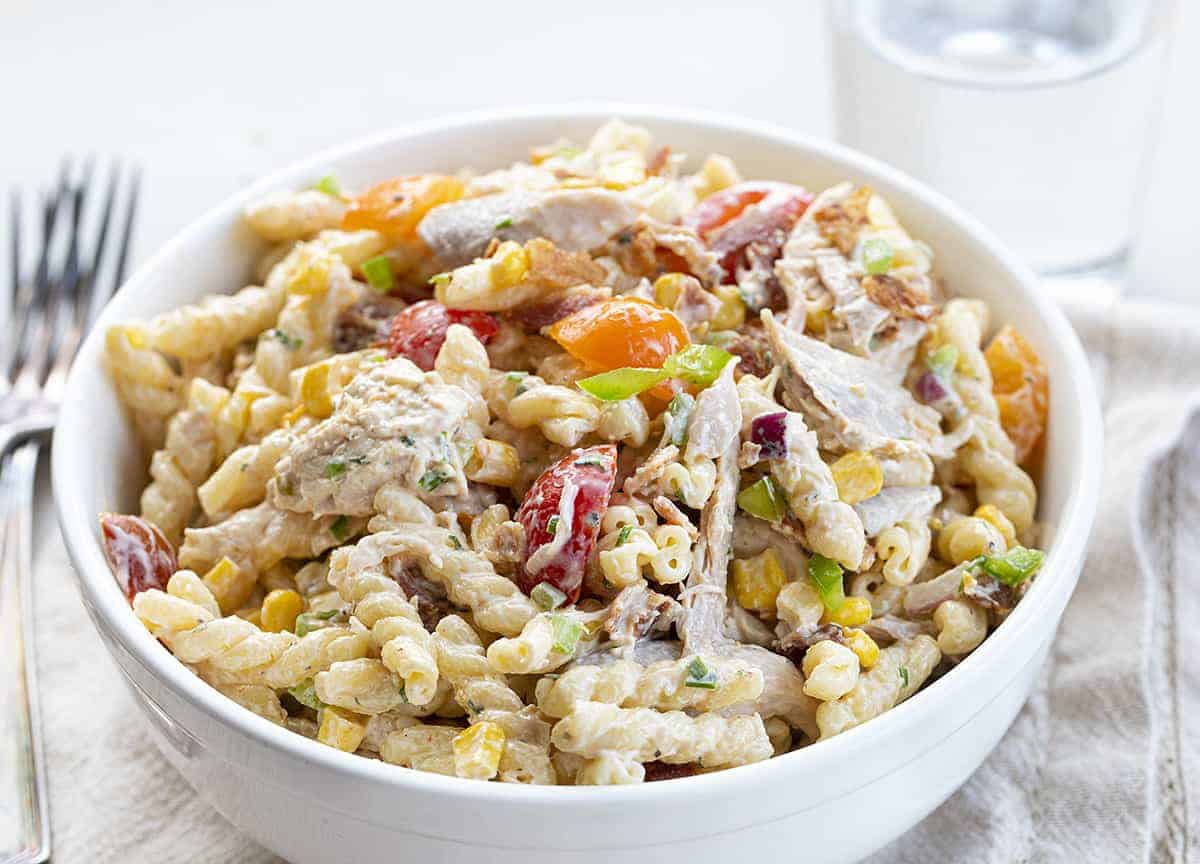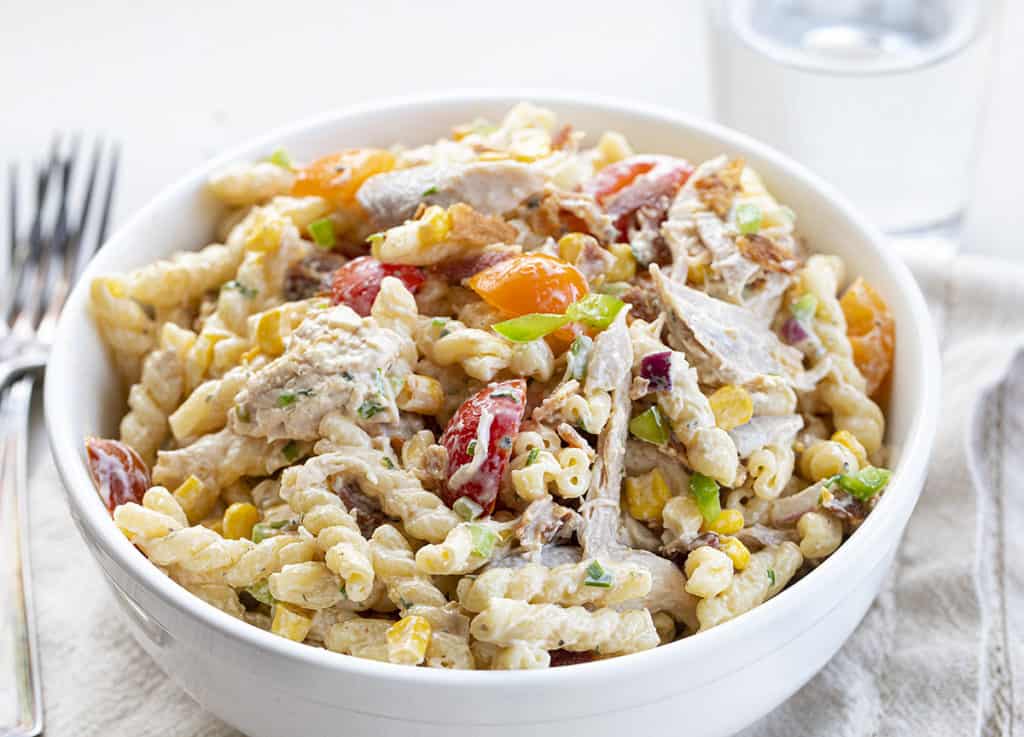 Chicken Bacon Ranch Pasta Salad is a creamy and refreshing cold pasta salad that is loaded with shredded chicken, vegetables, and crispy bacon seasoned with homemade ranch seasoning. Try my Italian Pasta Salad for another cold pasta salad loaded with fresh ingredients.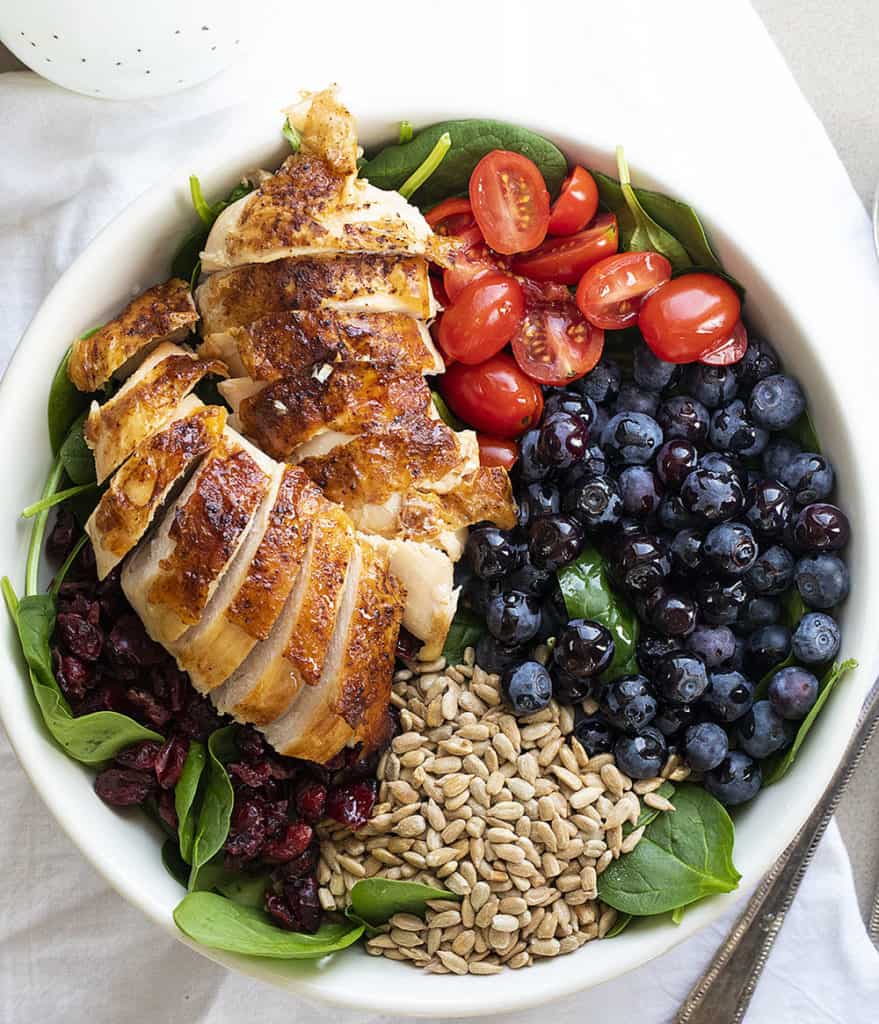 This Blueberry Spinach salad has pure, raw ingredients that work perfectly together and are super satisfying! The first time I made it the kids didn't even want to try it, but now they request it and I love that! My roasted chicken recipe is perfect for this salad!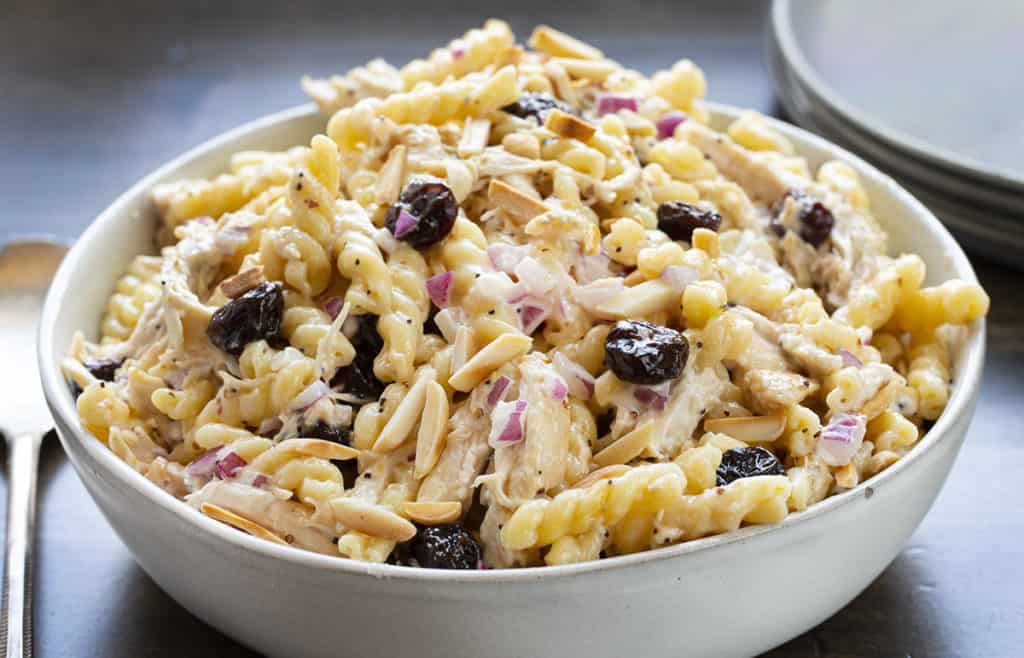 Cherry Chicken Pasta is a creamy pasta salad that is full of flavor from red onions, dried cherries, homemade poppyseed dressing, and toasted almonds. This salad is served cold, much like Chicken Salad.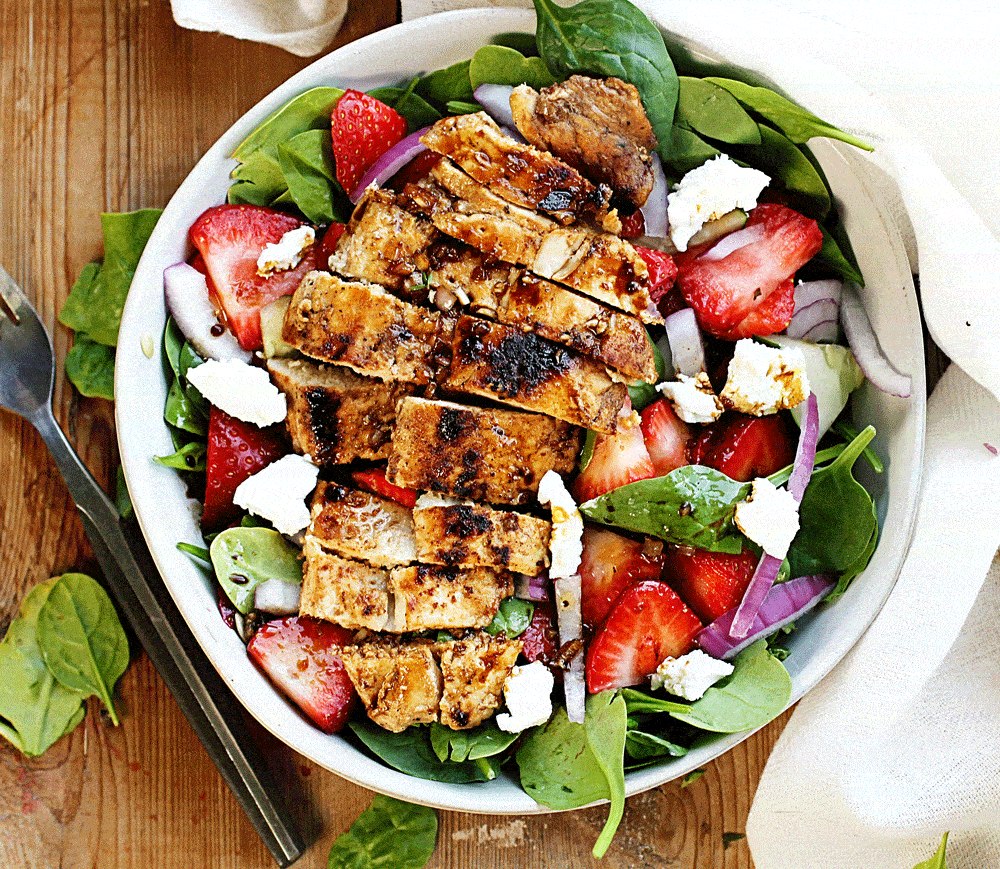 Strawberry Chicken Salad is a mouthwatering concoction of chicken, freshly picked strawberries, creamy goat cheese, spinach, crisp red onions, and cucumbers covered in a light and refreshing balsamic vinaigrette dressing. You should also try my Blackberry Balsamic Chicken Salad!
Chicken Pasta Recipes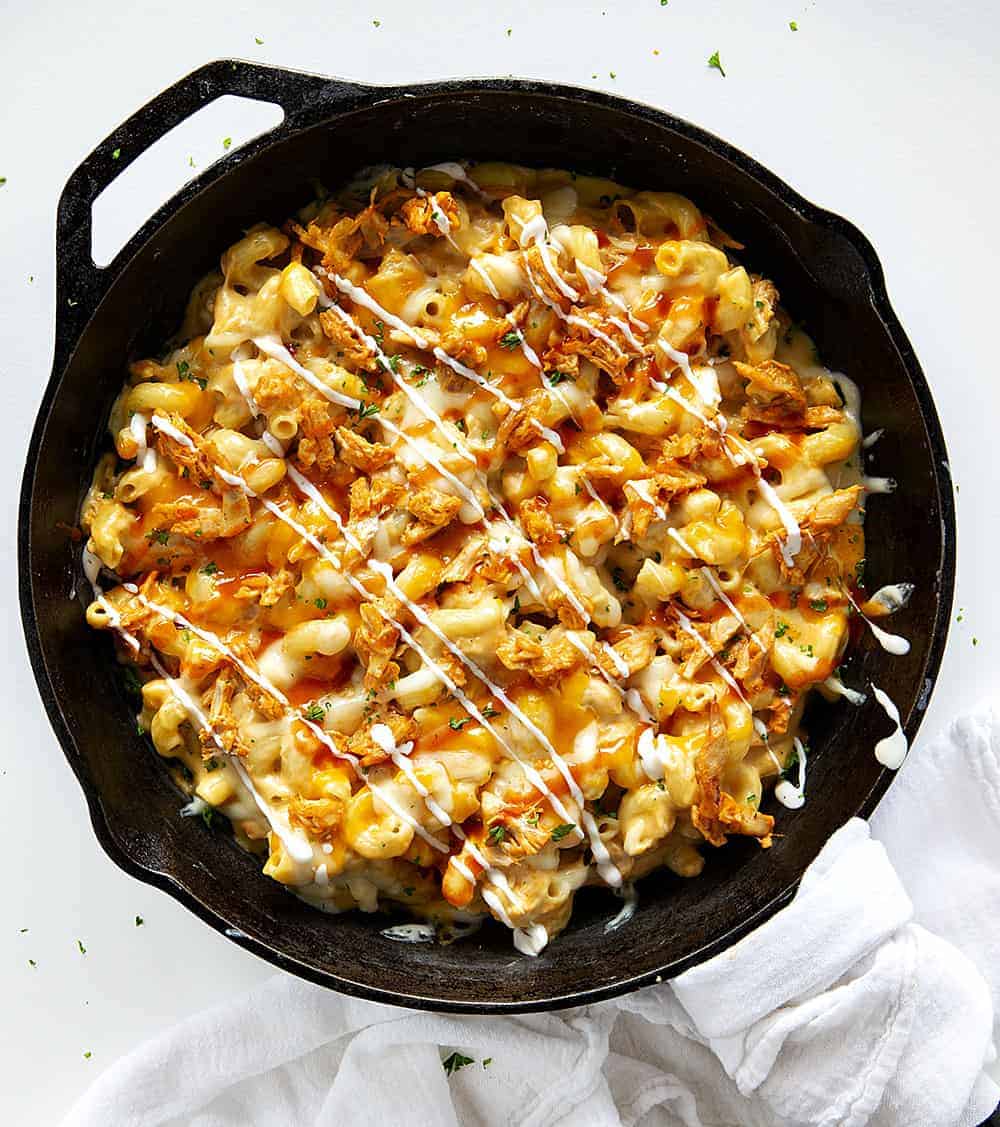 Macaroni and cheese is no longer just for kids, and there is no need to buy the boxed mac and cheese ever again! Buffalo Chicken Macaroni and Cheese will be a meal that your whole family will ask for time and time again. Buffalo Chicken Macaroni and Cheese combines buffalo chicken and the cheesiness of Macaroni and Cheese to create a perfect and satisfying meal.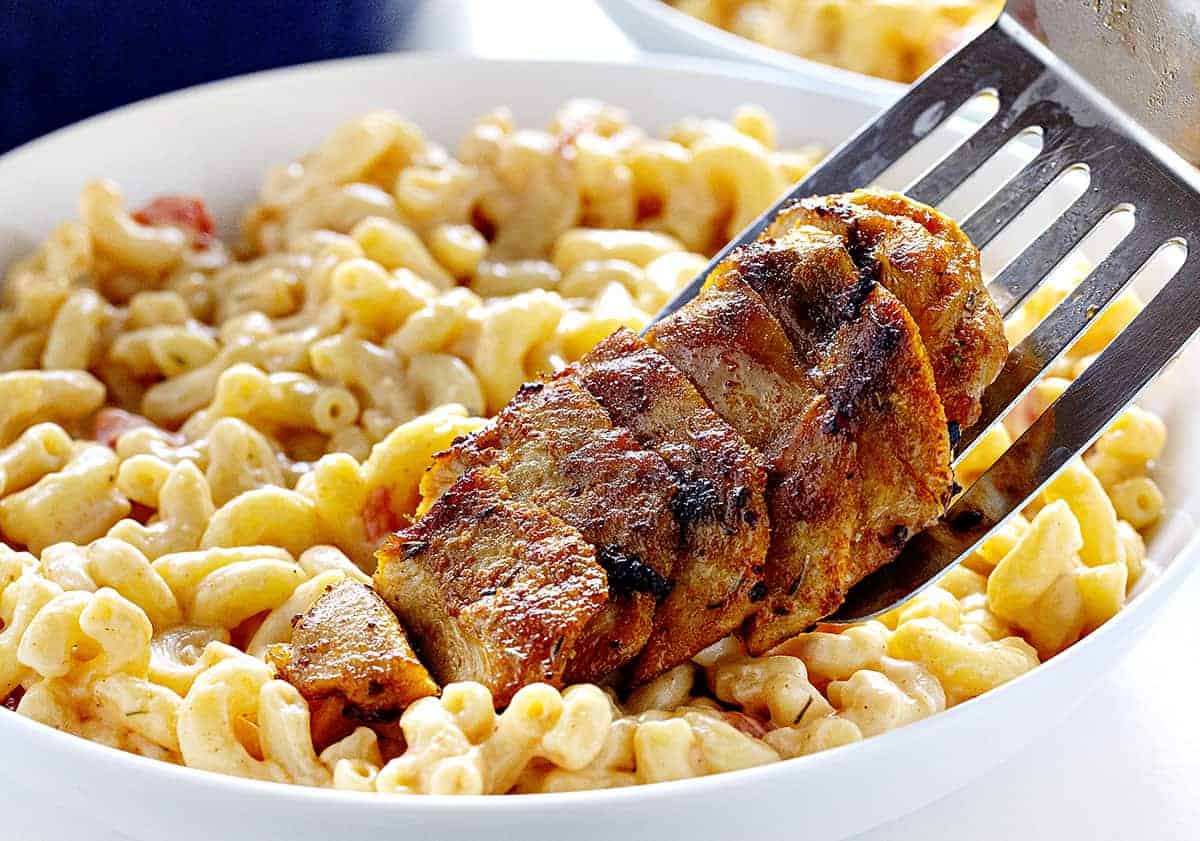 Cajun Chicken Macaroni and Cheese gives regular macaroni and cheese a kick and a little oomph! The Cajun spice adds lots of flavor, and the chicken will be the protein you need to keep you satisfied longer. Are you thinking you are a little too old to admit you love macaroni and cheese? I'm here to tell you that macaroni and cheese is not just for kids anymore.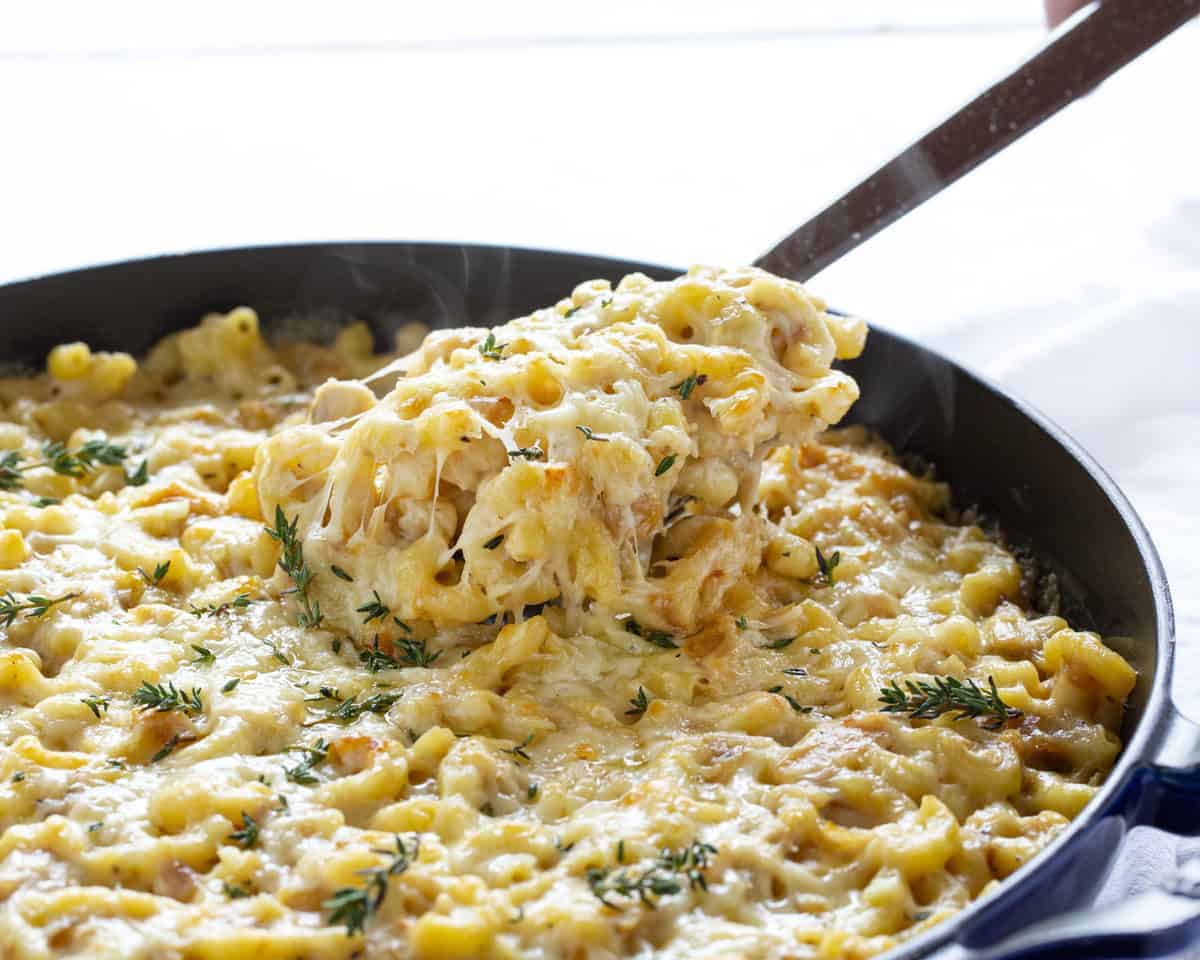 French Onion Chicken Macaroni and Cheese is all the flavor of French Onion Soup with cheesy noodles and chicken. The ultimate comfort food! Macaroni and Cheese has really grown up, as I like to say. The variations that are possible with cheesy noodles are endless and fun! Best of all, this dish is satisfying and filling enough to be a meal!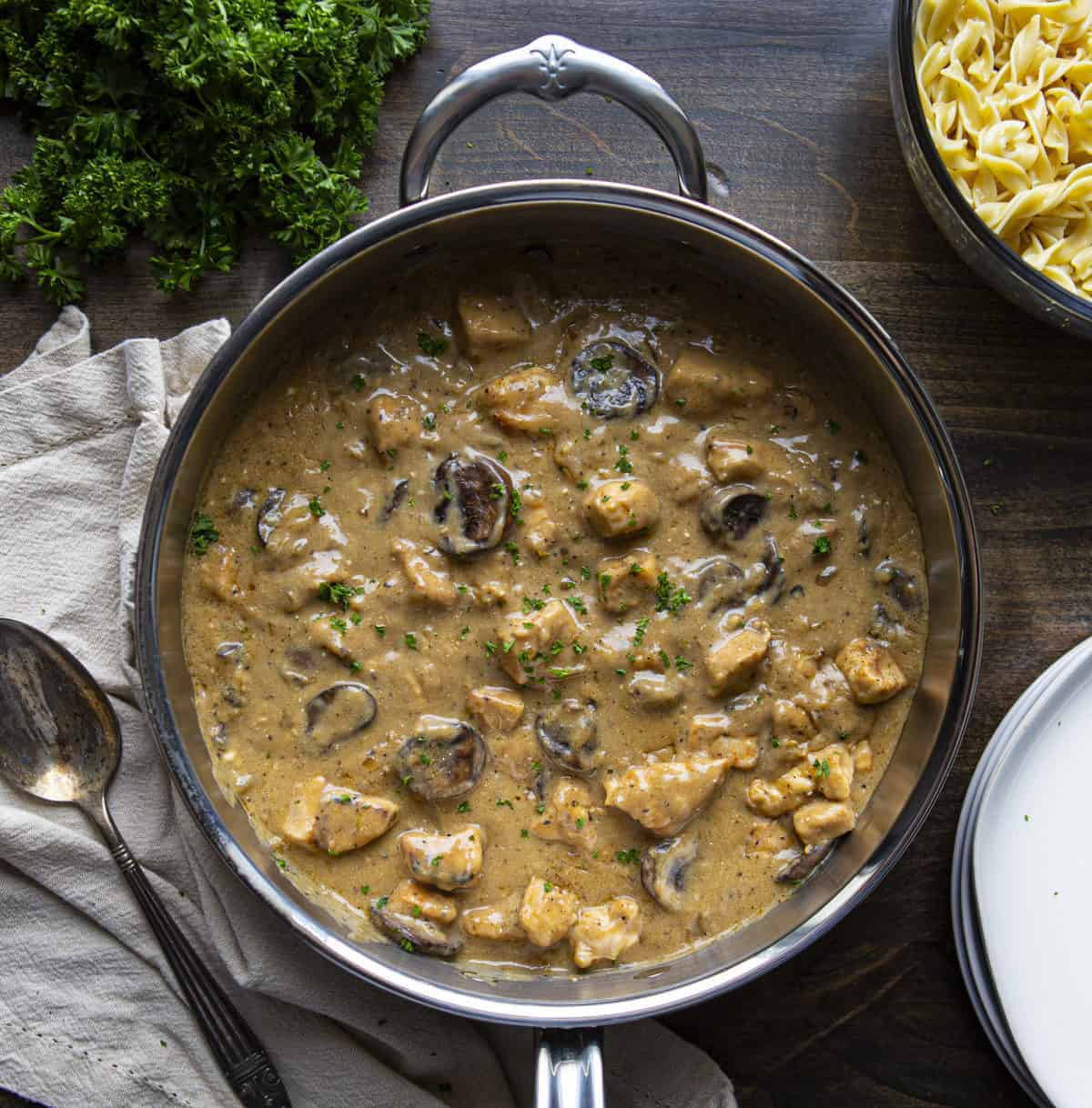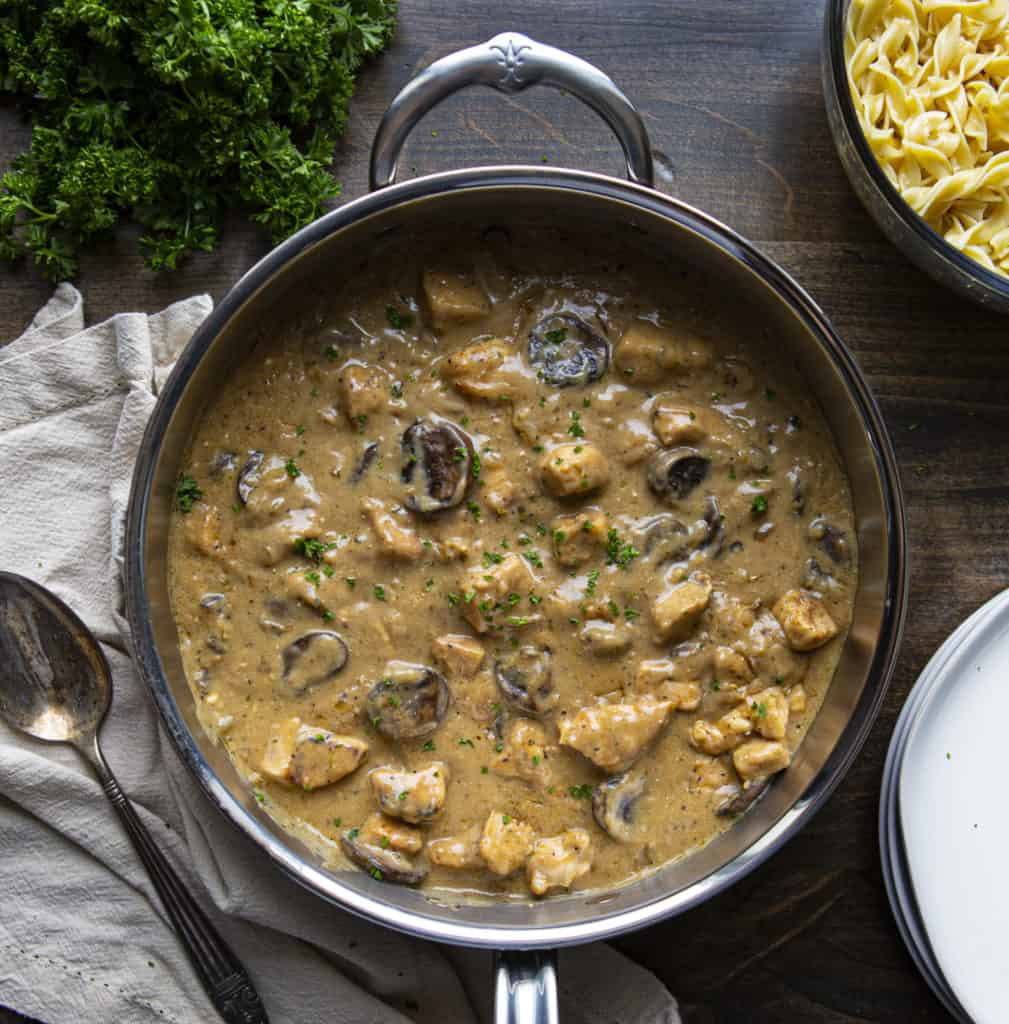 This Chicken Stroganoff has a thick and savory sauce with large chunks of seasoned chicken and tons of earthy mushroom slices. Definitely bursting with flavor! Allowing the dish to simmer gives the flavors time to soak into the chicken and will make you want to savor every last bite. Make sure to have some bread around to sop up any leftover sauce!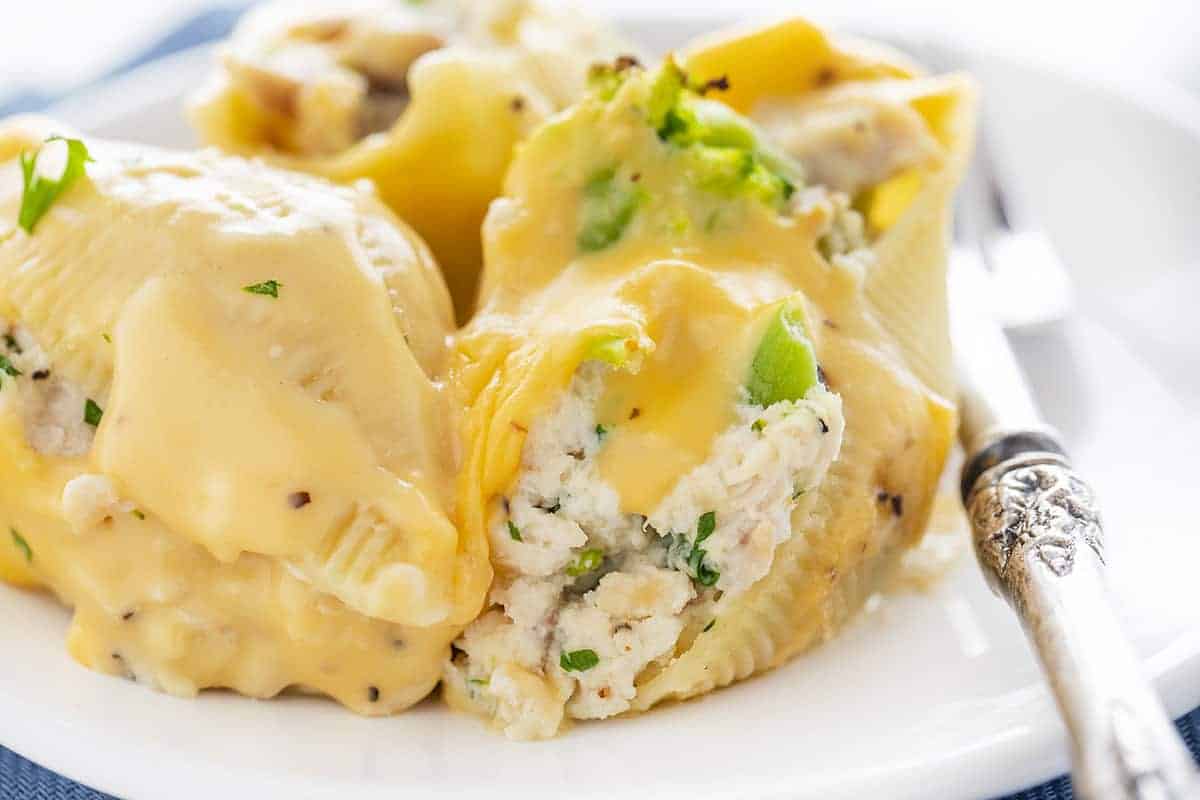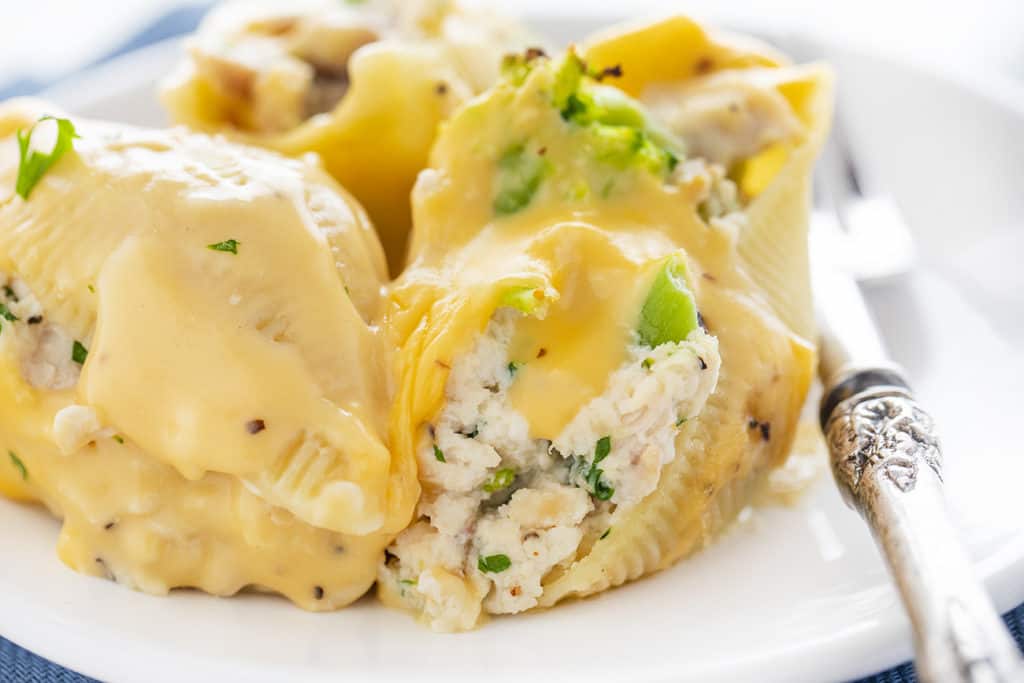 Chicken Broccoli Stuffed Shells are filled with shredded chicken, broccoli, cheese and topped with my homemade Cheddar Cheese Sauce to make this recipe a win for any night of the week! In this recipe, you get the protein from the chicken, a dose of vegetables from the broccoli and lots of cheese! It's a well-rounded meal in one dish!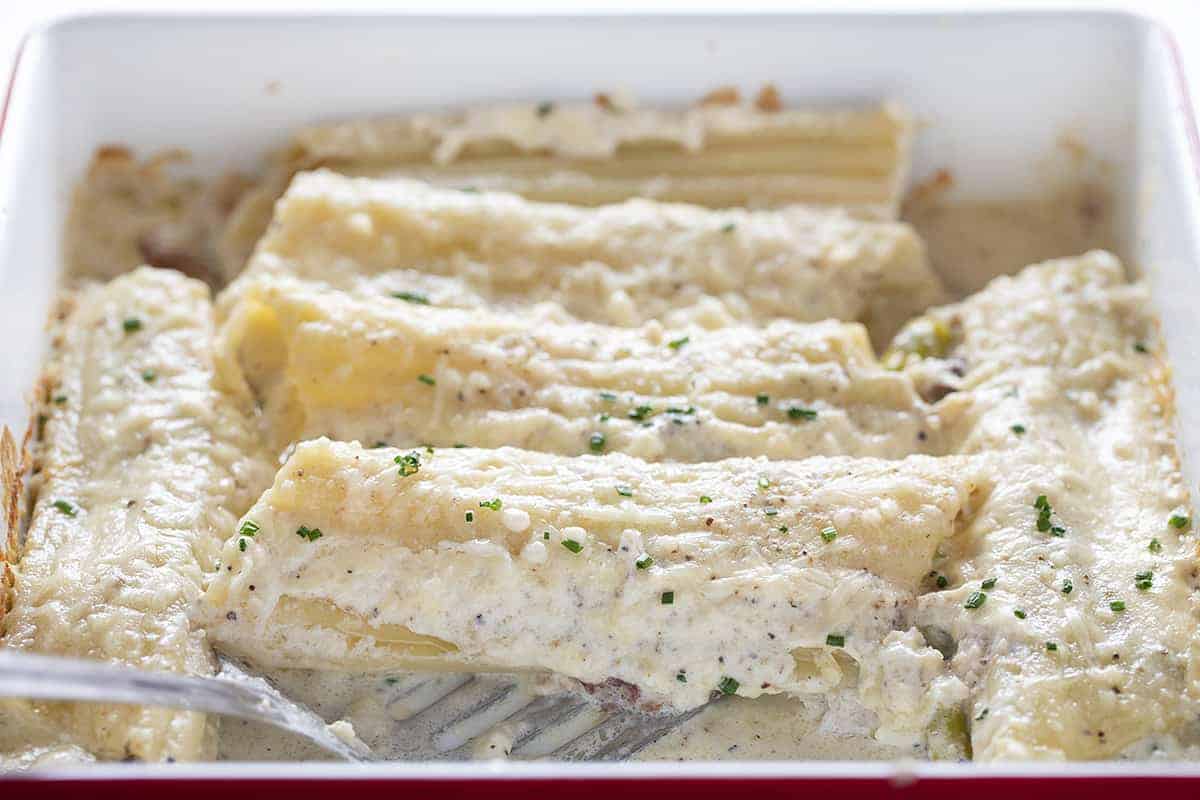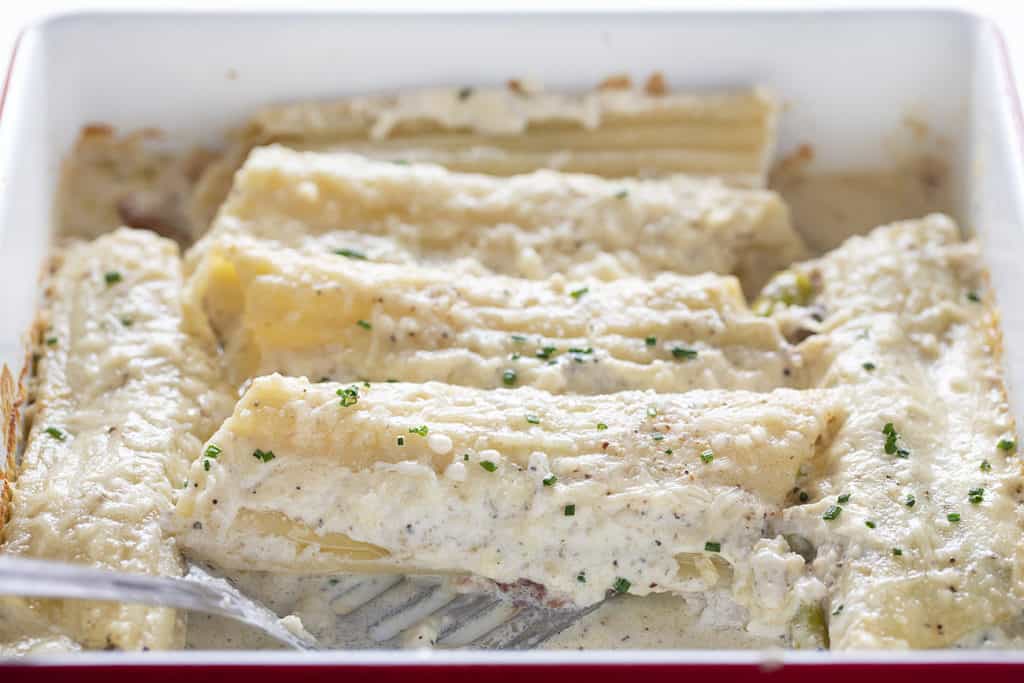 Lemon Chicken Stuffed Manicotti is a cheesy and rich pasta dish that is loaded with chicken and asparagus and topped with a creamy lemon sauce. I am a huge fan of stuffed pasta. It satisfies my carb cravings, and it is so fun to fill giant pasta with tasty ingredients. When you can add a vegetable into the mix, it actually makes me feel a little better about diving into the creamy and cheesy goodness.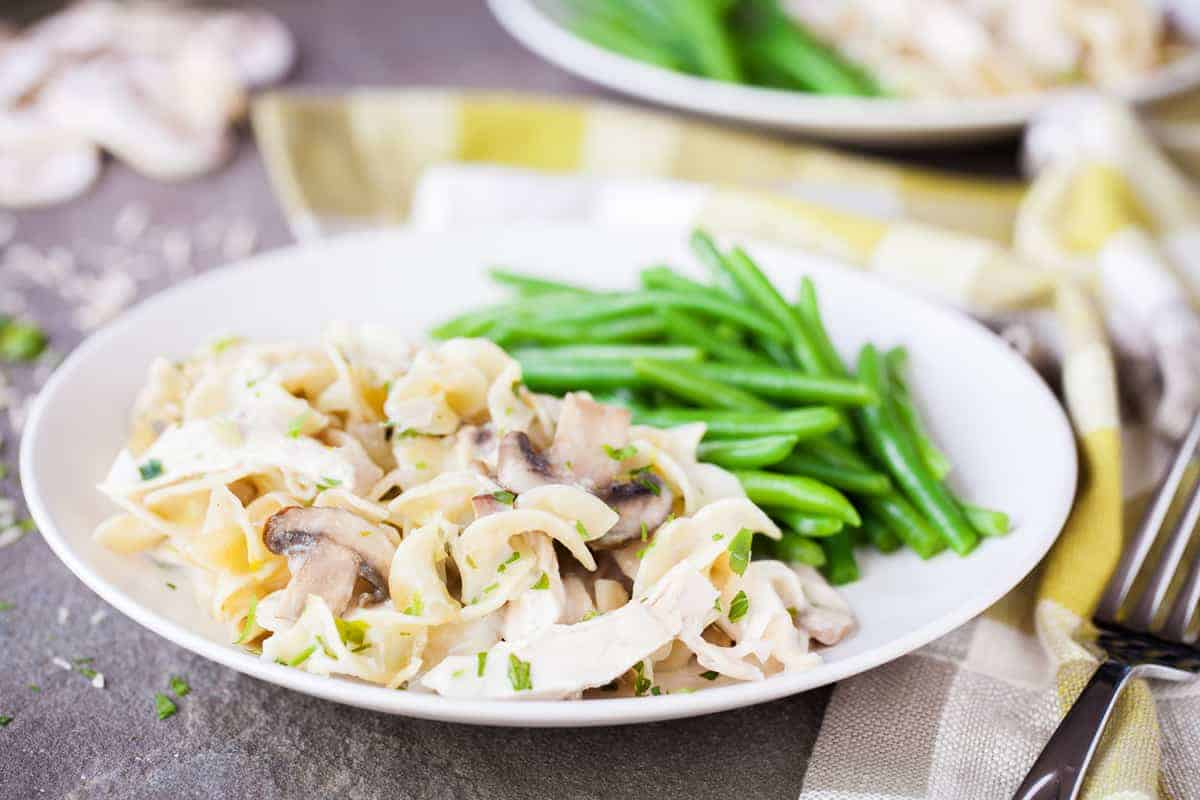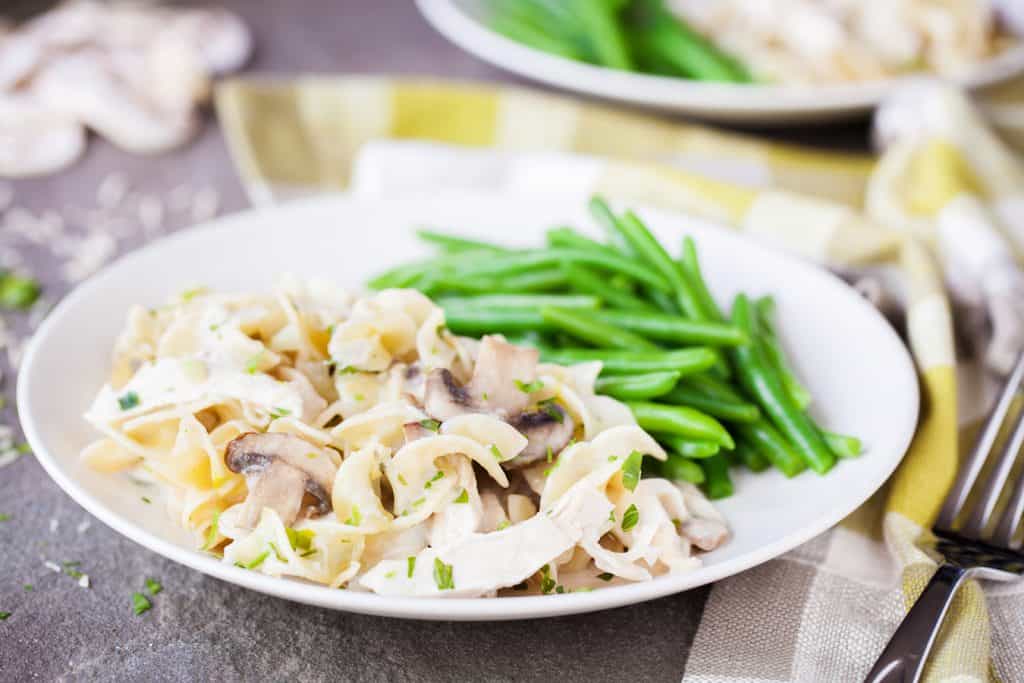 Amish Chicken Casserole uses flavor-packed rotisserie chicken as a base and is topped with a savory and simple white sauce and perfectly cooked noodles. A simple and delicious chicken casserole with an incredibly easy white sauce, this Amish Chicken Casserole makes the perfect supper to come home to. After a hard day's work, we can't shovel it down fast enough and always wish we made more!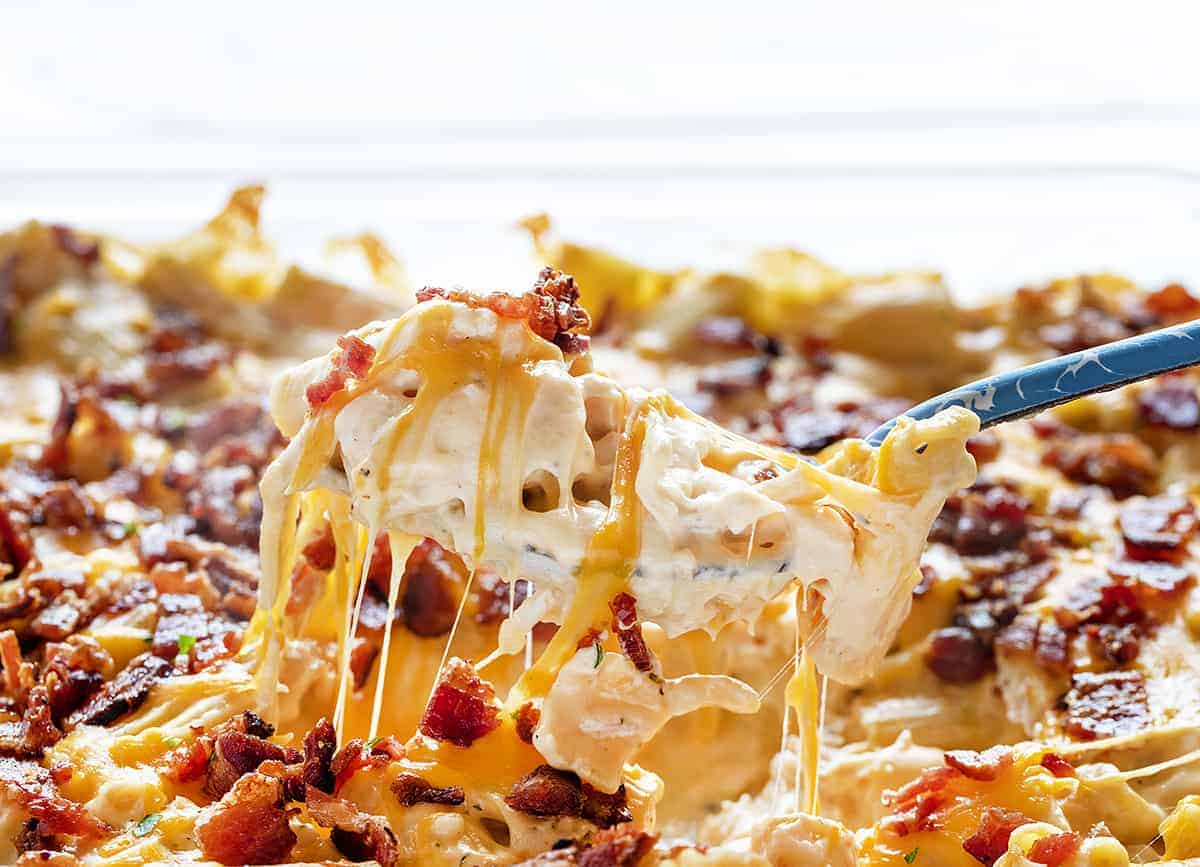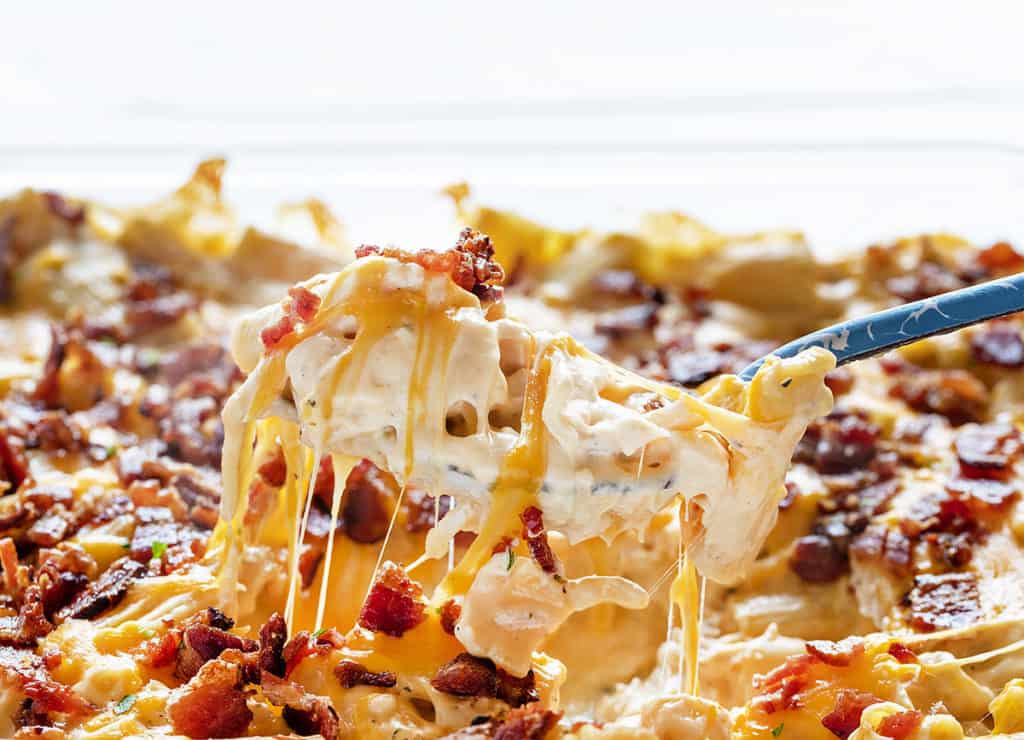 Baked Chicken Rigatoni is the cheesiest baked pasta dish you will ever have! Layers of chicken, cheese, bacon, and more cheese mean you are going to have one heckuva dinner! Moist shredded chicken is paired with thick-cut crispy pieces of bacon and a creamy and cheesy ranch mixture on a bed of rigatoni noodles for an amazing finish.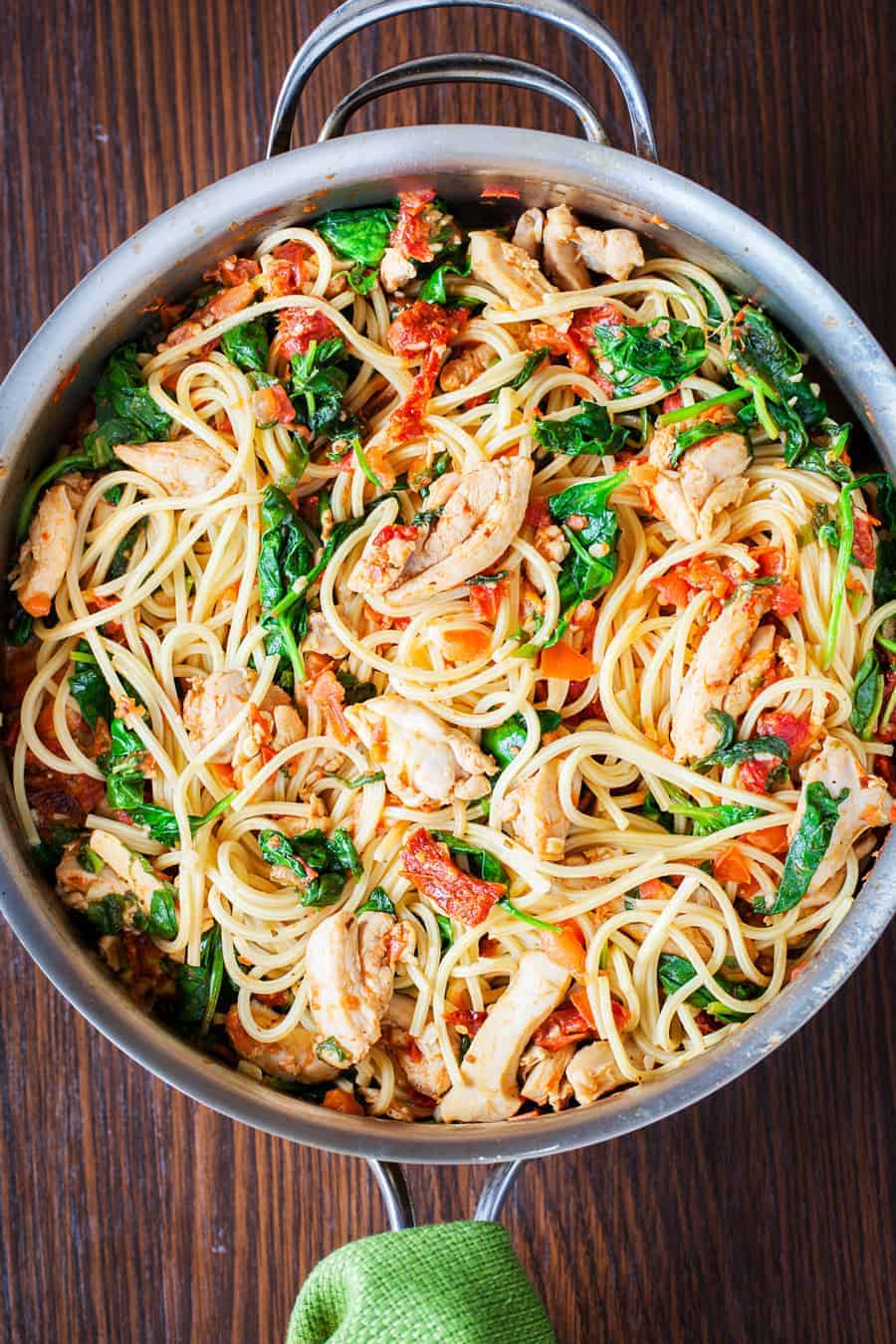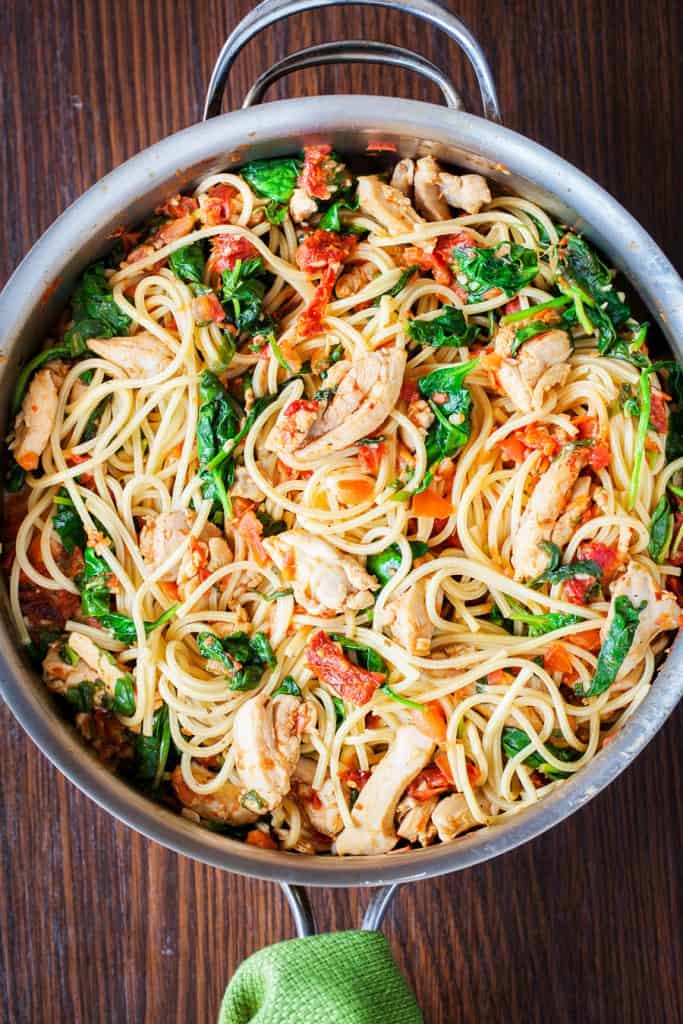 One bite of this Tomato Spinach and Chicken Spaghetti and you will never buy jarred tomato sauce ever again. Spaghetti is tossed in a fresh and flavorful sauce with pieces of juicy chicken. Fresh spinach adds a boost of nutrients, but feel free to use other vegetables to customize to your family's liking.
Sheet Pan Chicken Recipes
What is so great about Sheet Pan meals? Simplicity. This meal cooks up on one dish. No messy pots and pans and switching back and forth. The entire meal pulls together in one pan.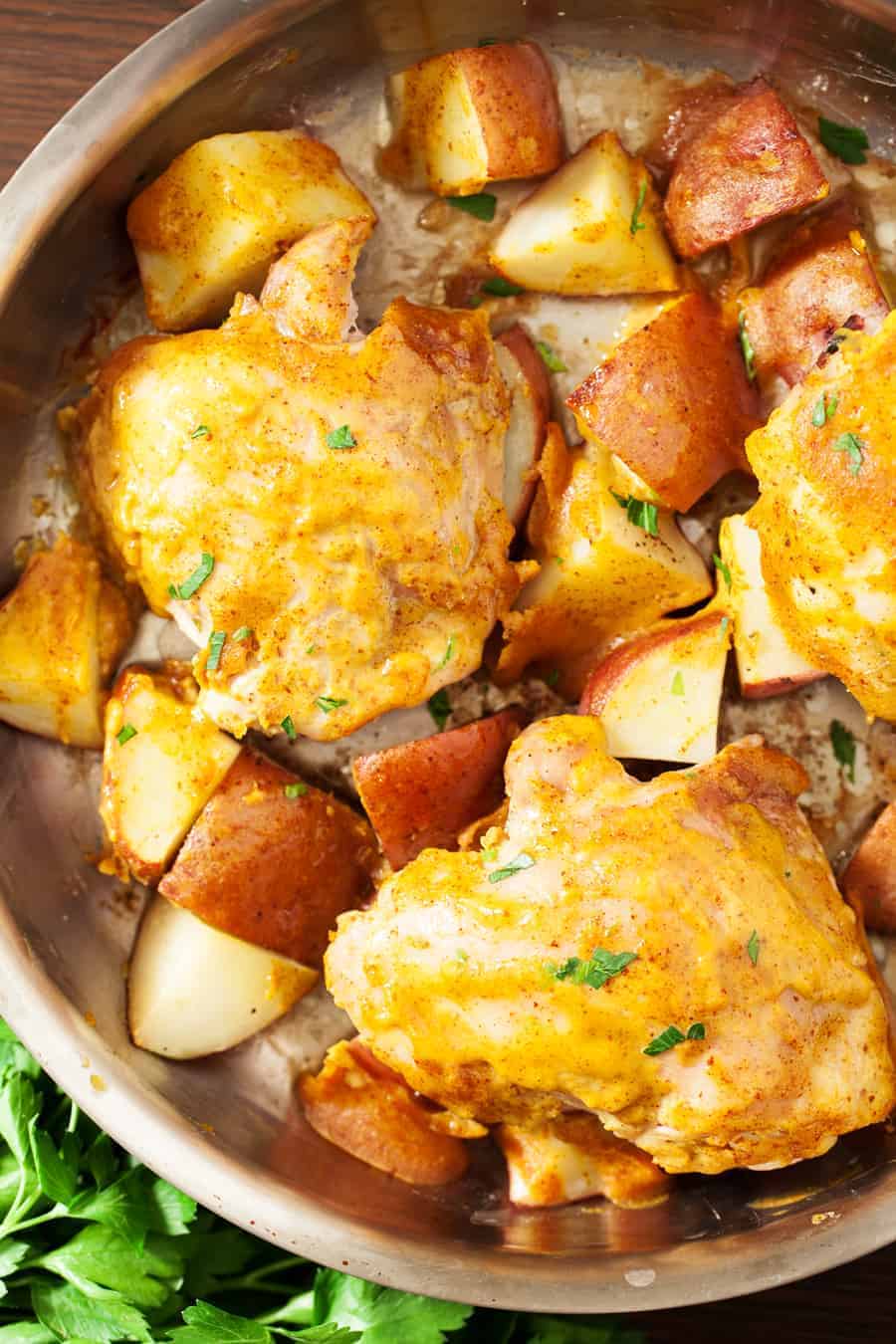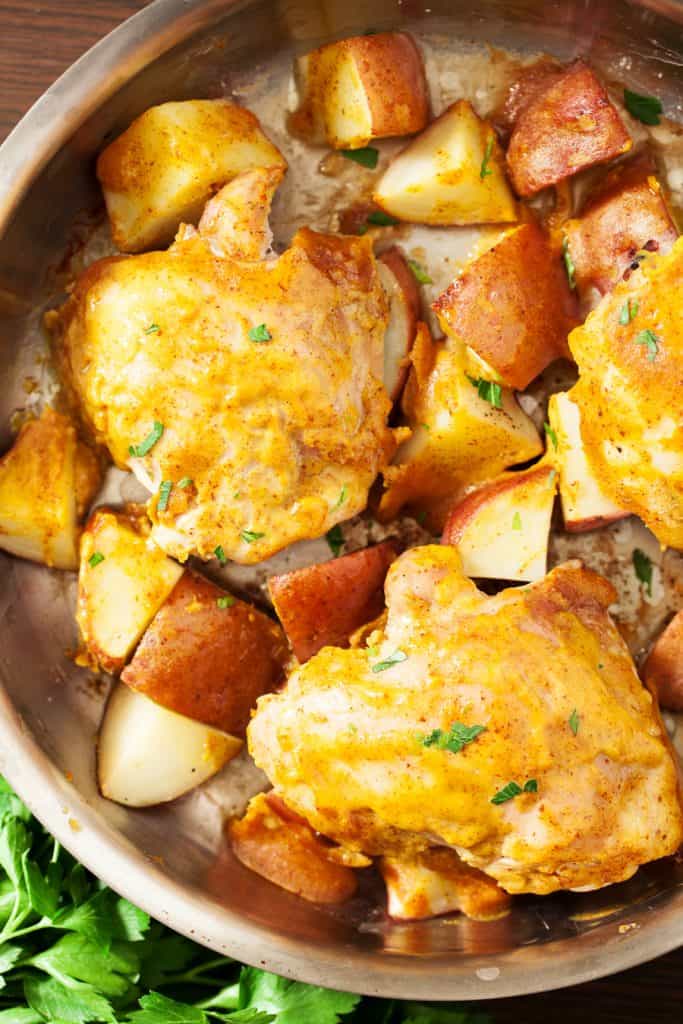 Make chicken interesting again with Maple Mustard Chicken and Potatoes. The sweetness of the maple complements the savory chicken and potatoes for a flavor medley that you will love! Want to know the best part? All of this cooks in one pan!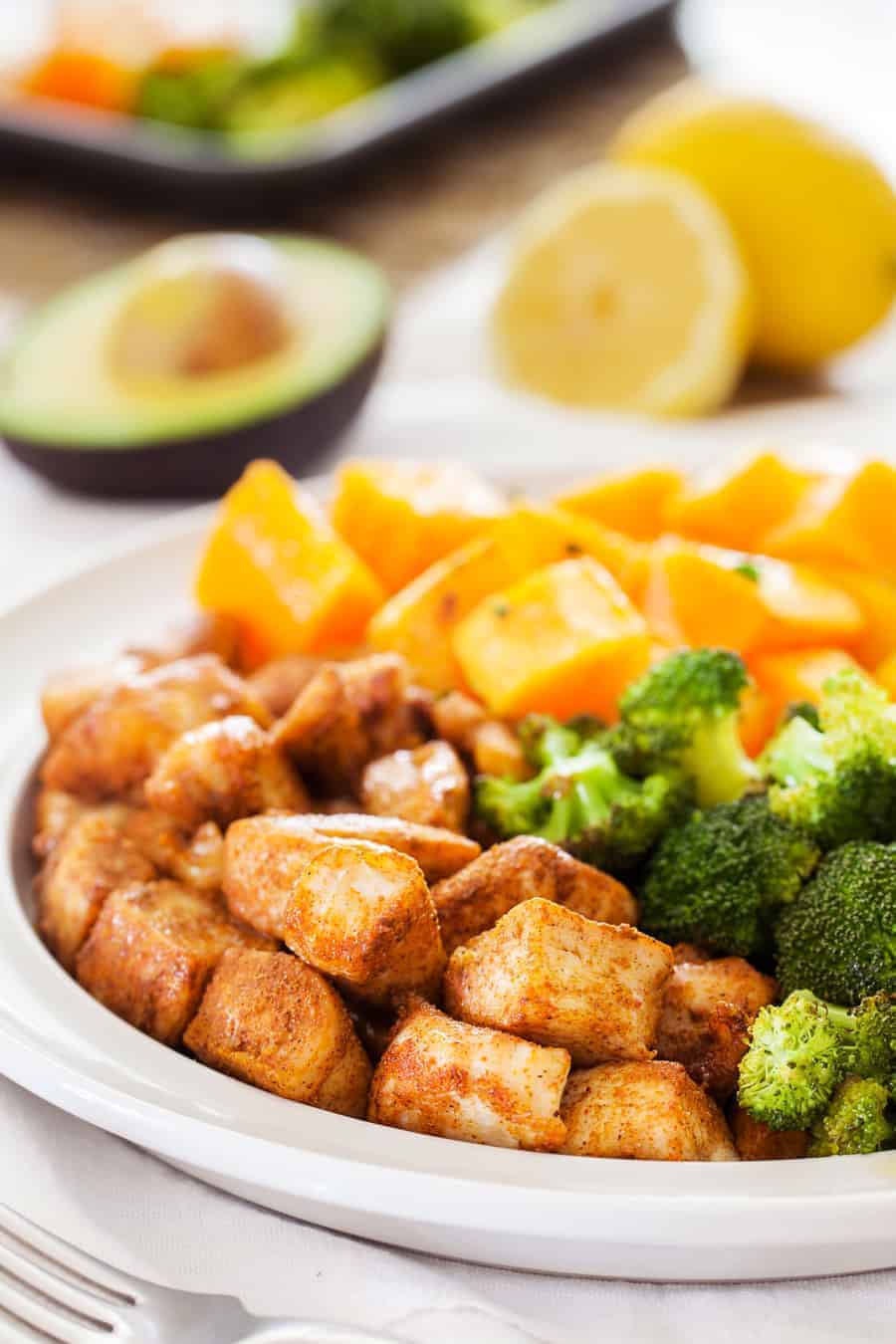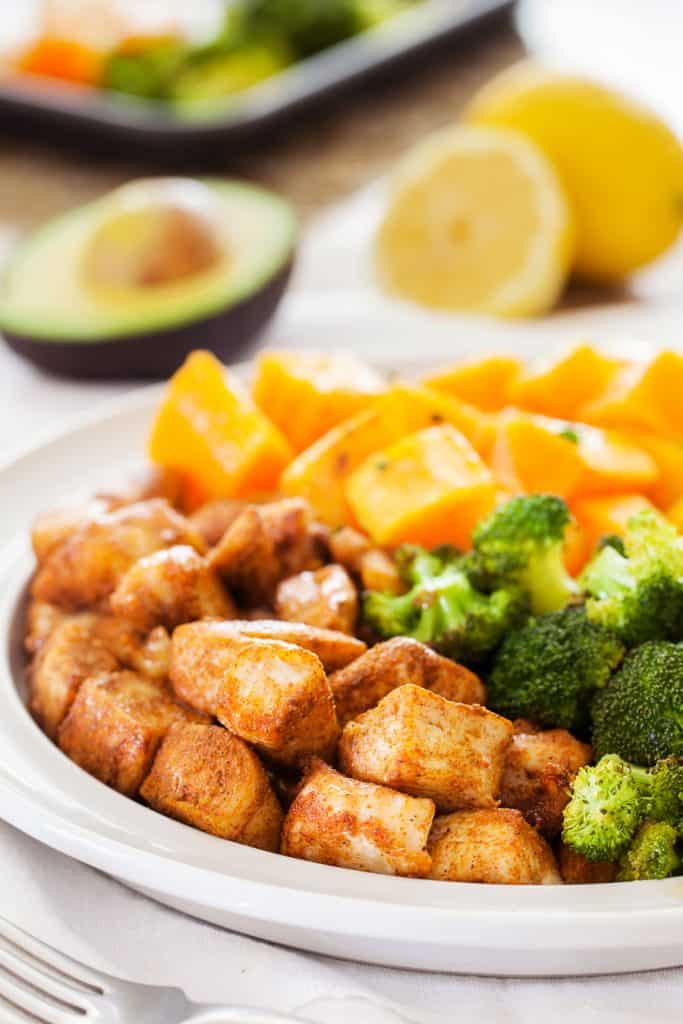 A meal you can feel good about feeding your family, this Spicy Chicken and Broccoli is nutritious and delicious. The Cajun seasoning adds interest to an otherwise uninteresting chicken breast, and the nutrient-rich vegetables add beautiful color to the meal. Although the chicken and vegetables are delicious on their own, feel free to serve them over a bed of fluffy white rice.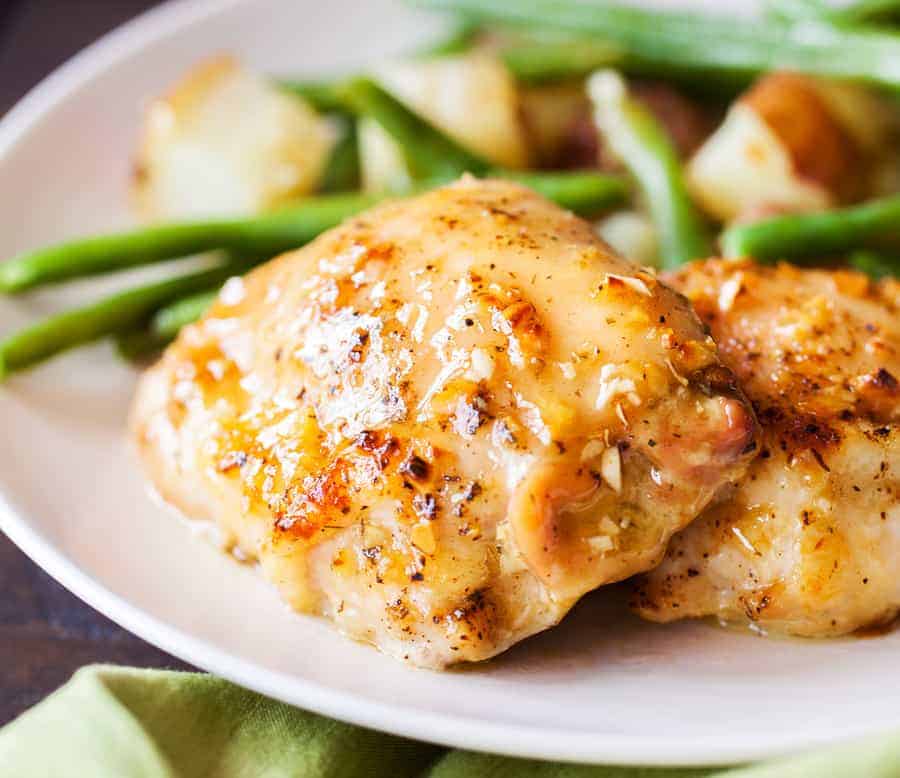 The new fad of sheet pan meals has met its master. This sheet pan Honey Mustard Chicken will knock your socks off. It has so much flavor and it is so incredibly easy! Honey Mustard Chicken is sweet and savory at its finest. As a one-pan dinner, Honey Mustard Chicken, Green Beans, and Potatoes are all cooked in the oven and are ready in under an hour. This dinner is made with dark meat and served alongside underrated vegetables for a healthy meal with minimal clean-up.
Stuffed Chicken Recipes
Just thinking of all the delicious ingredients used in these stuffed chicken recipes makes my mouth water! Once you try one recipe, I bet you will want to try them all! Or, even create your own stuffed chicken recipe!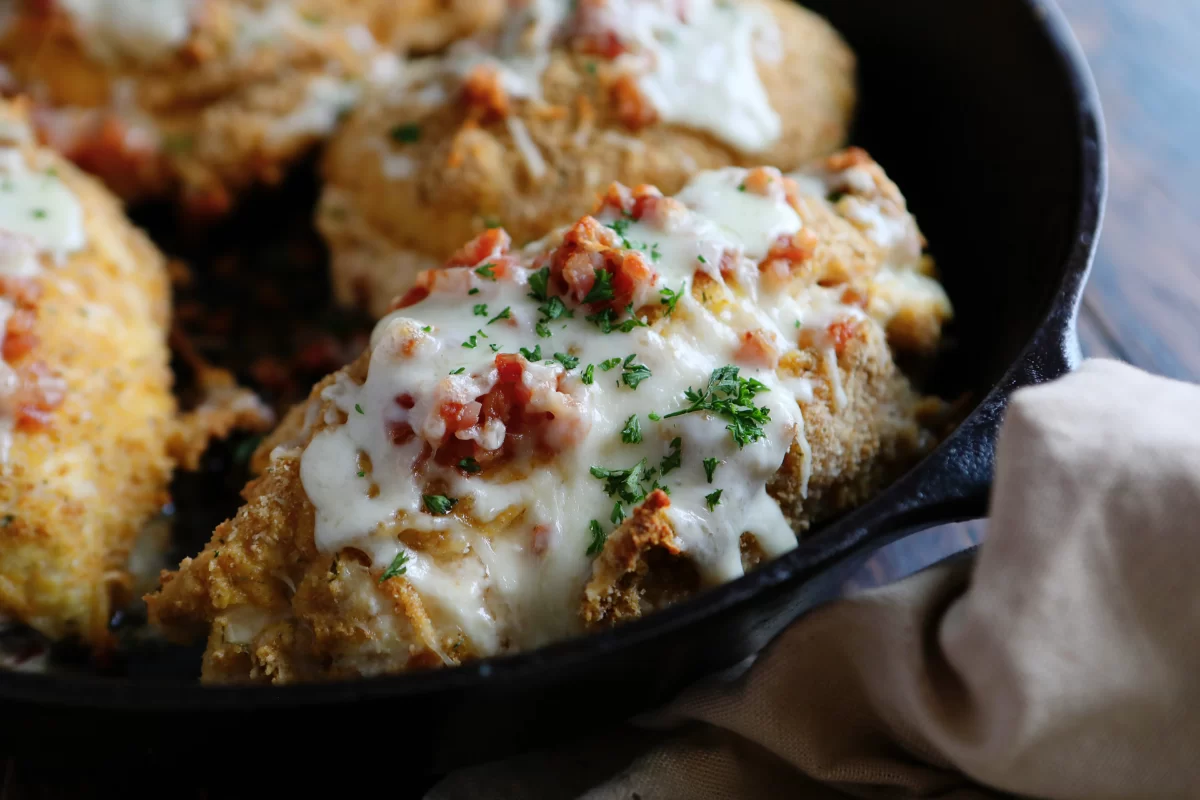 Once you try this Bacon and Cream Cheese Stuffed Chicken Breast, you won't want any other kind of chicken. Perfectly seasoned and bursting with cream cheese, mozzarella, and bacon, this will be your new favorite meal! Bacon and cream cheese stuffed into anything is a winner in my book. If you love bacon and cream cheese, make sure to check out Bacon Jalapeno Poppers and Bacon Ranch Cheese Ball Bites.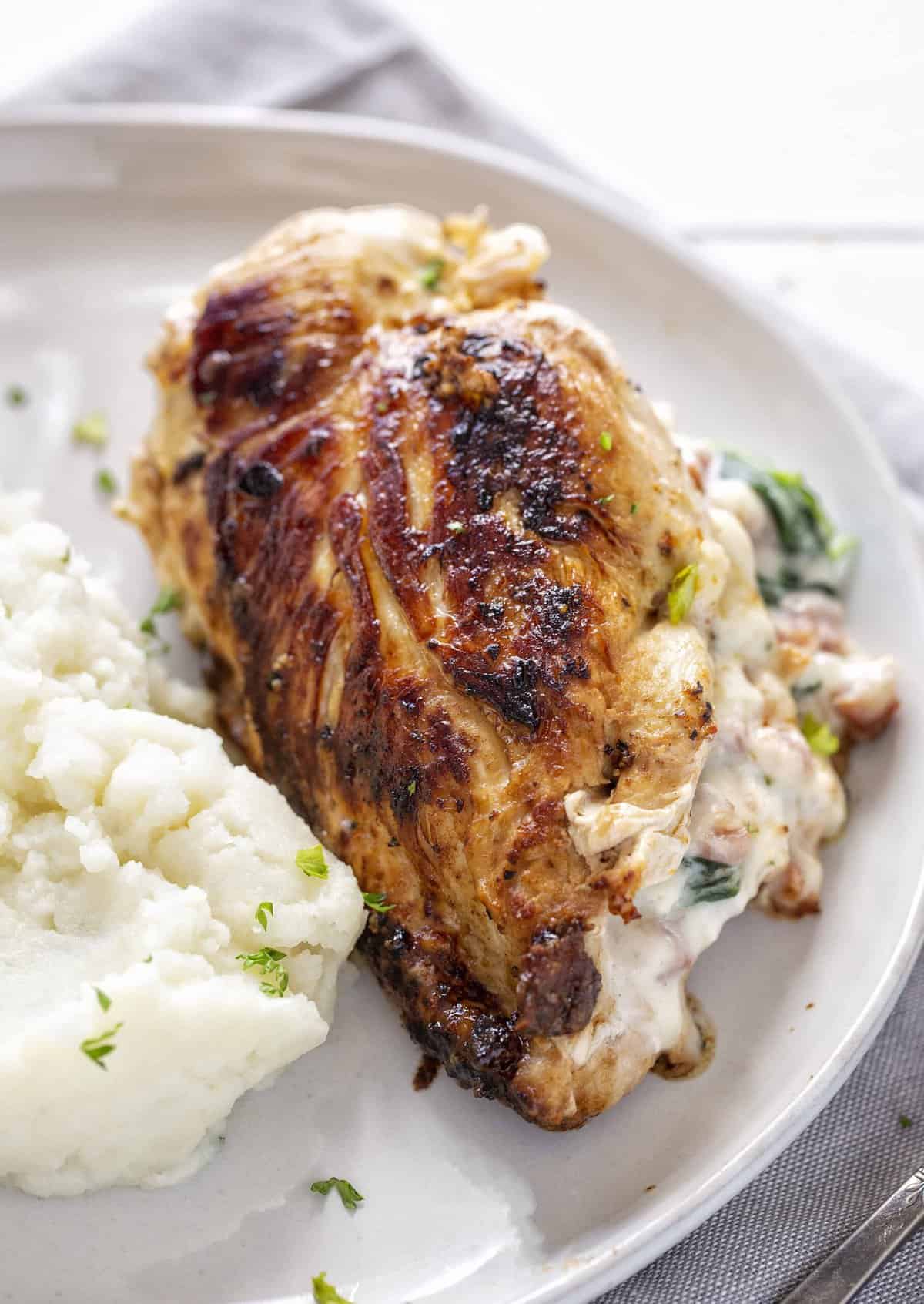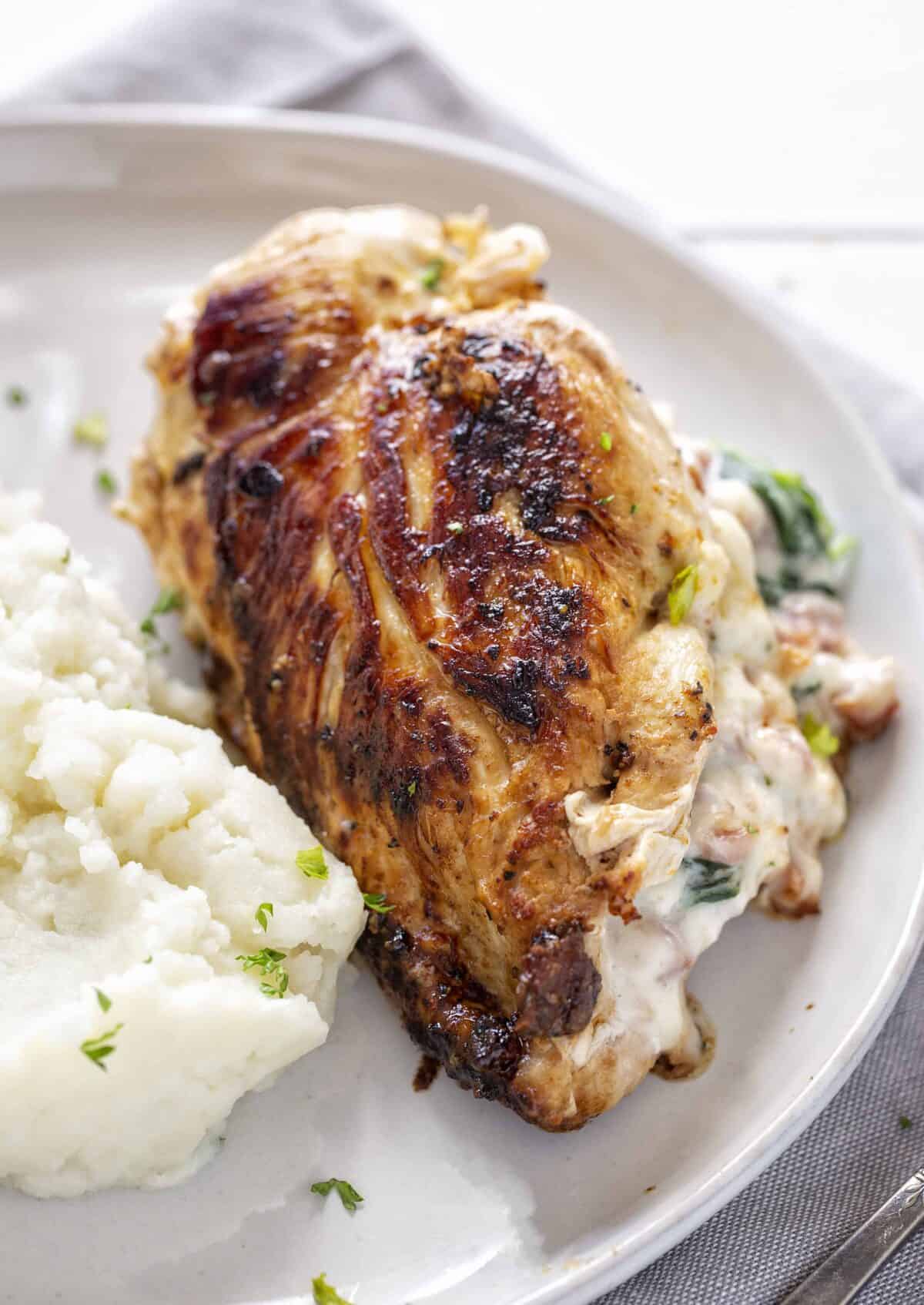 This delicious Ham and Cheese Stuffed Chicken simply must make your post-holiday menu. It is a great way to use up leftover ham and it tastes like a gourmet meal! Perfectly seasoned chicken, butterflied and stuffed with diced ham, melty swiss cheese, and fresh chopped spinach!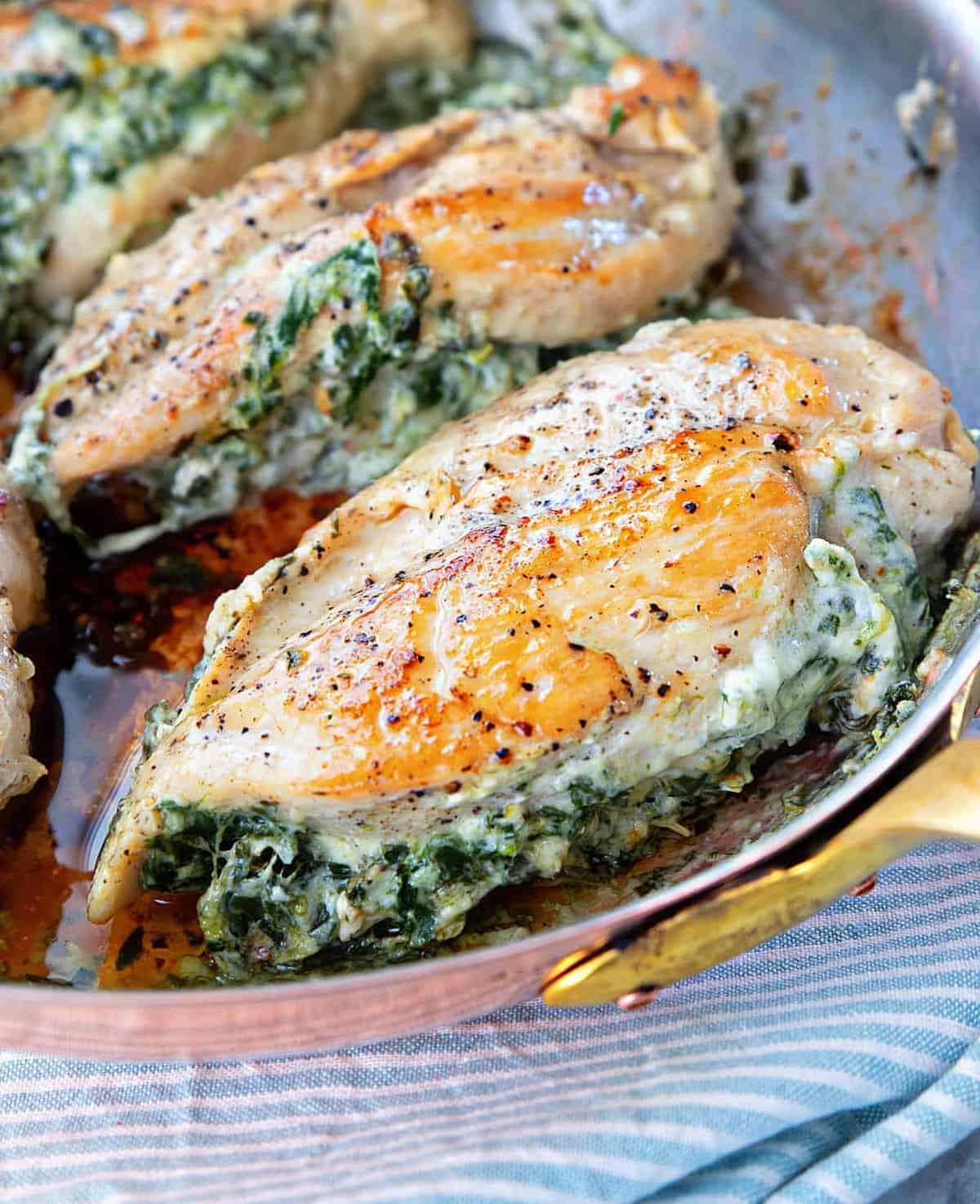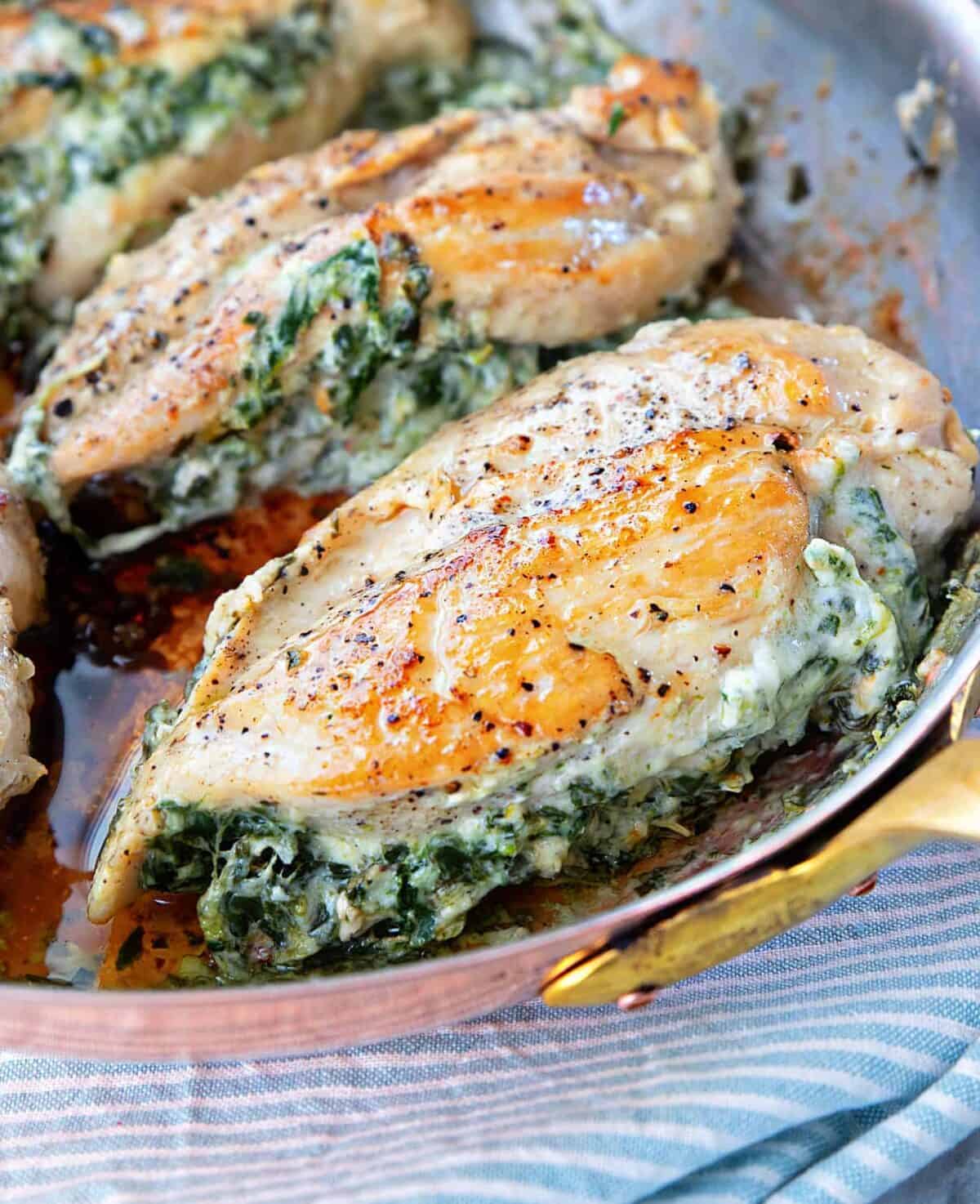 Spinach Stuffed Chicken is a simple dish that looks complex. Perfectly seasoned, juicy chicken breast, stuffed to the brim with a creamy and delicious spinach filling. This method is relatively easy, with low clean up and it tastes delicious! This is a great weeknight meal when you are feeling rushed too, it only takes a few minutes to prepare, and then it is hot and ready on your dining room table. This particular recipe is one of my favorites because it is a sneaky way to get my kids to eat spinach😂.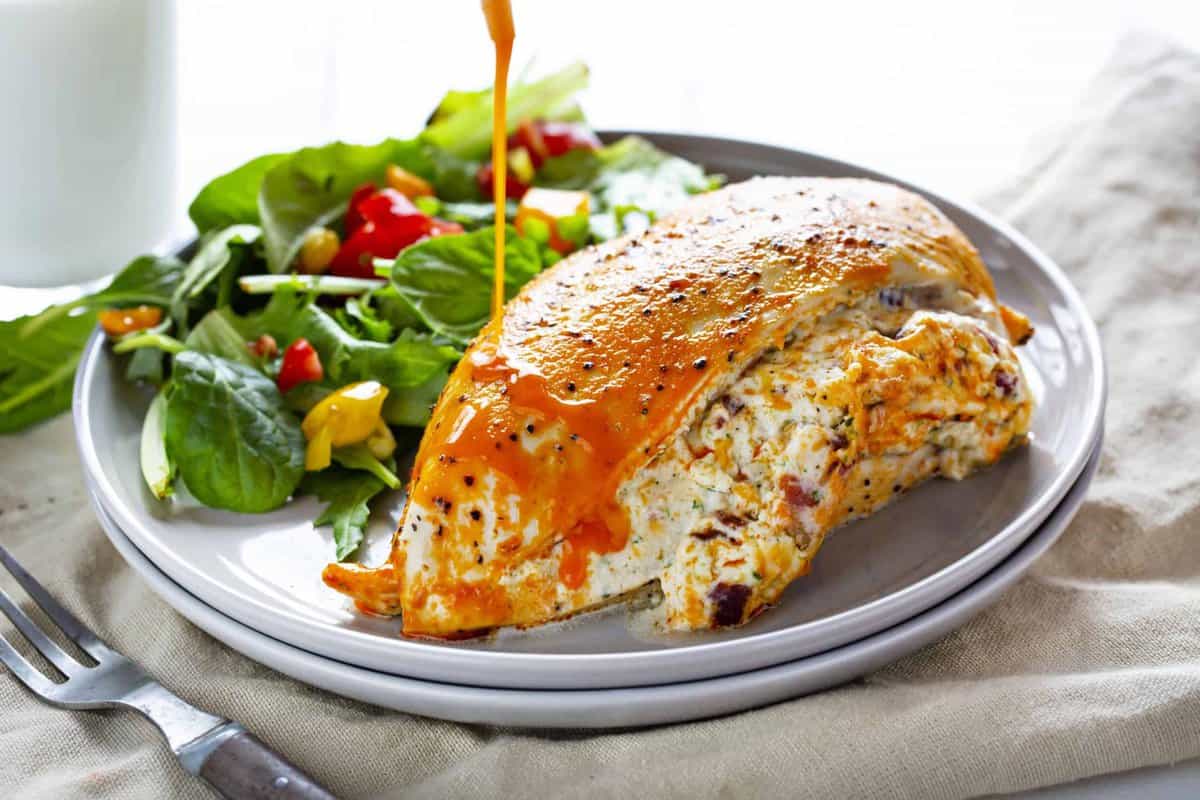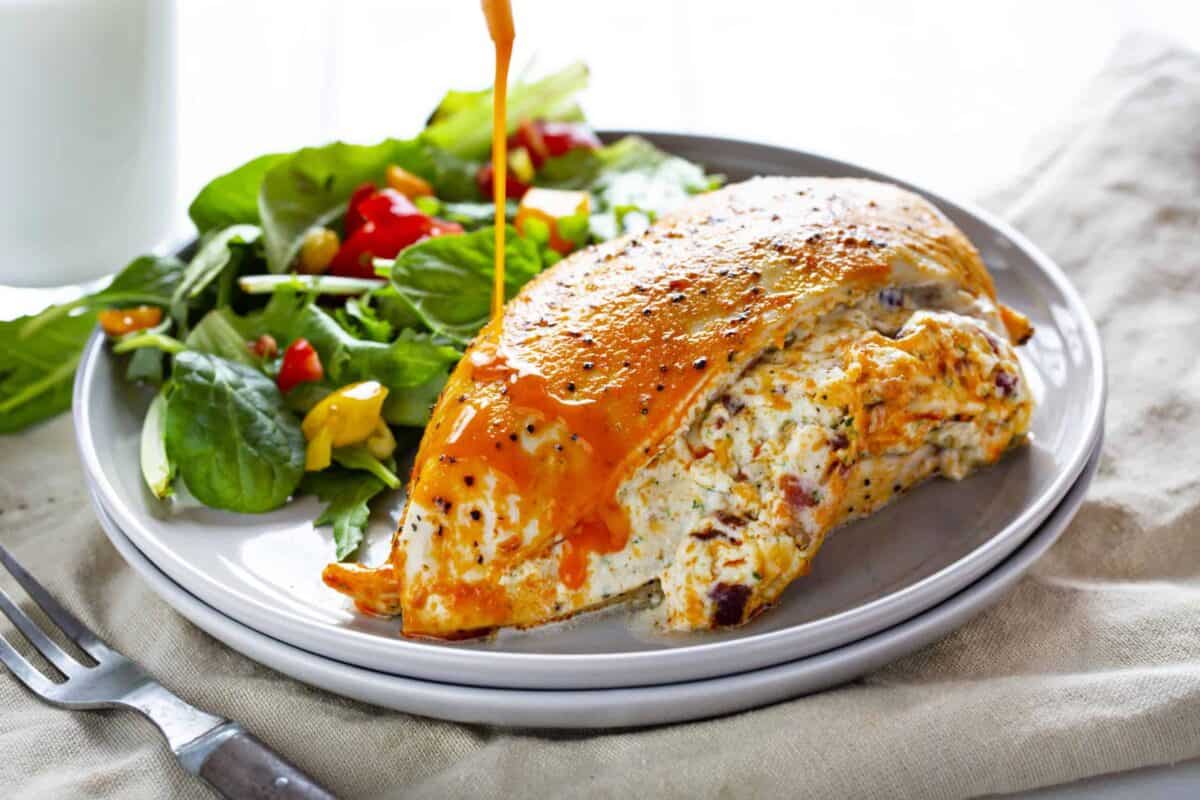 Stuffed Buffalo Chicken brings your favorite chicken to life, with a tangy and spicy buffalo sauce, creamy bacon, blue cheese filling, and smothered in zesty ranch dressing. We used our homemade buffalo sauce and our homemade ranch dressing for this recipe! I added my favorite flavors of chicken and buffalo sauce to create a recipe that everyone loves!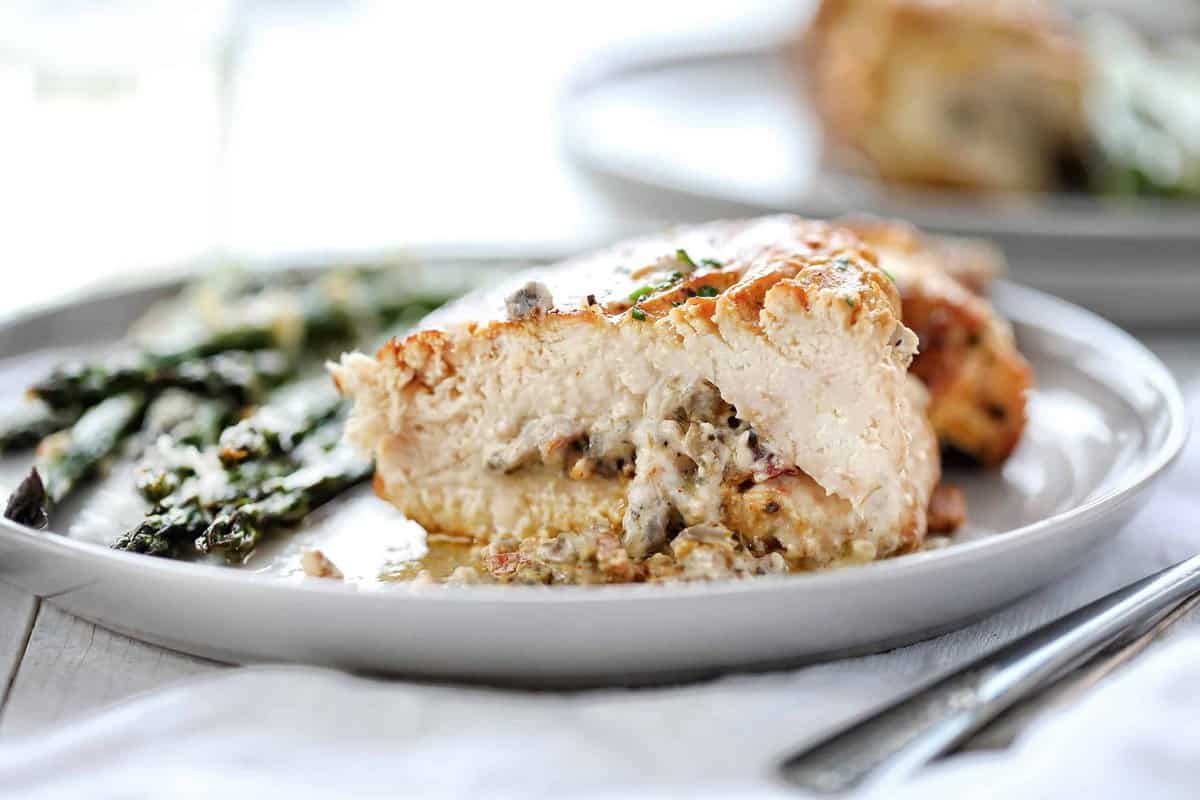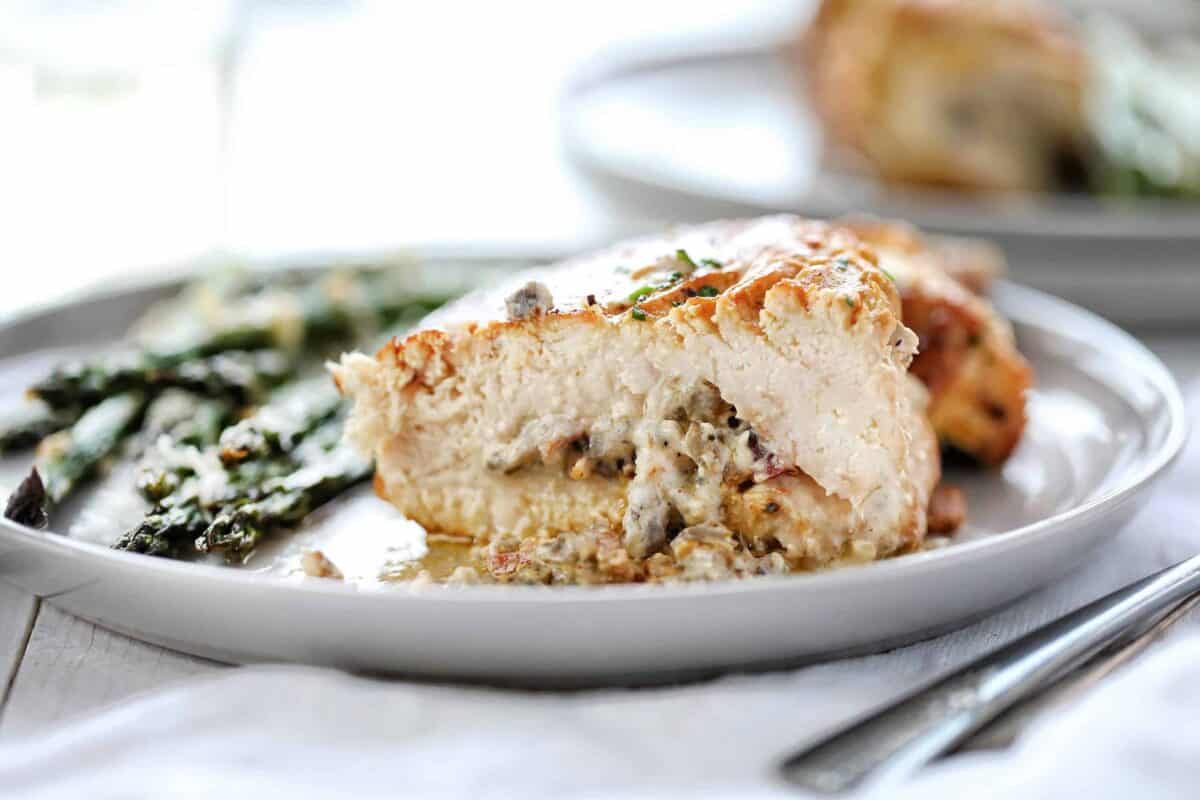 Got any picky eaters in your house? Have no fear, this Mushroom Stuffed Chicken is a cheese stuffed chicken recipe that everyone will love! How do I know this? Because I liked it, and I usually go out of my way to avoid mushrooms! Serve it up with a side of garlic and parmesan roasted asparagus and you are set for an amazing meal that everyone in your family will love.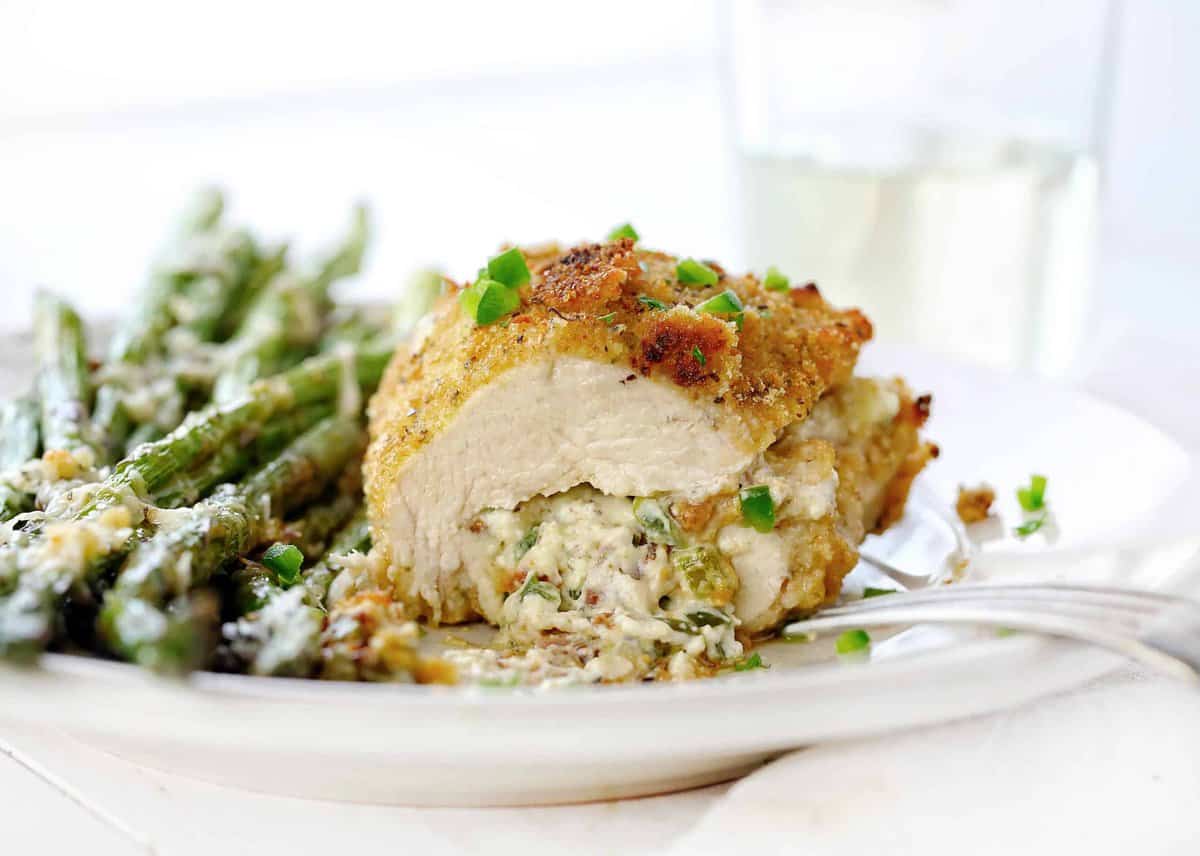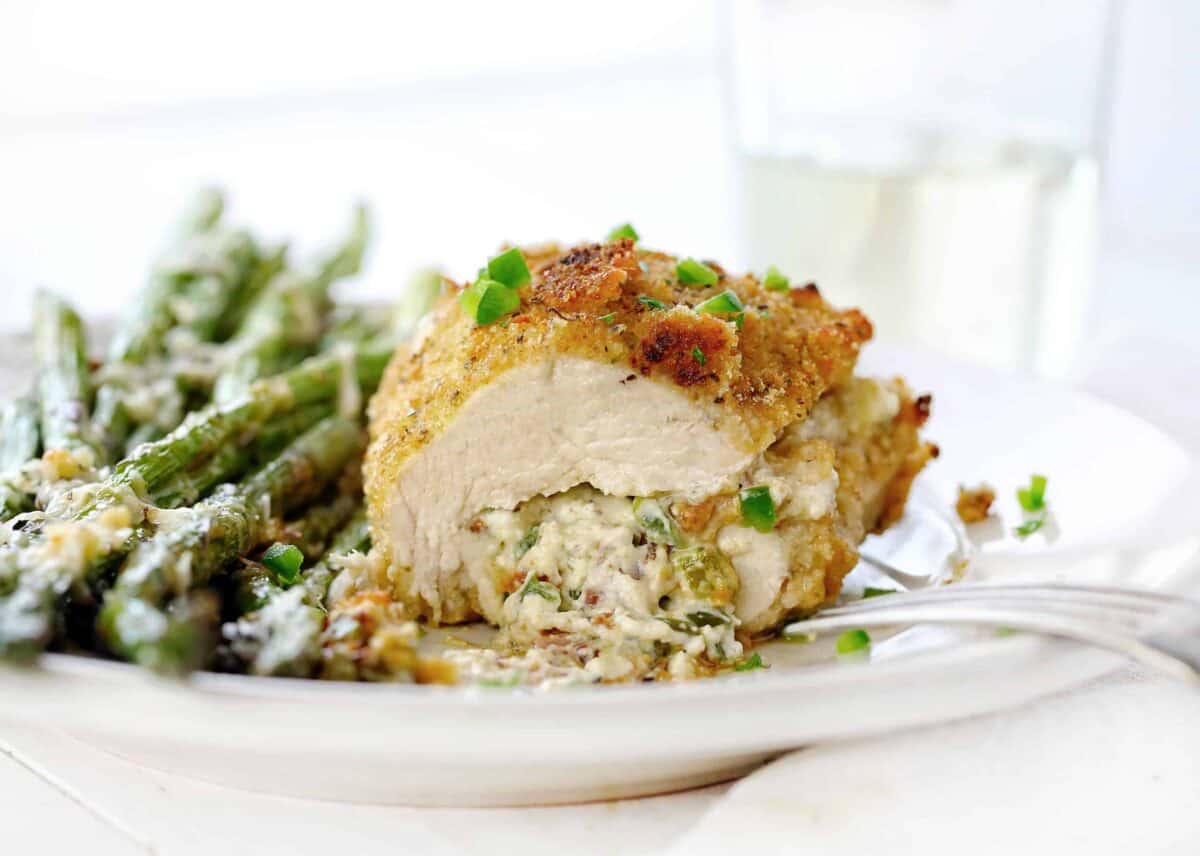 Jalapeno Popper Stuffed Chicken takes your favorite appetizer and turns it into a full-blown delicious meal. Fresh jalapenos, thick-cut bacon, freshly grated parmesan, and cream cheese cooked to perfection inside of a seasoned and breaded chicken breast.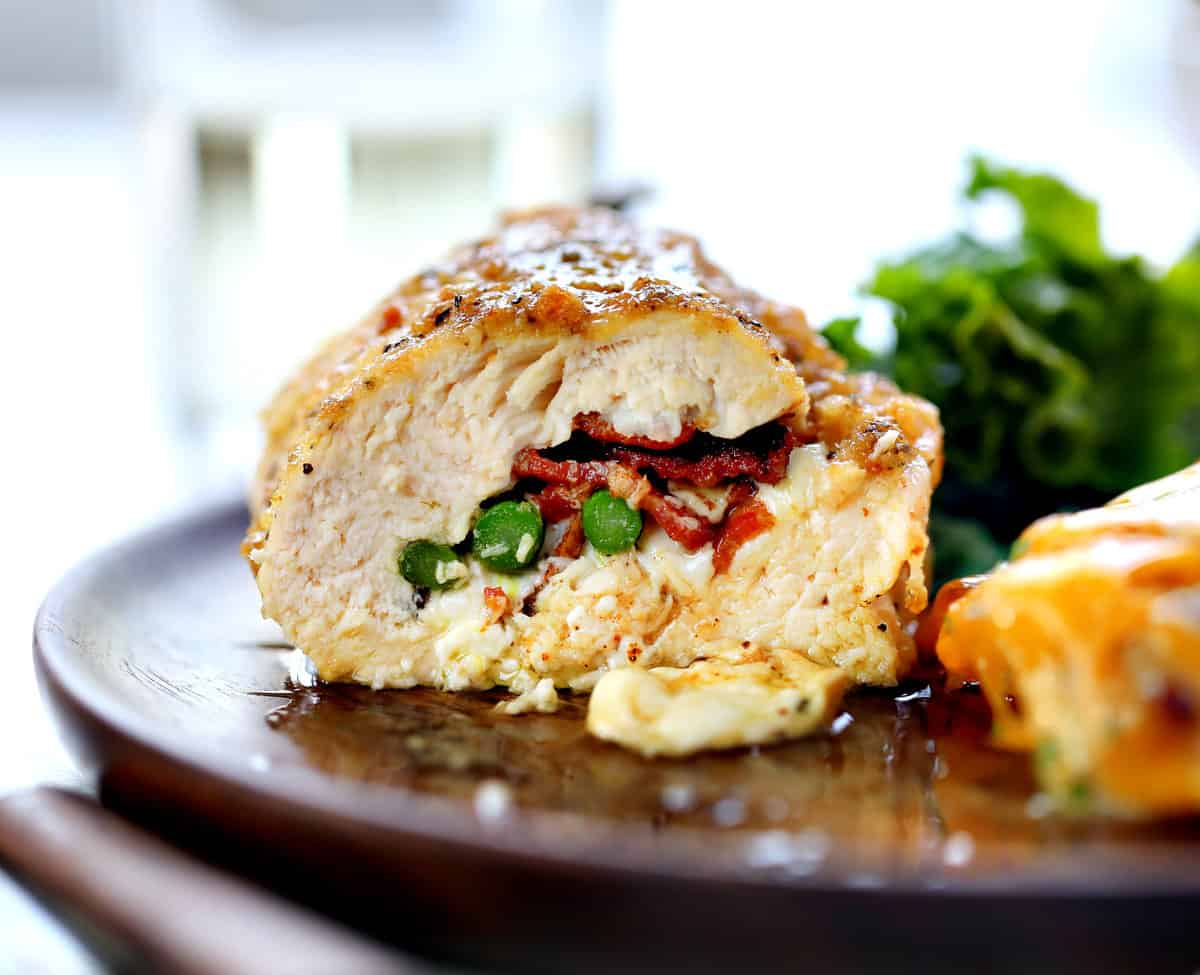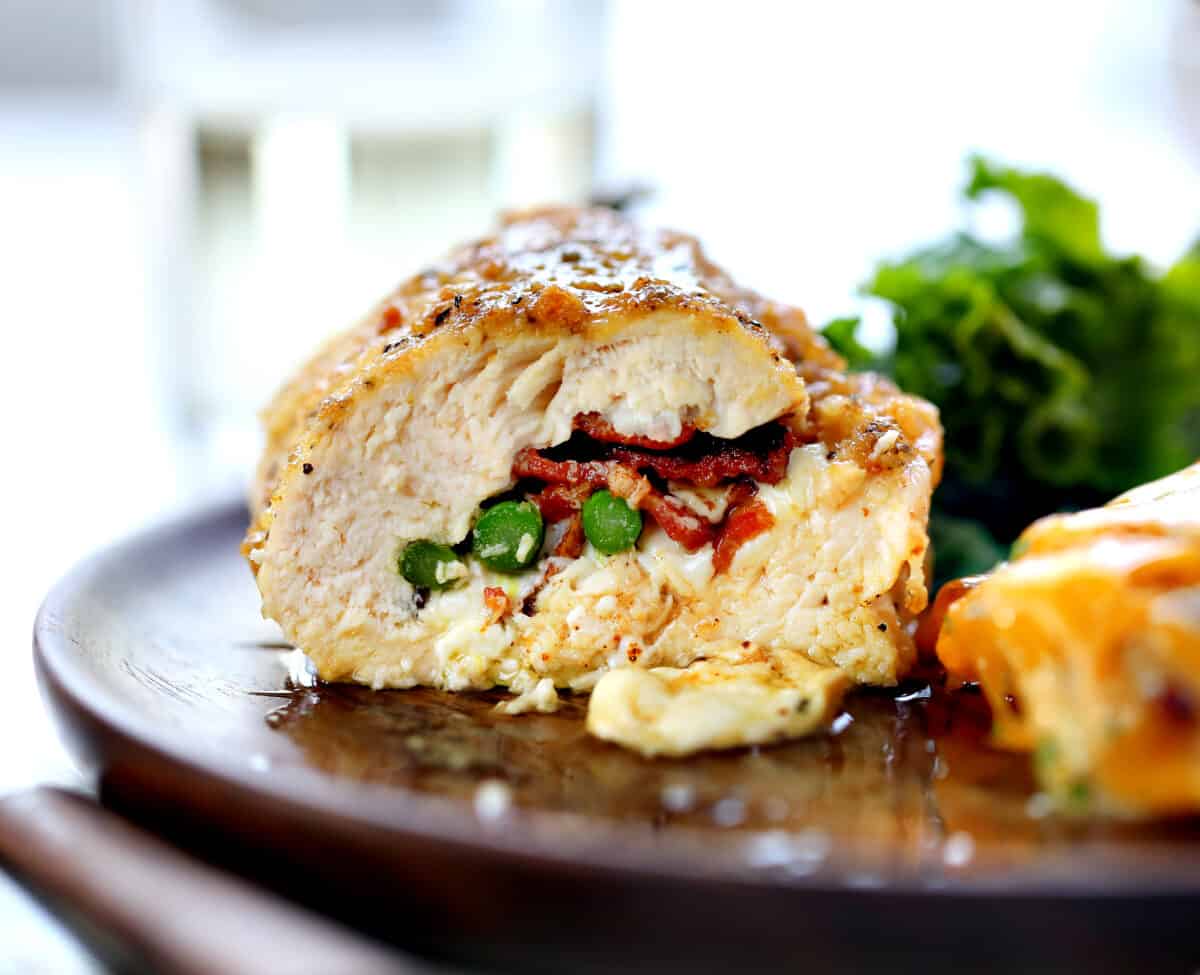 Asparagus Stuffed Chicken is one of the most impressive dishes you can make with very little effort. It is an incredibly easy dish, that looks gorgeous and tastes delicious! There are a million ways to cook this delicious vegetable (like this Roasted Asparagus), but this is one of my favorites. It takes very little effort, looks stunning, and the taste is a perfect match. The flavors blend together so perfectly it is like they were meant to be.
Chicken Soups
Chicken noodle soup isn't the only option for chicken soups anymore, although I couldn't keep my homemade chicken noodle soup off this list!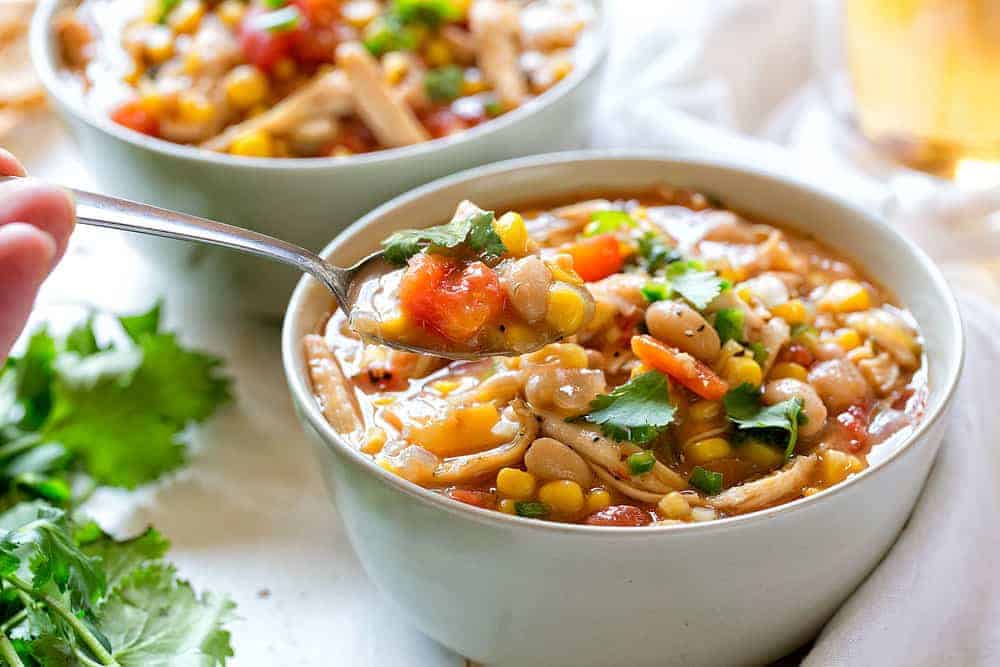 White Bean Chicken Chili makes a delicious meal full of spicy chili flavor, chicken, and white beans. This recipe is a simple and delicious take on chili that even your kids will love!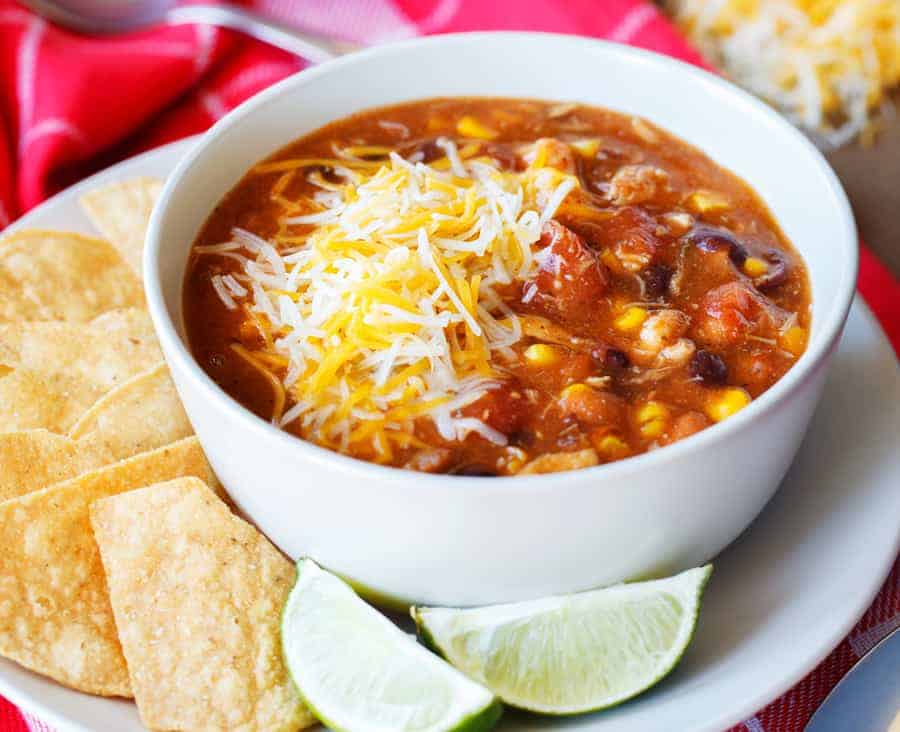 This 7-can Chicken Taco Soup is a delicious and flavorful dish filled with the most amazing spices, chicken, corn, and beans. The hardest part about making this 7-can chicken taco soup recipe is opening the cans! With this recipe, dinner is ready in under 30 minutes and clean-up is minimal!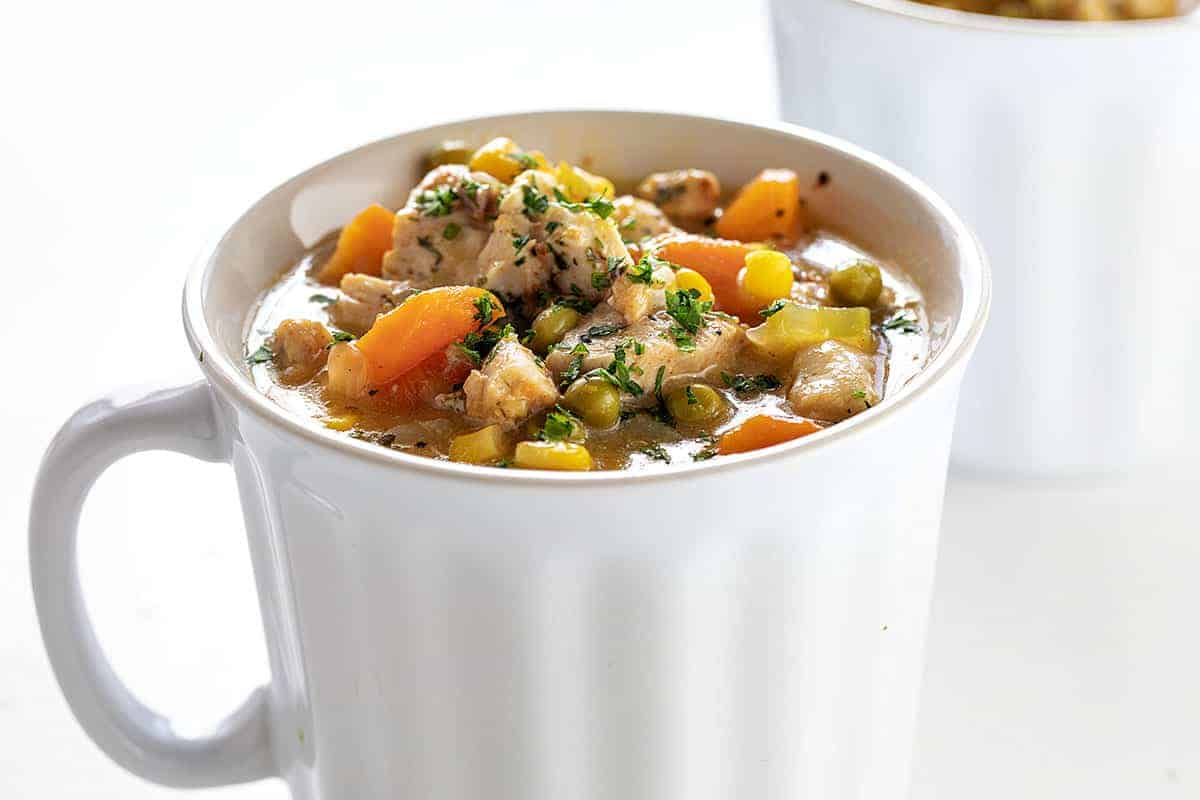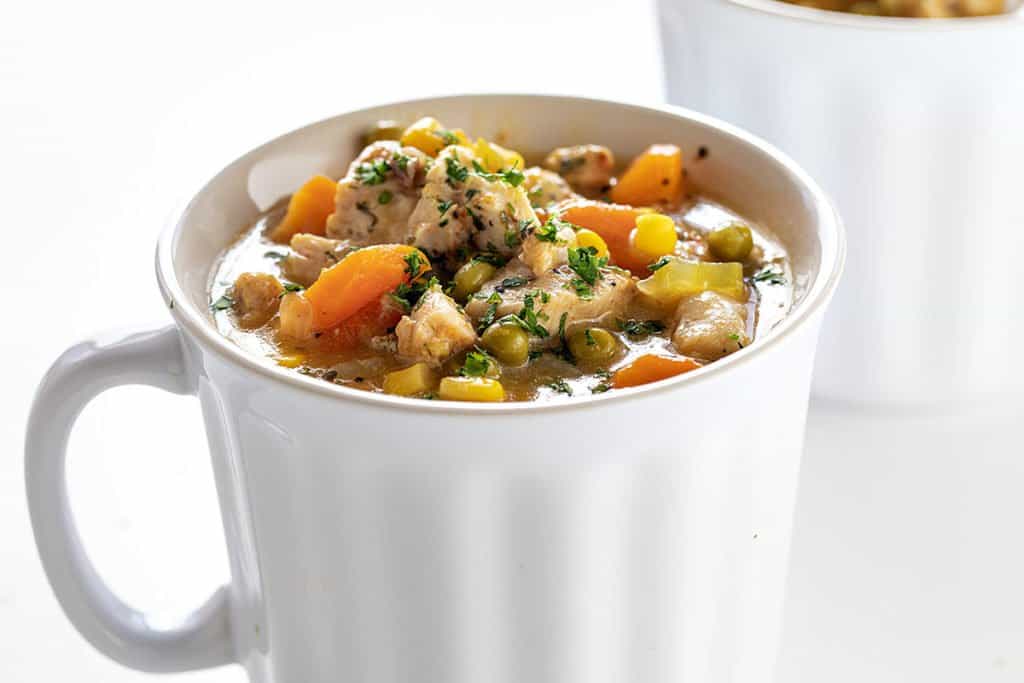 Instant Pot recipes have been requested by many readers… and I decided to try a Chicken Pot Pie Soup! So glad I did. It is loaded with vegetables and the most tender chicken, and I love that it is ready to eat when you are! Topped with a homemade garlic cheesy biscuit makes this meal a go-to recipe for my family.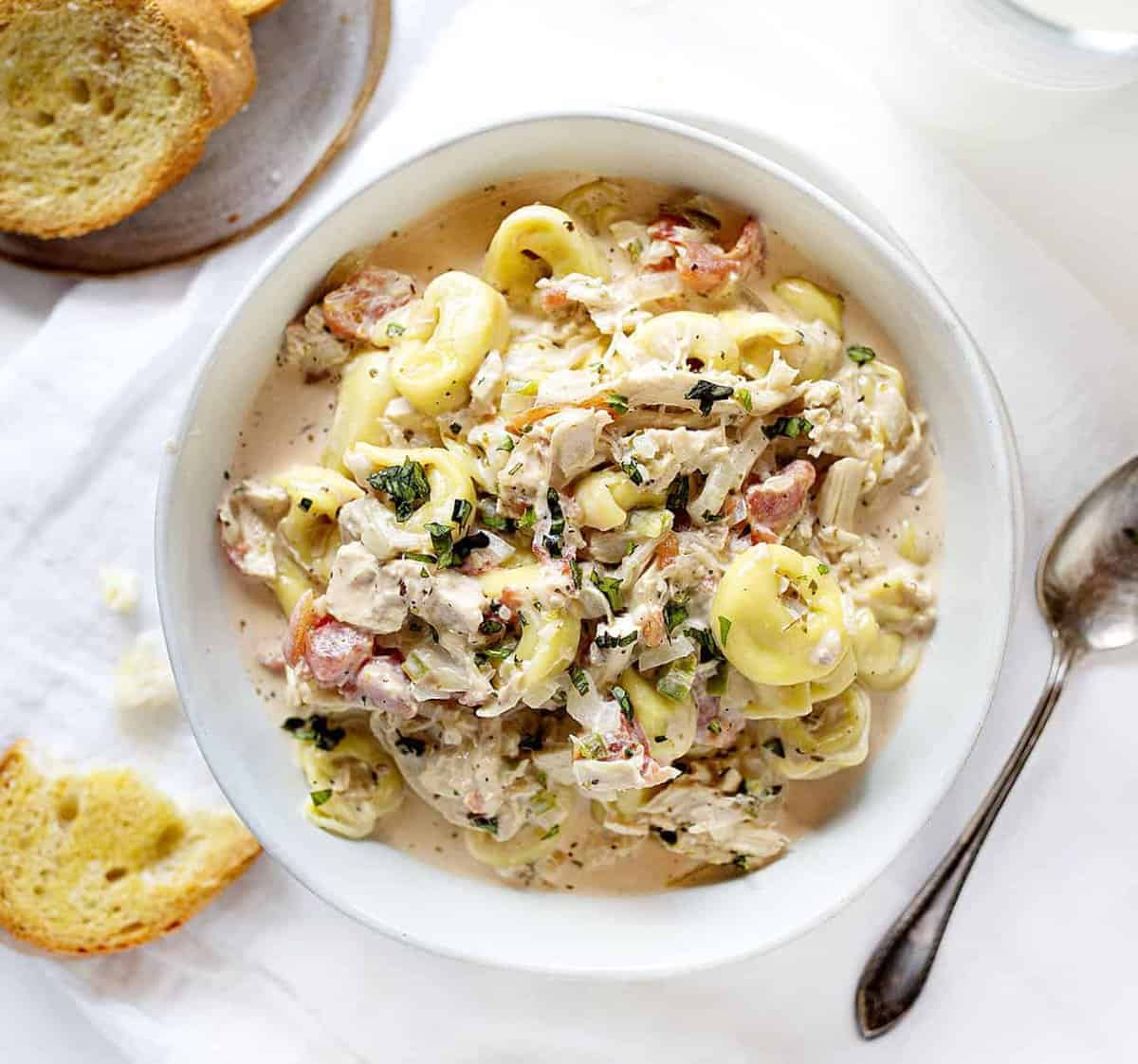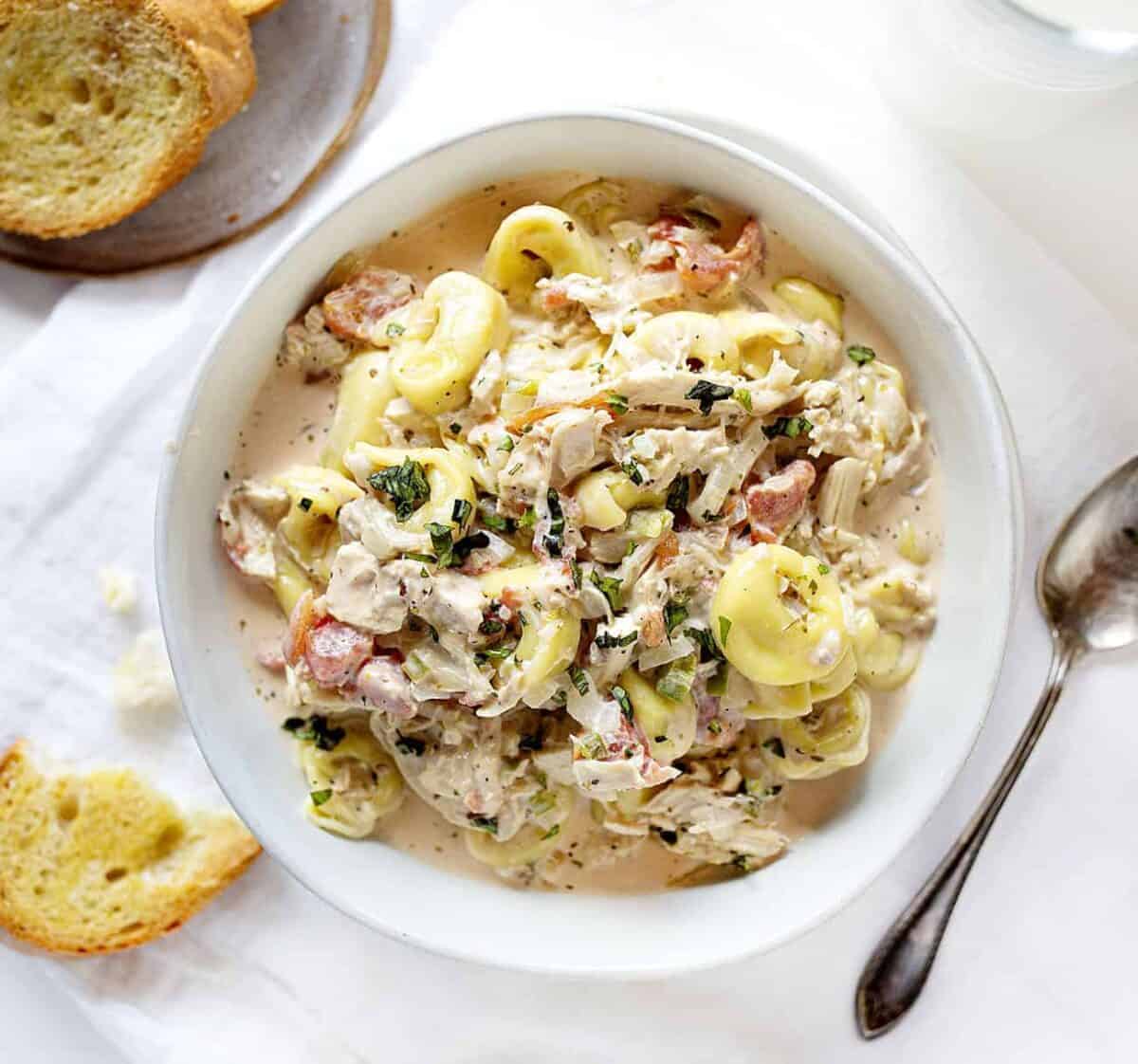 Creamy Chicken Tortellini Soup is a cheesy, creamy delicious soup with a little kick that will satisfy your hunger and tastebuds. This soup has the cheese tortellini that I love, with a cheesy, creamy kick that is almost like a sauce, but I call it a soup.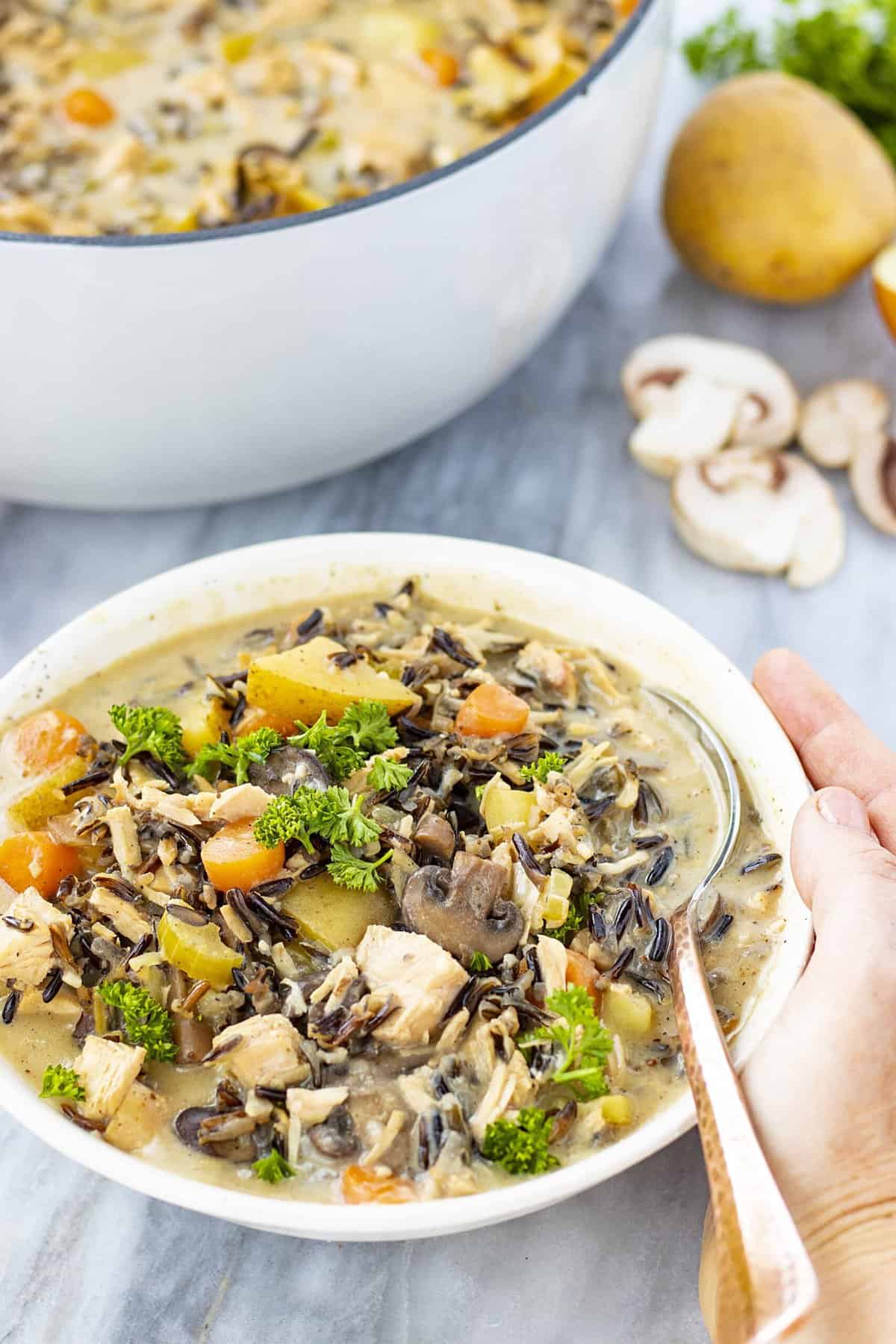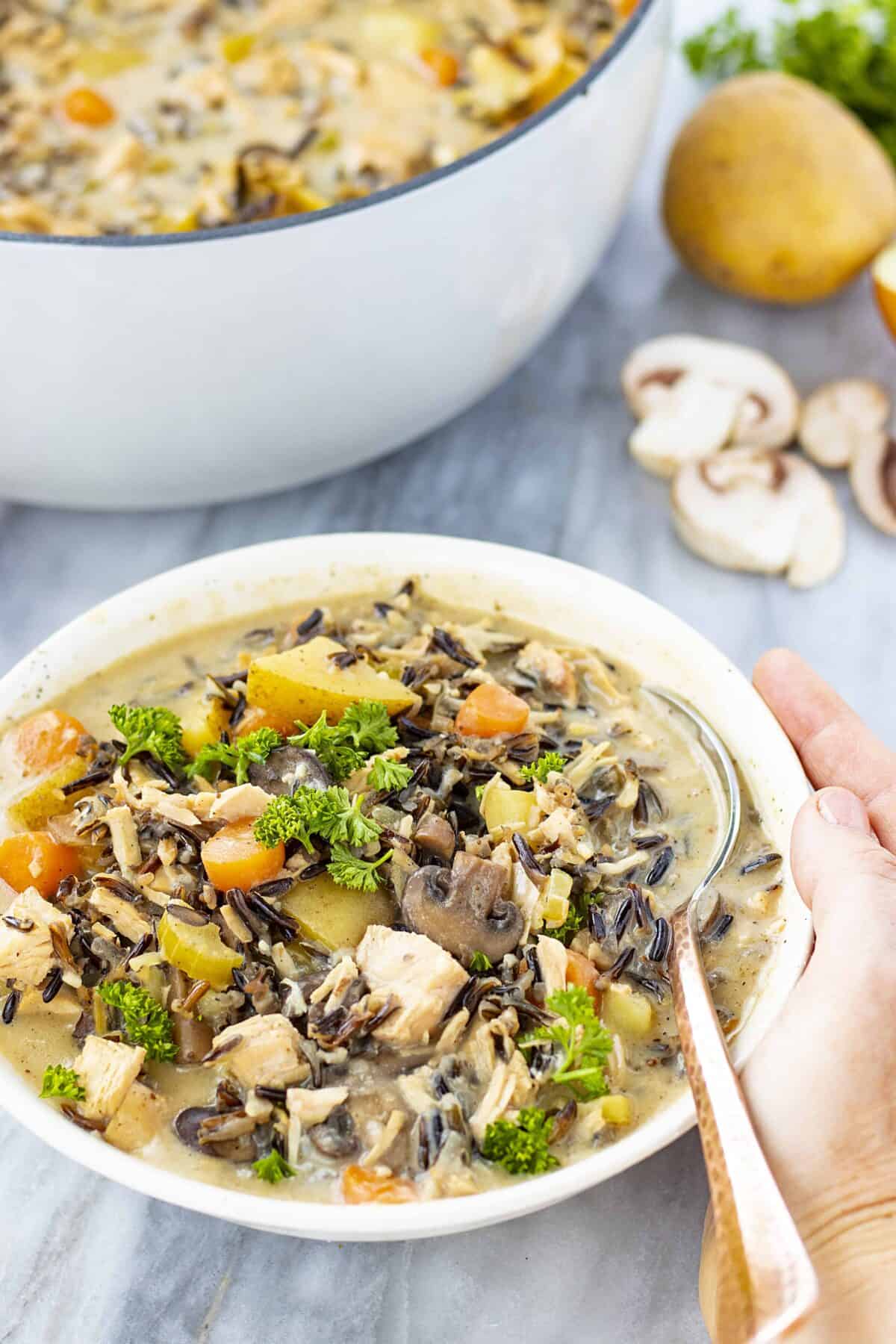 Creamy Chicken Wild Rice Soup is comfort food at its finest, filled with fresh veggies like carrots, celery, mushrooms, and potatoes, and paired with traditional wild rice and seasoned chicken.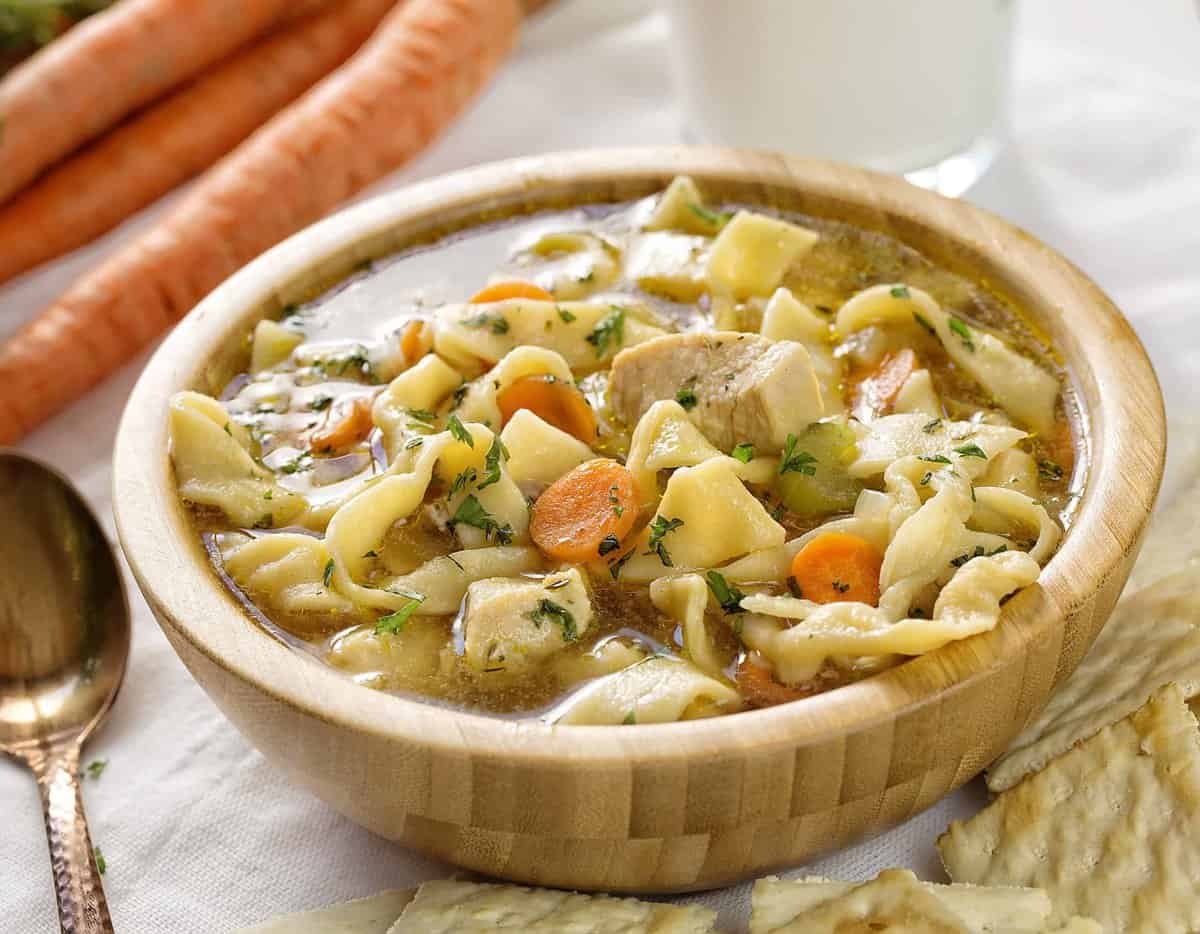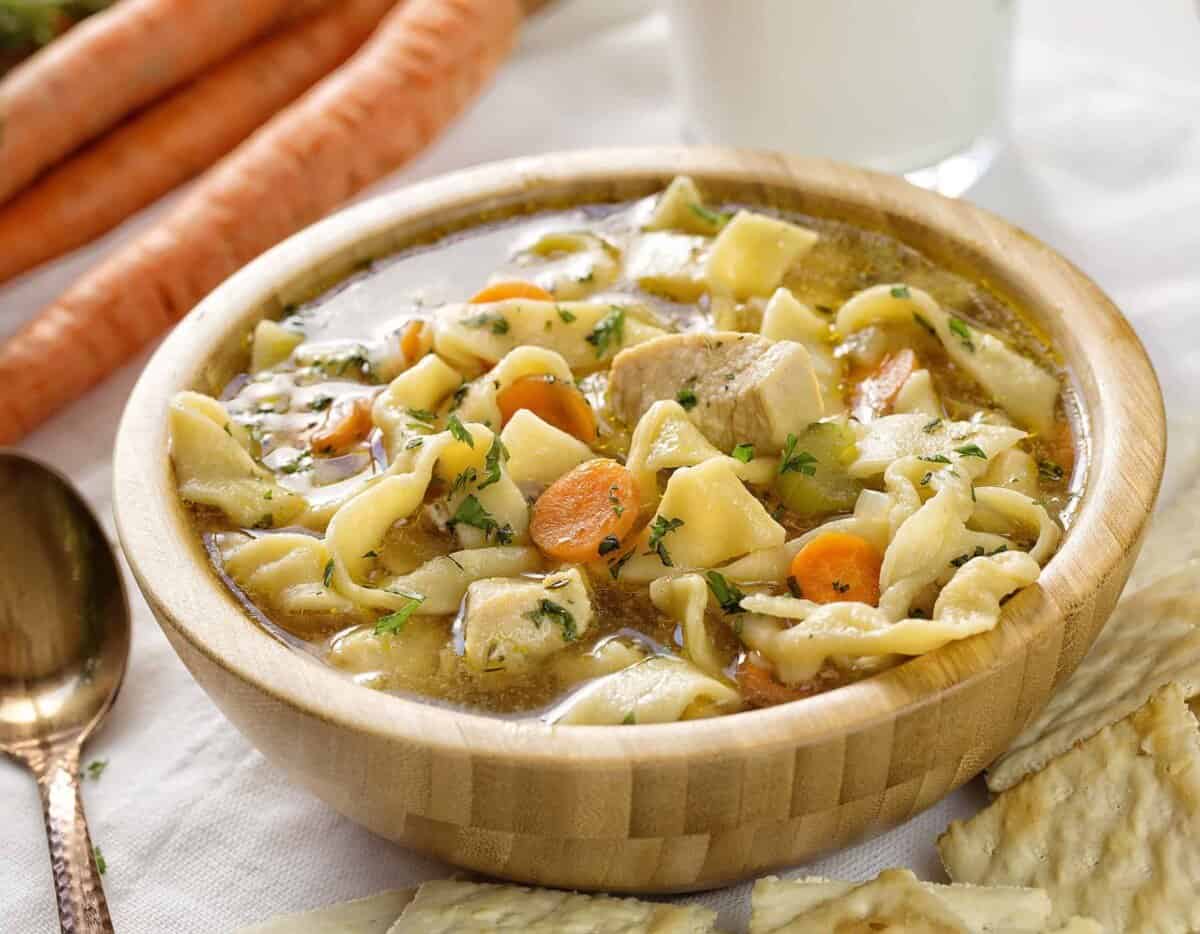 The ultimate comfort food… Chicken Noodle Soup! We used homemade egg noodles as a super special way to make this soup over-the-top amazing! This recipe is a keeper! Not only is it easy, but you can customize it to fit your tastes. For instance, we loved the added flavor that the dried thyme adds, but some folks prefer their soup without. Some folks prefer to use shaved carrots instead of round slices. But having a great base recipe to work from is essential.
Chicken Sandwiches
Who knew there were so many ways to make a chicken sandwich?!? Here a few of my favorite chicken sandwich recipes.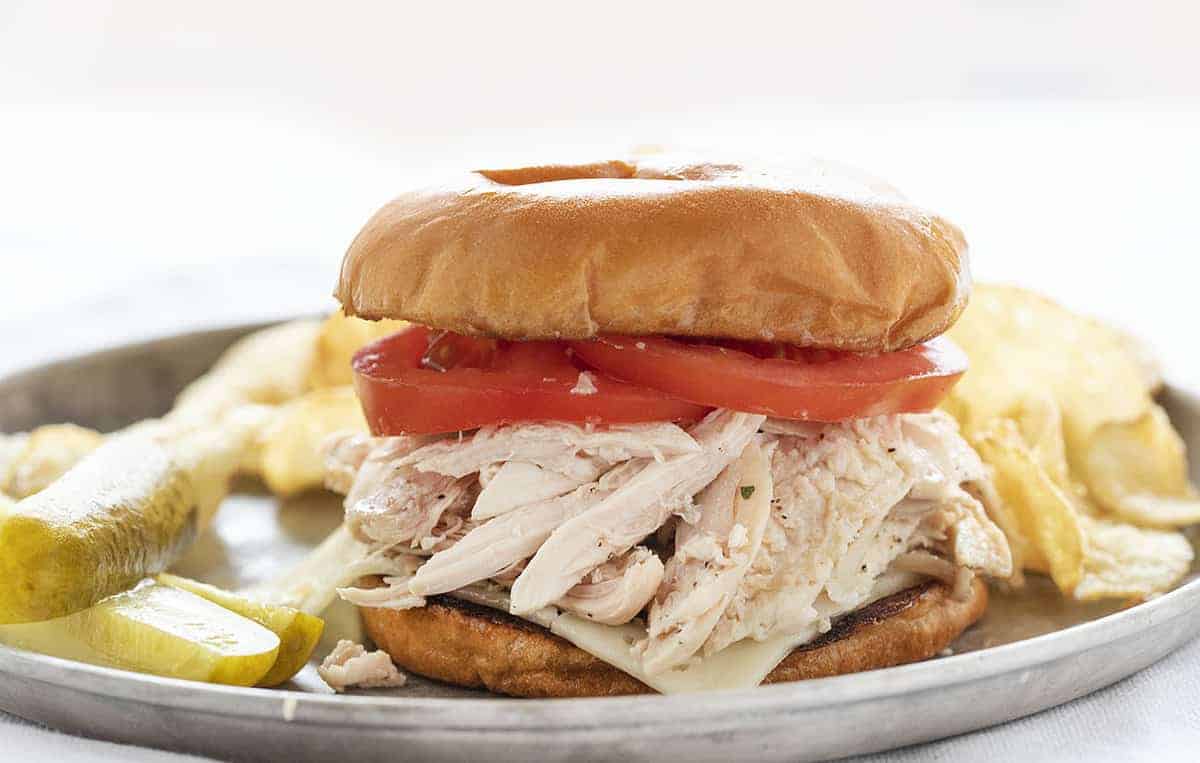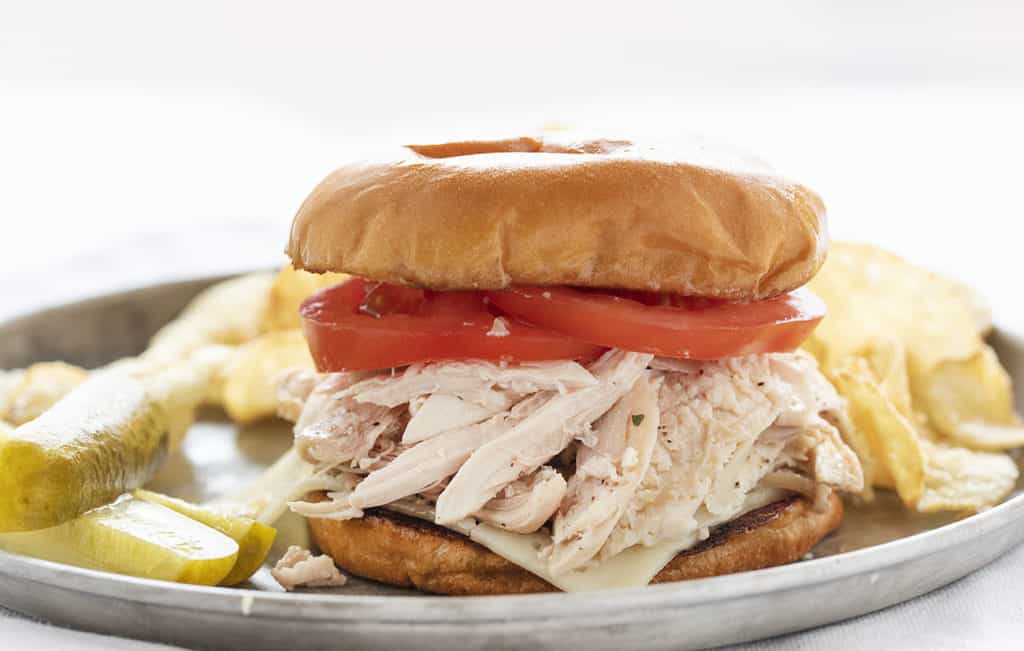 The Rotisserie Chicken Sandwich is easy to make, and it can be enjoyed both hot and cold! They give new flavor and life to any leftover rotisserie chicken you may have. It's enough of a variation to keep the rotisserie chicken on your grocery list.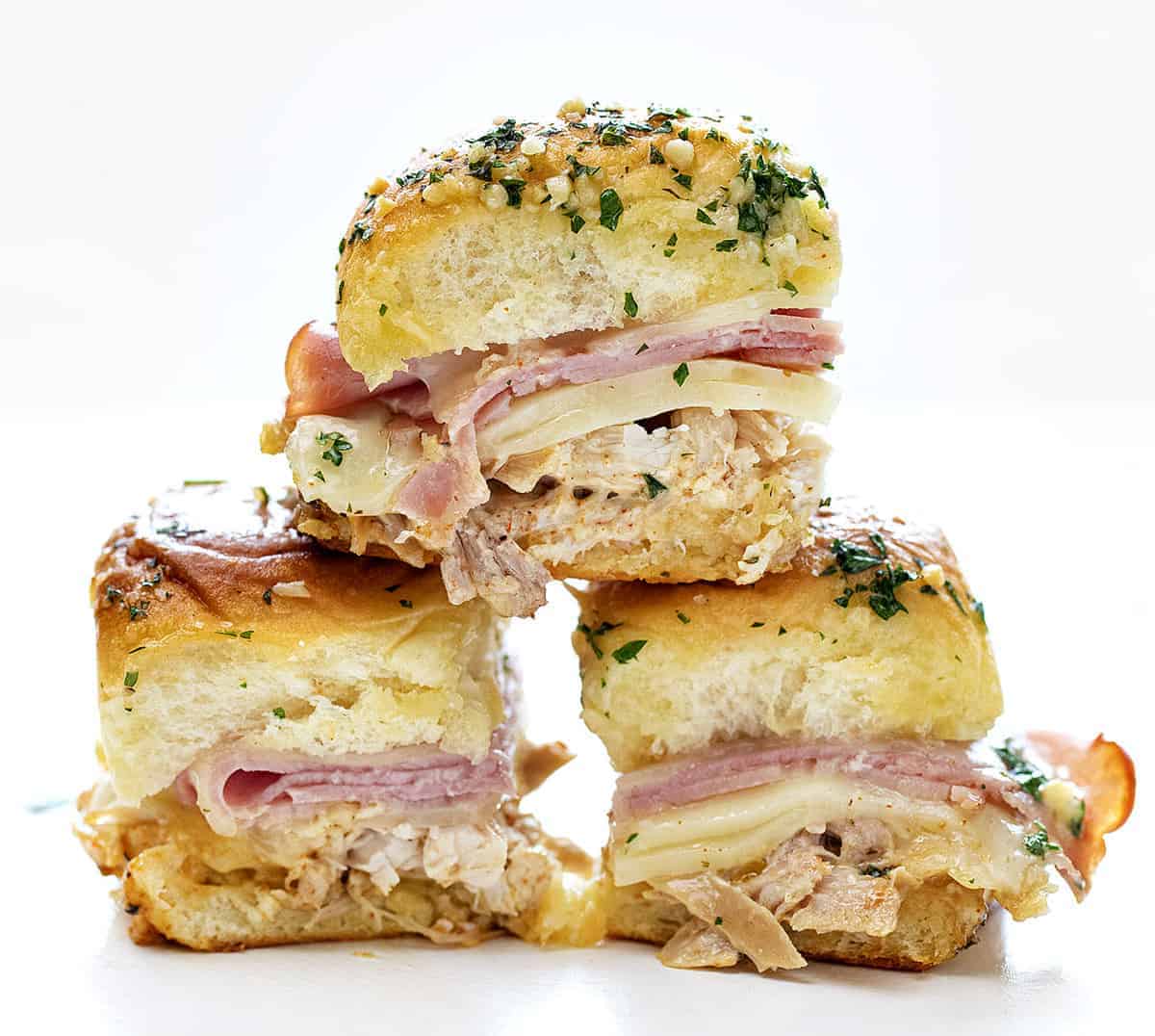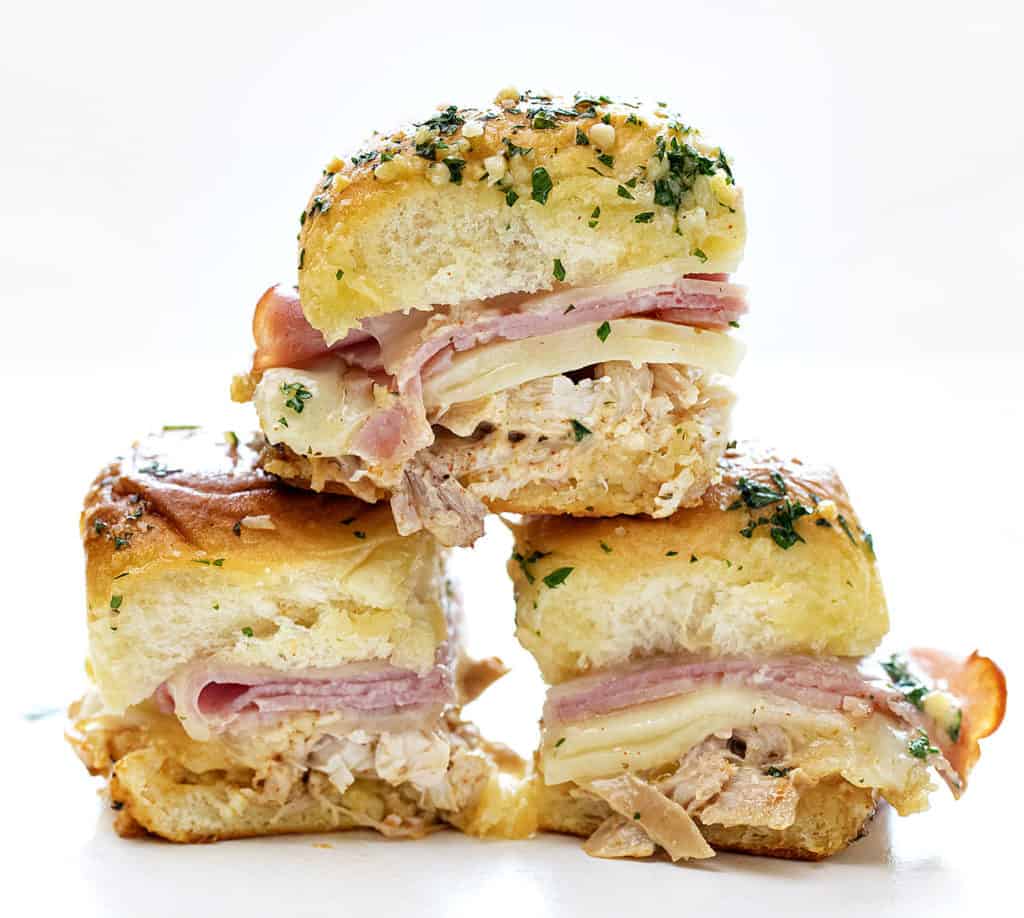 Chicken Cordon Bleu Sliders bring chicken cordon bleu to your fingertips! This fancy-sounding slider is super easy to make, and it would be a perfect appetizer or meal! Loaded with meats and cheeses, these sliders are packed with flavor! But, what really makes the sliders stand out is the seasoned butter topping!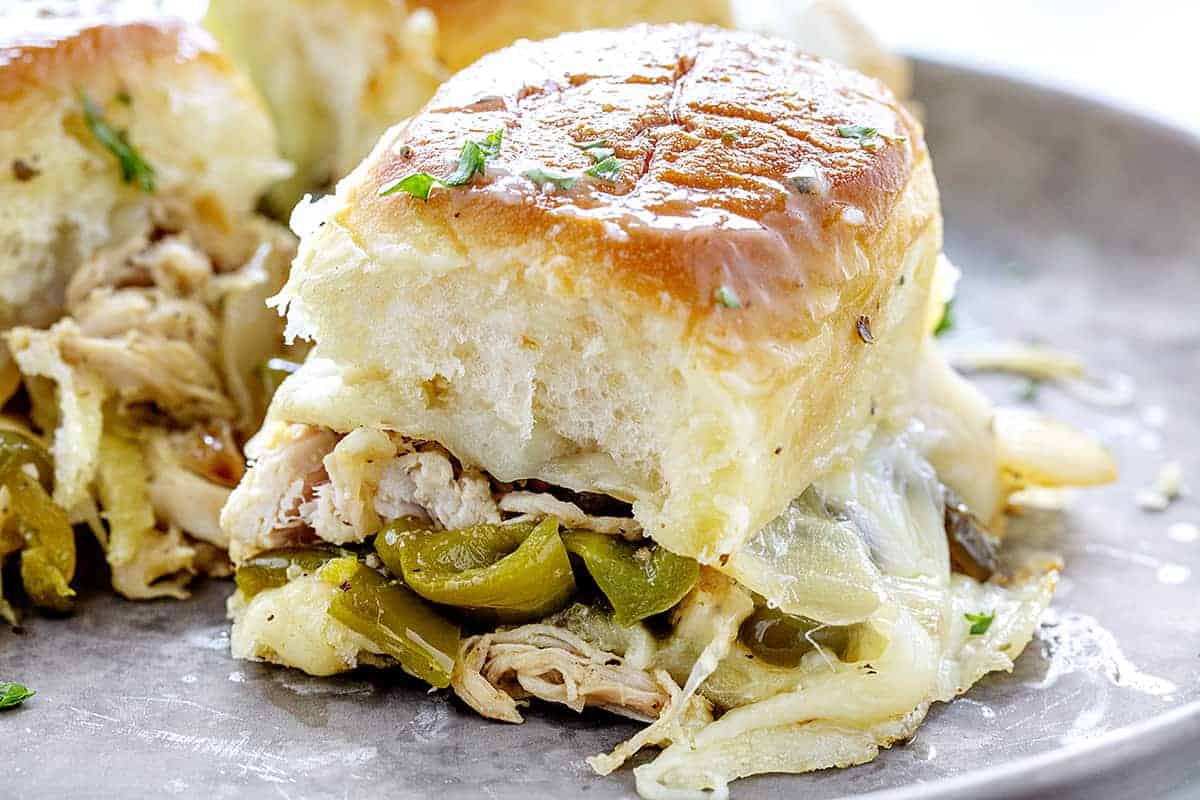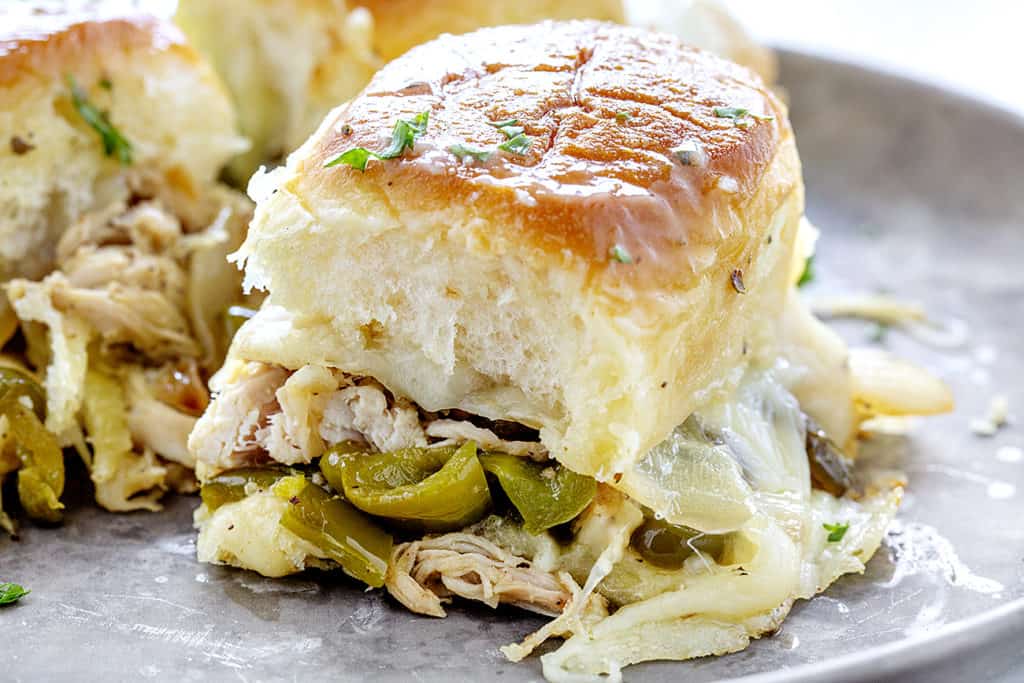 Chicken Philly Sliders are the perfect game-day snack or appetizer that could also be a meal! You don't have to live in Philadelphia to get the taste of their most popular sandwich. I didn't stray too far from the authentic Philly Cheesesteak ingredients when I made my Chicken Philly Sliders. I even stuck with the bell pepper and provolone cheese. What makes these sliders stand out is the butter topping! My mouth is watering just writing about it!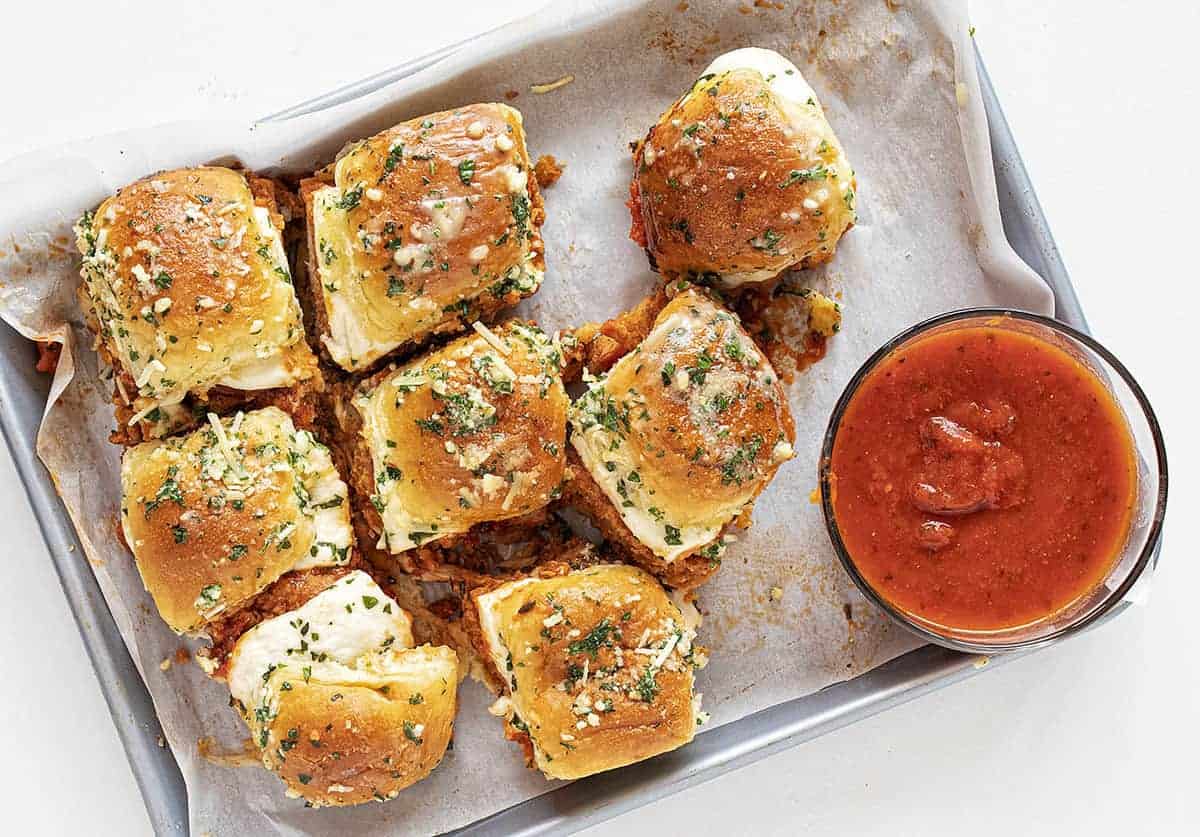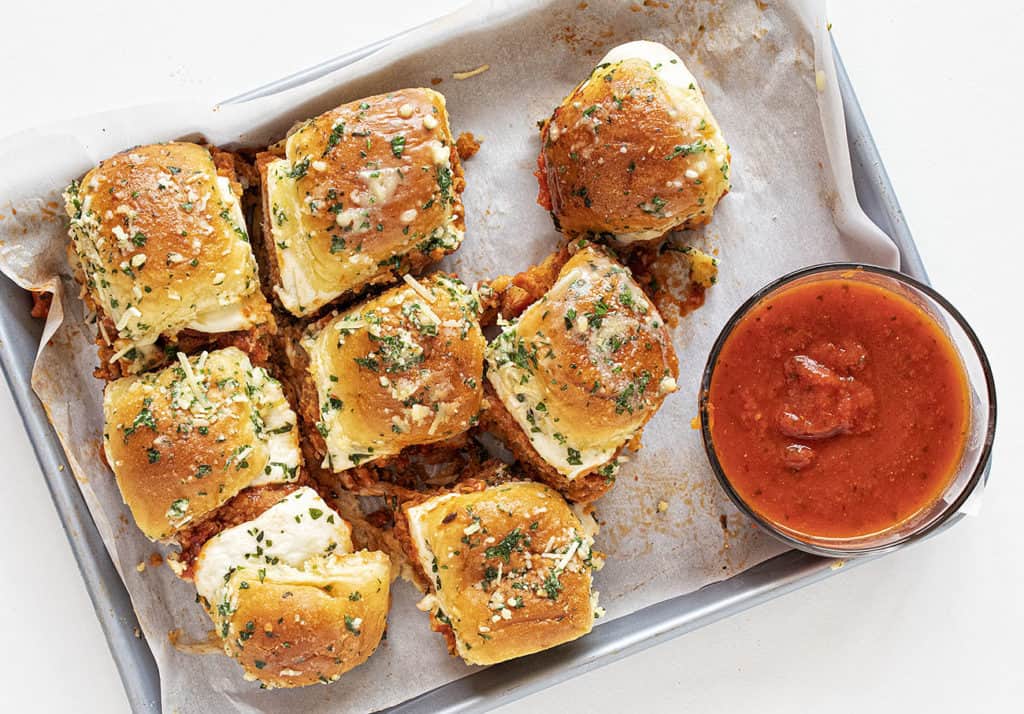 Chicken Parmesan Sliders, or should I say Chicken Parm Sliders, take the popular pasta recipe and turn it into a fun mini sandwich to eat by hand! Chicken Parmesan Sliders pack a mouthful of flavor in a small Hawaiian roll. No pasta is necessary for these mini sandwiches, and you won't miss it!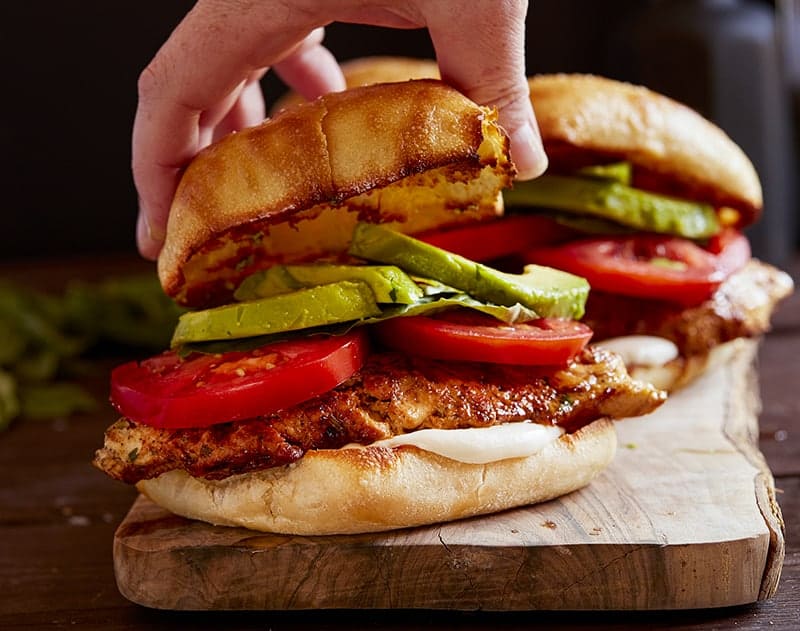 This Easy Chicken Caprese Sandwich is filled with fresh veggies and chicken packed with flavor.  The balsamic marinade gives the chicken a tangy punch making it great for summer! The whole recipe cooks up in under 15 minutes!  You'll have this on your table before you know it and your guests will rave!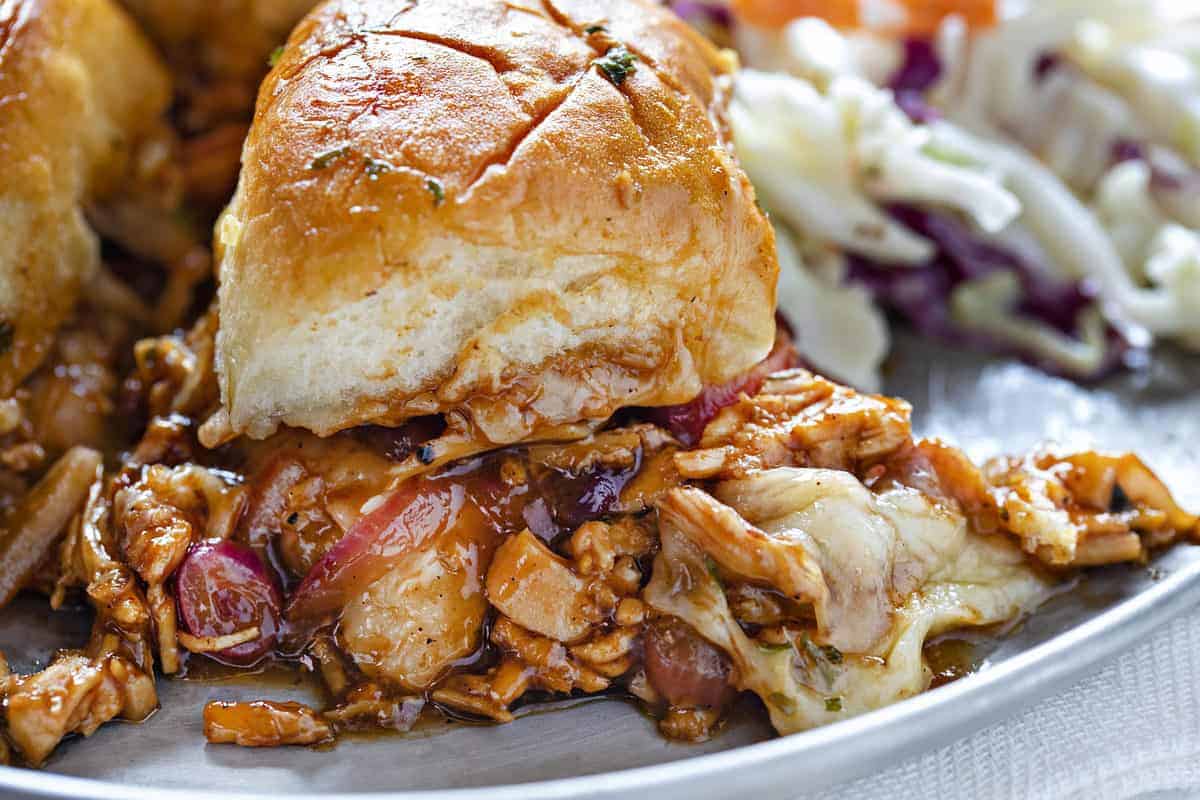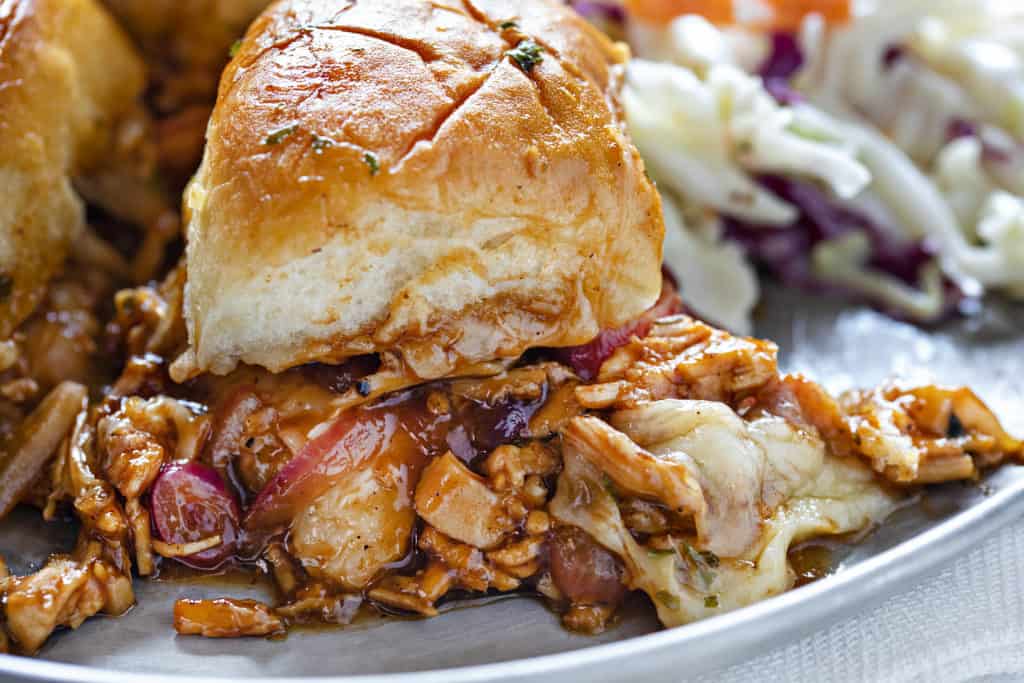 BBQ Chicken Sliders are the perfect addition to any dinner table.  They are small enough to be an appetizer, large enough for a small meal, and delicious at any time of year.  Roasted Sweet Hawaiian Buns pair perfectly with the savory BBQ chicken mixture and the oh-so-creamy, melted Havarti Cheese.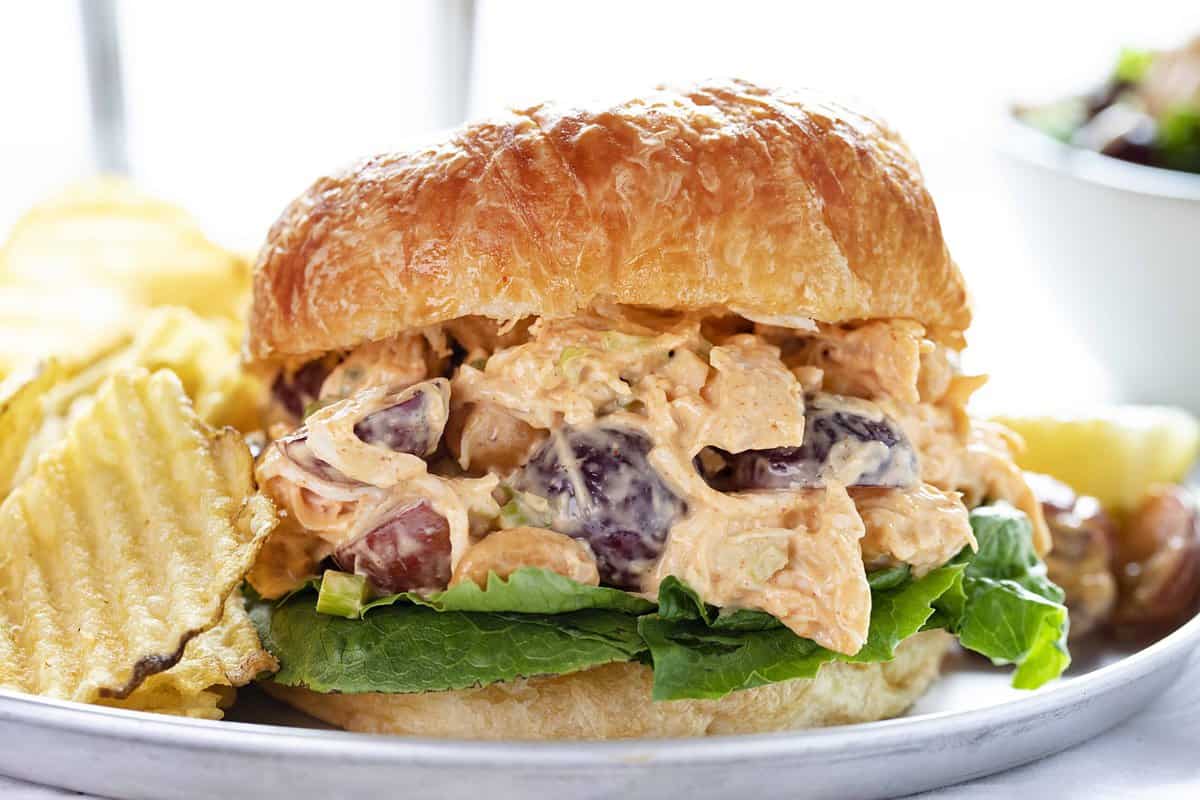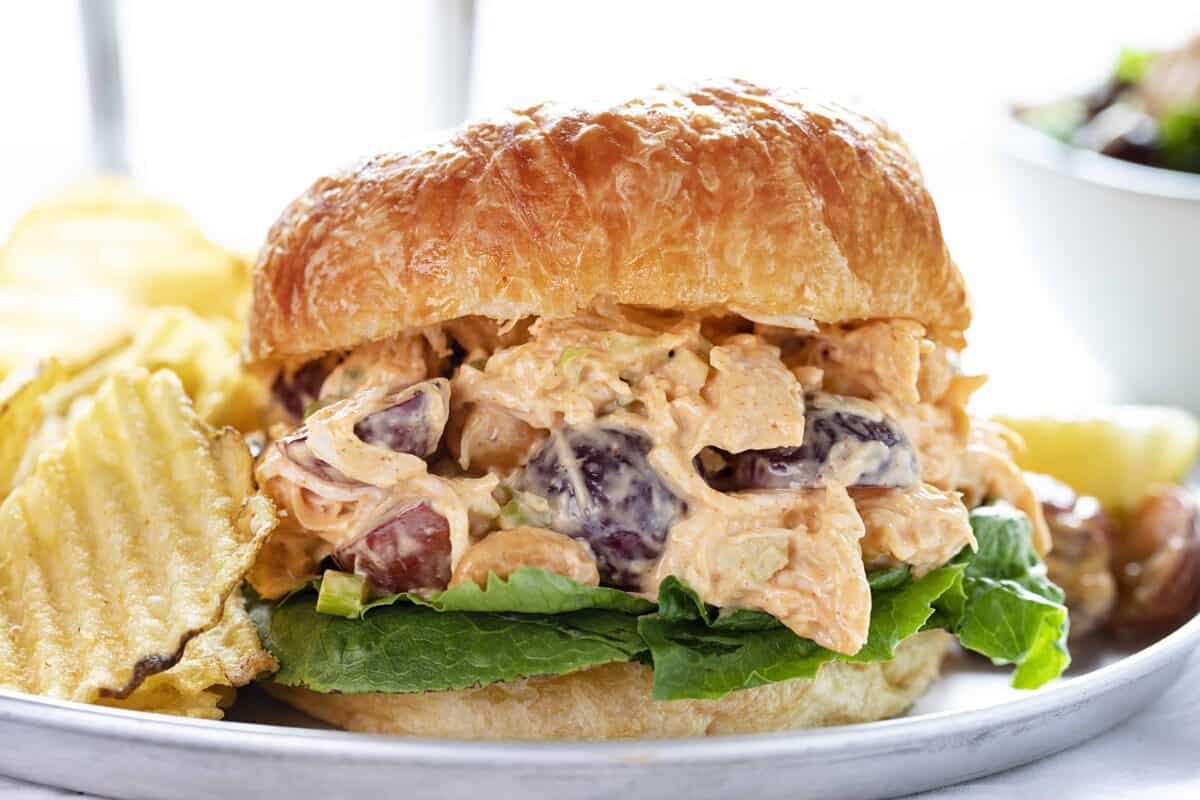 Stop what you are doing and try this Chicken Salad Recipe immediately!  This recipe is bursting with the juiciest most flavorful Shredded Chicken, complemented by fresh red grapes, and rounded out by the perfect crunch of salty cashews.  We like this on its own or as a wrap.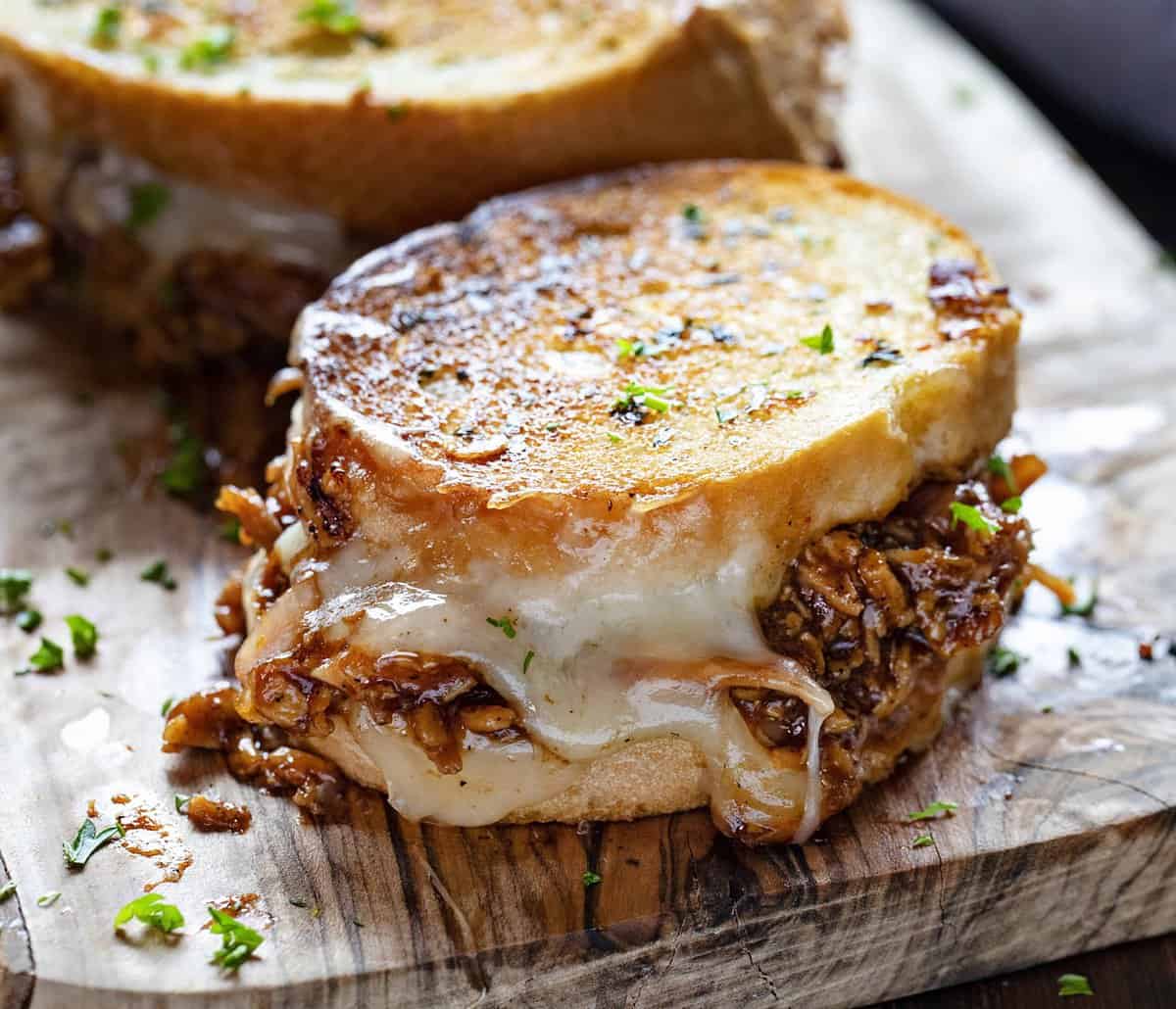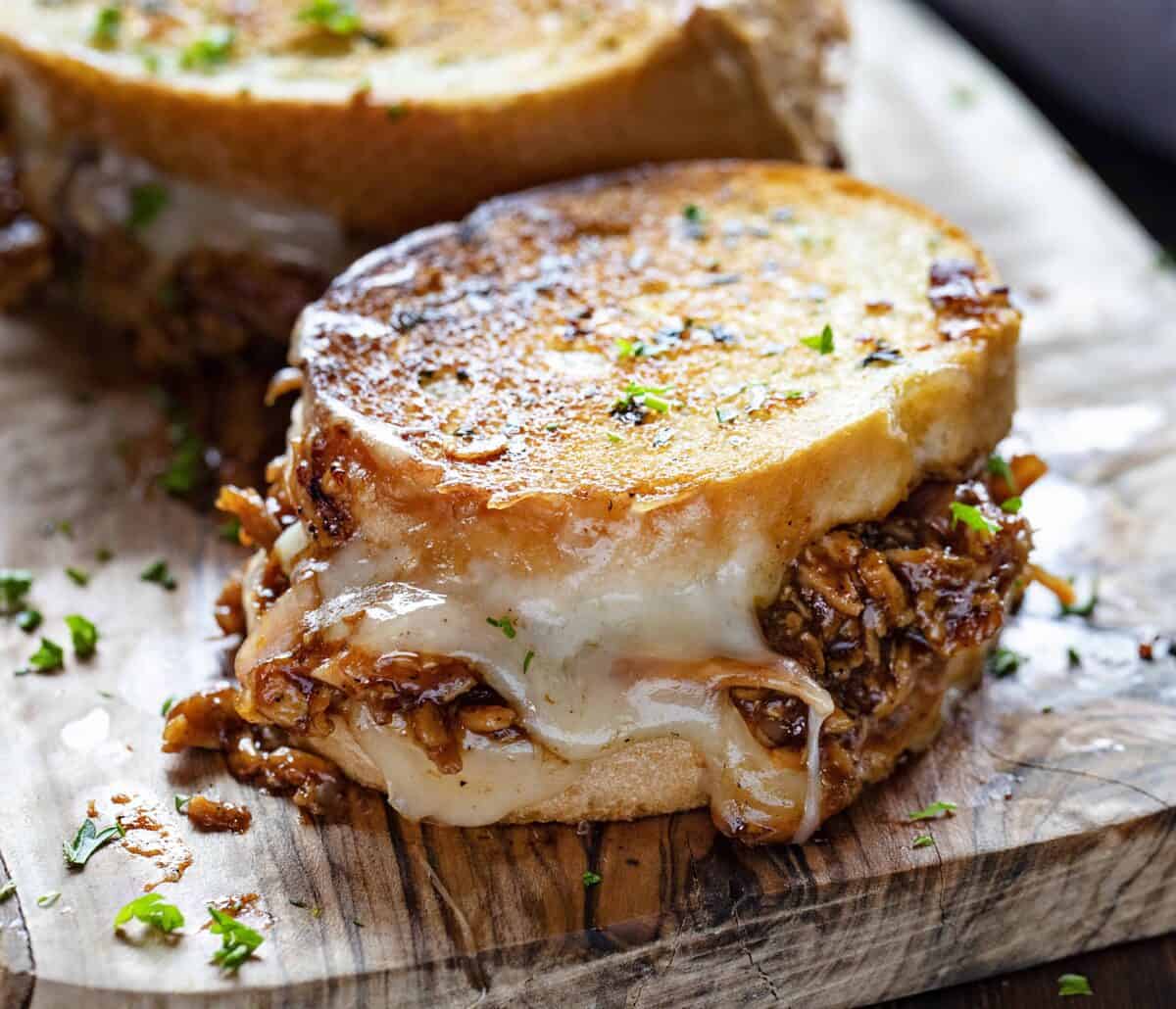 BBQ Chicken Grilled Cheese Sandwiches are the perfect addition to any dinner table.  Garlicky buttered french bread is pan-fried to perfection and paired with the savory flavors of BBQ chicken and the oh-so-creamy, melted Havarti Cheese.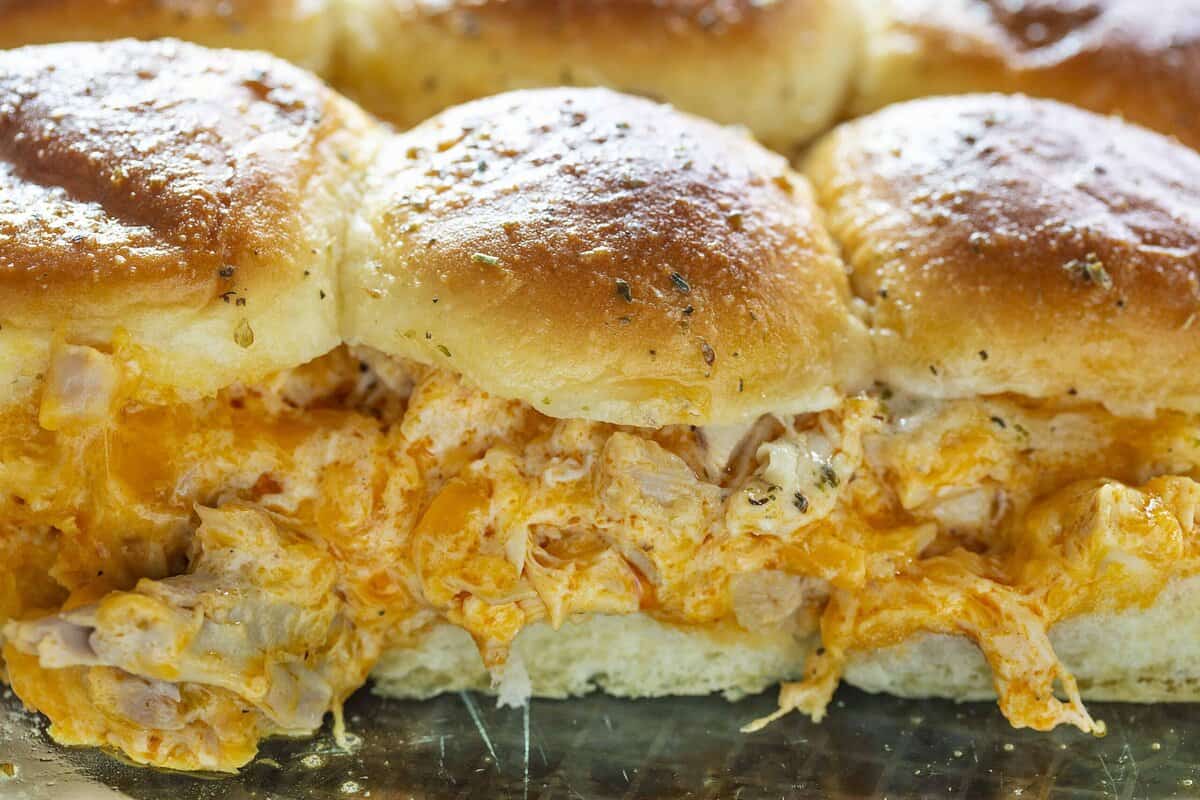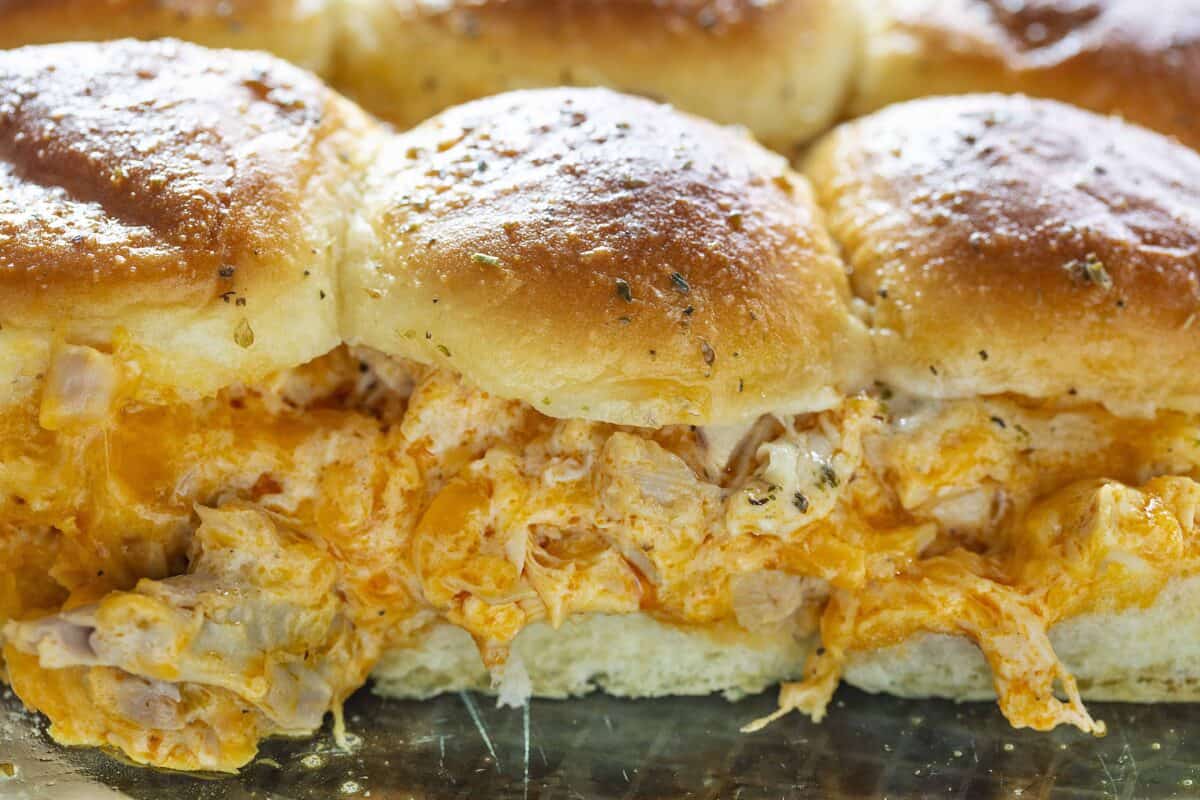 These are the perfect snacking sandwich.  These tangy and spicy buffalo chicken sliders are the perfect appetizer. This recipe pulls together in just a few short minutes but tastes like you spent the day preparing.   You can make a double batch with ease and without breaking the bank.
Slow Cooker Chicken Recipes
Slow cookers are great to have when you want to come home to a meal that is all ready to go (or at least close). These slow cooker chicken recipes don't disappoint, and you will want to keep these on hand!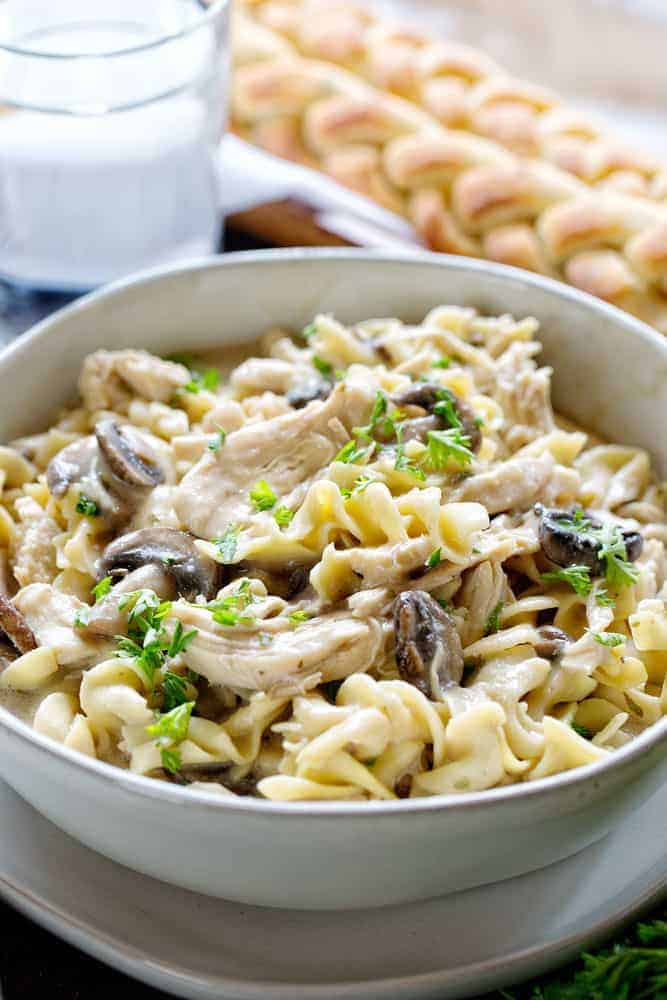 This creamy Slow Cooker Chicken and Noodles recipe is filled with hearty chunks of chicken and fresh mushrooms.  It is silky smooth and scrumptious and quite possibly the easiest chicken and noodles recipe out there!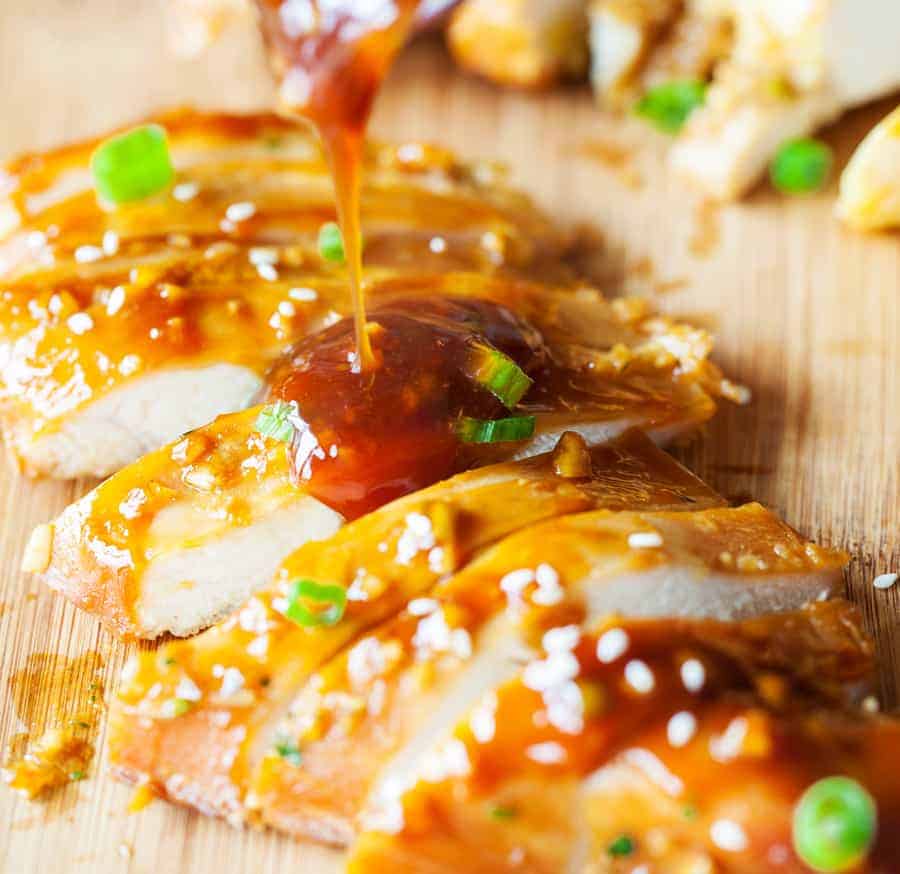 Slow Cooker Honey Garlic Chicken is a no-fuss, supremely delicious weeknight meal, pairing all of your favorites; chicken, honey, garlic, and hoisin sauce, all within the sweet comforts of your slow cooker. I recommend serving it with a side of steamed white rice and freshly steamed broccoli and sending it over the top by drizzling the sweet and salty sauce over all the sides.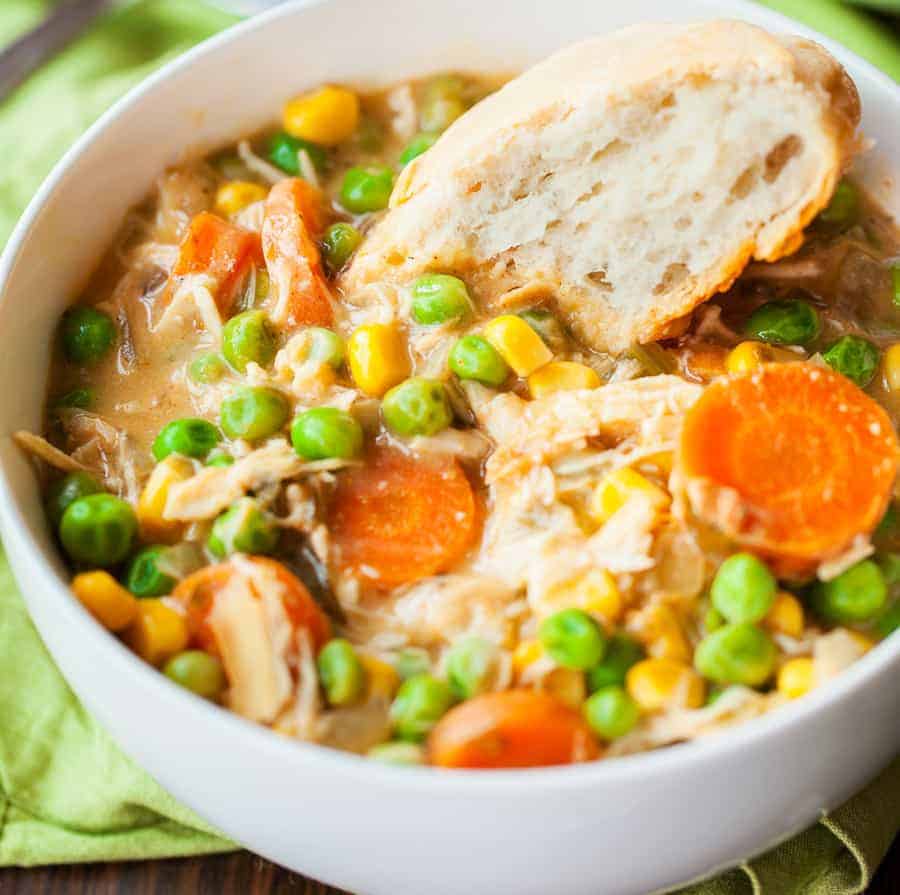 Create a delicious mouth-watering Slow Cooker Chicken Pot Pie! This recipe is ridiculously easy, jam-packed with flavor, and one of my family's favorite dishes.  The seasoned pulled chicken and fresh-cut veggies marinated in spices all day create an amazing dinner you will be proud to serve up!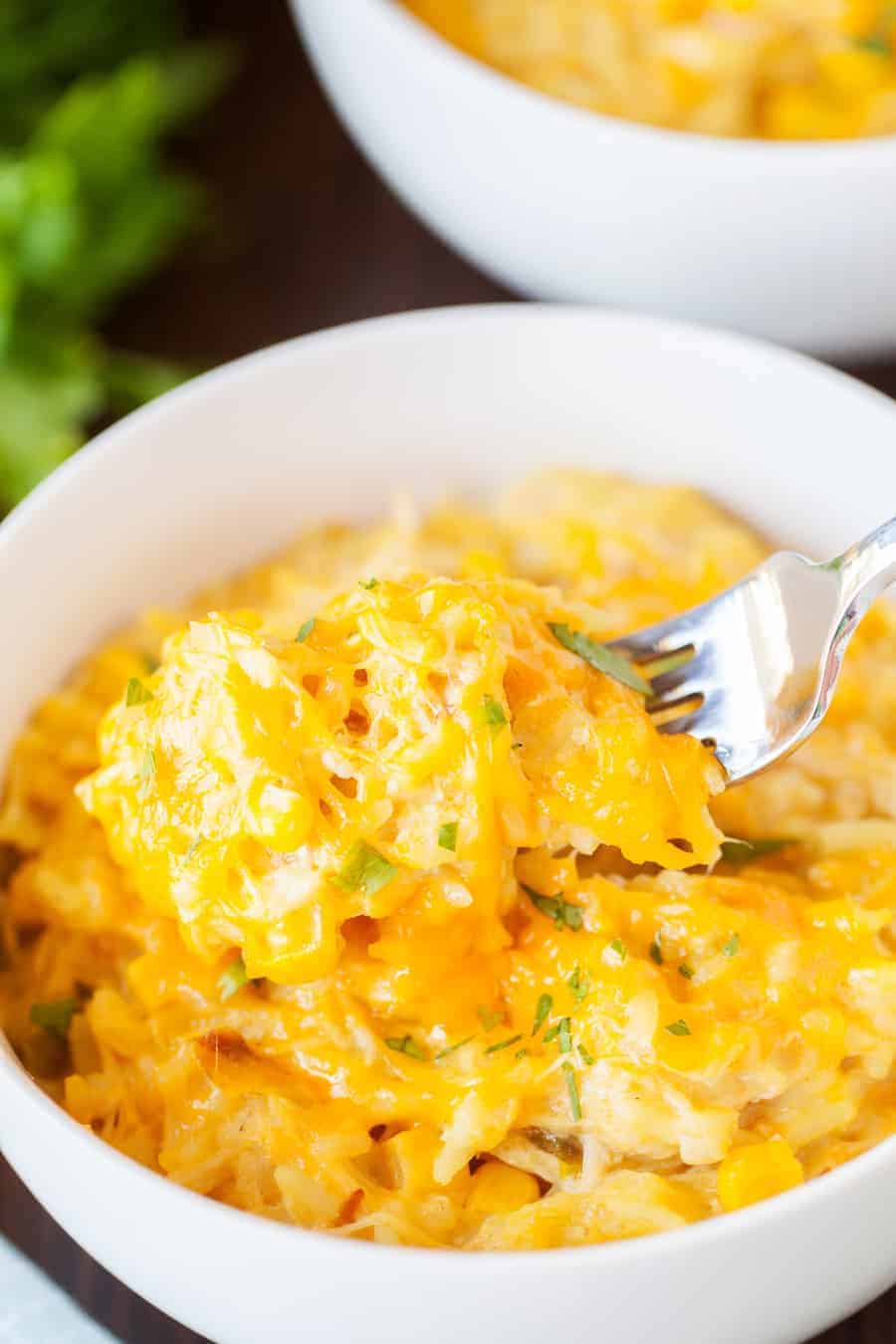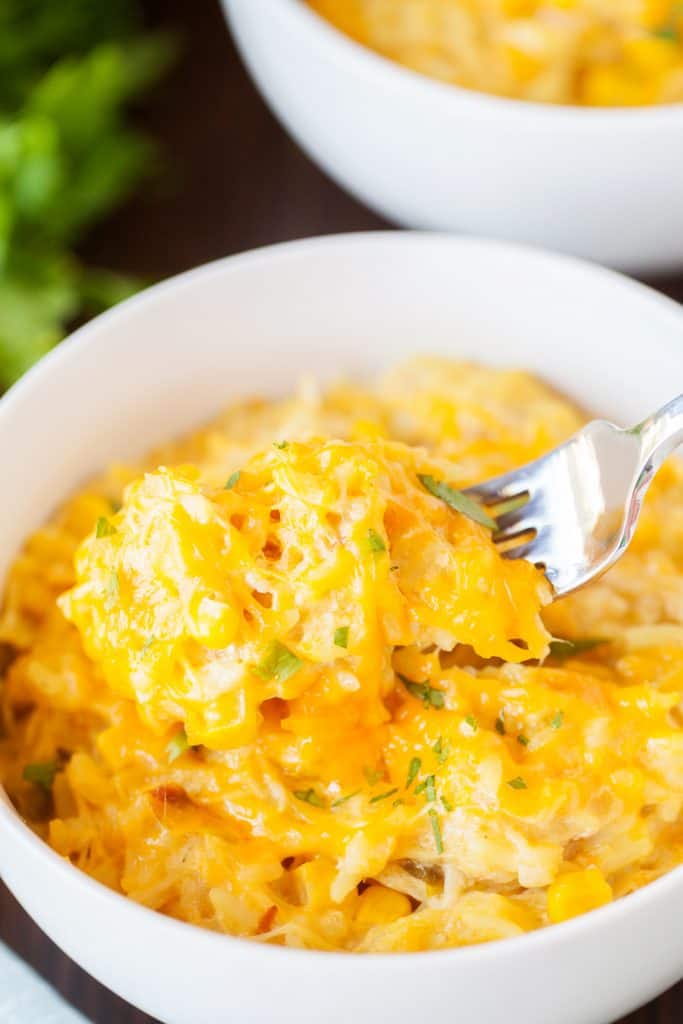 Imagine making a casserole without an oven! We love this Slow Cooker Chicken Casserole because it can be prepped so far in advance for an easy weeknight supper. After a long day, nothing beats coming home to a warm and cheesy bowl of deliciousness.
Chicken Dips
I love a hearty dip, and all of these dips are packed with flavor–perfect to share or enjoy all to yourself!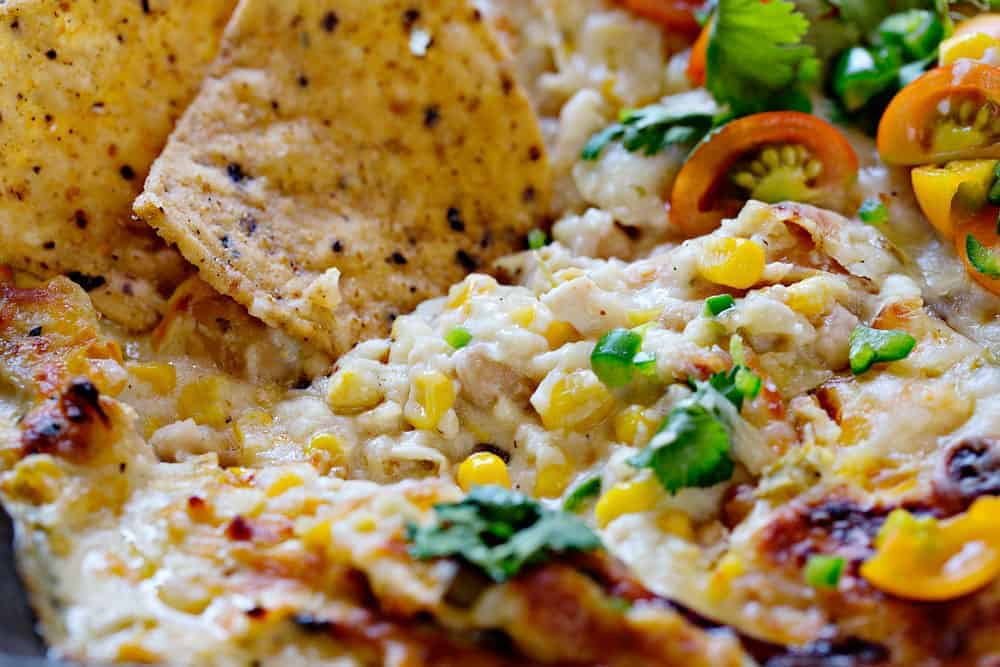 White Bean Chili Cheese dip is the dip to end all dip debates.  This is the winningest dip you will ever taste.  This skillet dip takes home the trophy every time.  Combining the most tender flavor-filled chicken, sweet and juicy corn, fresh jalapeños, and creamy melty mozzarella cheese all baked up in a skillet.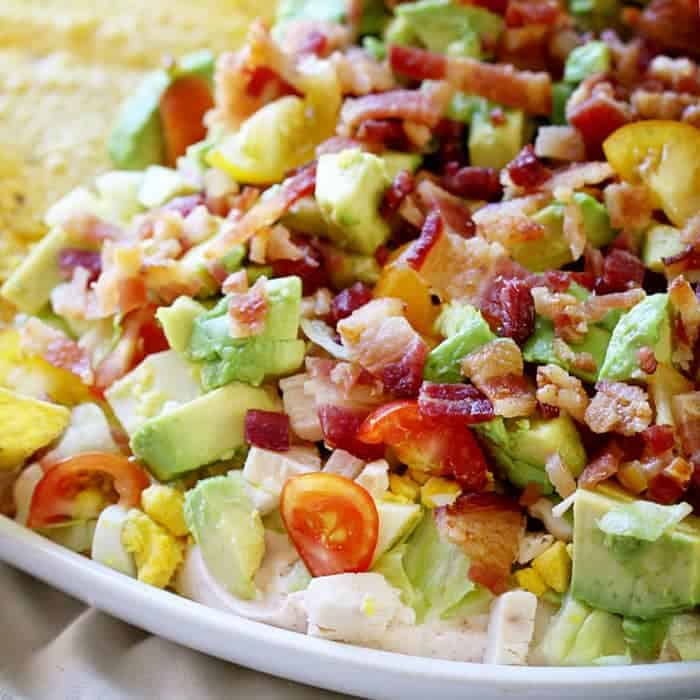 Use a sturdy chip for this sturdy dip. This southwest cobb salad dip recipe can easily be doubled and tripled. So do it already! You won't be sorry. Well, you may be sorry you have not eaten this until now, but you won't be sorry you made it. I mean, you may be sorry that you made it with friends and family around so you didn't get to eat much, but you won't be sorry when people are begging you for the recipe and demanding that you get your own show on Food Network. It could happen.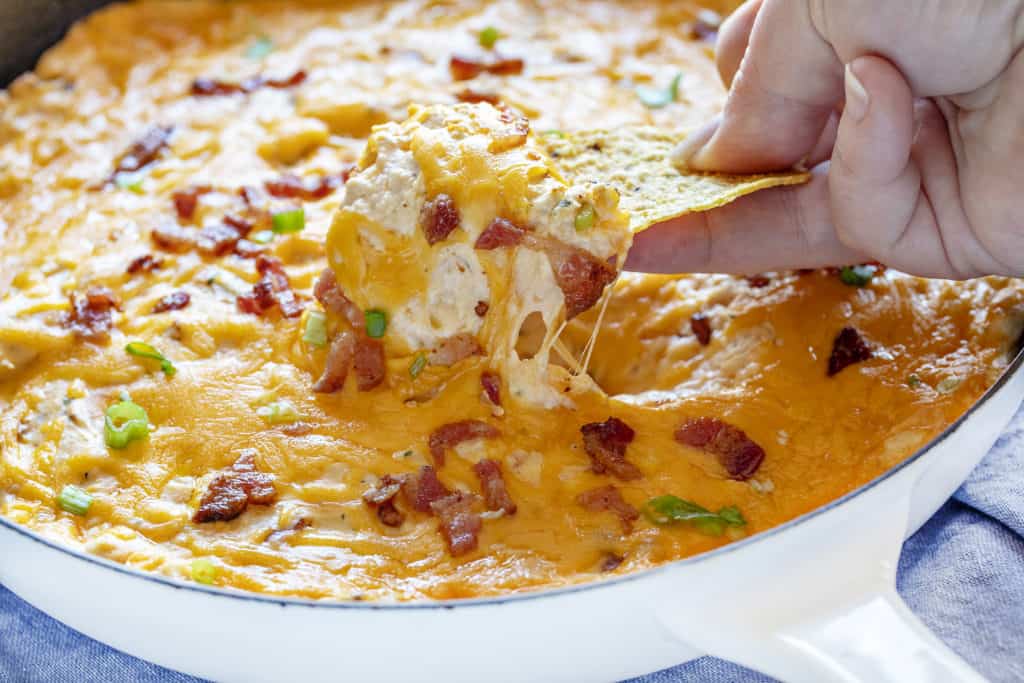 Cheesy Bacon Chicken Dip is an amazing combination of juicy shredded chicken, crispy bacon, and melty cheese, all in a creamy ranch base that will have you addicted in no time flat. The cheesy smoothness mixed with ranch and bacon combination makes this dish so different from the average dip recipe.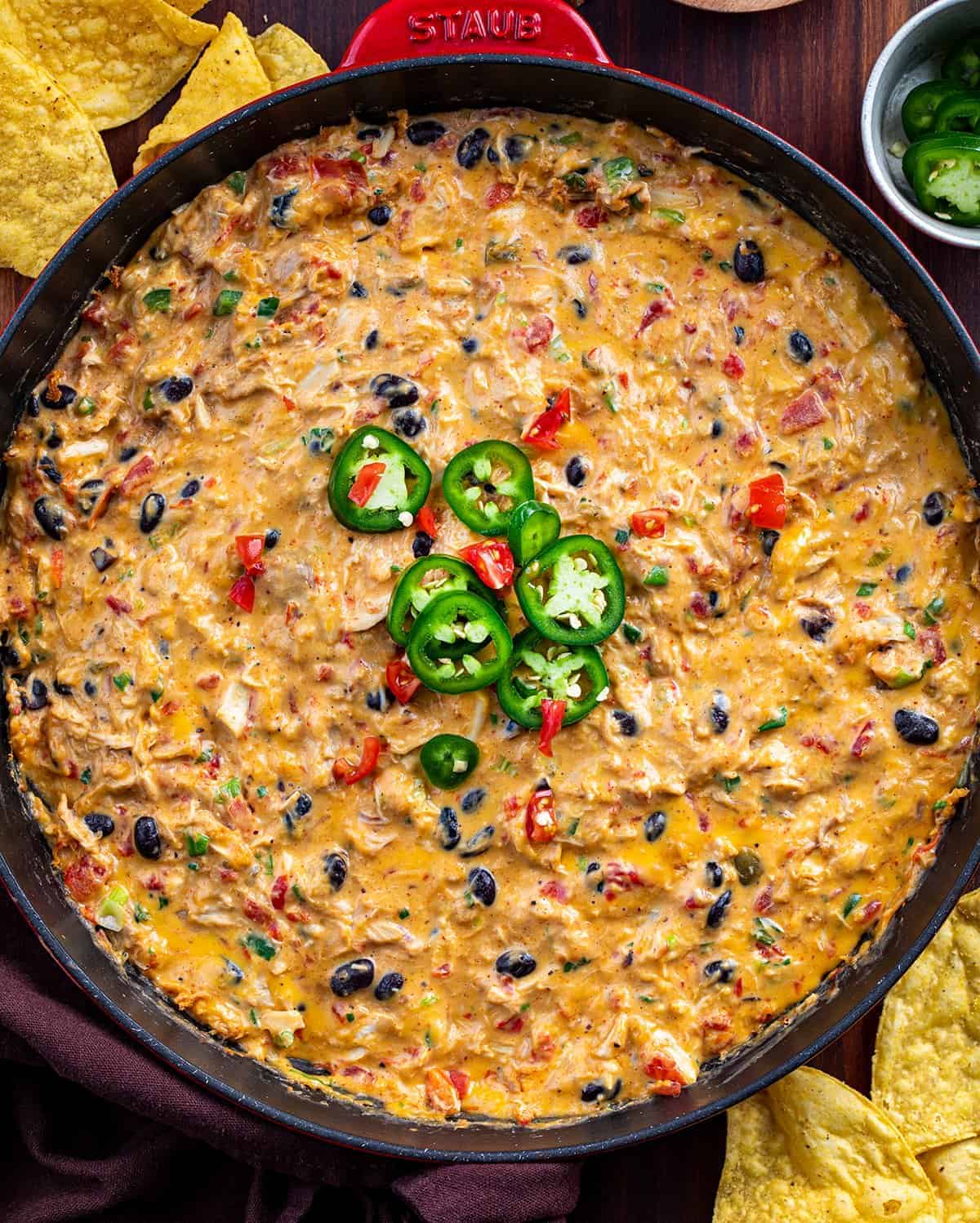 Chicken and Velveeta Cheese Dip is a southwest dip that will knock your socks off.  This amazing skillet dip pulls together the flavors of rotisserie chicken, endless cubes of Velveeta cheese, and fresh veggies, for an amazing game day appetizer!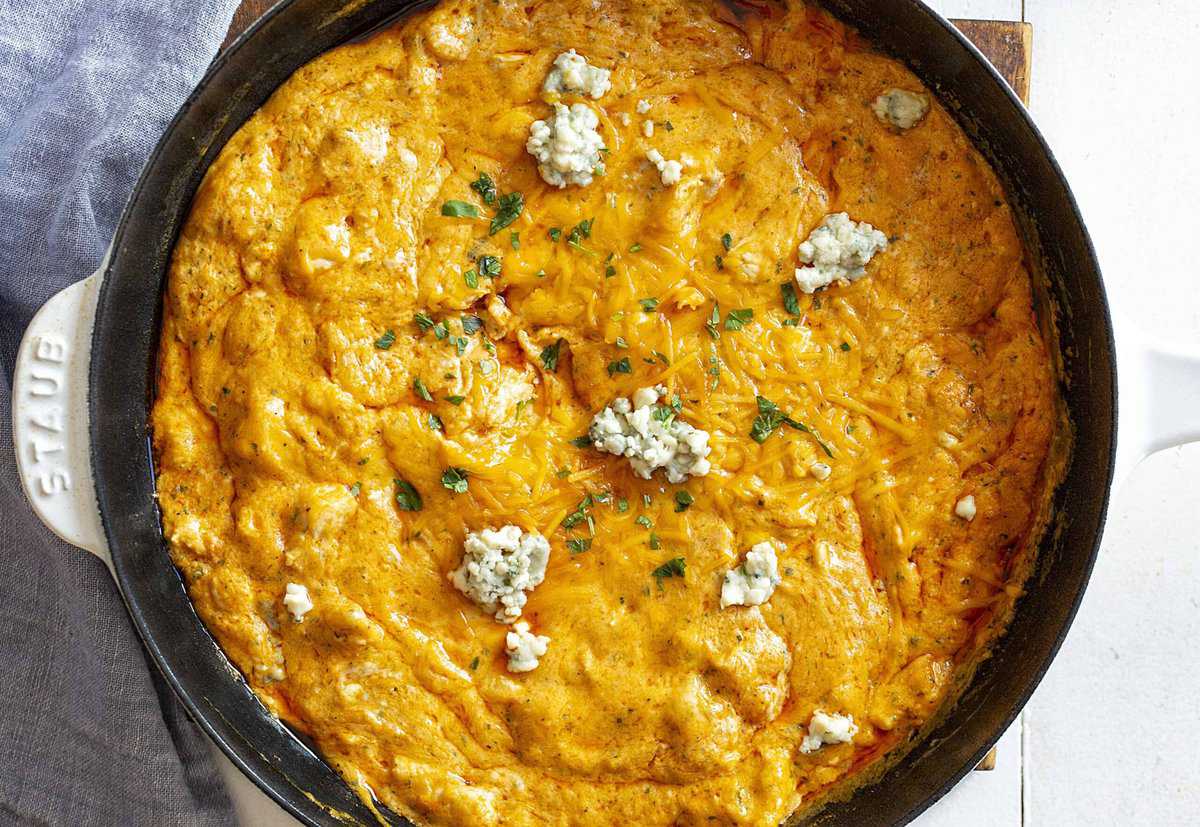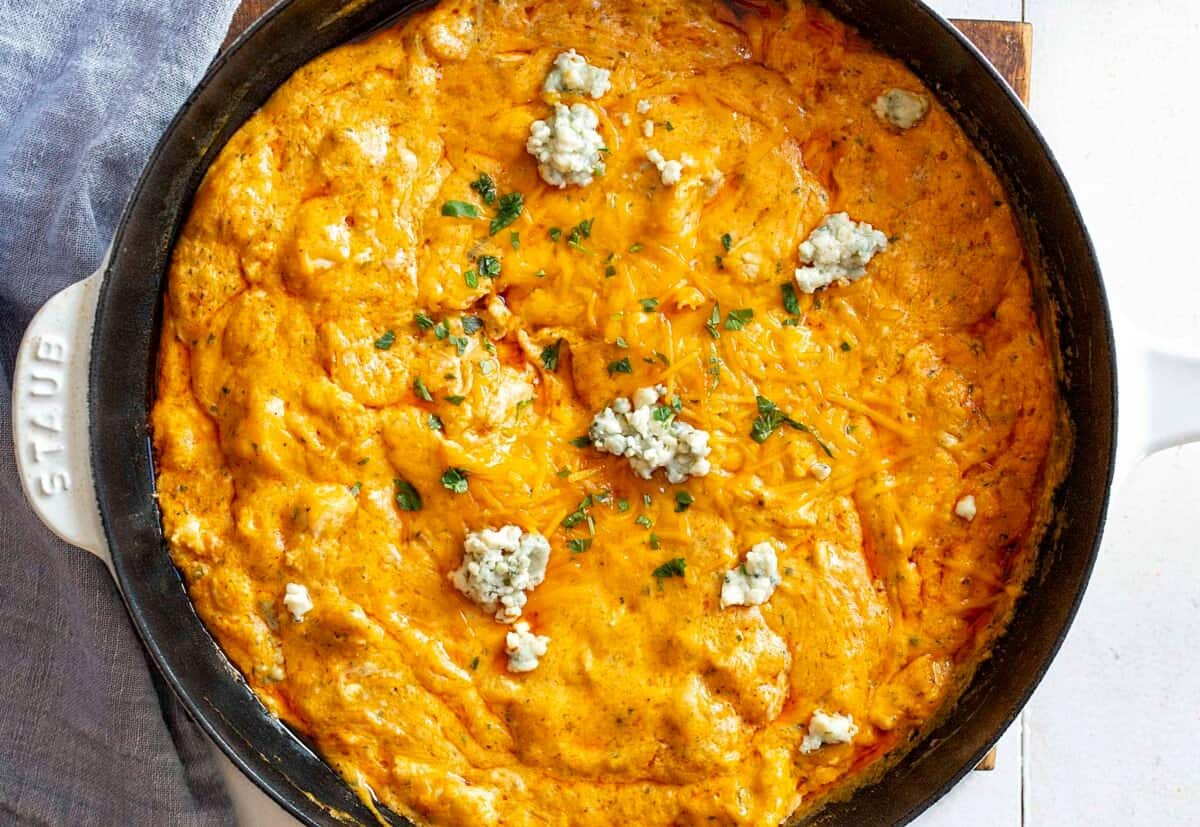 This skillet Buffalo Chicken Dip recipe is the ultimate crowd-pleasing party addition! This creamy, cheesy, appetizer is always an amazing game day winner!! It is simple to prepare, and much easier to make than a batch of wings.  You get all of the amazing tang and heat of the buffalo wings (including the amazing flavor), without all of the prep work or the mess and coinciding clean up!
Chicken Skillet Recipes
Get out your trusty skillet for the next few recipes.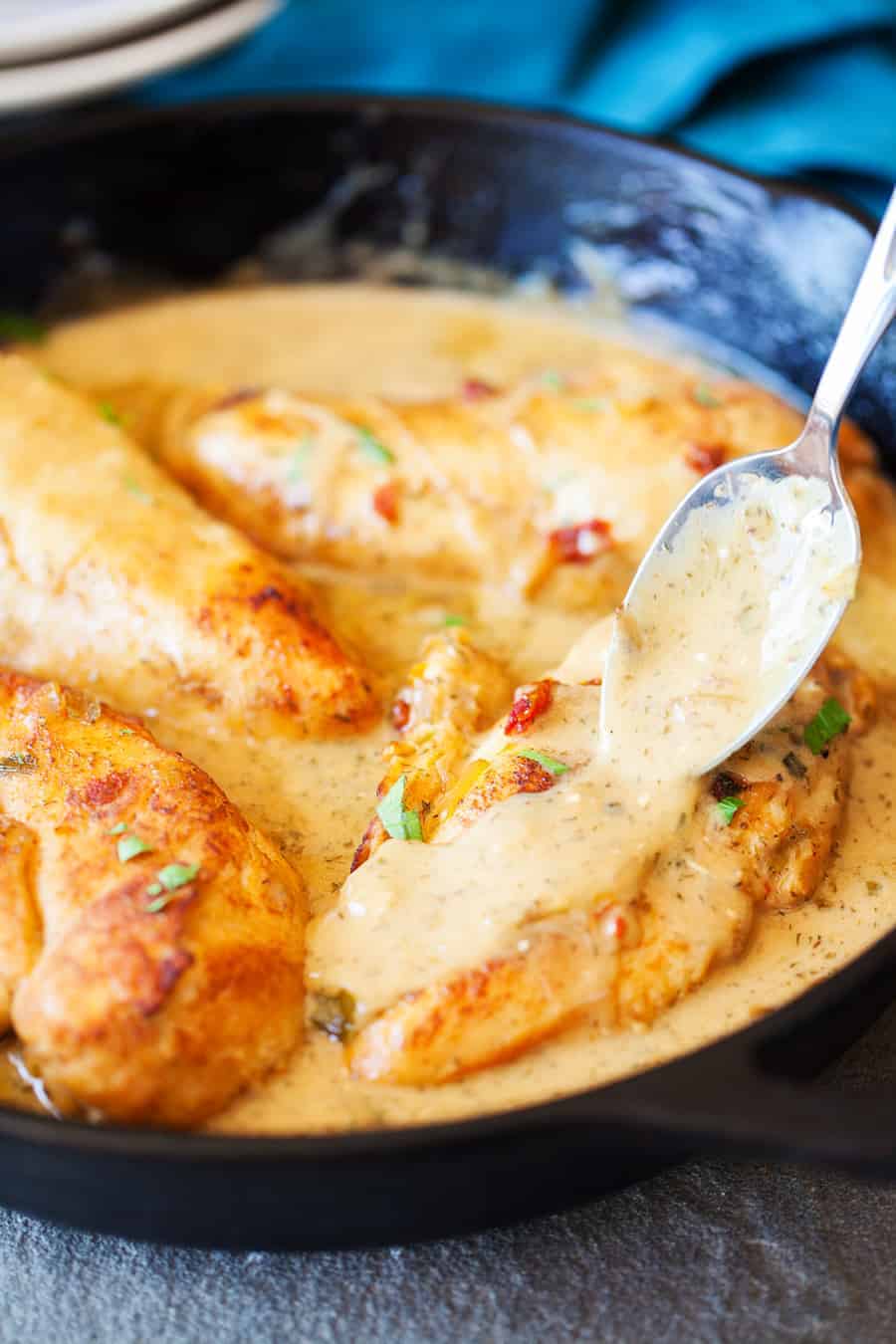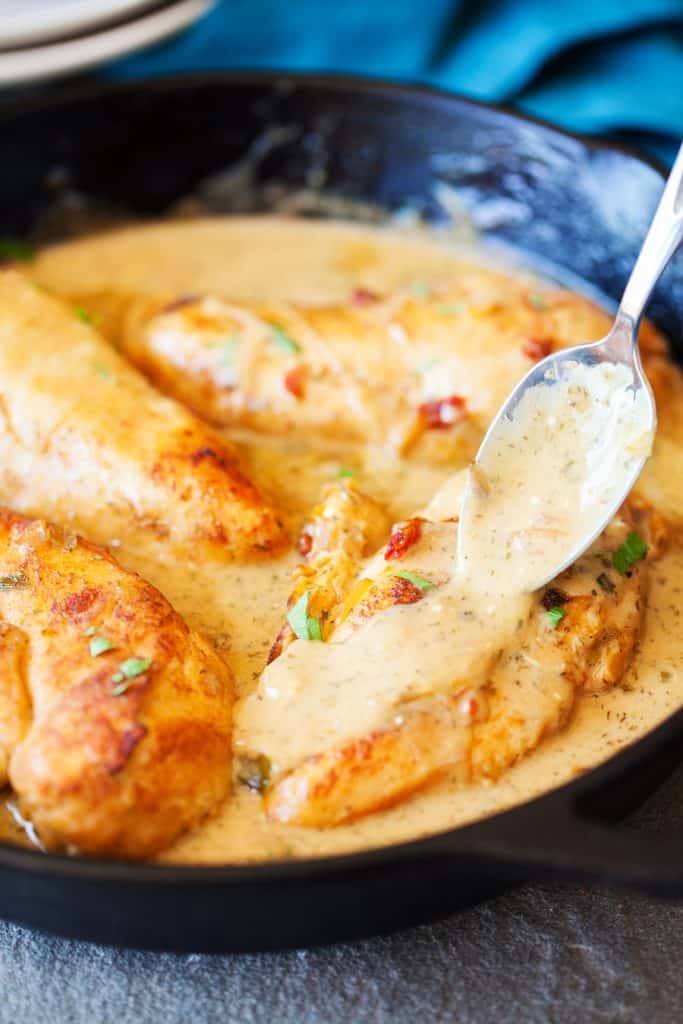 You can never have too many chicken recipes, so here's another one for your recipe box. You will want to make it again and again! This Country Chicken recipe is a breeze to whip up on busy weeknights and is completely addicting thanks to modern-day conveniences like pre-made seasoning mix.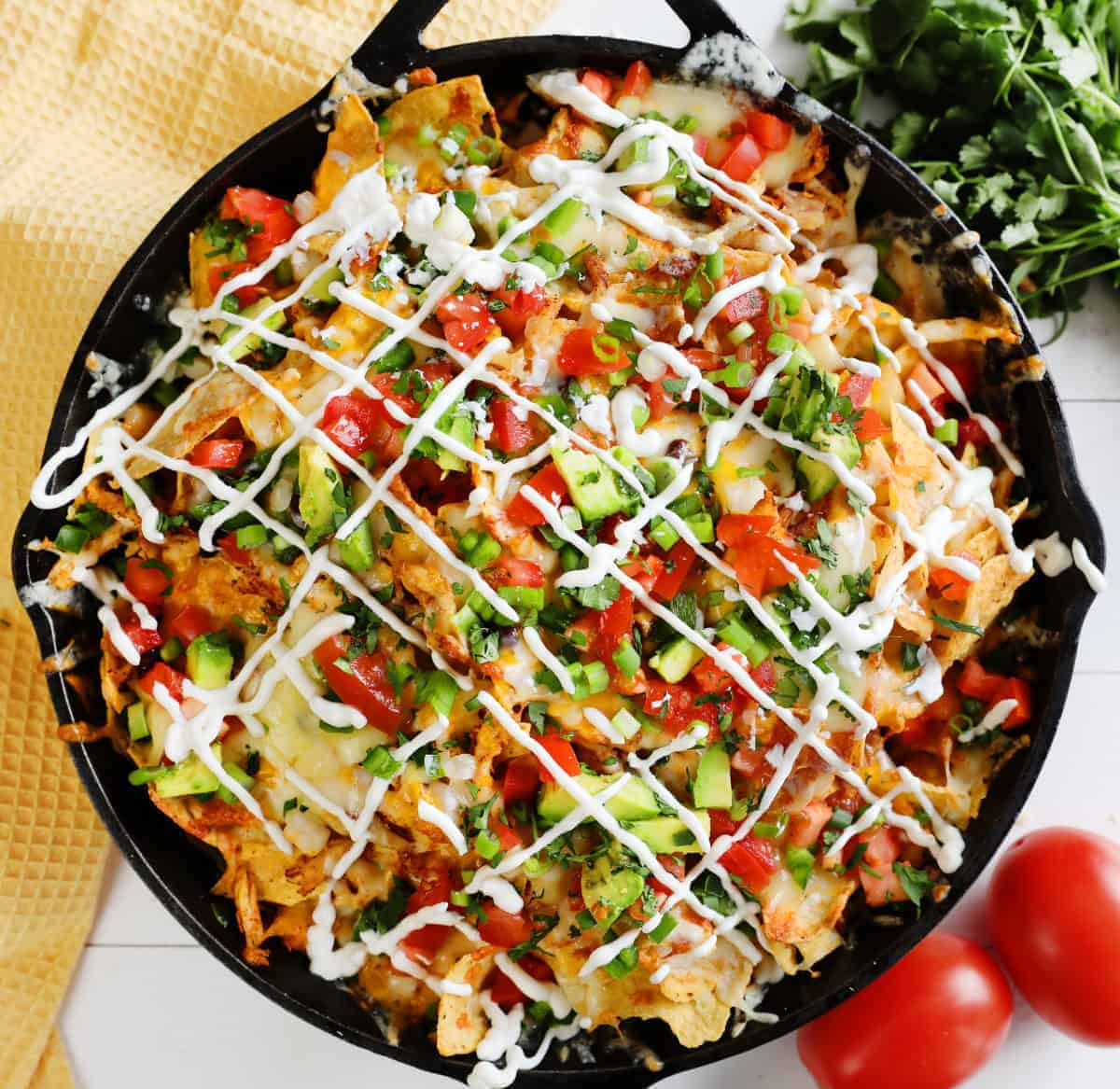 I don't know about you, but I love chicken nachos! We make them often and usually utilize whatever ingredients we have on hand. I love the skillet method for these nachos because not only does the skillet hold in every bit of topping that may fall off, it holds its heat longer than a sheet pan and keep your nachos warm and perfect.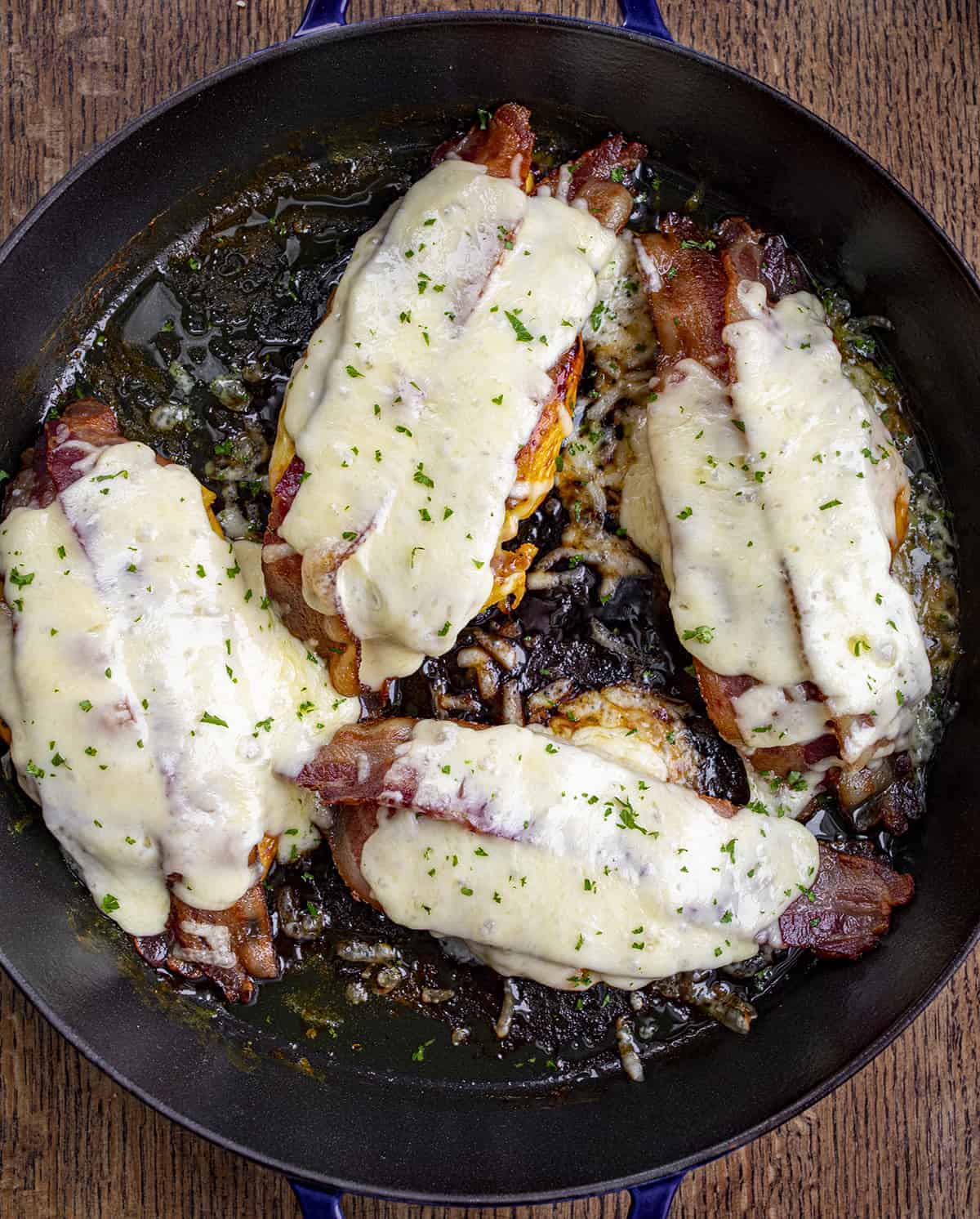 This is my simple version of Outback Steakhouse's Alice Springs Chicken except without mushrooms. Cheesy Bacon Chicken with a seriously amazing homemade Honey Mustard sauce is a dinnertime winner!
Chicken Casseroles
These chicken casseroles are filled with tasty ingredients and will surely be on your dinner menu rotation.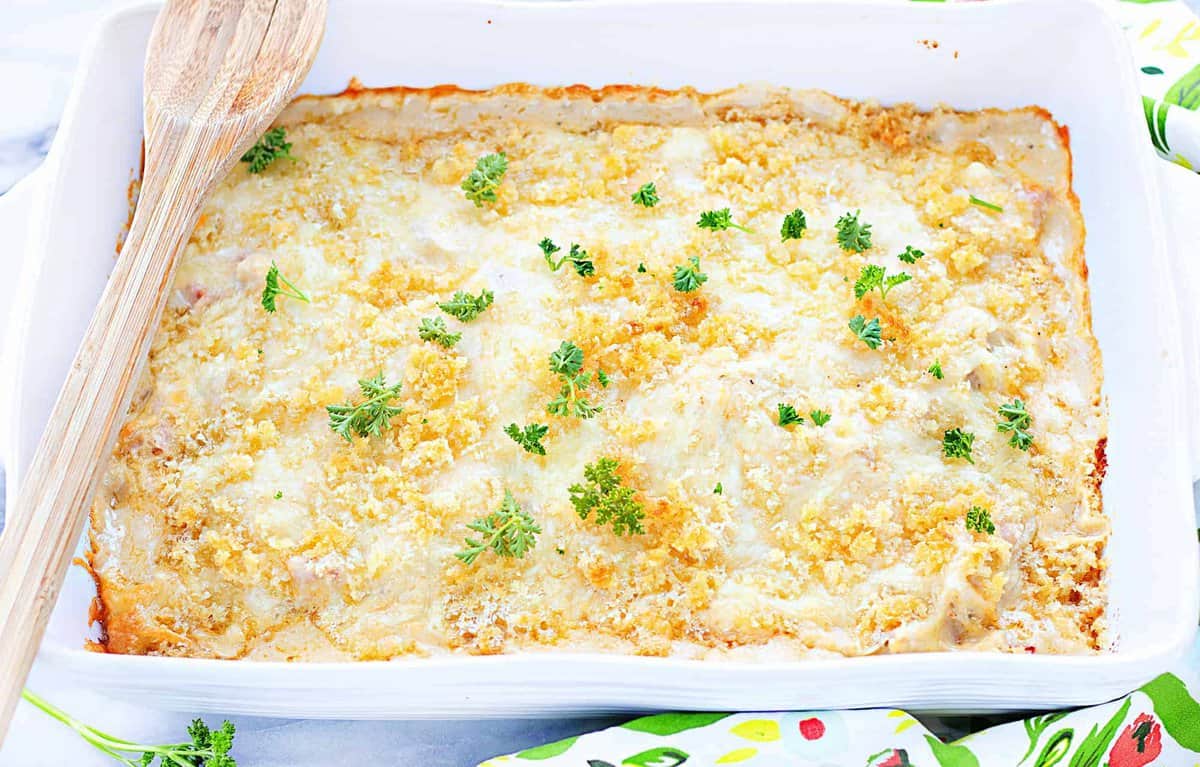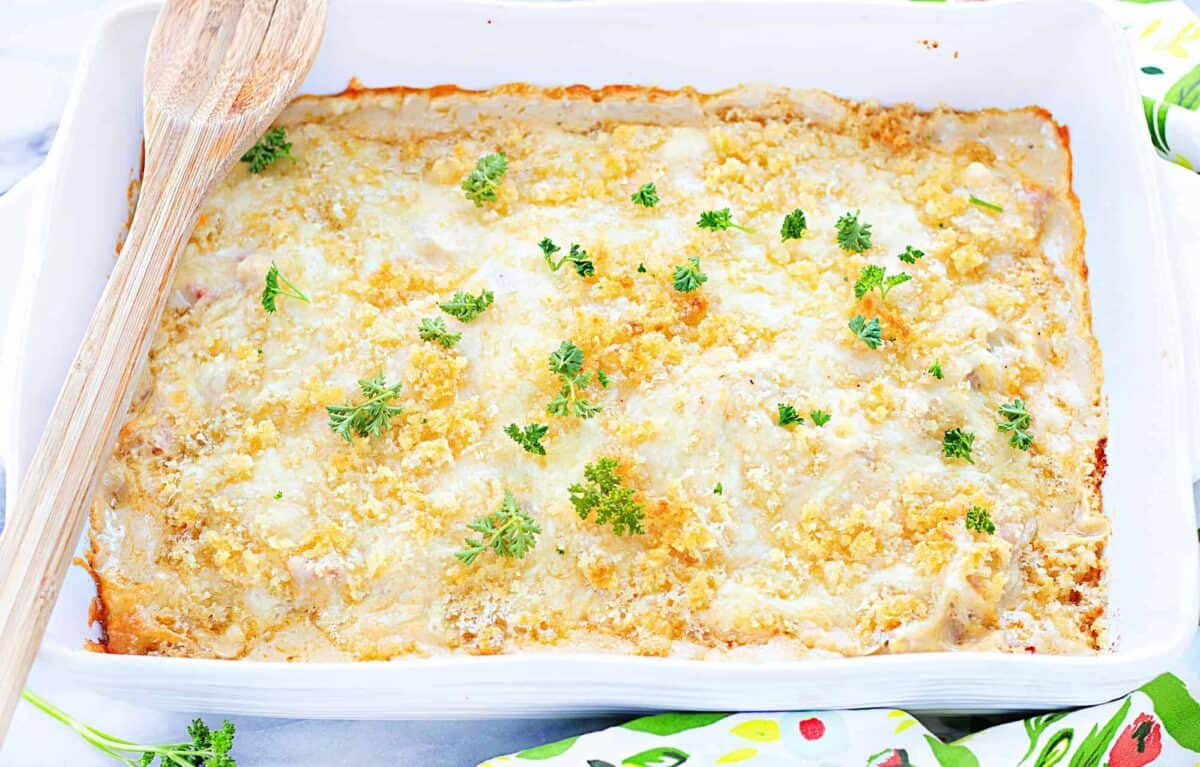 The foundation for this Chicken Cordon Bleu Casserole recipe is the traditional Chicken Cordon Bleu dish, which is essentially a chicken breast, pounded thin, stuffed with a slice of ham and a slice of Swiss cheese. It can be baked or fried and then is typically smothered in a  creamy sauce.  Here we take all of that and put it in the comfort and ease of a casserole.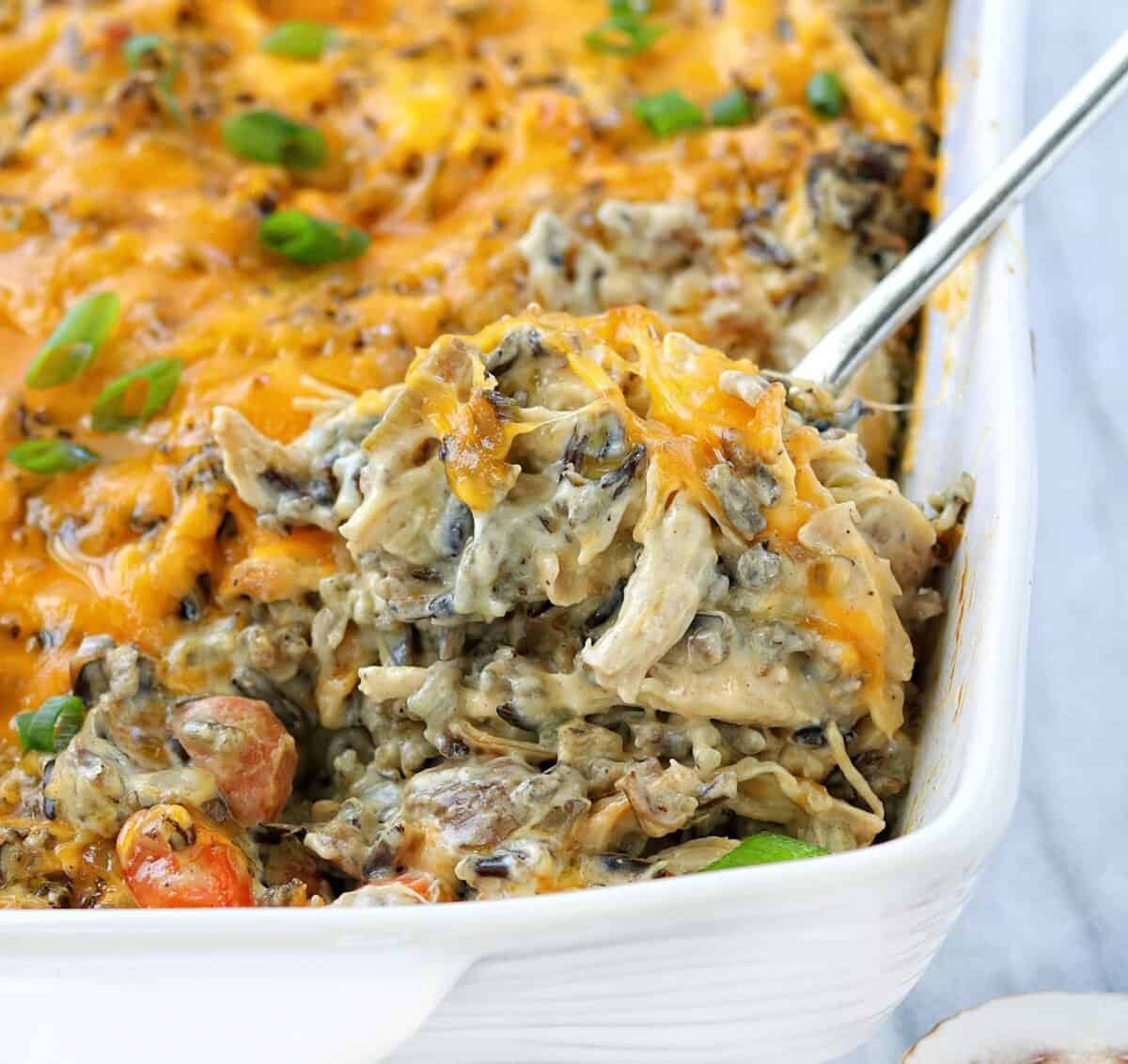 Rich and Creamy Chicken and Wild Rice Casserole is a soul-charging meal that is filled with fresh veggies, wild rice, and perfectly seasoned chicken.  You will want to savor each and every dreamy bite!  If you are looking to shake up your ordinary chicken routine, this is the one!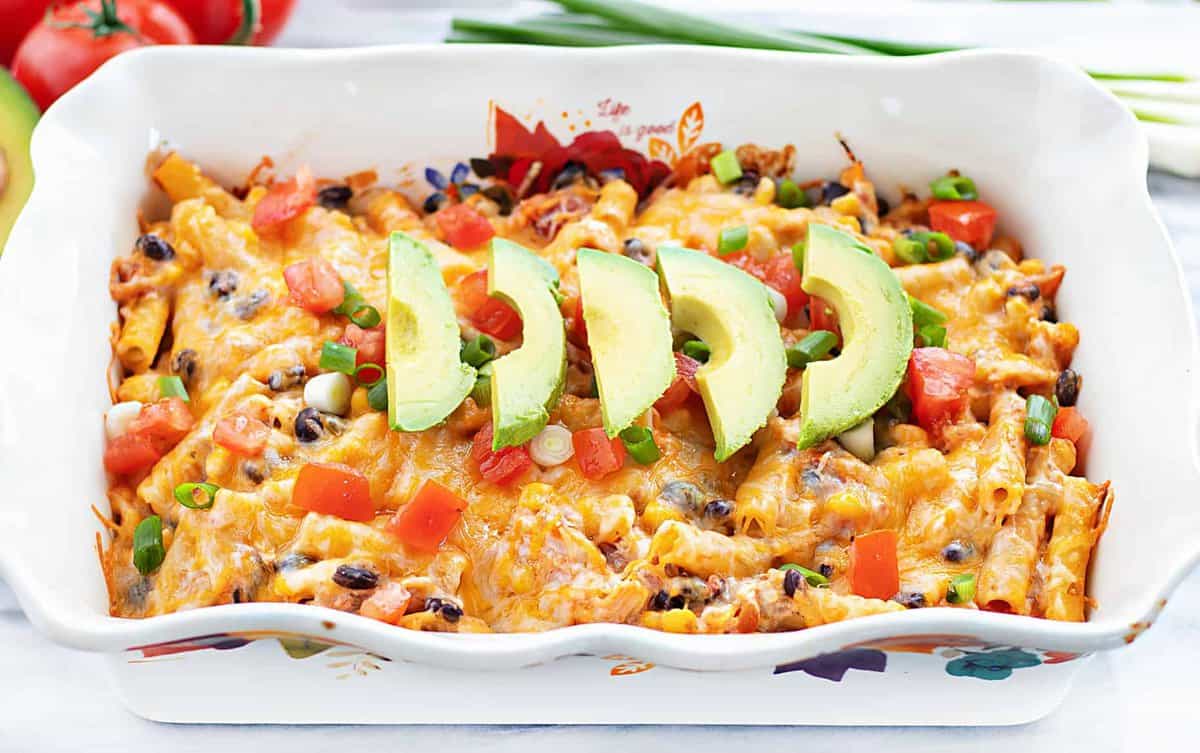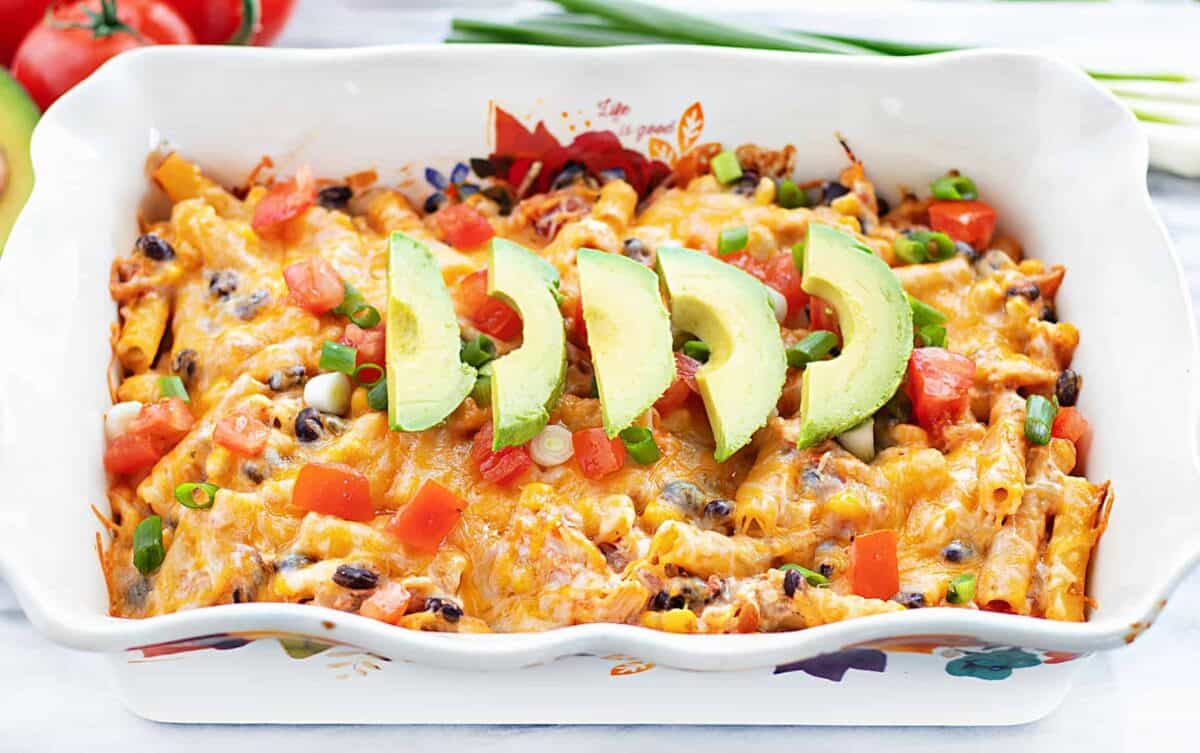 Fiesta Chicken Casserole is the solution to your weeknight meal planning woes.  Delicious southwest seasoned chicken over a bed of noodles, corn, black beans, and smothered in tons of cheese, you really can't go wrong!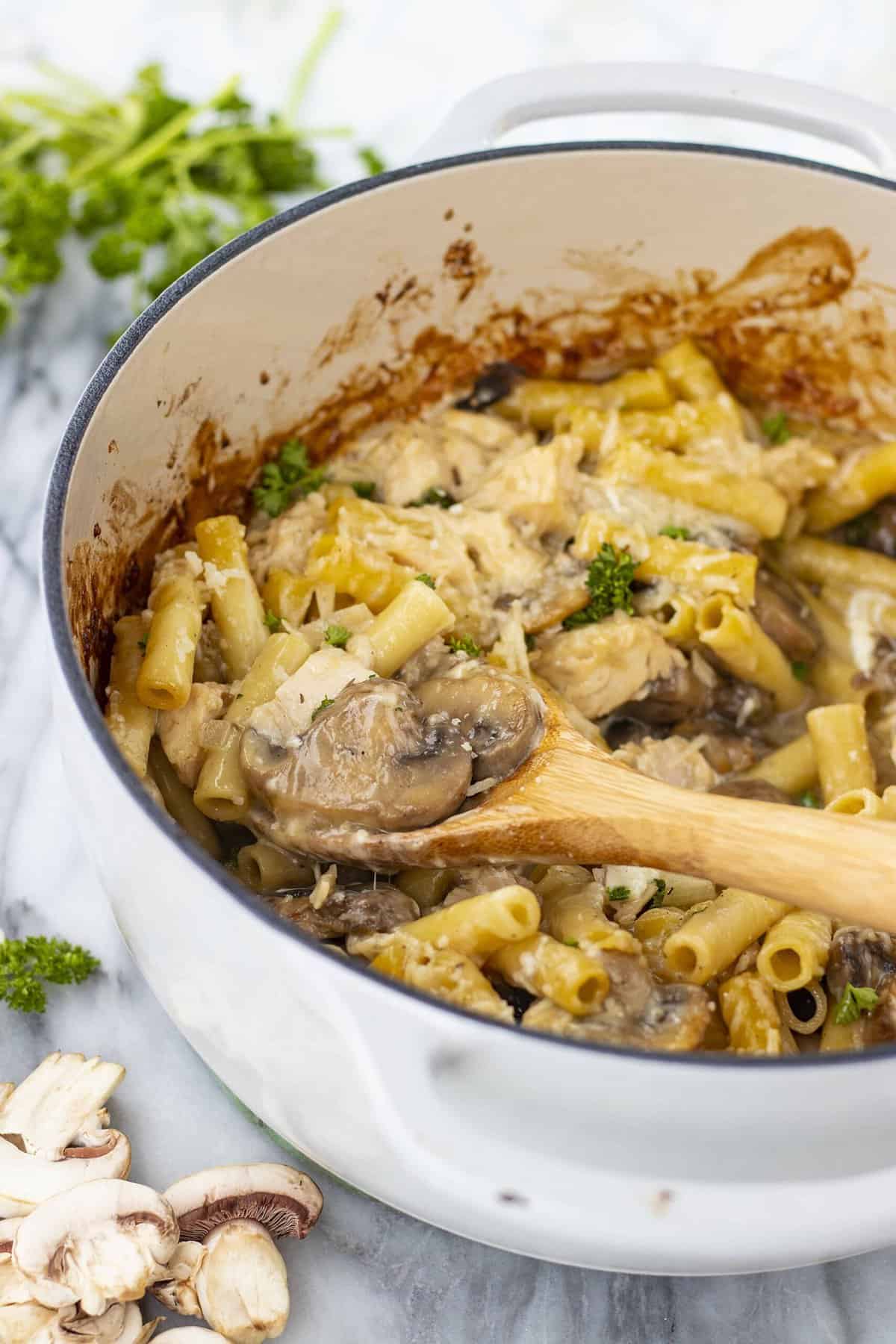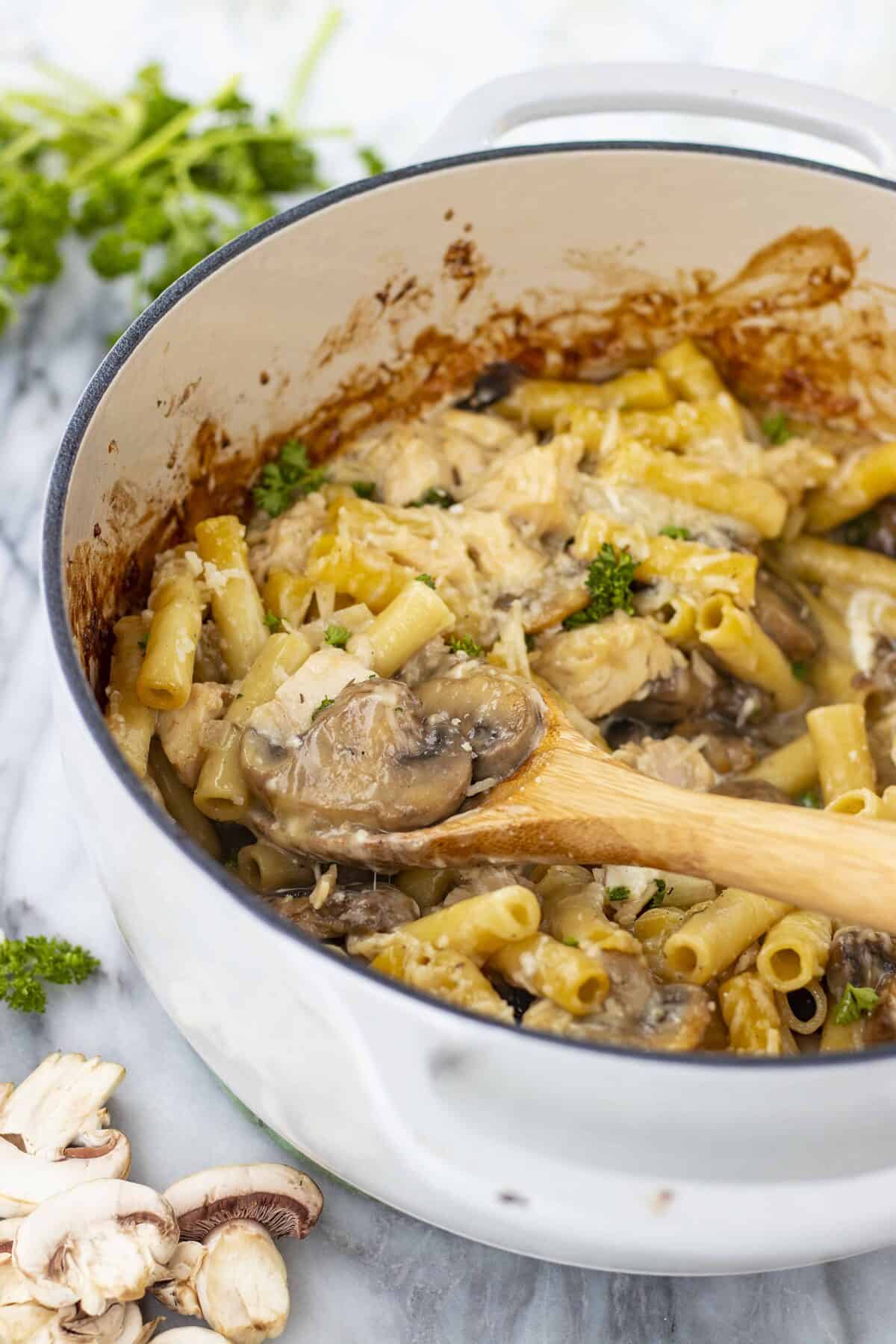 Creamy and Rich Chicken Marsala Casserole is a dinner staple, with piles of seasoned chicken, fresh cut mushrooms, and the perfect al dente ziti noodles all in a creamy wine sauce.
Well, there you have it! I hope you find a few recipes that you love in this list of 60 Chicken Recipes.